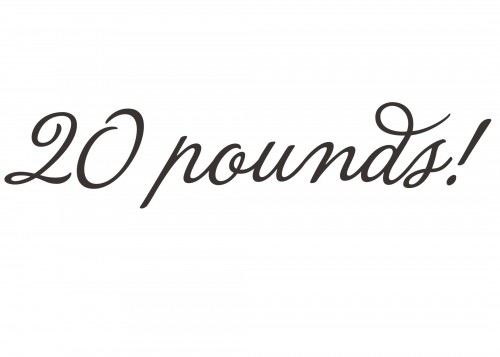 And that concludes my 12 week pass at Weight Watchers. I've lost twenty pounds, total. It's funny, because as I weighed in and received another 5 pound star, one of the receptionists congratulated me on doing so well. She commented that I was slow to start, but seemed to be picking up steam. I didn't tell her that I picked up steam once I stopped doing Weight Watchers.
I will be forever indebted to the formerly overweight attorney in Seattle who emailed me 6 weeks ago and said what worked for her might work for me. She was right. Twenty pounds is the most I have ever lost, and the last time I actually lost 20 pounds I went from 139 pounds to 119. So, yeah, it was some time ago. I need to lose much more, but I am so hopeful today. So hopeful that I immediately want to crack jokes about popcorn and chips and peanut butter cups because I want it so bad that I am afraid my 30 days of success will somehow disappear. I am nervous that whatever motivated me the last month will disappear as surely and inexplicably as it came.
Two things have helped me tremendously. First, emailing my Seattle buddy ever day, several times a day. I tell her what I am going to eat the day before I eat it. I send her a detailed food plan and I am not allowed to deviate from it, barring emergencies that never come. What has also helped is knowing I also have to report to all of you. Whether you realize it or not, you have all been extremely helpful as I continue to lose weight. So many times it would have been easy to quit in frustration. But, knowing I had eyes on me made me keep plowing ahead. Thank you for that.
Since I no longer have some place to weigh myself weekly, I am probably going to (try) and weigh myself monthly at my doctor's office. I need to tell The Mister to take our scale and hide it. Right now, I need to train myself to focus on the food and not on the weight. I don't know if I can do that!
I am close to deciding on a meal plan for this month. There are a few things I want to tweak, but I won't do that without the advice of a registered dietitian. If you know of a good one in the southern California area, I am all ears! Here is the current plan I am considering for the month:
Breakfast: 4 ounces protein, 1 starch/grain, 1 fruit, 1 cup milk
Lunch: 4 ounces protein, 4 vegetable servings, 3 fat servings (14-16 grams total)
Dinner: 4 ounces protein, 4 vegetable servings, 1 fruit, 1 cup milk, 3 fat servings (14-16 grams total)