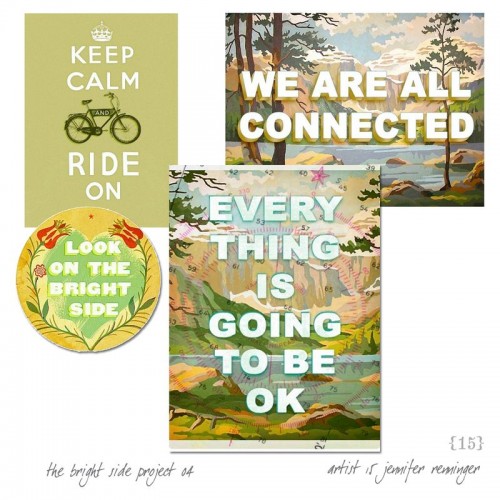 Would you all mind doing me a favor? In case you didn't know, Tristan and I have another blog called The Bright Side Project. To put it simply: we give away something everyday of the week, including holidays. What we give away is based on the month's theme. This month is a typography extravaganza, and Tristan has managed to secure some strong talent, like Jennifer Renninger.
Tristan loves her. I love her. Everybody loves her. Decor8, PoppyTalk, and The Chicago Tribune have all featured her. These aren't exactly people known for finding things that suck. And, yet, Jennifer isn't getting very many answers to the thought provoking question she posed to our readers (you have to answer the question for a shot at winning).
We don't know why this is happening to Jennifer, but we feel terrible. It's like we invited home the cool girl in class and our mom just walked into wearing a tattered bra and holding a six pack of beer. So not cool. Tristan added an alternate question today, thinking maybe the original question was too hard. So here is where you come in. If you would love to win some art from Jennifer Renninger (and who wouldn't?) please to head on over to The Bright Side Project by Thursday May 21st and show Jennifer some love. Answer the question at the bottom of the post, roll the dice, and remind us that Everything Will be OK
Please?