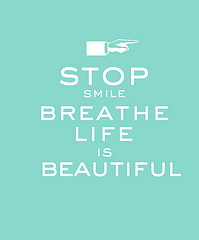 You have to love a friend with connections; Tristan always has the latest and greatest stuff. Except, since I'm her friend, I rarely get the stuff! Instead, she gives it away on her blog, and unless it's something I really, really want, I feel weird vying with other people for her goodies. So, my loss is the internet's gain because she is, again, having an ENTIRE MONTH OF GIVEAWAYS!
March kicks off the second round of The Bright Side Project, an idea Tristan hatched to make people happy, all while bringing attention to emerging artists and designers, which, as a publicist, is her true passion and what she is really, really good at. This month the giveaways are all accessories: hats, purses, jewelry, and any other finishing touch to a smashing outfit you can think of. Comment (and answer the featured artist's question) to win on the first two days HERE and HERE.
Tristan has put her heart and soul into this project, and she is thinking BIG. She wants to be able to give away furniture, vacations, and other big ticket items. But, you know the rules. Big companies won't bite unless the bait is big. This means she needs a lot of people participating, and a lot of people telling other people to participate so when a certain company selling cruises takes a gander at the site, all the old men in pinstriped suits can understand the concept.
Poor little old men in pin striped suits. Let's show them how women shop in the 21st century, shall we?