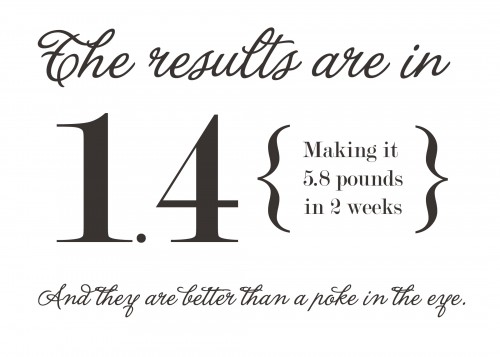 I didn't expect my weight loss to go as well as it did last week, but it still stung to lose less than 2 pounds. Still, I am very pleased with the results and received my 5 pound star today. I was only slightly mortified at the round of applause. Here is my review of week 2.
I stayed within my points all week, but did not use up my "extra" points. I'm going to make an effort to do that this week, because an informal poll taken at the center today showed that people who eat the maximum amount of points each week lose the most weight both weekly and over time.
Conversely, those who leave points behind lose weight slowly and, in some weeks, gain a few ounces.
I ran out of the Weight Watchers breakfast sandwiches I like so much, and I used that as motivation to develop something similar that I can make at home in less than 2 minutes. This was a mistake. I should have bought more sandwiches and played with the recipe at my leisure. I stayed on plan all week, but I believe removing my high protein breakfast from my routine did me a disservice.
Today I bought a grip of Weight Watchers breakfast sandwiches.
My water intake is poor, and I bought some Crystal Light packages to flavor my water. I'm also developing some ALL NATURAL low calorie/low point flavored waters.
I'm retaining a lot of water, so I am trying to cut down on salt, too. My low water intake isn't helping me flush out all the sodium I'm now ingesting. Last night my ankles looked corrugated from the ribbing in my socks.
I hate that I am relying so much on processed foods right now, but this is only temporary until I have the time to find low point natural food alternatives.
I went on a walk with the Mister, the boys, and the dogs this week and had a great time.
Overall, I consider this week a success. I'm hoping the changes I am making to my meal plan this week (more water, less salt) will reflect in the numbers for next week.