I love hats.  I look good in hats.  I would probably wear a hat or hair accessory everyday if the rest of my wardrobe didn't so acutely reflect my dissatisfaction with my weight.  I am working on both–my weight and my self esteem.  Chubby girls can wear hair accessories, too, right?
Right.
The other day, Brook left a comment on a post here.  And like I always do, I followed her back to her home on the web and was greeted by this darling image.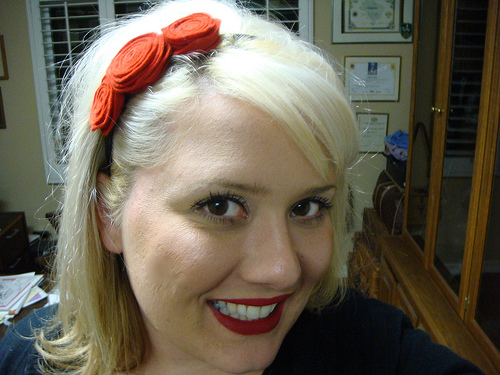 Cute, right?  Of course, my eyes immediately fell on that super sweet headband, being the headcase that I am.  Well, Ms. Brook made it herself and happened to have a few more in her etsy shop.  I snapped up a white one just like the one she is wearing and a red rose headband, too.
Today I received my little headbands and I love them.  I love their thin, patent leather fabulousness and how they don't pinch my freakishly large head.  I also love how fun they are without screaming, "Hi!  I'm a mom in my 30s but I'm going to dress like I'm single and 19, okay?"