As a child, my mom would buy me and my brothers chocolate Advent calendars in anticipation of Christmas. Unfortunately, the tradition quickly died after one too many years of us eating all the chocolates far in advance of Christmas day. Stupid temptation.
But I've never forgotten that feeling of anticipation every time I opened the next window on the calendar, albeit empty. With Mikey now 4 years old, I decided this year would be a great time to start an Advent calendar tradition.
Here is my new Advent Calendar from Target. Although I wanted something more handmade, I've come to appreciate how sturdy it is. I realize now with how eager Mikey is to check the calendar that something made of paper would have never lasted.
I don't want the Advent Calendar to turn into 24 more days of presents, so I really tried to put some thought into gifts with some sort of meaning. My sister in law, Stephanie, is very good at creating tradition in the home–especially around holidays. I decided to take a few of her traditions and incorporate them into the calendar. So, on the first day, December 1st, the boys received matching winter pajamas, something they would have received anyway. Obviously I couldn't fit the pajamas in the calendar, so I just wrote a little note inside that read,
Dear Mikey and Nico,
You both warm our hearts so much. We hope these new pjs warm your nights just as much.
Love,
Mama & Daddy
The pjs were a hit with Mikey. The note? He wasn't even paying attention to me while I read it to him and Nico. Sigh.
The next day we decided having them help us put up the tree would be a fun way to celebrate Advent.
Since I couldn't stuff a fake tree in there, I put it some peanut butter cups and a little note detailing the night's activities. We still aren't done decorating, but it was the best time I've had putting up a tree.
The boys had a great time, too, but I think they liked the chocolate-as-breakfast concept even better.
The next day we did Christmas books I found in the dollar section at Target, and today we did chocolate again.
We lit the Advent Wreath last night. Advent actually started on Sunday (my birthday!), but since it was still November and Mikey was having trouble understanding why anything Christmas related would occur outside December, I decided to stick with a contemporary schedule. The lighting of the wreath and the scriptures to read are all very simple thanks to me stumbling onto the book, Celebrating Christmas: And the Beautiful Traditions of Advent. I like the book so much I actually added it to my bookstore under the holiday category.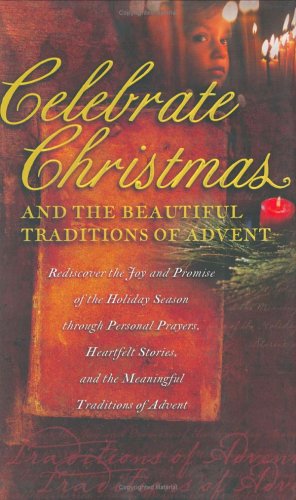 The book supports a nonlitigurical schedule for Advent, but you can always take the schedule and apply it to the four Sundays before Christmas. Each day has some history on Christmas and Advent, a very brief prayer, and a Christmas themed story by Tolstoy, Hans Christian Anderson, and Pearl S. Buck, to name a few. I read the history lesson and prayer (each about a half page) while Mikey figeted in anticipation of lighting the wreath, Nico gorged himeself on rice, and the Mister, um, sat there. Next week I'm going to read aloud from a book on martyrs.