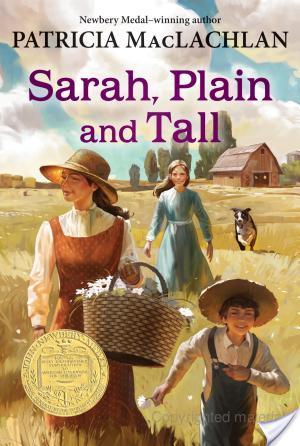 Sarah, Plain and Tall

by Patricia MacLachlan
Published by HarperCollins on 2013-06-25
Genres: Classics, Family, Farm & Ranch Life, Lifestyles, Newbery Gold Winner, Stepfamilies, Young Adult
Pages: 96
Buy on Amazon //Check out from Library
Goodreads


"Did Mama sing every day?" Caleb asks his sister Anna.

"Every-single-day," she answers. "Papa sang, too."

This Newbery Medal–winning book is the first of five books in Patricia MacLachlan's chapter book series about the Witting family. Set in the late nineteenth century and told from young Anna's point of view, Sarah, Plain and Tall tells the story of how Sarah Elisabeth Wheaton comes from Maine to the prairie to answer Papa's advertisement for a wife and mother. Before Sarah arrives, Anna and her younger brother Caleb wait and wonder. Will Sarah be nice? Will she sing? Will she stay?

This children's literature classic is perfect for fans of Laura Ingalls Wilder's Little House on the Prairie books, historical fiction, and timeless stories using rich and beautiful language. Sarah, Plain and Tall gently explores themes of abandonment, loss and love.

Supports the Common Core State Standards
I was going into 9th grade when Sarah, Plain and Tall came out. The book didn't interest me and was below my reading level. At that age, reading to level is very important. Once you hit the adult stacks, you don't go back! It would have been a different story if this book came out when I was in the 4th grade. The synopsis is correct. If you loved the Little House series, you'll love Sarah, Plain and Tall. I loved the Little House series.
I tried all year long to sell the Little House series to the students, but few of them were interested in trying the books. I can think of two reasons why this was the case. One, they look old fashioned and kids want new and glossy. The Little House series isn't packaged with the slick cover art that is so popular today.
Two, the series is challenging for some of the elementary school kids. The language is old fashioned and prairie life is so far removed for the kids that they can't relate. Many of them don't have the critical thinking skills to realize that setting doesn't always matter in a book. A young girl growing up during the 1800s experiences the same successes and defeats as one growing up 200 years later, but all they're wondering is what a churn is, and what it has to do with butter. I won't even touch Manly's head cheese.
This book, though, I think I can get quite a few kids to read. I'm going to sell it to the 4th grade kids at the beginning of the year and the 3rd graders at the end of the year. The book is slim and shouldn't take a child more than a coule of days to read. And adult can read it in 1-2 hours. Of course, it also appeals to those who like historical fiction. The language is easy, the point of the story direct. Like Sarah, the book is plain but also special. Sarah, a plain and tall spinster, changed the life of a small Midwestern family in one short visit. I'm hoping this book does the same for my students by opening the door to lifelong reading. All it takes is one child and one book.
Artwork by Elizabeth Metz is available at Image Kind.