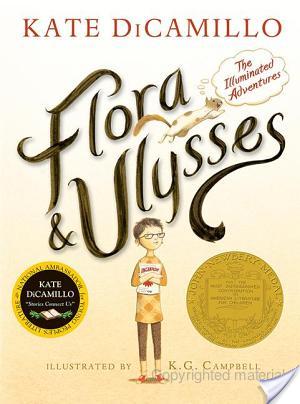 Flora and Ulysses

by Kate DiCamillo
Published by Candlewick Press on 2013-09-24
Genres: Action & Adventure, Comics & Graphic Novels, Family, General, Marriage & Divorce, Newbery Gold Winner, Superheroes, Young Adult
Pages: 336
Buy on Amazon //Check out from Library
Goodreads


Winner of the 2014 Newbery Medal! Holy unanticipated occurrences! A cynic meets an unlikely superhero in a genre-breaking new novel by master storyteller Kate DiCamillo. It begins, as the best superhero stories do, with a tragic accident that has unexpected consequences. The squirrel never saw the vacuum cleaner coming, but self-described cynic Flora Belle Buckman, who has read every issue of the comic book Terrible Things Can Happen to You!, is the just the right person to step in and save him. What neither can predict is that Ulysses (the squirrel) has been born anew, with powers of strength, flight, and misspelled poetry- and that Flora will be changed too, as she discovers the possibility of hope and the promise of a capacious heart. From #1 New York Times best-selling author Kate DiCamillo comes a laugh-out-loud story filled with eccentric, endearing characters and featuring an exciting new format- a novel interspersed with comic-style graphic sequences and full-page illustrations, all rendered in black-and-white by up-and-coming artist K. G. Campbell.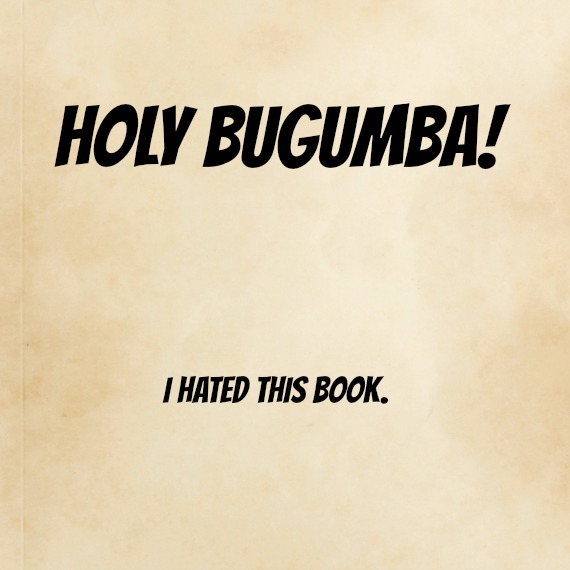 God save me from people who write like John Green. Actually, God should save them from me because I want to smash them over the head with hardcover editions of Strunk & White.
If you write a phrase and think, 'Wow, that's really poetic, that's really pretty, I really nailed it,' you get rid of it [because] you've overdone it.

–David Sedaris
YES. Yes, David Sedaris. YOU ARE CORRECT.
Flora & Ulysses is the Newbery Gold Medal winner for 2014 and mark my words, this book will not stand the test of time. It is the product of Twitter and Snapchat, of John Green and quirky characters, of precocious kids using big words in place of humor. It is what I call "soundbite writing," a collection of clever sentences strung together without synergistic effect. It's like John Green, Kate DiCamillo (in this case), and authors with the same writing style clack away at their keyboard until they can lean back in their vintage rolling chairs and say, "Hot damn, that sentence is going to look awesome when someone overlays it on a soft focus image and puts it on Tumblr. Please, God, let it hit Pinterest!"
No more quirky characters, please. Flora Belle is a hopeful cynic; William Spiver is her temporarily blind neighbor; Ulysses is a superhero squirrel who flies and writes poetry because he was sucked up by a vacuum.
No more children with odd hobbies, I beg you. Flora compulsively reads a bonus comic book series called TERRIBLE THINGS CAN HAPPEN TO YOU! because hipsters don't play with Barbies.
No more witty sentences, for the love of everything holy. "Nothing would be easier without you, because you are everything, all of it — sprinkles, quarks, giant donuts, eggs sunny – side up — you are the ever – expanding universe to me."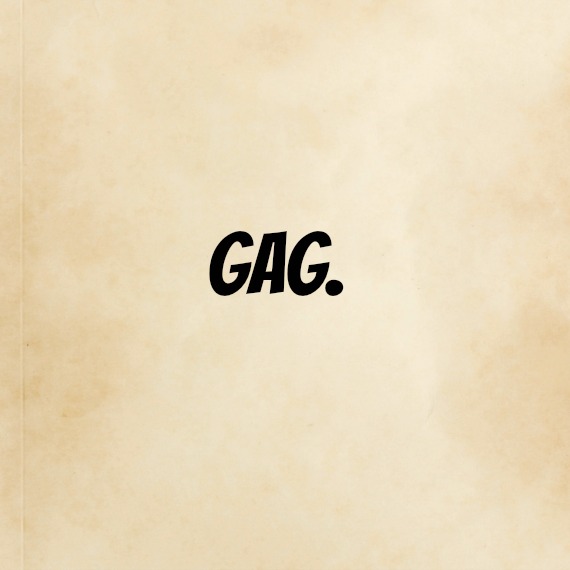 Many people I know loved this book. It's so clever and inventive! It's funny! It captures the spirit of childhood! Is that so? Because when you take away the clever dialogue, it's a story about a girl who feels lost after her parents' divorce. It's funny the way tweets are funny until you retweet and forget about them. As for capturing childhood, I don't know a single 10 year old like the ones in this book. Mikey is the age of Flora and William Spiver, and if I ever heard him say to a girl "Your face, Flora Belle, is particularly beautiful to me. Even the sepulchral gloom of this hallway cannot dim your loveliness," I'd straight up roundhouse kick him into anti-poser class.
[sidenote: reviews claim this book is wonderful for teaching kids SAT words. Stop. Stop trying to communicate your thoughts. This book is marketed to late elementary/middle schoolers. Grades 4-8. Middle schoolers don't need to worry about SAT words, and they learn their SAT words by reading increasingly complex material as they progress through school, not by reading ONE BOOK ABOUT A SQUIRREL THAT WRITES POETRY.]
Legions of people loved this book and it won a Newbery, so it's both commercially and critically adored. I know I'm in the minority when I say I was completely underwhelmed reading this book. I'm trying to imagine enthusiastically recommending this book to the students at school. "Holy unanticipated occurrences!"
That's how clever people say 'ain't gonna happen.'
EDITED TO ADD: Called it.