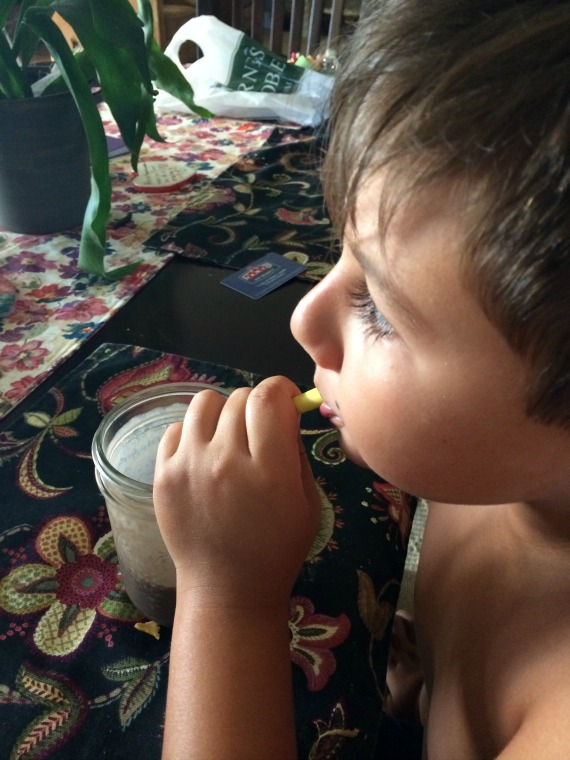 When your husband is traveling for most of the month (only one week left to go!) and your boys are in several activities, sometimes it's best to admit you're overwhelmed.
The boys have swim practice M-F for two hours in the early morning. I'm thankful because we avoid the heat–though I still had to take Nico to the urgent care on Tuesday for dehydration–but it does take sleeping in over summer vacation out of the equation. To top it off, the boys both had choir, piano, and clarinet in the evenings. Last week I cancelled all music activities until September. Yesterday, we skipped swim.
Nothing terrible happened when I admitted I was struggling.
No one was upset with me for cancelling activities. I don't mean the boys. I mean the instructors.
Sometimes it really is the little things, like cancelling an activity or finding a breakfast both boys love. I don't know how I came up with this chocolate shake/smoothie, but it's the one thing the boys will both eat. This is key when you have early morning swim practice. I mix two cups of dark chocolate almond milk (Silk brand), two frozen bananas, 1-2 tablespoons of unsweetened cocoa powder, and two-three tablespoons of natural unsweetened peanut butter. They've been having it daily for a while now, which is such a blessing. Usually I can get them to eat something, oatmeal, for example, for a couple of days before they'd rather starve than eat breakfast.
Little things. Important. Off to swim practice.
Have a great weekend!