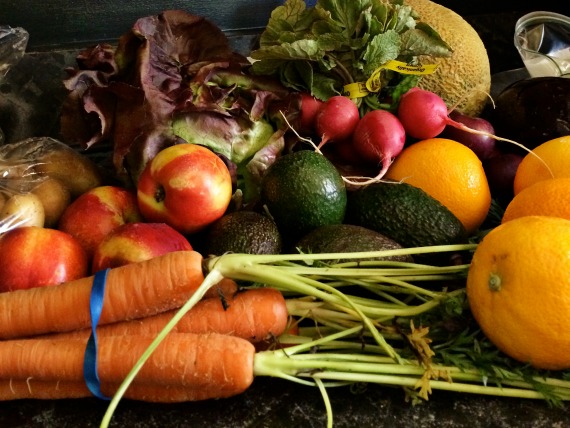 It's been a month since I started the Farm Fresh to You subscription and I love it. I love the delivery system. I get a box on my doorstep every Tuesday–no driving for me! Also, the weekly box has done exactly what I hoped it would. I'm forced to use vegetables and fruits in a timely manner and cook outside my comfort zone. I don't understand why this works, because buying fruits and vegetables from a CSA is the same as buying fruits and vegetables from the supermarket. I will never understand why I'm determined to save food one way but not the other.
A few things about joining a CSA or a produce co-op, since I've done both over the years. The produce I get in my box is pretty basic. So far, I haven't seen anything exotic. I did get limes, and those are hard to find at a reasonable price this year thanks to pests and our unseasonably warm winter. For the most part, though, it's been eggplant, avocados, potatoes, mixed greens, and radishes. Lots and lots of radishes. If you are looking for romonesco, you won't find it in your weekly Farm Fresh to You box.
You will find it cheaper to shop farmer's markets. What I spend in additional cost I make up for in gained time. Plus, I'm someone who benefits from a lack of choices. Give me a box, force me to use what's inside. I do well with limitations.
Organization is key. If you aren't a meal planner, a CSA box may not be for you. My neighbor, a confirmed health nut, cancelled her Farm Fresh to You subscription last year because she couldn't keep up with the produce. She doesn't meal plan and doesn't see herself picking up the habit anytime soon. For her, Farm Fresh to You was huge waste of money.
Caveat emptor, folks.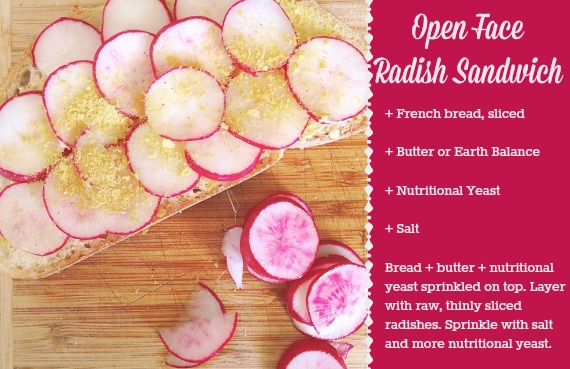 Did I mention the lots and lots of radishes? I've tried radishes in the past and found them to taste like a pile of dirt. Mikey loves them, so I'm giving them to him as his after school snack. The above recipe–if you can call it that–is the one way I can get the entire family to eat radishes. They don't taste like dirt when butter is involved.
I get another delivery tomorrow and, yes, there will be more radishes. I might try pickling them this time.