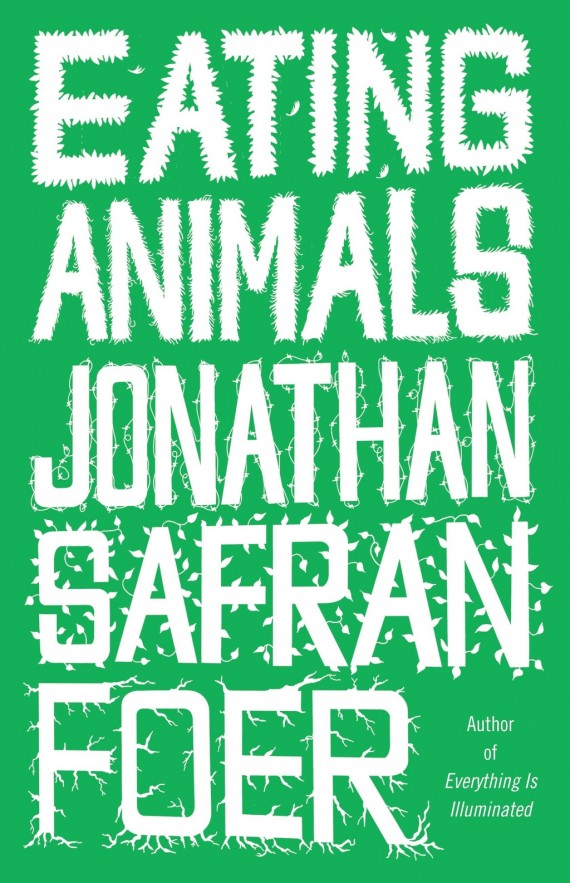 There are 24 annotations in my copy of Eating Animals. The passages I highlighted were funny, like when Jonathan Safran Foer described his childhood visits with his grandmother.
Growing up, my brother and I thought our grandmother was the greatest chef who ever lived. […] And yet we were wordly enough kids to know that the Greatest Chef Who Ever Lived would probably have more than one recipe (chicken with carrots), and that most Great Recipes involved more than two ingredients. And why didn't we question her when she told us that dark food is inherently healthier than light food, or that most of the nutrients are found in the peel or crust? (The sandwiches of those weekend stays were made with the saved ends of pumpernickel loaves.) She taught us that animals that are bigger than you are very good for you, animals that are smaller than you are good for you, fish (which aren't animals) are fine for you, then tuna (which aren't fish), then vegetables, fruits, cakes, cookies, and sodas. No foods are bad for you. Fats are healthy–all fats, always, in any quantity. Sugars are very healthy. The fatter a child is, the healthier it is–especially if it's a boy. Lunch is not one meal, but three, to be eaten at 11:00, 12:30, and 3:00.
Years and years from now, this is how Mikey and Nico will remember my mother.
I highlighted passages that gave me pause, such as his description of his grandmother's refusal to eat pork during World War II.
"The worst it got was near the end. A lot of people died right at the end, and I didn't know if I could make it another day. A farmer, a Russian, God bless him, he saw my condition, and he went into his house and came out with a piece of meat for me."

"He saved your life."

"I didn't eat it."

"You didn't eat it?"

"It was pork. I wouldn't eat pork."

"Why?"

"What do you mean, why?"

"What, because it wasn't kosher?"

"Of course."

"But not even to save your life?"

"If nothing matters, there is nothing to save."
Of course I highlighted many passages on the abuse of animals in factory farms, even though this wasn't new to me. When you have been as interested in veganism for as long as I have (I was vegan for two years in college and, oddly, have an impressive collection of vegan cookbooks) nothing much surprises you, other than your continued support of factory farming by eating meat. I knew about the male chicks (DO NOT click on that link unless you have a strong stomach), the pigs, the veal.
I also highlighted what did surprise me, like how absolutely devastating animal agriculture is to the environment.
Animal agriculture makes a 40% greater contribution to global warming than all transportation in the world combined; it is the number one cause of climate change.
Or:
According to the UN, the livestock sector is responsible for 18 percent of greenhouse gas emissions, around 40 percent more than the entire transport sector–cars, trucks, planes, trains, and ships–combined. Animal agriculture is responsible for 37 percent of anthropogenic methan, which offers twenty-three times the global warming potential (GWP) of CO2, as well as 65 percent of anthropogenic nitrous oxide, which provides a staggering 296 times the GWP of CO2. The most current data even quantified the role of diet: omnivores contribute seven times the volume of greenhouse gases that vegans do.
How very, very difficult it is to avoid factory farmed animals.
Nintey-nine percent of all land animals eaten or used to produce milk and eggs in the United States are factory farmed. So although there are important exceptions, to speak about eating animals today is to speak about factory farming. [emphasis in the original]
The impact animal agriculture has on biodiversity.
For every ten tuna, sharks, and other large predatory fish that were in our oceans fifty to a hundred years ago, only one is left.

[Shrimp] trawlers sweep up fish, sharks, rays, crabs, squid, scallops-typically about a hundred different fish and other species. Virtually all die…. The average trawling operation throws 80 to 90 percent of the sea animals it captures as bycatch overboard.
The widespread human rights violations to which I contributed to with my cognitive dissonance.
[The] annual turnover rates typically exceed 100%. […] By the standards of the international human rights community, the typical working conditions in America's slaughterhouses constitute human rights violations; for you, they constitute a crucial way to produce cheap meat and feed the world.
The workers most likely to be caught in the net are undocumented immigrants, recent immigrants, and non-native speakers. Fast Food Nation, the movie, touches upon these issues. Regardless of your stance on immigration, no one deserves to be treated like animals.
In fact, animals don't deserve to be treated like animals–at least not factory farmed animals. This isn't a belief limited to left-wing hippies, the privileged bourgeoisie, or extreme animal activists. Many political and religious authorities on both sides of the aisle and up and down the economic ladder have commented on the horrors of factory farms, including the Catholic Church.
Animals are God's creatures. He surrounds them with his providential care. By their mere existence they bless Him and give Him glory. Thus men owe them kindness. We should recall the gentleness with which saints like St. Francis of Assisi or St. Philip Neri treated animals. [. . .] It is contrary to human dignity to cause animals to suffer or die needlessly.

[W]e can see that they are given into our care, that we cannot just do whatever we want with them. Animals, too, are God's creatures . [ . . .] Certainly, a sort of industrial use of creatures, so that geese are fed in such a way as to produce as large a liver as possible, or hens live so packed together that they become just caricatures of birds, this degrading of living creatures to a commodity seems to me in fact to contradict the relationship of mutuality that comes across in the Bible.

— Pope Benedict XVI

[A]nimals possess a soul and men must love and feel solidarity with our smaller brethren. [T]hey are the fruit of the creative action of the Holy Spirit and merit respect […] and are as near to God as men are. Animals have the breath of life and were given it by God. In this respect, man created by the hand of God is identical with all living creatures. […] The existence therefore of all living creatures depends on the living spirit/breath of God that not only creates but also sustains and renews the face of the earth.

—Saint Pope John Paul II
I also found a quote by Pope Francis but I just searched for 30 minutes and can't find it. Naturally.
Many people continue to eat animal products after reading Eating Animals, and I believe that is because the book does not preach or command. It's philosophical in nature and allows the reader to make the final decision. Key: the reader. How one eats is a personal decision, barring eating disorders and other obvious exceptions. Cannibalism = NOT OKAY.
This brings me to the most amazing revelation I had when reading this book. If you follow me on instagram, you know I am fond of sharing screenshots of what I'm reading. I did that with Eating Animals on all my social media channels and discovered there is no faster way to lose followers (a term I still loathe, by the way). This surprised me. Why does anyone care what I do or don't eat? Or read? Or say? Or think? To take issue with how one eats is like taking issue with how one spends their money, unless that person is proselytizing. Then they are kind of asking for it.
After we got Buttercup, the boys decided they would no longer eat chicken. To quote Mikey, "I pet birds; I don't eat birds." I didn't say much because they're young enough to take on commitments the extent of which they don't understand. Both boys have been on the receiving end of some teasing by both family and friends when they hear of their chicken-ban.
I assumed they would cave at the first chicken dinner, but Nico surprised me. He went to a school function and the only meat option was chicken. He told the mom serving the meal that he didn't eat chicken. When questioned he said, "Because I have a pet bird, and that would be like eating her ancestors." He later said the same thing when he sat down with 1st and 8th graders. Then he enjoyed his "coleslaw, fruit, bread, and Sun Chips. And, uh, two pieces of cake." I saw his 8th grade partner yesterday, and he couldn't believe a 7 year old would pass up fried chicken.
I can.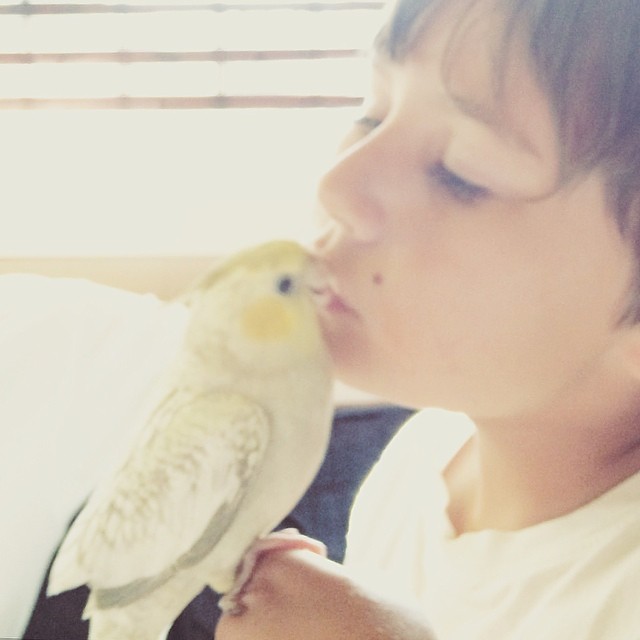 TL;DR? I found this infographic on Eating Animals in a nutshell.