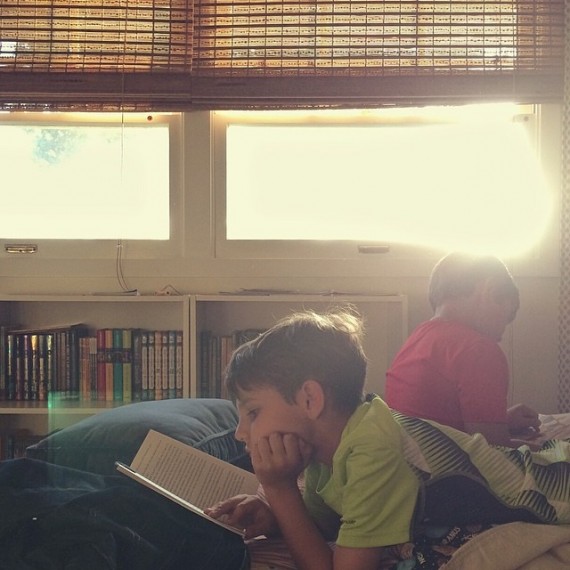 Mikey
With all the book pushing I do on instagram, I thought I might share what the boys are reading and loving right now. These aren't Newbery winners. These are books that draw them in and keep them reading. I'm good with that.
Mikey loves animals, so any series that features them as main characters is a guaranteed hit. His absolute favorite is the Survivors series, which features a post-apocalytic world (earthquake) where only dogs survive. All the "long paws" (humans) are dead. Lots of social dynamics and territory battles. Of course there's a bad gang of dogs.
Shark Wars was similar, though more military in nature.
He burned through the most recent Survivors novel in one weekend, so he moved on to WereWorld, which Jessica mentioned is a riff on Game of Thrones. He read the first book quickly and is now reading the second book. It will take him longer to complete it because it's a book report book, so he needs to journal his thoughts for each chapter as part of the assignment.
James Patterson. Oh, James. His books are pfffft, but he's capturing the interest of reluctant boy readers, so I can't hate him. This is the first author Mikey recognizes as a popular and someone he likes. Patterson is an auto-buy for him. Mikey likes his Middle School series, but I refuse to buy them for him because he reads them in a few hours. He has to wait until they're available in the school library.
Nico
My reluctant reader is finally getting the hang of reading. He wants to read all the big books Mikey reads, so that's a bit of a problem. I think this is the curse of the younger sibling–always wanting to be as old and mature as his sibling…until that sibling turns 40.
He loved the Notebook of Doom series, as I've mentioned in the past. Captain Underpants is just so-so. He was into it, and then got bored. He prefers Ook and Gluk, which is a series by the same author, but that also bored hiim after a couple of books.
I don't think Nico is a series reader, which is fine with me. I think once he sees the pattern in a story, he loses interest. This happened with Magic Treehouse. There are some kids in his class who can't get enough of Jack and Annie, but Nico has had his fill (3 books). Same with Geronimo Stilton. Two books, and he was good.
As for stand alone books, which is what I'm going to focus on for him from now on, he really liked The Year of the Panda, which he read for a book report. I bought Chocolate Fever recently, and I think that's a book I'll have him read this summer.
I'm also having him read picture books, since they are well within his age range and, frankly, usually awesome. Mikey still reads picture books, though Mikey would read anything you put in front of his face because he's like his mother. He'll read cereal boxes at breakfast.
Last thing, because I'm pretty excited about a recent idea. I'm going to create Goodreads accounts for the boys so they can keep track of all the books they've read. I'll help Nico with reviews, but Mikey will be on his own. I'm so excited at the idea of them having a record of every book they have ever read. Imagine having that account 10, 20 years from now? It's like a long term sociology experiment.