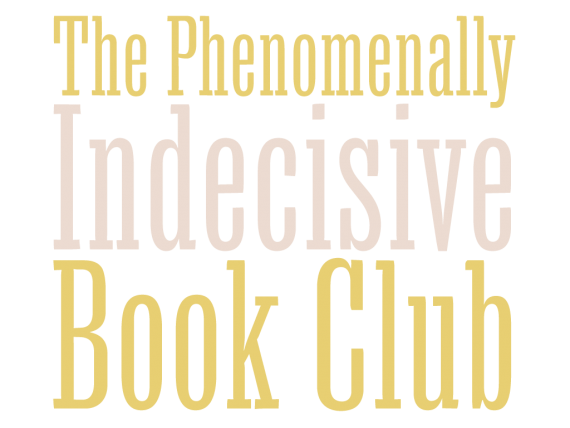 Let's do this! After the boring procedural stuff.
I'll pick books 4-6 months in advance. This should give everyone time to get your copy from the library if you are not buying the books. Full disclosure: I will be linking to the books using my Amazon affiliate account. If you are a blogger, librarian, or bookseller, etc., consider signing up for sites like NetGalley or Edelweiss and read the ARCs.
Book discussions will occur here, in the comment section of my conversation-starter post on the first Thursday of the month.
Anyone can join in on the discussion. You do not need to be a regular reader of this blog. No dues, no subscriptions, no likes/follows/retweets required.
And now, the books!
/////////////////////////////////////////////////////////////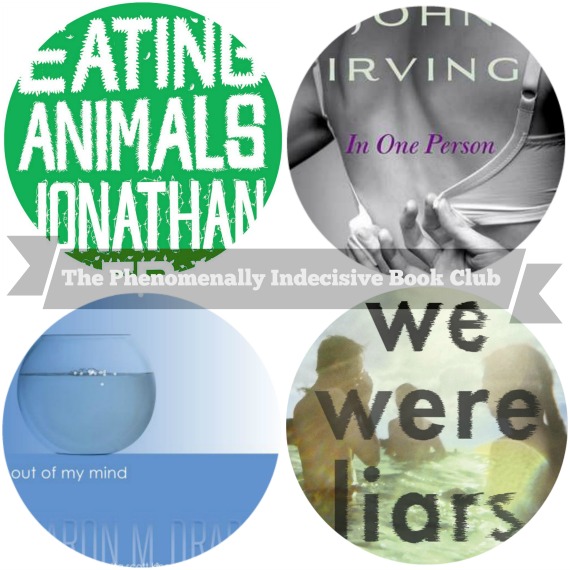 May Book Club Pick
Eating Animals | Jonathon Safran Foer
Category: Essays
Discussion: June 5, 2014
Like many young Americans, Jonathan Safran Foer spent much of his teenage and college years oscillating between enthusiastic carnivore and occasional vegetarian. As he became a husband, and then a father, the moral dimensions of eating became increasingly important to him. Faced with the prospect of being unable to explain why we eat some animals and not others, Foer set out to explore the origins of many eating traditions and the fictions involved with creating them.

Traveling to the darkest corners of our dining habits, Foer raises the unspoken question behind every fish we eat, every chicken we fry, and every burger we grill. Part memoir and part investigative report, Eating Animals is a book that, in the words of the Los Angeles Times, places Jonathan Safran Foer "at the table with our greatest philosophers."
June Book Club Pick
In One Person | John Irving
Category: Literature and Fiction
Discussion: July 10, 2014 (Date extended due to holiday)

"His most daringly political, sexually transgressive, and moving novel in well over a decade" (Vanity Fair).

Winner of a 2013 Lambda Literary Award

A New York Times bestselling novel of desire, secrecy, and sexual identity, In One Person is a story of unfulfilled love—tormented, funny, and affecting—and an impassioned embrace of our sexual differences. Billy, the bisexual narrator and main character of In One Person, tells the tragicomic story (lasting more than half a century) of his life as a "sexual suspect," a phrase first used by John Irving in 1978 in his landmark novel of "terminal cases," The World According to Garp.

In One Person is a poignant tribute to Billy's friends and lovers—a theatrical cast of characters who defy category and convention. Not least, In One Person is an intimate and unforgettable portrait of the solitariness of a bisexual man who is dedicated to making himself "worthwhile."
July Book Club Pick
Out of My Mind | Sharon M. Draper
Category: Young Readers (middle school)
Discussion Date: August 7, 2014

"If there is one book teens and parents (and everyone else) should read this year, Out of My Mind should be it" (Denver Post).

Melody is not like most people. She cannot walk or talk, but she has a photographic memory; she can remember every detail of everything she has ever experienced. She is smarter than most of the adults who try to diagnose her and smarter than her classmates in her integrated classroom—the very same classmates who dismiss her as mentally challenged, because she cannot tell them otherwise. But Melody refuses to be defined by cerebral palsy. And she's determined to let everyone know it…somehow. In this breakthrough story—reminiscent of The Diving Bell and the Butterfly—from multiple Coretta Scott King Award-winner Sharon Draper, readers will come to know a brilliant mind and a brave spirit who will change forever how they look at anyone with a disability.
August Book Club Pick
We Were Liars | E. Lockhart
Category: Young Adult
Discussion Date: September 4, 2014

"Thrilling, beautiful, and blisteringly smart, We Were Liars is utterly unforgettable." – John Green, #1 New York Times bestselling author of The Fault in Our Stars

A beautiful and distinguished family.
A private island.
A brilliant, damaged girl; a passionate, political boy.
A group of four friends—the Liars—whose friendship turns destructive.
A revolution. An accident. A secret.
Lies upon lies.
True love.
The truth.

We Were Liars is a modern, sophisticated suspense novel from National Book Award finalist and Printz Award honoree E. Lockhart.
Read it.
And if anyone asks you how it ends, just LIE.