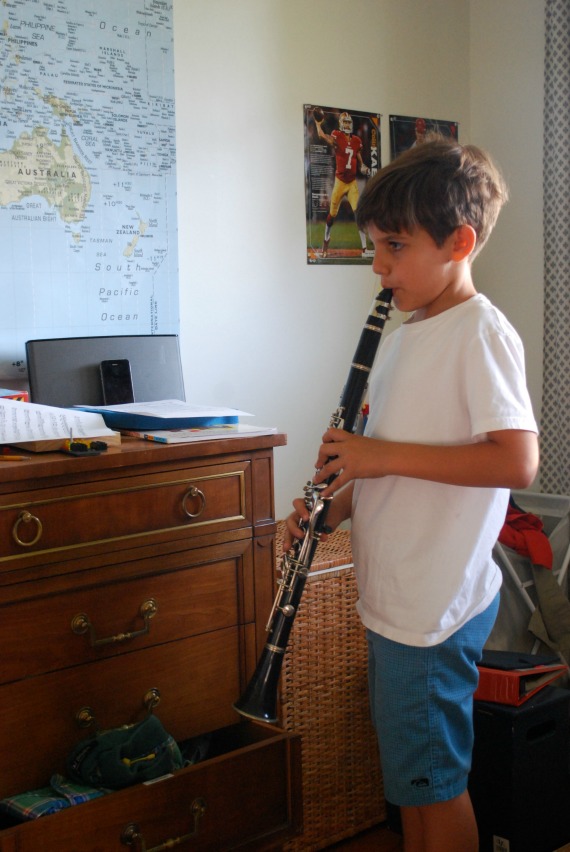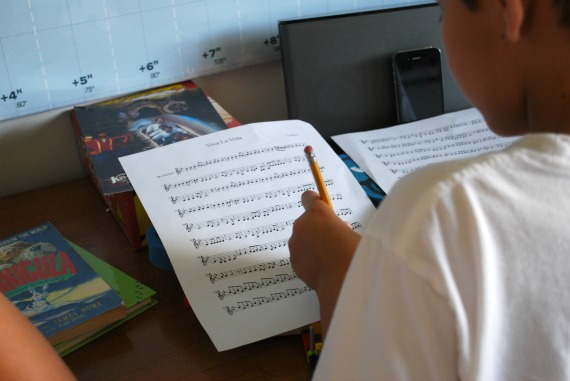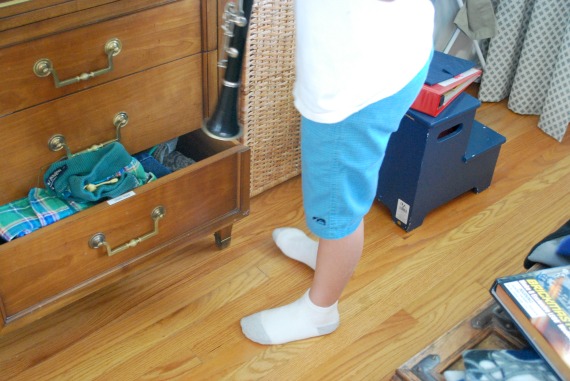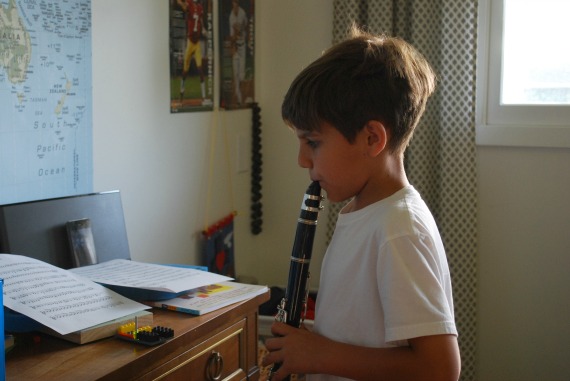 Some of you don't know Mikey plays the clarinet. And if you don't know that, you don't know that I went Tiger Mother on him and told him was going to play the clarinet. I strongly encouraged him. To this day, I don't know why I was so adament about the clarinet. I played the piano for a decade and I have no real opinion on clarinets or music like jazz and soul, where you normally hear the clarinet. The best I can say is that I thought he would like it based on how much he loved the recorder in 3rd grade. He fought me. He wanted to play the trumpet or saxophone. I don't have an opinion on trumpets or saxophone, other than saxophones remind me of a skeevy Rob Lowe in St. Elmo's Fire. Also, Bill Clinton. The Mister calls the saxophone the lady's man instrument.
I'm relieved to say that Mikey took to the clarinet like a fish to water. He practices for fun and has me download the sheet music of his favorite songs. He's taught himself to play some Star Wars songs, Tao Cruz, Ode to Joy (that one by ear), and this week, Viva La Vida by Coldplay. The first thing he did when he got home from school was grab his sheet music and practice for about an hour. He scribbled, made notes, crossed off music he didn't like, and circled areas he needs help with from music teachers.
He taps his foot when he plays. I noticed that at the school concert in April. He does that thing my piano teacher used to do, the snapping of the fingers and waving of the hand at the beginning of the piece like a human metronome. He doesn't realize he does either. He likes me to take videos of him playing over the course of a few weeks so he can watch himself improve. He watched the videos the way a football player watches post-game films in a locker room.
The other day I had the boys and the carpool kids in the car. I asked them what their favorite subject was, but most of them said things like recess or PE. When I asked if they could go to school and learn only one subject, only Mikey changed his answer. "Oh," he said. "That's easy. Music."
It's his favorite class and I don't know how school music instructors do it. All those instruments! All those kids! The thought of organizing a production with so many different levels of talent and interest stresses me out. Hats off to you, music teachers.
On Thursday, as Mikey was working on Viva La Vida, he started asking me about college and scholarships. I explained to him the concept, how colleges will pay for a student to attend classes if they contribute a needed talent to their school. Mikey waved his clarinet in the air and said, "Here's my scholarship right here, mom." I told him he would probably have to be in a marching band to get a scholarship. He did not like that idea. The idea of skipping across a field with a clarinet and a feathered hat terrifies him. (His words.)
He asked me about majors next. I explained the idea to him, which he didn't like. He thought it was unfair that someone would make him choose between science and music. I told him he could always do a double major, and he liked the idea. (Hahaha! Music and science! Two of the hardest majors to combine!)
What amazed me is that this was the first time in 6 years that he ever considered doing something other than paleontology. Mikey is ridiculously loyal and committed. When he makes up his mind, he stays the course, so music must be important for him to consider something other than science.
This summer he is again going to music camp, though he'll be playing on the bass clarinet this year. The band needs another bass and Mikey's teacher thinks he can do it. Mikey also wants to take a remix class, where you learn to make mixes on your tablet. Or DJ? Or something. No clue on the technical terms. He and Nico are really inspired by Martin Garrix. It's insane to think that boy is only 9 years older than Mikey.
Last year, I followed my instincts and ignored Mikey's request for a different instrument. Now, he tells me he can't imagine playing a horn–though he wouldn't mind playing one in the future. Listening to my gut, not screwing up my kid (that I can see) by making him play an instrument he didn't want, and watching him continuing to develop and refine his interests makes me happy, happy.