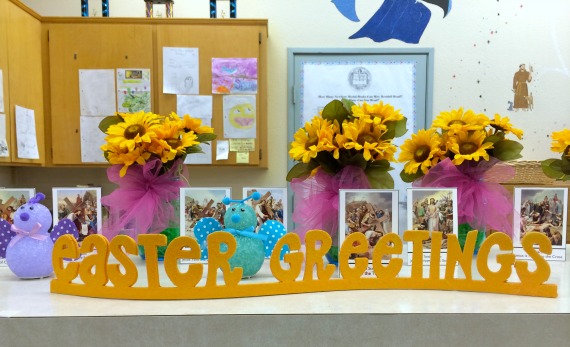 I didn't realize until after I was almost done decorating the library for Easter that it isn't until the 3rd week of April this year. That's okay! This gives me more time before I have to think about decorating summer, which I swear won't be much since we'll only have 6 weeks left of school. I stuck to the 99¢ Only Store except for a few items. The flowers are recycled from the fall, this time with tulle ribbon. I tried to get ribbon I could use for Valentines, Easter, and summer. I don't love the color, but it's hardly worth throwing my hands up in the air over a funky looking fuscia. The Stations of the Cross cards are from The Bookworm. I printed them on photo paper and glued them to clothespins so they would stand upright. If you decide to do the same craft and use photo paper, go easy on the glue because it soaked through to the image and caused some color bleeding. The "He Is Risen" print is a free download from Heidi Stock. I put it in a frame I bought for the Valentine print I made. The frame is a $6 clearance item from Michael's. I think the original print inside was of a bowl of fruit or an innocuous bouquet of flowers. Each season I try to find or create a print I can fit in the frame. Super easy, super cheap, and the kids look forward to seeing what I put in next.
I also have hanging from the ceiling paper lanterns, signs, and honeycomb balls of various sizes. It's…ridiculous. Garish. Phenomenally twee. The kids loves it.
I'm surprised by how much the kids like the decorations. Not all of them–some really don't care and some are horrified. I had one 7th grade boy almost recoil in terror when he saw the library decorated for Valentine's.
"Oh, God," he said, wincing and shaking his head. "This looks so…so…foo-foo romantic." The girls defended me.
"Whatever. It looks awesome. You're just a guy and have no appreciation for pretty things."
"Well, yeah. That's what I just said."
"Okay, what you just said makes no sense."
"None of this makes sense!"
Others like to ask me where I bought this or that. The assumption, oddly enough, is that I make everything. I'm flattered, but I have no idea how they can think I know how to mold plastic into bees and butterflies that glow technicolor at the flip of a small switch.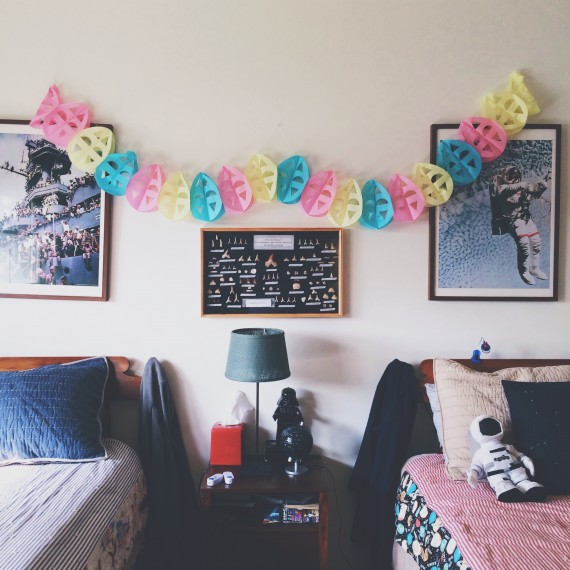 Mikey and Nico noticed how differently I decorate the library and our home. They wanted to know why I didn't put up holiday decorations at home. Sigh. I went back to the 99 Cent Store and bought some garlands. They love it; they think the eggs look like Minecraft swords or axes, but cut out.?.to be honest, I have no idea what else they said. I heard "Minecraft" and it's like the hand of God reached inside my brain and pressed Ctrl-Alt-delete.
Ash Wednesday is this week, and I still haven't decided what I'm going to sacrifice for Lent. I thought of doing an internet fast, but I'm blogging so little as it is that I'm afraid I'll have trouble coming back if I stop. It's a similar problem I'm having right now resuming my daily walking. I seem to have fallen into an every other day habit. I don't like it. I asked the boys what they planned on giving up for Lent, and Nico said, "Definitely not chocolate or video games. I'd like to give up showers."
"Try again," I said.
"I'm giving up farting," Mikey said.
Nico snapped his head in Mikey's direction, his eyes wide with shock and the Legos in his hands forgotten. "Dude," he said. "You'll never make it."