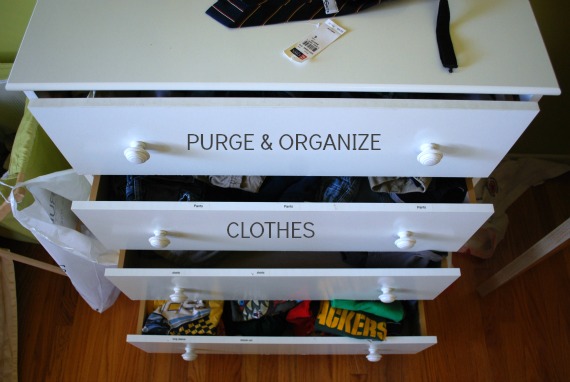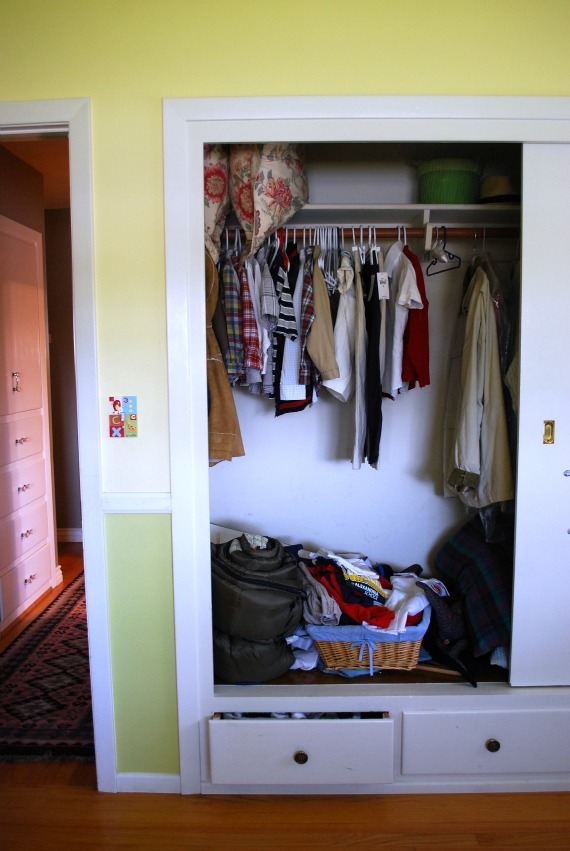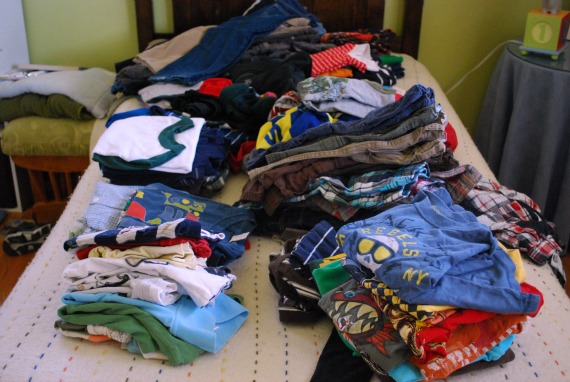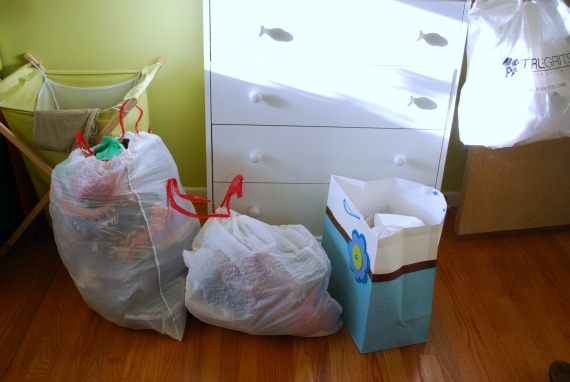 Looking down the barrel of a child's dresser can be daunting if you're not on top of the purging. I'm not on top of the purging. The situation gets especially gruesome after they have a growth spurt like Nico did last year. It seemed like every other week I was dumping clothing on the floor of the closet in a makeshift donate pile. If you think the closet looks bad in the before picture, you should have seen it before when it held 10-12 bags of baby/toddler clothing to donate. I donated the bags a few weeks ago to my friend's charity garage sale, giving me enough light at the end of the tunnel to attack the clothes once again a few weeks later. You can see the insanely tall pile of clothing in my @pancakesfries Instagram history. I'd link to it, but Instagram wouldn't give me the link to it last night.
This project wasn't any fun, but it wasn't terribly difficult, either. I only had to pull the 5T and a few straggler 4T. Doing that freed up two drawers in Nico's dresser, and I no longer have to store his uniforms in a basket on the closet floor. I kept the basket in there, but am now using it to store old costumes for imaginative play. There is clothing hanging on the right side of the closet, but I'm pretty sure that is from the Mister's purge last year. Looks I'll need to make another trip to Goodwill. Third time this week! That's what I'm doing differently this time–I have no illusions that I will have this massive, profitable garage sale like I thought I would last year. That sale never happened, and after almost a year our garage and closets were so stuffed we looked like hoarders. I'm having to purge and declutter the mess I made while purging and decluttering.
New here? For the next 31 days I'm living according to the famous William Morris quote, "Have nothing in your houses that you do not know to be useful or believe to be beautiful." You can learn more about the project here, and catch sneak peeks of my projects by following me on Facebook, Twitter, or Instagram (I'm @pancakesfries).