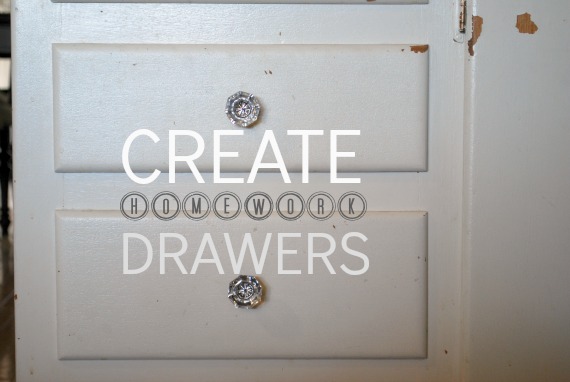 My favorite time of the day has to be homework time. I love it. I love the complaints, the fights, the incomprehensible math instructions. I love that even though I bought two packs of 64-count Crayolas in August, we don't own a blue crayon. I love that the signal to ask for a pencil is me sitting down to edit pictures for the next day's post.
More than anything, though, I love repeating often and loudly any one of the following, alone or in combination: Are you doing your homework? Have you finished your homework? What are you doing? It doesn't have to be perfect, but it has to be your best effort. Is that your best effort? Are you sure that's your best effort? That is not your best effort. Do your homework. Seriously, finish it. That's it; I've had enough!
I love the sound of my own voice, ergo, I love homework time!
Right before school started, I bought every single item listed on the supply sheets. Imagine my surprise when some of the supplies came home from school. Apparently, teachers are now having parents buy homework supplies and school supplies. I'd complain, but last year it took me two weeks to remember to buy Mikey wide-ruled paper. It's good they made me stock up.
I threw the homework supplies in the campaign dresser and realized after a few days that a homework drawer is pretty brilliant. I decided to devote one of the drawers of the dresser for supplies and work on it in October. Then I started working on the fish cabinet this week, and realized I had a four extra drawers ready and waiting. I really liked the way Kelly did her homework drawers a couple of weeks ago, so with that in mind I did an about-face on my plans and copied her system.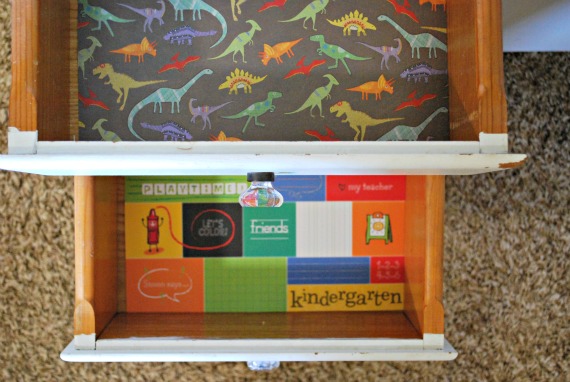 The drawers didn't take much work to clean up. They've been mostly forgotten the last couple of years, so it was mainly a matter of tossing a few things and putting away a few others. I lined the bottoms with scrapbook paper, just for fun.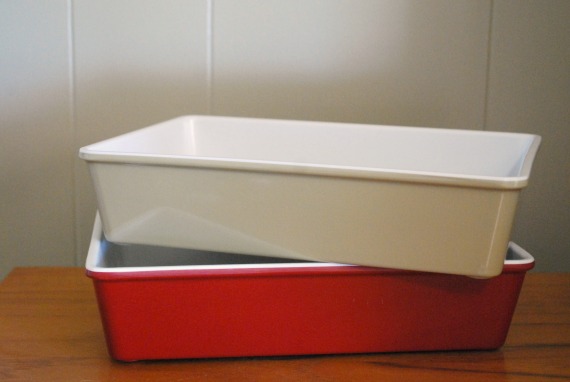 I went to Target in search of the desk organizers Kelly used, but found these instead. They fit the drawers well.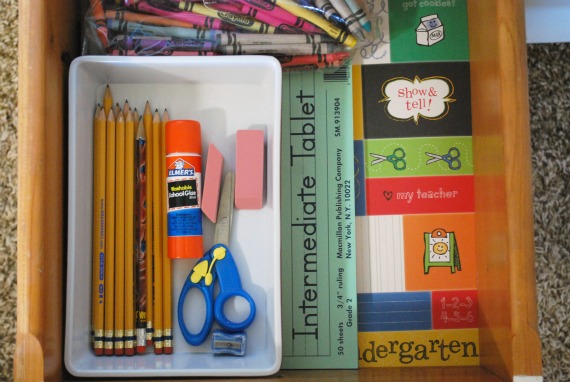 Nico's drawer has pencils, crayons, pencils+sharpener, erasers, scissors, and his tablet paper. There is enough room left that I can add to it as the year progresses. My crystal ball shows a pack of sight-word cards in there very soon.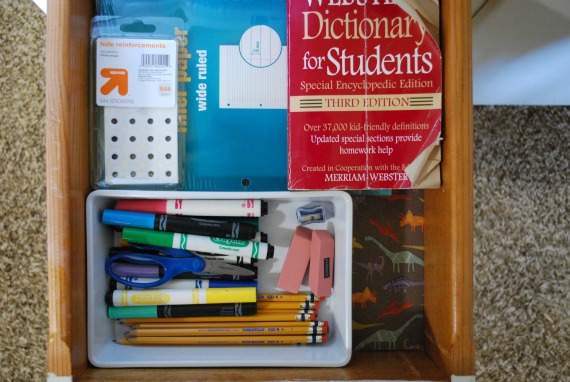 Mikey's drawer has wide ruled paper (!), pencils, markers, scissors, erasers, hole reinforcers, and his much abused dictionary. My crystal ball shows me finding one of the three rulers I have bought him over the years and placing it in the drawer with everything else.
Most kids love to have areas that are theirs and theirs alone, and Mikey and Nico are no different. As expected, they loved their homework drawers. They were excited to get their supplies as they needed them, and we were able to save the time usually spent looking for supplies.
Homework time still dragged on like a root canal. Good thing, too! I'm loathe to miss an opportunity to bellow loud enough for the neighbors to hear.
New here? For the next 31 days I'm living according to the famous William Morris quote, "Have nothing in your houses that you do not know to be useful or believe to be beautiful." You can learn more about the project here, and catch sneak peeks of my projects by following me on Facebook, Twitter, or Instagram (I'm @pancakesfries).