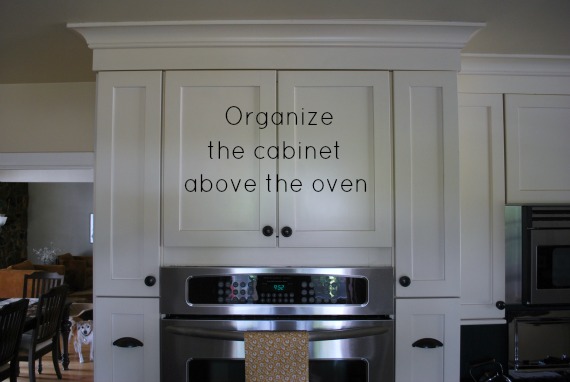 I'm still in the kitchen, bound and determined to complete one room–any room!–by the end of October. I never gave much thought to the cabinet above the oven. It worked, I knew what was in there, and I'm too short to see the mess. Working on the skinny cabinets that flank it inspired me to clean up the interior.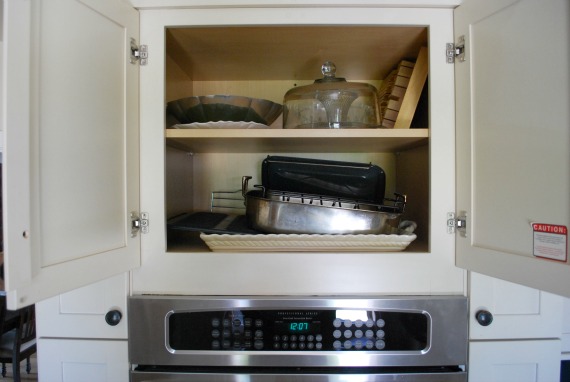 Which was a lot messier at eye level.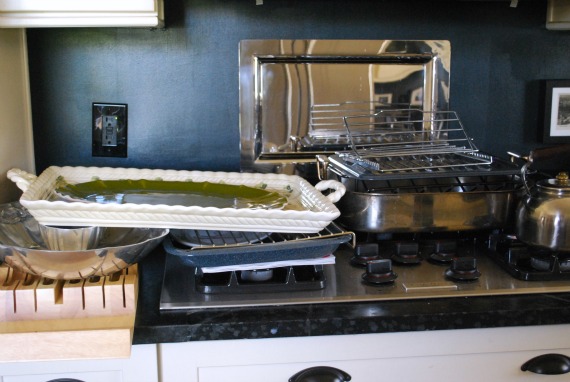 I pulled out a few platters (I knew where to put those!) a knife block I no longer need, a roasting pan, a broiler pan, a cake plate, a chip and dip plate, and some racks.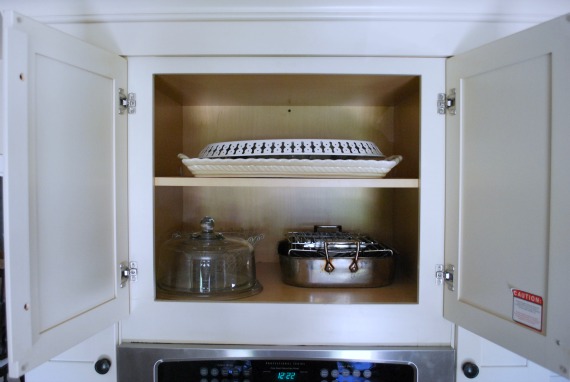 I used the top shelf to hold large platters. This is much better than my previous arrangement, where I ran the risk of breaking them as I slid the roasting pan in and out. This project went fast, especially since I knew where to put what.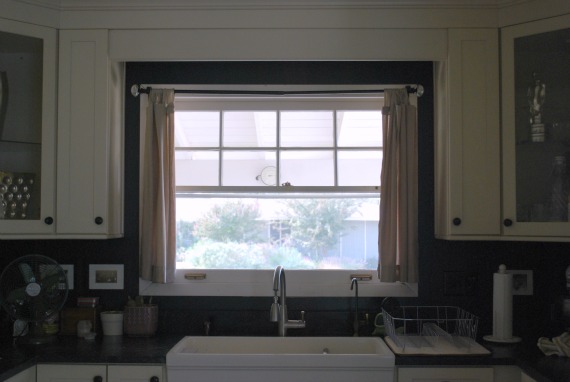 Not so with the cabinet to the right of the sink.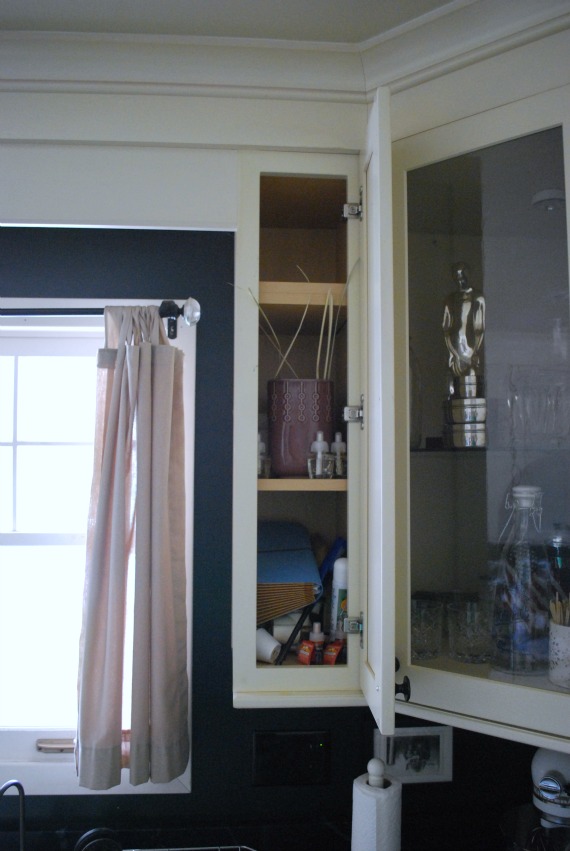 I never established the purpose of this cabinet, so for the last 7 years I've used it to store candles/matches/lighters, empty vases, air freshener, and a packet to keep receipts for taxes. (And palms from Palm Sunday? Oops.)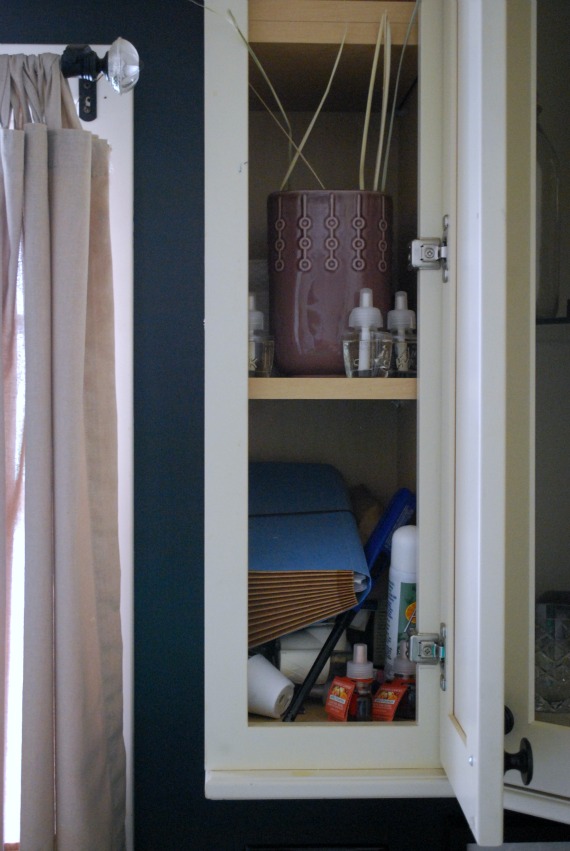 I asked on Facebook and Instagram for some ideas on how to use the cabinet and received a bunch of great answers. I already have a spice cabinet, a cookie sheet cabinet, and a place to store cutting boards, but since it's by the sink, I think I'll store dish soap and something else on the bottom shelf. Maybe a grocery list? On the second shelf, I might buy baskets (Annabel brilliantly suggested loaf pans) and use them to corral all of Buddy's medications, which currently sit on the counter in an overflowing basket. (The basket doesn't fit–I tried.)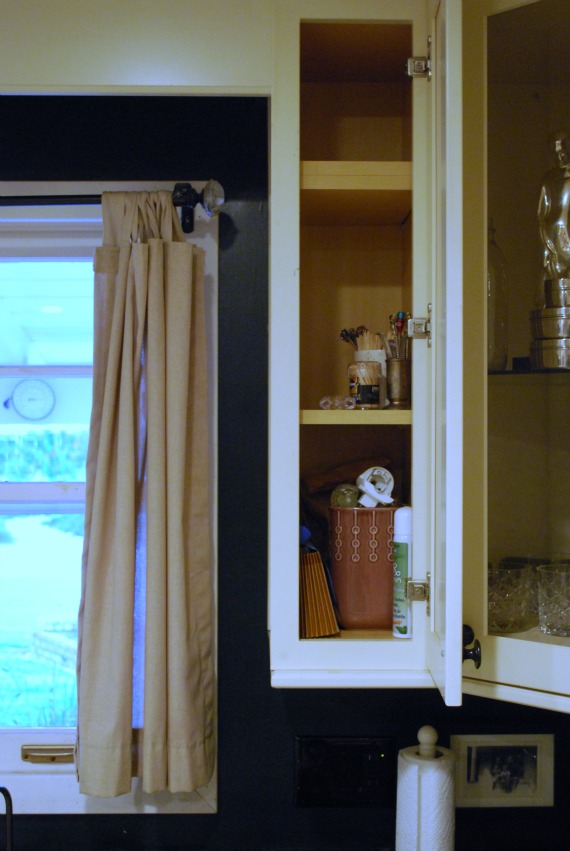 I did clean it up a bit, though I forgot to take a picture of it until night time.
A few people suggested I turn it into a wine rack. It's a great idea, but I'm allergic to wine! One sip makes my face flush and my jaw tighten and tingle painfully, like when your foot "falls asleep." It's most likely an allergy to the sulfides, but don't feel sorry for me because I hate the taste of wine. I can use a little when I make pasta sauce, but that's about as close as I'll get to crushed grapes.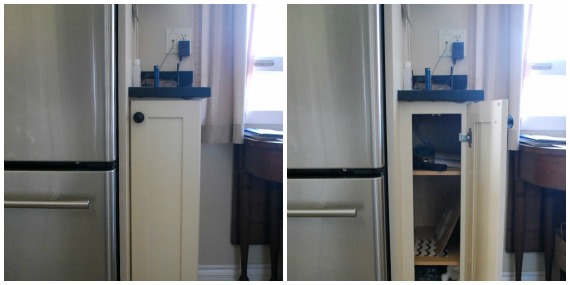 Whatever great ideas I don't put into play in the cabinet near the sink, I can always use somewhere else. I have 7-8 skinny cabinets in my kitchen. They aren't fun.
New here? For the next 31 days I'm living according to the famous William Morris quote, "Have nothing in your houses that you do not know to be useful or believe to be beautiful." You can learn more about the project here, and catch sneak peeks of my projects by following me on Facebook, Twitter, or Instagram (I'm @pancakesfries).