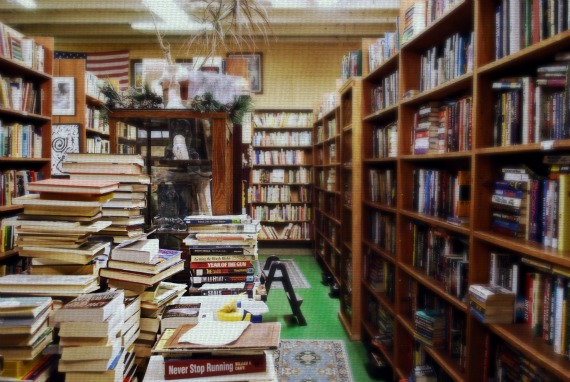 I went into a used bookstore the other day. Painted green floors, taxidermy, folk art, and books, of course, a million-trillion books all under the watchful eyes of two sisters with gray hair down their backs. It was incredible; bizarre in the best of ways.
I put enough change in the meter to last me twenty minutes and walked through a courtyard, under a yellow awning, and across a threshold into Diagon Alley. I immediately started scanning books, but it was the type of place where you tell the shopkeeper what you need and she scans the catalog she keeps only in her mind and says, "You'll find Chekhov on the third aisle, bottom shelf, next to the book on how to make dim sum."
As practical as I am, there is a large part of me that is mystical, prone to woo-woo. This store brought out the woo-woo. I don't know if it was the sisters or the smell of yellowed paper or the large set of antlers with the scalp and skull still attached under which I stood transfixed for five minutes, but the place vibrated with energy. Even Nicholas must have felt it because after he finished playing with the blocks in a woven straw bucket he put them all away before he started in on the puzzles. My only explanation is that we were somewhere magical, because the muggle version of Nicholas can only be bribed or threatened into picking up toys.
I bought Mikey a $4 hardcover of Lemony Snicket's A Series Unfortunate Events and walked out to the car to find the meter expired long ago. I didn't get a ticket.