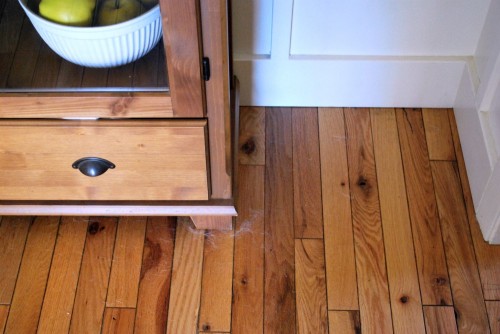 I don't like to clean, but I love a clean house. It's a good thing, too. Mikey's allergies to dogs (we have two) means a tidy home is a requirement more than a preference.
I was completely overwhelmed when I first became aware of the severity of Mikey's allergies. His pediatrician instructed me to vacuum and dust every day, including under the furniture. And I did. At the time, our traditionally styled furniture sat low to the ground. I moved every piece daily for a month. Then, I had a massive freak out and replaced all our furniture with modern, mid century reproductions on skinny legs. Sweeping under the furniture was much easier, but selling and replacing our furniture was unnecessary. Had I calmed down and used my head, I could have saved myself the hassle of dealing with people on Craigslist.
Every time I dust under the furniture–which I now do weekly instead of daily–I feel like sharing with the world my technique. It's not revolutionary. In fact, I'm a little embarrassed because I think you are going to read this, mouth agape, and marvel at my total naivete at keeping a home. So be it. There might be one person out there who was as clueless as I was four years ago. This post is for you, fellow ding-a-ling.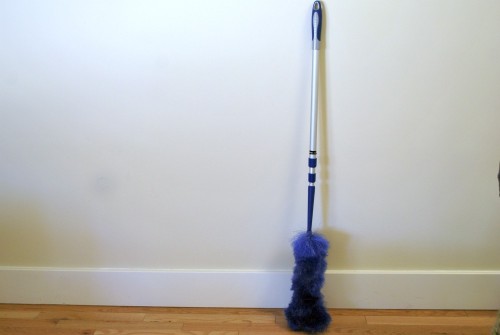 All you need to dust under heavy furniture without moving a sofa or cabinet is an extension duster, the kind made for wiping the tops of ceiling fans and tall shelves. You'll need one with a bendable, removable head made from electrostatically charged fibers. It's much easier to remove hair and dust from this type of material than it is lamb's wool. My favorite is the Evercare Extension Duster. I bought it years ago at Target and have been happy with it since.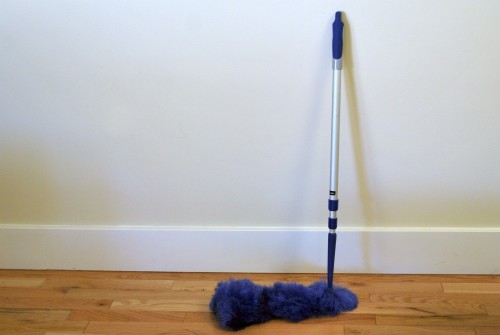 The head needs to bend for obvious reasons: if it bends, you don't have to. I find a 100°-120° angle works best at getting under furniture and is easiest on your back.  The rest is easy. (Because the preceding steps weren't?)
Sweep, drag, tap, and shake.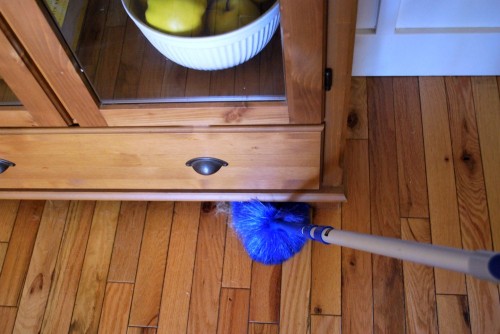 Sweep under your furniture.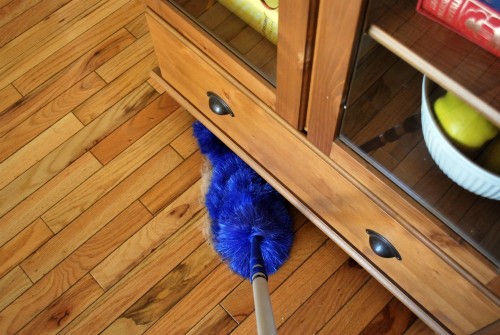 Drag out the contents, taking care to keep the duster head on the floor. You'll leave dust and hair behind if you don't.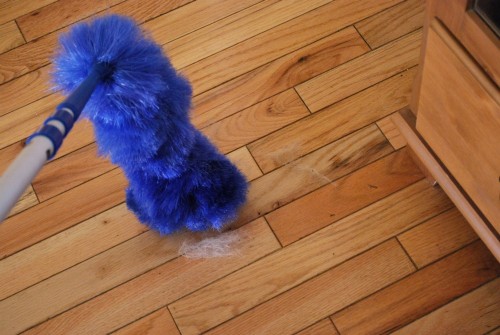 Tap the head of your extension brush against the floor to remove the animal hair.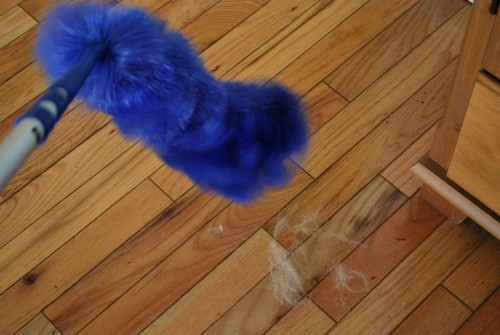 And shake the brush head back and forth (like those troll dolls with the crazy hair from the 80s) to remove fine dust, stubborn hair, and other random things. In my case, the plastic bit to a price tag.
I do this for every piece of furniture in the living and dining rooms and leave little piles of hair in my wake. Then I pick them all up with my vacuum. After that, I give the floors a good wash with a mop.
That's it! Now, go have fun cleaning! (Ha.)