The Accidental Indiscretion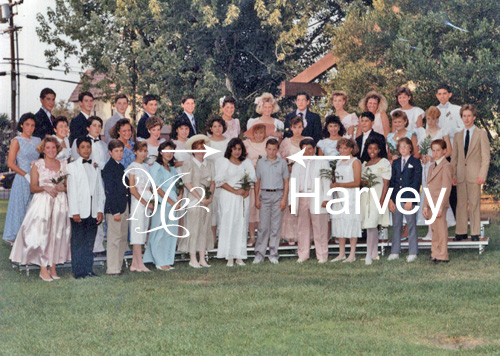 {8th grade graduation "portrait," circa 1986}
There are two things you should know about Harvey: he wasn't always so tall and he is a side hugger.  Since we went to different high schools, I have no idea when he surpassed the 5'2 inches of space we shared in 1986.  He claims it happened between his sophomore and junior year.  Suddenly, like a magic trick, he grew 12 inches and now stands over six feet.  As for when he adopted side hugging, that good-natured, shoulder squeezing embrace normally accompanied by a knuckle to the crown and a hearty This guy!, I remain in the dark.
I wore flats to mass on Ash Wednesday.  I figured comfort and stability were key if I was going to carry a three year old afraid of strangers down a long aisle so that a stranger could rub him with ashes.  Nicholas screamed, kicked, and, when that failed, played possum.  As I hoisted a limp Nicholas over my shoulder, I caught sight of Harvey sitting across the church, smirking with the satisfaction known only to parents with all their children in school.  We gave each other the universal eyebrow raise that says, Hey, what are you doing here?  I'll meet you outside when mass is finished. Of course I am paraphrasing.
We met outside, me in my flats and he with his height.  I looked up, he looked down, and we chit-chatted about our respective spouses and a future couple's date.  We cut the conversation short once Nicholas started pulling wooden crosses out of the grass.  Harvey leaned down for a side-hug and I, still talking about our parent's night out, noticed that my flats would put me nose-first in Harvey's arm pit with one hearty squeeze.  No, thank you.
I adjusted.  I lifted my chin as high as it would go and stood on my tippy-tip toes.  And as my mouth formed a circle to say the words "so give us a call," that is when Harvey gave a me a mighty side-squeeze that landed me and my open mouth at the base of his neck.
Time stopped.
Harvey, no doubt recalling skills learned during his six years in the Marine Corps, froze in an instant, carefully assessing the situation for conflict.  I was likewise immobilized, and not just because I had both arms pinned to my sides and my chin lodged deep in his clavicle.  Stuck as I was, there was nowhere to go.  Were I to move my head or mouth, well, that is a nuzzle.  Closing my mouth would have been even worse because there is only one way to define an open mouth that closes on a neck.  That there is a nibble.
Two years or two seconds later, Harvey released me from his side-hug like a carnival crane dropping a stuffed bear.
Time restarted.
I looked down, he looked down, and we continued to chit-chat about our respective spouses and a future's couple's date until Harvey cleared his throat and offered to walk me to my car.
He could have at least bought me dinner and told me he loved me.