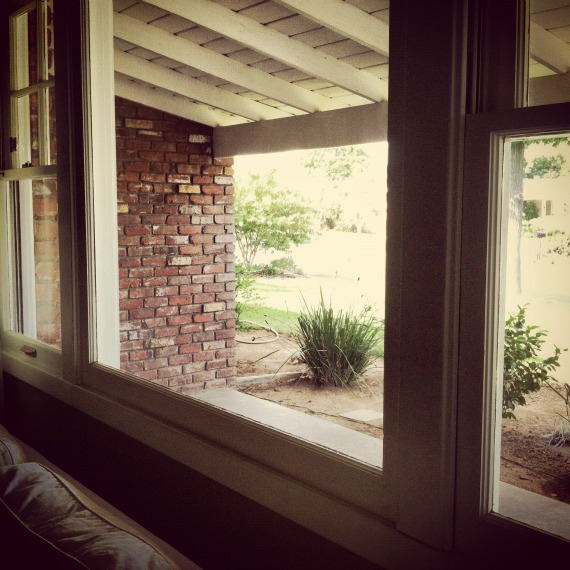 I couldn't work up the nerve to enter my own comment section until after the boys were in bed last night. Truth be told, not only was I overwhelmed (thank you for being so gentle with me in that post), I was suffering from caffeine and chemical withdrawals. I dozed for a couple of hours in the afternoon once I admitted that my headache and bad mood were going nowhere and doing no one any favors. In short, I was a horrible, nasty, viper of a mom yesterday. Not even a pretty view out the front window could cheer me up. I put myself in time out.
Once I finally had the courage to concentrate on your comments, I found some great resources and recommendations. I'm putting them all together in this post so it's easier for us to check out. It goes without saying that I would love for you to share in the comments any more sites, books, or articles related to emotional eating. Strange the way life works, by the way. Last week I was working on a post on emotional eating experts to follow on twitter. I never got around to it, but I think that would be a nice addition to this list, too.
Websites
Word of Wisdom is a wonderful blog written by a retired engineer with a medical background. I used to read it when he first started blogging (his daughter runs an incredible blog of her own). I don't know why I stopped reading, but it's back on the reader again.
The Happiness Project is one every one has at least heard of, probably because of the book of the same name. Lisa mentioned that Rubin makes an interesting distinction between two personality types: abstainers and moderators. The personality distinction would go a long way in explaining why intuitive eating doesn't work for everyone.
Another Lisa (Lisa in Seattle) recommended The Fat Nutritionist. I read the post she linked to on emotional eating while Mikey and Nico were at swim camp. I went over her blog with more attention to detail last night, and was thrilled to see she cites Ellyn Satter as a personal hero. That's all I needed to read. In all the research I did on childhood eating disorders this year, Satter is a name that came up again and again as an expert in the field.
I love Geneen Roth, so I was happy to see at least one person recommend her books.
"We don't want to EAT hot fudge sundaes as much as we want our lives to BE hot fudge sundaes."
I love her writing voice, I love what she says, and I love that she still screws up and then writes about it. (She fell victim to Bernie Madoff.) Despite that, I haven't had luck with her eating plans. But, if I'm being honest, I've never really followed them or gave them a shot! Sitting down to eat, eating slowly, allowing yourself to have ice-cream for dinner…all of it like the ramblings of an insane person. Katherine found one of her books in college (Breaking Free From Compulsive Eating, which was retitled Breaking Free From Emotional Eating and is listed below) and believes it changed her life and her relationship with food.
Books
This is How | Augusten Burroughs
Never Satisfied: A Cultural History of Diets, Fantasies, and Fat | Hillel Schwartz
The End of Overeating: Taking Control of America's Insatiable Appetite | David Kessler, MD
The Happiness Project | Gretchen Rubin
Breaking Free From Emotional Eating | Geneen Roth
Update: Man, my head is still pounding and it's now the next morning (I wrote this last night). I had to edit this post for 32 grammatical errors in the first sentence alone. I would close with something clever, but I don't have it in me. Again, please share any great resources in the comments.