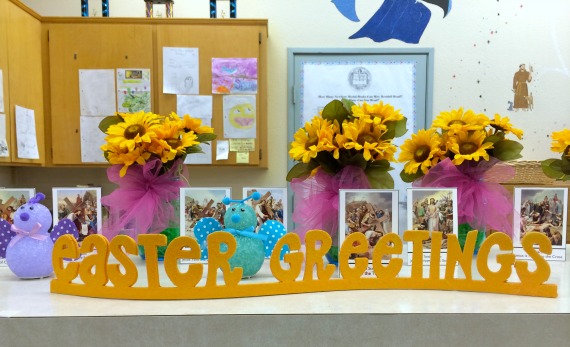 I didn't realize until after I was almost done decorating the library for Easter that it isn't until the 3rd week of April this year. That's okay! This gives me more time before I have to think about decorating summer, which I swear won't be much since we'll only have 6 weeks left of school. I stuck to the 99¢ Only Store except for a few items. The flowers are recycled from the fall, this time with tulle ribbon. I tried to get ribbon I could use for Valentines, Easter, and summer. I don't love the color, but it's hardly worth throwing my hands up in the air over a funky looking fuscia. The Stations of the Cross cards are from The Bookworm. I printed them on photo paper and glued them to clothespins so they would stand upright. If you decide to do the same craft and use photo paper, go easy on the glue because it soaked through to the image and caused some color bleeding. The "He Is Risen" print is a free download from Heidi Stock. I put it in a frame I bought for the Valentine print I made. The frame is a $6 clearance item from Michael's. I think the original print inside was of a bowl of fruit or an innocuous bouquet of flowers. Each season I try to find or create a print I can fit in the frame. Super easy, super cheap, and the kids look forward to seeing what I put in next.
I also have hanging from the ceiling paper lanterns, signs, and honeycomb balls of various sizes. It's…ridiculous. Garish. Phenomenally twee. The kids loves it.
I'm surprised by how much the kids like the decorations. Not all of them–some really don't care and some are horrified. I had one 7th grade boy almost recoil in terror when he saw the library decorated for Valentine's.
"Oh, God," he said, wincing and shaking his head. "This looks so…so…foo-foo romantic." The girls defended me.
"Whatever. It looks awesome. You're just a guy and have no appreciation for pretty things."
"Well, yeah. That's what I just said."
"Okay, what you just said makes no sense."
"None of this makes sense!"
Others like to ask me where I bought this or that. The assumption, oddly enough, is that I make everything. I'm flattered, but I have no idea how they can think I know how to mold plastic into bees and butterflies that glow technicolor at the flip of a small switch.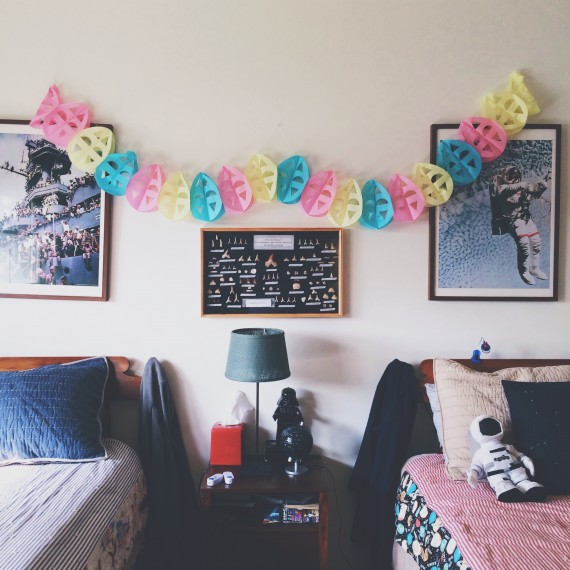 Mikey and Nico noticed how differently I decorate the library and our home. They wanted to know why I didn't put up holiday decorations at home. Sigh. I went back to the 99 Cent Store and bought some garlands. They love it; they think the eggs look like Minecraft swords or axes, but cut out.?.to be honest, I have no idea what else they said. I heard "Minecraft" and it's like the hand of God reached inside my brain and pressed Ctrl-Alt-delete.
Ash Wednesday is this week, and I still haven't decided what I'm going to sacrifice for Lent. I thought of doing an internet fast, but I'm blogging so little as it is that I'm afraid I'll have trouble coming back if I stop. It's a similar problem I'm having right now resuming my daily walking. I seem to have fallen into an every other day habit. I don't like it. I asked the boys what they planned on giving up for Lent, and Nico said, "Definitely not chocolate or video games. I'd like to give up showers."
"Try again," I said.
"I'm giving up farting," Mikey said.
Nico snapped his head in Mikey's direction, his eyes wide with shock and the Legos in his hands forgotten. "Dude," he said. "You'll never make it."
It took a letter from the principal and some serious selling on my part to get an educator card from Barnes & Noble. I think the fact I'm in there so much helped my case. I was there to buy a book for a student. One book. I left with more than one book, as you can see.
This week I experienced what I think will be one of the top 10 moments of my life. Those of you who know me in real life have already heard this story (several times) so now is the time for you to check twitter or Facebook. The rest of you: prepare for gushing.
There are several students who aren't strong readers for various reasons. Some hide it, some don't. One 7th grader told me at the beginning of the year that he didn't like books or reading, so there was no point in him checking out a book. Bless his little heart; he had no idea who he was up against.
I may be a naive optimist, but I truly believe there is a book for every kid. I also believe that the job of an elementary school librarian/media specialist (even a volunteer like me) is to find that book, and I'm not going to find it shelving books or sitting behind a desk stamping cards. It's taken me months, but I've learned the likes and dislikes of most of the kids in 1st through 7th grade by talking to them about anything and everything. I have a pretty good idea of their hobbies, what they watch on TV, and their favorite subjects. I know who most of the girls have a crush on and which boys are utterly, totally clueless when it comes to girls. <----Most of them.
Getting to know the kids has made everything easier. When a second grader turned in a Puppy Place book, I put it to the side for J. in 1st grade because he loves dogs. E. is in The Nutcracker every year, so I put Portraits to the side when I found it one day while dusting the shelves. If you casually mention someone's crush really liked a book, that book is as good as checked out.
It took me months of failed attempts, unread books, and casual conversations to figure out this boy liked goofy, funny plots in books and movies. Slowly, I started finding books and putting them to the side for him. Three weeks ago, a parent donated a box of books, all of them awesome. James Patterson's Middle School, The Worst Years of My Life was in the pile. I immediately put it to the side for him and that week convinced him to give it a try. He did, grudgingly. The next week he came into library and asked to check the book out again because he wasn't finished. I may have started clapping and squealing. He may have rolled his eyes and turned red. And smiled.
The week after that, he walked in and told me he finished the book, and that it was the first book he has ever read that wasn't part of an assignment. I'm not sure how true that is because I think he's read the Wimpy Kid series, but that's what he claimed and even so it doesn't really matter because I was so happy and so proud of him that I immediately started squealing and clapping (again) and ran over to him and gave him a huge side-hug, breaking my own (the school's, really) "no hugging the older boys" rule. He turned a million shades of red, but it was a happy red, and I wish you could have seen the look of pride on his face. He glowed. He even let me take his picture, and he hates taking pictures. I told him every five minutes that I was so, so, so incredibly proud of him; that I knew he could do it; that he has always been a great reader and just needed to find his book; that he would always remember that book; and did he realize what an amazing thing he did? I was so flooded with emotion that I almost started crying. I, the woman who never cries, got stingy eyes over a 7th grade boy reading a book. I blame Buster and my 40s.
I showed him the small pile of funny books I found (how I wish I had an electronic catalog I could search!) and he checked out a book just like that.
At the end of class, as they were all walking out, I pulled him aside and held him at arm's length by both shoulders. He stood there looking down at me–yes, I was wearing heels–with his books held out in front of him, already turning red, already smiling. "You understand how proud I am of you, right? And how wonderful I think you are, no matter what you do or don't read, right?"
"Yes, Mrs. Kendall." Eye roll. Shoulder shrug. Foot scuff. Blush. Smile.
"Good," I said. "See you next week."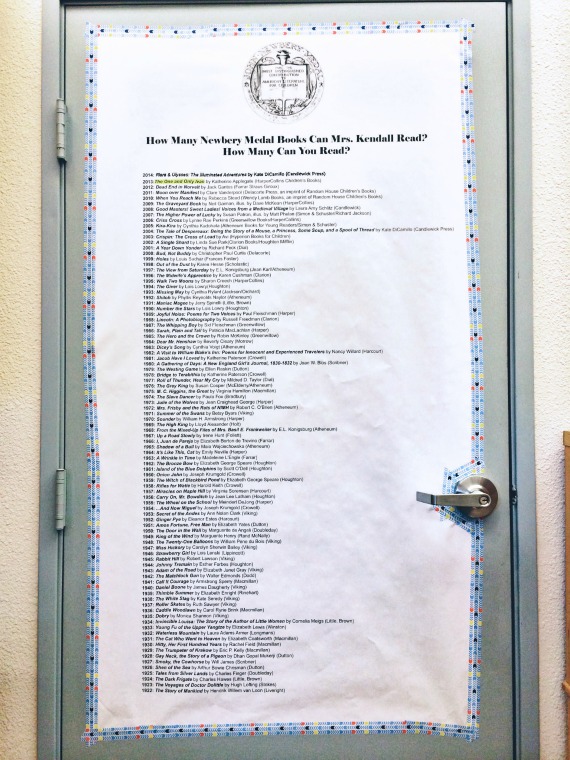 Thank you for the kind words on Buster. After everything was said and done, I became very sad and just loafed around the house. I didn't walk on three days, in fact, but I did walk yesterday and Friday. We heard from the vet that he has a bacterial infection. Good news! No mass! Bad news: he was already on antibiotics earlier this month, so we're not sure if he's responding to antibiotics at this point. It makes starting immunosuppresant doses of steroids a bit tricky. His appetite is good so long as we don't give him kibble, and he's content. We'll see what the vet says today about the antibiotic/steroid conundrum.
I kept myself occupied by diving headfirst into library projects I've been putting off for "lack of time." [re: procrastination] I searched for an obscene amount of time for a poster that lists all the Newbery Gold Medal books, but in the end had to make my own. Full disclosure: the idea isn't mine. I read about Mr. Shu's Newbery Challenge about a month ago and thought it sounded like something I could do that would benefit both me and the kids at school.
The poster is not glamorous, but it serves my purpose: it gives credence to our library catalog and (hopefully) inspires the kids to read outside their comfort zone. We have a surprising number of Newbery Medal winners in the library. I haven't completely torn apart the shelves, but I'd say we have at least half of them. Behold, one of the benefits of having an old catalog! Haha.
Basically, I know what I'm reading for the next 15 years. I'm sure I've read some of these before as a child, but I sure can't remember them. The kids were shocked at the list. First, they wanted to know why. The answer has two parts. One, it's my job to know what's in the library and it's my job to find them a great book to read. I can't really do that if I don't know the books. Two, the Newbery recognizes books that have changed the face of children's literature. Seems like those are books I should read. "Like, how are you going to read all those books, Mrs. Kendall?" One page at a time, young padawan. One page at a time.
I've been showing it to parents and teachers, trying to drum up interest in a Newbery Gold Medal book club. Believe it or not, no one thought I was crazy!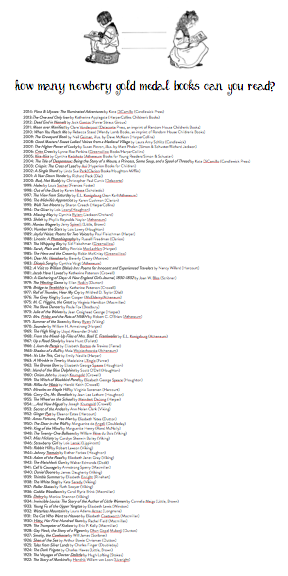 Just in case you want your own poster, I made one to download. I took off the Newbery image for legal reasons and replaced it with vintage clip art. I also changed the title to make it more generic because if you do hang your poster, no one is going to care how many Newbery Gold Medal books Mrs. Kendall can read.
I have never done a download before, so doing one today might totally blow up in my face. It's roughly 36×52 and I had it printed on blueprint paper for $9 at FedEx. It's tack sharp and clear on my end, but when I pretend download it, it's a little blurry. Hopefully, with the magic of the internet, it looks good on your end.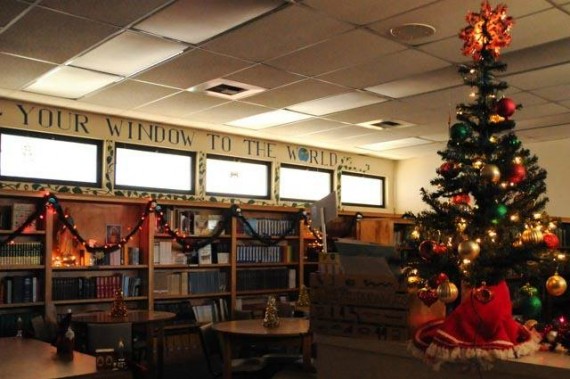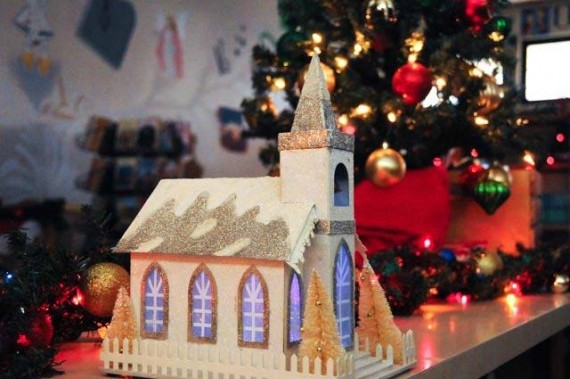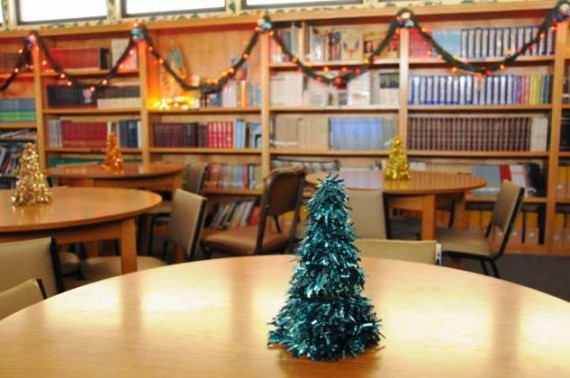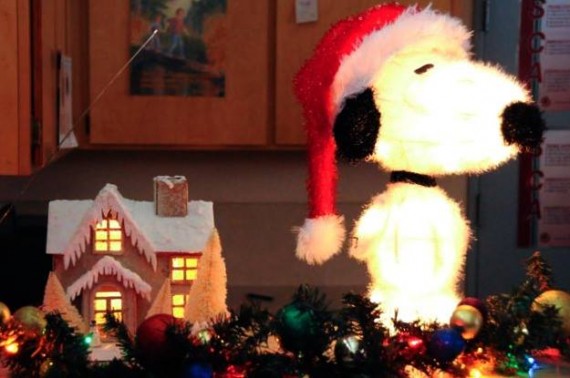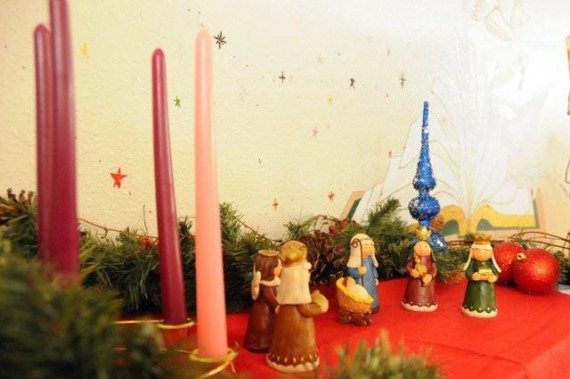 Just a few pictures my friend took of the library done up for Christmas. It was a team effort. A handful of parents donated, bought, and decorated. I didn't realize the tree my friend bought for the library was a table top tree! I love it, and I plan to keep it up year round and make it a holiday tree. I thinking making the ornaments with the students (or just Mikey and Nico) would be a fun, provided I find something quick, inexpensive, and practical for a K-8 library. These paper heart ornaments for Valentine's Day are just the ticket.
Now, the trick is to figure out the months or holidays that come with decorations. Easter, obviously. But the rest of it is all new to me. I've never been one for holiday decorating, but the kids…they've put a pink blush on my formerly black heart. The other day I found myself looking at Washi tape. Me! Washi tape! What's next, whistling?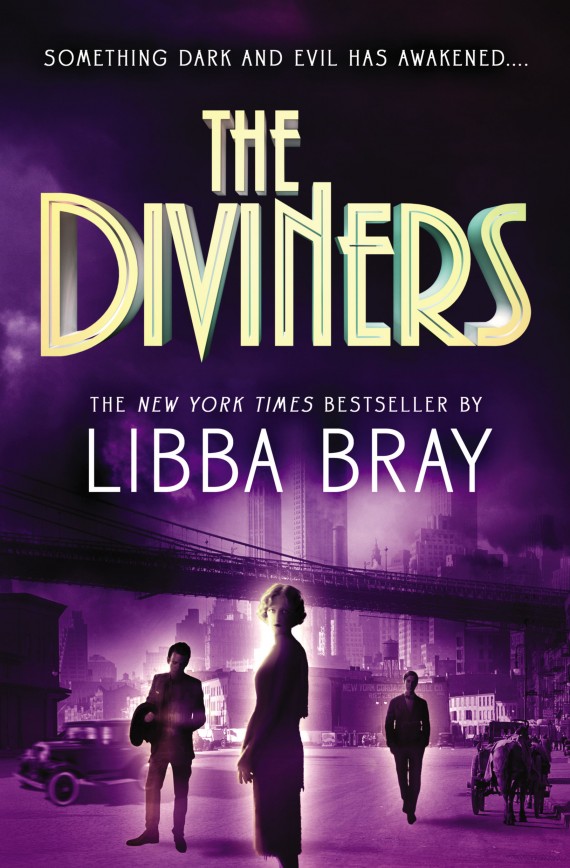 This post was supposed to be a review of The Diviners by Libba Bray, but my migraine over the Thanksgiving holiday cheated me out of 5 days of reading. I did watch a lot of Being Human, Doctor Who, and the back of my eyelids, so not all was lost. I'm about halfway through, though, and so far I really like it. It's dark, which seems to be what I'm drawn to these days. However, had I played the trailer, which I just watched after inserting the code into this post, I would have run screaming into a pool of holy water.
The book is spooky, but so far it's not that spooky.
I was offered a copy–no review was necessary for this post–and I took it thinking I could read it and turn around and donate it to the library. To quote Evie, the main character, that is posi-tute-ly not going to happen. The Diviners falls firmly in the 14+ camp, at least for someone who volunteers at a Catholic K-8 school. I've seen kids at school read books that are just as mature, but they bring them from home. There is no way I could get my principal to approve a book about a serial killer, the occult, and the 17 year old speakeasy-hopping teens that chase him.
Evie O'Neill has been exiled from her boring old hometown and shipped off to the bustling streets of New York City—and she is pos-i-tute-ly ecstatic. It's 1926, and New York is filled with speakeasies, Ziegfeld girls, and rakish pickpockets. The only catch is that she has to live with her uncle Will and his unhealthy obsession with the occult.

Evie worries he'll discover her darkest secret: a supernatural power that has only brought her trouble so far. But when the police find a murdered girl branded with a cryptic symbol and Will is called to the scene, Evie realizes her gift could help catch a serial killer.

As Evie jumps headlong into a dance with a murderer, other stories unfold in the city that never sleeps. A young man named Memphis is caught between two worlds. A chorus girl named Theta is running from her past. A student named Jericho hides a shocking secret. And unknown to all, something dark and evil has awakened.
Libba Bray is an excellent writer, and she so far she hasn't disappointed with The Diviners. I know some of you disliked Going Bovine, and I'm curious to know if you've read The Diviners and enjoyed it. There are so, so, so many young adult paranormal stories out there, and it's refreshing to read one that I, an adult, find myself enjoying. It's smart young adult fiction. Libba Bray and her contemporaries prove young adult literature exists and it's not all candy floss and soda. The trick is to hold out for the good stuff.
Kind of like this giveaway, which is for one book and one tote bag. The book and tote bag aren't what makes the giveaway great–I mean, yes, they're great and you should enter and tell all your friends!–but much like young adult books, it pays to hold out for the good stuff. I try to limit the giveaways and sponsored posts on the blog. I turn down quite a bit, even for books, because (1) this isn't my livelihood and (2) giveaway posts can be really dull, especially when the blogger hasn't finished the book and doesn't have a story to share.
Luckily, I have a story to share. Last week I was offered product and payment for a post on something I thought my boys would like because it's an interest they recently acquired. My discussion with the company was going well until they said they could not proceed unless I agreed I wouldn't disclose the post was sponsored and that I received free product. Long story short: I said NO.
They didn't care. They were confident someone else would do it; maybe they're right. After blogging for 6 years (this blog turned 6 on Saturday!) my only piece of advice to anyone starting out is this: don't sell out. Blog in a way that aligns with your principles. Don't let a big company or a fancy publicist manipulate you into thinking that if you don't take this deal right! now! you will never become a blogging sensation, because giveaway or no giveaway, the odds of you becoming a blogging sensation are very, very slim.
There are very few Evie O'Neils in this world, and there are even fewer successful full time bloggers. If you're destined to be one of them, it's better to get there on your own terms. I'm not destined to be a successful full time blogger and knowing that makes blogging a lot more fun.
Wait for the good stuff. Giveaway the good stuff. Read the good stuff. Or be like me and try to do those three things as often as you can, with a little fluffy brain reading tossed in to cleanse the palate. (A lot of fluffy brain reading. Ahem. No one's perfect.)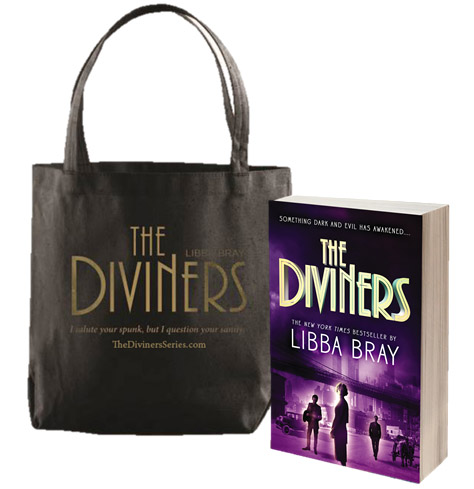 SHOW OFF YOUR LOVE FOR THE DIVINERS!
One (1) winner receives:
An exclusive The Diviners tote bag & a copy of the book!
Prizing courtesy of Little, Brown
Giveaway open to anyone 18 years of age and older with a current mailing address
One comment per person on this post
Giveaway closes Friday, December 13, 2013
Good luck!