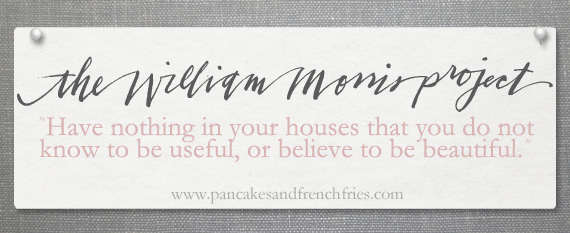 I attacked the toys and Legos the second I started feeling better last week. I worked a little bit every day, and by Wednesday I finished anchoring the bookcase to the wall and installing the doors. The right door was still falling open when it was time to take pictures, but I've fixed it since then and everything is flush and even.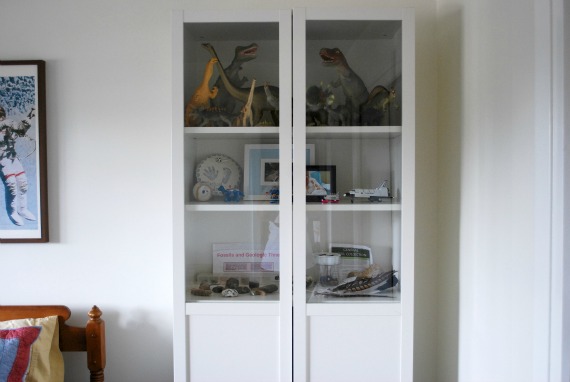 Ta-dah! Party on top, business on the bottom. It's a toy mullet. IKEA doors now come with magnetic closures that I elected to ignore. I'll install cute door knobs at a later date.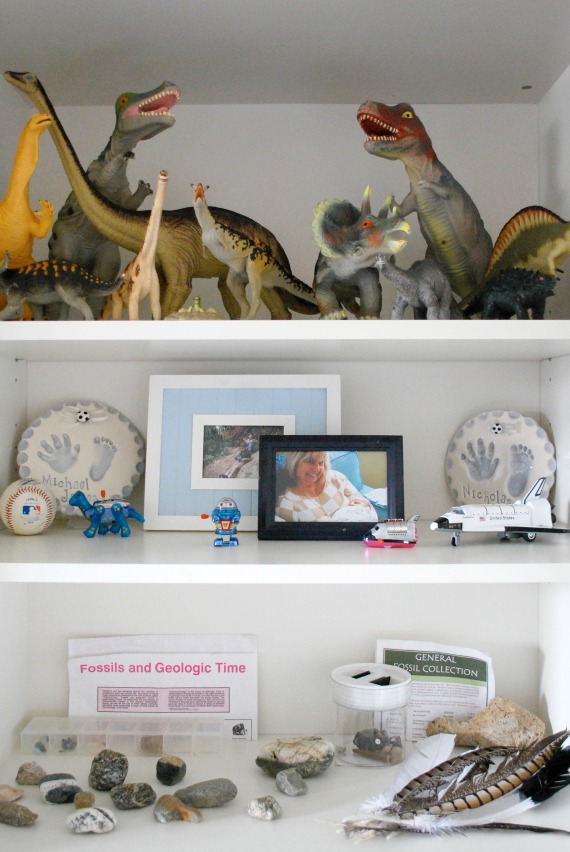 Here is the interior of the glass portion of the bookcase, which is an extra-deep Billy from IKEA. Dinosaurs on top, keepsakes in the middle, and the boys' prized rock and fossil collection on the bottom shelf.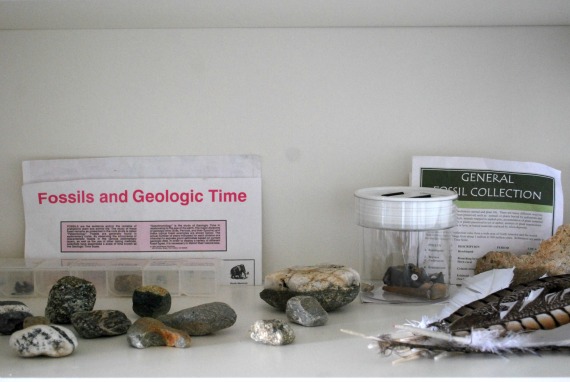 This is our favorite shelf. The rocks are all ones they collected on walks with my mom. The fossils are ones she bought for them at museums with the exception of three, which are from a student of hers who was studying paleontology. (A female student–huzzah!) When the student found out Mikey (then 5 years old) wanted to be a paleontologist and collected dinosaurs, she gave him some fossils from her collection. He was so excited he made her a card with pictures of dinosaurs. She wrote him again, and that letter has been in his room every since. It's folded up under the plastic jar, which is where he keeps the fossils. You can read the letter here. (Wouldn't it be something if years from now they meet and put two-and-two together?)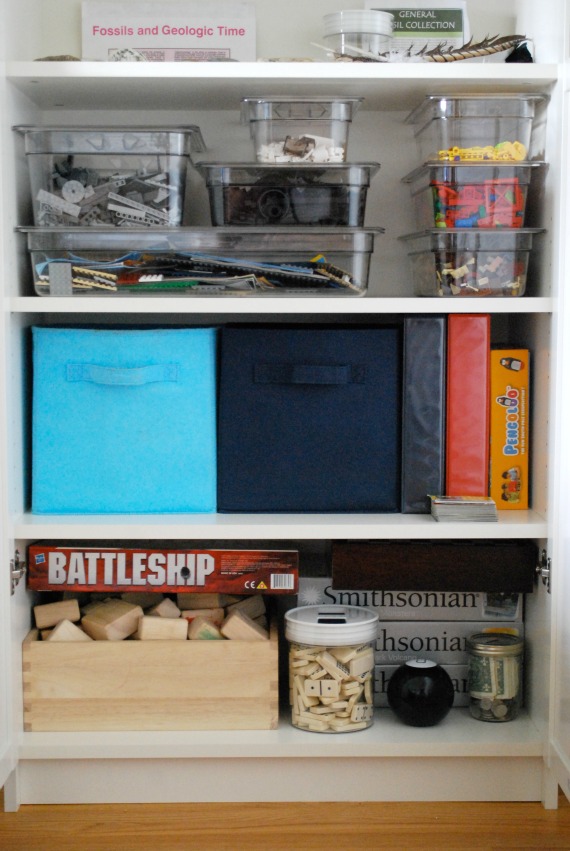 Lego storage! The bottom/hidden portion of the bookcase is where all the Legos, games, and miscellaneous toys go.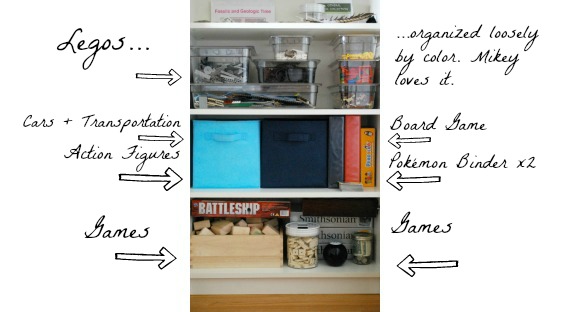 Here is a breakdown of the toys and how they are organized. It doesn't look like a lot of toys for two boys–at least I don't think so! First, I still have to go through the closet, so there is a lot more to add/purge/organize. Big stuff, like Hot Wheels tracks, that will have to stay in the closet. Second, we try to emphasize outdoor activities and creative play, and are lucky to have neighborhood kids–who go to school with the boys–with parents who share the same philosophy. Hey, it's good for them and it's cheap for the parents! The four of them run between the two houses and spend a lot of time riding bikes, playing wiffle ball, or acting out really complicated skits that involve handcuffs they make from paper. (Because it looks cool when the hero explodes! out of them.)
When that fails there are Legos and video games, although video games are a last result because they always end up fighting. Never fails.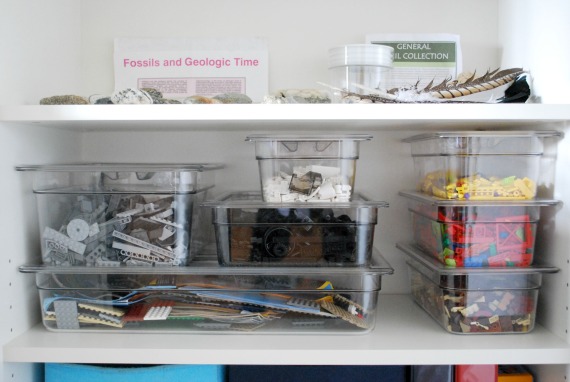 Here is a close up of what I used to store the Legos. Can you guess what I used? Those are catering containers from Smart & Final. You know, the kind you see at salad bars? I wanted something clear, easy to open/close, stackable, and bigger than the standard organization boxes and cubes I found in stores and online since the bookcase is extra-deep. I also wanted unique sizes since I knew we'd have more of some colors. These met all my requirements and the price couldn't be beat–I think they were between $6-$12 a piece, but don't quote me. I spent far less than $100 for all of them, and I still have a shoe box size and a jumbo size that I haven't used.
Note the absence of labels. That's why I wanted clear boxes. I wanted no excuses from the boys at clean-up time and, while I know some people fan themselves at the opportunity to use their label maker or Cricut, I'm not one of them. I will never cut letters out of coordinating scrapbook paper and mod-podge them to containers. More power to those who do! No judgment, just an admission that my strengths/interests lay elsewhere.
We'll see how this goes. We have never organized Legos by color before. Prior to this, we've always been of the "one big bucket" variety. Once the boys started getting more sets, that system failed. So far, Mikey loves this system. I mean loves it. He loves it so much he actually said to me, "Mom, I really like the Legos organized like this." Nico agreed, and then they spent two hours watching movies and organizing Legos.
You could have knocked me over with one of their feathers. In the two years I have been cleaning up our home–their rooms especially–never have they proactively complimented one of my systems. Fingers crossed.
//////////////////////////////////
This post was part of The William Morris Project, a weekly series that details the steps I am taking to create an intentional home. You can see more of my goals and completed projects here. To learn more about this project, start here.
//////////////////////////////////
Now it's your turn! Feel free to share how you have lived according to the William Morris quote, "Have nothing in your houses that you do not know to be useful or believe to be beautiful." Made a plan? Cleaned a drawer? Bought a sofa? Tell us about it with a link or comment. A few guidelines:
Please link to a specific post, not a general blog address.
Your post must relate to your efforts to create an intentional home. I have a delete button, and I'm not afraid to use it.
No links to giveaways, please.
Let's use this weekly link up as an opportunity to gather inspiration and motivation. Click links. Discover new people. Say hi and good job and all that stuff.