It's hard not to love a boy who looks up from his math workbook and asks, "Mom, can I make myself a bow-tie before I start my reading homework?"
Mikey, with all his quirks and opinions and outlandish behavior, is easy to love. It's easy to like him, too, which is even better.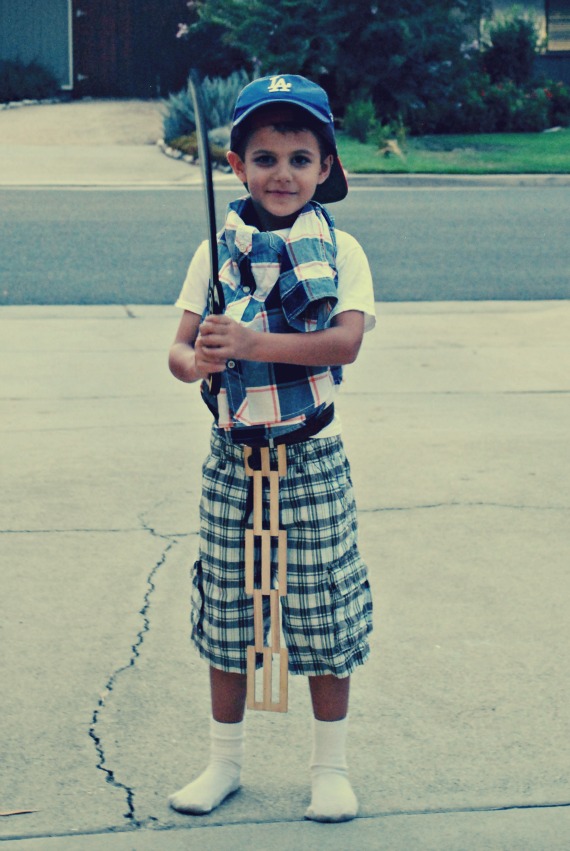 The other day he passed me in the hallway holding a pirate sword and wearing two baseball hats, a plaid shirt, and a wooden fence that belongs to a Melissa and Doug Barn scene. When asked, because I had to ask, he looked himself up and down and in a slow voice said, "Mom. I'm going jousting." The "duh" was implied.
Mikey is in the "in between." Not a teen, not a little boy. He gets lippy and bossy. Sometimes he's mean to Nicholas and takes advantage of his weaknesses. He loves the History Channel and Lego cartoons. He reads and reads and reads until he knows everything about a subject. Then he moves on. Right now, it's knights and the middle ages. I worry about his recent interest in battles and military history and guns and sword fights until I remember once reading a book on raising sons that said most boys of a certain age, when given the chance, will make guns out of peanut butter sandwiches.
He's nervous around wild animals and terrified of sharks. He won't even look at pictures of them. His imagination is like mine, active to a fault, so he is often afraid of the dark and what it may be hiding. I remember being afraid of the dark at his age. I offered to buy him a Dream Light for when he wakes up in the middle of the night, but he said they were "way too baby."
Then, when I think I've lost him forever to testosterone, he'll ask me to snuggle him to sleep. He'll read Magic Treehouse to Nicholas before bed and play dolls because it makes his baby cousin happy. He'll admit he still likes Yo Gabba Gabba. At 3:00 am I'll feel a presence in the room and there he is, standing next to my side of the bed. He slides in as soon as I pull back the covers, molding himself to me while he answers my unspoken question.
"Scooby Doo, mama. It was about werewolves."
It's a good time to be Mikey's mom.