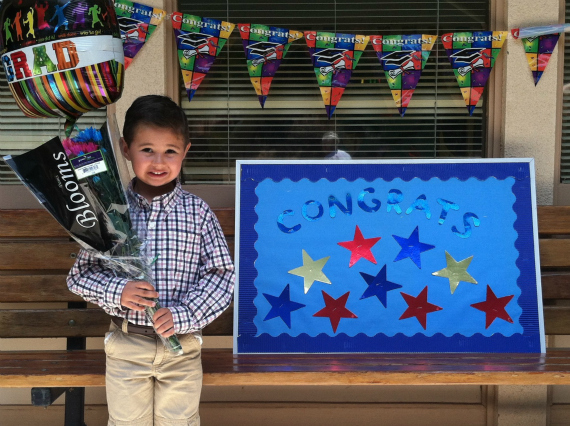 Whew! What a week. We had something almost every day, and you know how I feel about that.
:: Nicholas graduated from preschool on Monday. And thus concludes my role as the mother of preschoolers. Sniff.
:: Tuesday was Mikey's 8th birthday! As if Nicholas's graduation wasn't enough of a reminder that time marches on.
:: I spent most of Wednesday putting together teacher's gifts. I didn't recognize myself! Usually I'm slamming my car into a Vons parking space the morning of the last day of school and blindly upending gift certificate end caps into my cart.
:: Intent on making the world counter-rotate, I dropped off all the teacher's gifts on Thursday–a full day early. Who? What?
:: You know what Friday is? IT'S THE LAST DAY OF SCHOOL. In the words of the inimitable Nicholas, "BOOYA."
:: Saturday should be interesting. I'm going back into program for my disordered eating. I gave myself a break until summer vacation started, and here I am. I wanted to have as easy a schedule as possible to allow myself to deal with the withdrawals and the overall malaise that comes with "Why me; It's not fair." That usually doesn't last more than 4 days, and the serenity that follows is worth the temporary urge to bite the heads off baby animals. I want to greet my 40th birthday feeling mentally and physically strong.
:: Speaking of strength, I'm going to spend Sunday making a business plan for the blog. I had an email exchange on Thursday that I can best describe as equal turns amusing and aggravating. I got the impression someone I worked for considers me and my blog to be to the left of zero. Small potatoes. An insignificant blip on a large radar and not worthy of her time. While that may be true, it won't be for long. I'm excited by the challenge to grow and develop this blog beyond the expectations of some. It's on like Donkey Kong.
The last two are kind of weird, huh? They start off not sounding positive at all. Just proof that good can come out of bad.
Have a happy, happy weekend, everyone!