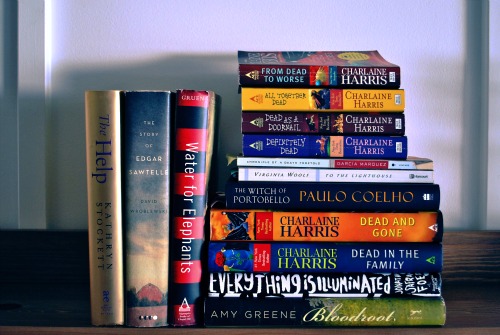 I've read twelve books from my Unread Library since starting the project in July 2010. I can't decide if I've done well or am in need of improvement, though I'm leaning towards "pick up the pace, woman." Six of the books were from Charlaine Harris's Sookie series, the same that inspired the TV show True Blood. They are fast, easy, and don't require braincells, which makes them perfect summer reads. They account for 50% of my progress and (hello!) I read all six during the final dog days of August. Yeah, I need to pick up the pace. Here's what I have read so far.
The Story of Edgar Sawtelle, by David Wroblewski was the first book I finished. The Barnes and Noble near me had assigned it to their book club members and I bought it hoping to be a part of the group, which was foolhardy. The group did not accept new members. I tried reading it on my own, and got about a third of the way in when I let it go. A year later, Oprah put it on her Book Club list. I should have known. Oprah and I are on divergent paths when it comes to reading. I am rarely in love with her picks, and this book was no exception. I wanted to love it, but I think this book, which parallels the plot lines in Hamlet almost exactly, requires a working knowledge of the tragedy to better appreciate the story. I'm not well versed in Shakespeare and avoid tragedies as a general rule so, for me, this is a book I should have read in a book club or with friends who could explain to me the nuances and key points.
Water for Elephants by Sara Gruen. Don't ask me why I didn't fall head over heels for this book. Part of my problem, I think, is that I read too fast to properly enjoy the story. I didn't dislike this book. On the contrary, I read it in four days. You don't do that with books you can't stand. Still, there was something that has kept it from my reread pile. The most concrete thing I can pinpoint in my dissatisfaction is that the love I had for the narrator as an old man weakened when the story recounted the past. Old Jacob jumped off the page for me, while young Jacob didn't seem as full of life. I am eager to see the movie, though!
All Together Dead, Dead and Gone, Dead in the Family, Definitely Dead, From Dead to Worse, by Charlaine Harris. I'm going to go out on a limb and say that the word dead has to be in every title in Harris's catalog. You heard it here first. And that pretty much sums up what I have to say about the series. It's fun, campy, and the kind of thing you read on the beach. I bought the series a few years back and read the first three quickly. I tried to read the next three but couldn't. I tend to read in spurts and stops, alternating between fluff and stuff, and I was done with fluff after the first three. This summer, everything that annoyed me about this series the previous year went poof! and suddenly I was up late reading about vampire drama. The latest in the series comes out in May. You got to hand it to Harris; she's prolific.
After a three month break, where I re-read books I own or found ways to justify reading books from the library, I got back into the swing of things. We went to Lake Tahoe for Thanksgiving, which is always good for reading. On that trip, I brought (and read) Everything is Illuminated by Jonathan Safran Foer. True story: when I opened Everything is Illuminated out popped an airline ticket stub (remember those?) from ten years prior. The destination was Lake Tahoe. I was destined to read that book in Lake Tahoe, just a decade later than I anticipated.
The second book I brought with me to Lake Tahoe was To the Lighthouse by Virginia Woolf, a book I have started and stopped for, again, ten years. It was an amazing book, the kind that makes you examine your own writing and realize that you don't amount to a hill of beans. I have so many notes and have so thoroughly underlined that book that I could probably devote several months to it in my Compositions series. I haven't, mainly because I don't want to bore you or seem like an angst ridden high school senior, which is when most people read Viriginia Woolf. What can I say? I never claimed to be well read.
Next, I read Bloodroot by Amy Greene. The Mister bought me this book when it first came out. It's set in the Smoky Mountains of eastern Tennessee and the author, from what I heard, does a superb job of recreating the people and the setting of the part of our country. I've never been, nor have I met someone from the Smoky Mountains, so I'm taking this to be true. The beginning started off strong, and I thought the book would be American magical realism, but that seemed to taper off as we moved forwarded and settled into southern tragedy. I would have preferred the former over the latter.
The Help, by Kathryn Stockett was not on my list of books. It was a birthday gift, and I'm tossing it in here to justify why I'm so far behind on my other reading. The book was an enjoyable read, and I'm excited to see the movie. I didn't love it, and if you haven't already figured it out, I rarely love books. I read too many to love every book I come across, no matter how deserving the praise. That almost jaded attitude when it comes to books is truly the saddest part about reading as much as I do. For me to say I loved a book, I have to dread seeing it come to an end. When it does end, I read parts of it over and over for weeks to come to get it out of my system. I love that feeling.
Most recently, I read The Witch of Portobello by Paulo Coelho. This book is much like Coelho's other books in that it centers around a character or characters in the process of discovery or spiritual quest. And, like most Coelho novels, I was at turns enthralled and annoyed. Parts of it inspired a composition, but other parts had me rolling my eyes. Coelho can get new-agey, and that's where he loses me.
And that's it. Twelve books, six months. Not bad, not great if I want to start reading contemporary literature again. There are so many books coming out that I want to read, and so many authors you have introduced to me, like Jeanette Winterson that leave me desperate trying to come up with excuses to run out and buy her entire bibliography. Does the Easter bunny leaves presents for adults? If so, I know exactly what I want to see in my basket.