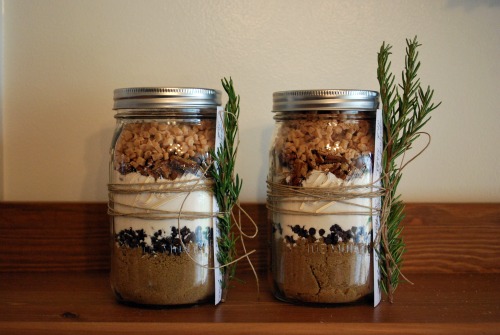 You would think, given that I bought the Better Homes and Gardens special interest publication on food gifts weeks ago, that I would not have been scrambling this morning for something to give the front office staff at Mikey's school. Truth be told, I forgot all about it buried under the mess of my mail table. When I bought it, it was to make and send gifts to my in-laws in Florida and North Carolina. Once I figured out the shipping and packing supplies  I would need to buy, I scrapped the idea and went for pictures.
But! I realized as I pulled into Mikey's parking lot that I forgot several of his teachers and both moms who work the front office. We don't have the budget to give everyone a gift, but I felt I should do at least a little something for the front office staff, especially since they are the ones who take the calls, clean up the boo-boos, and pretty much do most of the stuff no one else wants to do.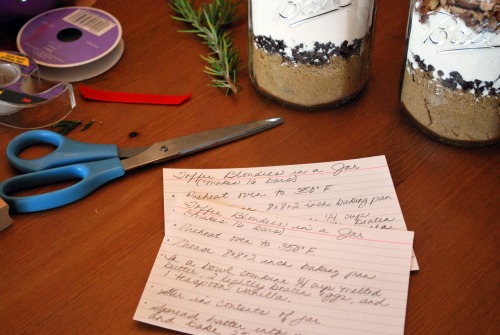 Jarred food gifts can be a bit like velvet ribbon in that they have fallen out of favor with most people. They are a bit old fashioned, slightly stodgy, and as far removed as you can get from a Starbucks gift card. In other words, they are right up my alley. I love them, and am patiently waiting for the day someone makes one for me.
The recipe for Toffee Blondies in a Jar is on page 12 in the latest issue of Better Homes and Gardens Food Gifts special interest publication, which is available on newsstands until January 4.