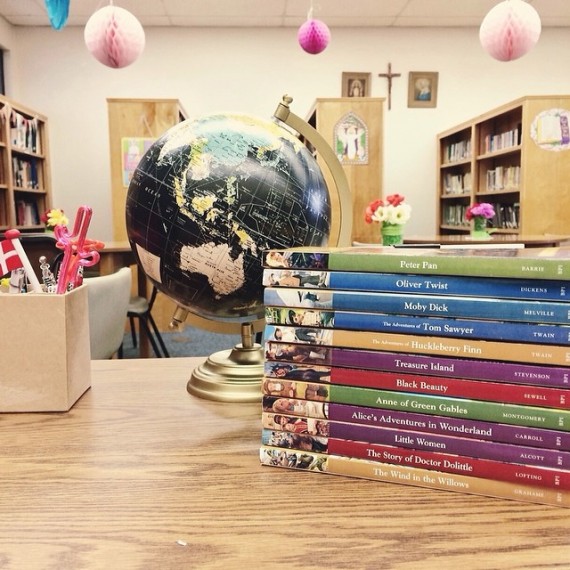 I had to change the image and opening content of this post because I'm a blooming idiot. I can't wait to tell you all about it tomorrow. Prepare to laugh at my expense. Anyway, the error on my part worked out great because I forgot to add something else to this post. Of course I did, but whatever. Parents are now giving me money to buy books for the school. How great is that?! They trust me to buy books for their children. I'm so honored/overwhelmed/GIDDY WITH POWER! (Kidding about the power thing.)
My friend Martha was the first to give me money, and I was all set to buy the Wendy Mass Willow Falls series when I stumbled across an end cap of retold classics in Michael's for $1.00 each. Yes! I snapped them up for a few reasons. First, I was able to spread Martha's money farther, which is nice when you're shouldering some fiduciary responsibility. Second, Melissa reminded me in the comments of my Clean Romance post that fairytale retellings are hot with kids. Alice in Wonderland, Hans Christian Andersen (the movie Frozen is based on The Snow Queen), Beauty and the Beast…they're all being retold on TV and film right now, and the kids who love them want to read books with the characters and storyline they can't quit. Our library has all the books I bought, but these retellings are easier for them to understand. Also, the covers aren't as "baby" or old fashioned in appearance. The logical, practical side of me balked at first–why buy something we already have?!–but I quickly settled down and tried thinking like a Generation Like kid. <-----So much more I can say on this, and I haven't forgotten the documentary. Well, I did, but in my defense Buster died a couple days prior to my scheduled post.
I haven't only read Harry Potter fan fiction this month though, yeah, I've read a lot.

I've also read an unfair quantity of research on reading programs. I read so much, in fact, that when I walked into the library on Tuesday and saw that Faith Formation had set up (and left) a TV, I almost put it away for them in a fit of procrastination. Then, unable to ignore the cords, the giant TV on the counter, the cords, the kicked up dust, AND THE CORDS, I had the most minor of freak-outs. This resulted in excessive/obsessive cleaning, cord wrangling, repositioning of computers, perspiration, and a highly detailed to-do list with the words MANAGE CORDS—HOOKS!!! underlined three times. You can see a little bit of what I'm talking about in this picture. Under no circumstances should electrical outlets be at eye level. This should be a rule of law, it can not stand, and I need to William Morris the library. (Because, hello, I'm there more than I am in my own home!)

I should probably change the name of these posts to "Library, Library."

Monday

At the risk of sounding pathetic, I scored major mom points buy securing a copy of the Minecraft Essential Handbook. It's hard to come by, you know. Oh, you don't know? Lucky you.

I also bought Nico the first two books of The Notebook of Doom series. He loved them, and I think my reluctant reader found his series! Now to work on Mikey, now who only wants to read books his friends will think are "cool." Sigh.

::::::

Tuesday

Mikey had some playground trouble, and it's something that has been happening with more frequency. I'm not sure what's going on. Is it the Mister's busy travel schedule? Is it Buster? Is it the beginning of tween? Maybe it's just been a bad month. What's important is that I was in the library shelving books when he came in, clearly upset about something that wasn't nearly as horrible as he believed. I didn't say that, of course, but instead listened to him rant and rage and tell me everything. I'm so happy he felt okay coming up to me, an event I know won't happen forever. I had a similar experience with the girls in his class the week prior. I was shelving books, chatting with one who gave up recess for Lent when all of a sudden I had 7 girls around my desk, one of them crying, looking to me to say something sage in response to gossip.

I've since bought Masterminds and Wingmen, and I think I should pick up Queen Bees and Wannabes next.

::::::

Wednesday

The Mister apologized to me after an argument using a new, and very much appreciated, technique.

Later, a student told me that she couldn't understand her cousin because he hated reading and books. I told her that she should have patience and encourage him gently without making him feel silly/stupid/inferior. Maybe reading is a challenge to him for reasons we weren't privy to, or maybe he hasn't found his gateway book. (I didn't call it a gateway book.) "Yeah," chimed in one girl holding The School for Good and Evil. "I didn't like books until I read Wonder, and now I like reading." Even though I have yet to finish that book (I need more than 30 minutes with these kids!), she liked enough of what she heard in library to ask her parents to buy a copy. All hail the power of read-alouds!

I've been holding on to The Politics Book for a 6th grade boy obsessed with politics. We just got it in, and I knew the second I saw it that I would put it aside for him. It's a really neat book, and he seemed to really like it. He came up to me after a different class to tell me that he read two different sections, "And can you tell me how much this book is so I can just buy it?"

::::::

Thursday

I didn't have to go to school. Not once. Not for library, not to pick up the kids, not to drop off forgotten music instruments or homework. It was glorious.

Speaking of instruments, Mikey is going to switch to a bass clarinet over the summer. The school band needs another player, and Mikey's teacher believes he'll make the switch easily. The best part is that we don't have to buy or rent another instrument because Mikey will play one of the school bass clarinets. This should be something to see. I'm pretty sure Mikey is half the size of a standard bass clarinet.

::::::

Friday

Back to the library! After that, I'm heading home to work all weekend long on a report on reading programs I'm preparing for the curriculum committee. I'm pretty excited, though the scope of my research keeps broadening. <----Not how it should go. I started off doing a review of reading programs, smug that research shows AR programs as ineffective as they always appeared to me to be, but then I started researching ALL! THE! PROGRAMS! and reading ALL! THE! LITERACY! BOOKS! and when I spoke with a woman who told me she was worried about her grandson and his learning disability, that got me researching ALL! THE! LEARNING! DISABILITIES! What started off as a simple review of reading programs on the market has morphed into a review of all the reading programs (none look good to me) to developing a proposal for a school-wide language arts program that encompasses ALL! THE! KIDS! regardless of reading fluency.

We're also going to a school play later tonight.

::::::

The Weekend

I'll be knee deep in literacy research and loving every minute of it.

I finished Fangirl by Rainbow Rowell on February 18, 2014 according to my page on Goodreads. I'm sure most of planet knows by now how I felt about her previous book, Eleanor & Park. It is one of the very few books I assigned 5 stars. Everyone knows how picky I am when it comes to rating books. My friends Kendra and Carey make fun of me repeatedly, calling me the Scrooge of readers. Kendra still hasn't forgiven me for giving The Girl of Fire and Thorns 2 stars. (I stand by my 2-star review, Kendra, so don't even.)

On February 18, 2014, I gave Fangirl 3 stars. I liked it, but I wasn't telling the world about it like I did Eleanor & Park. I had trouble connecting with the story because I couldn't relate to the main character, Cath, who is a socially awkward, passionate fan of the Simon Snow series (think Harry Potter). She is such a fangirl, she writes Simon Snow fan fiction, and however shy and introverted she may be in real life, online she is a superstar. Her Simon Snow fan fiction rivals that of the actual series in popularity, and as strong a writer Cath may be, she can't imagine writing anything other than Simon Snow fan fiction. Fangirl is about Cath's attempt to live life outside the fandom.

I was a fan of the Harry Potter series, but at the time the books came out, I was in my late 20s and in law school. I spent very little time on the internet and reading was something I had to put off until summer. No matter how much I loved Harry Potter, it wasn't enough to get online and, to be honest, I didn't know fandoms or fan fiction existed. I haven't even watched all the movies because I wanted to reread the books first. What I know of Harry Potter is because of the books. That becomes important later.

My first taste of fan fiction came with Twilight. Long before 50 Shades of Grey became the juggernaut everyone but me has read and loved, it was fan fiction. The first time I heard of it was on a book blog. The blogger linked to it, gushing about its magnificence. Okay, I thought. I'm always up for free books!

Holy hell, NO. I was shocked at how awful it was. I read three pages, maybe less, before I gave up. This was 50 Shades before it became 50 Shades! I'm sure it went through numerous revisions (new names, at the very least!) before publication. I can almost guarantee what I read isn't what was published. Note: I'm not saying what was published was good, but I hear the story is compelling.

Last night I changed my rating of Fangirl to 4 stars because in retrospect, while I didn't connect with Cath, the book did open up a whole new world for me. Cath is obsessed with Simon Snow, but her fan fiction is about Simon and Baz falling in love despite being enemies. It's slash. Obviously, Simon and Baz are Harry and Draco. Keeping in mind my previous media-free Harry Potter enjoyment, you might understand why, when I read about Simon/Baz aka Harry/Draco (now you know why it's called 'slash'), I looked up and thought: Wait. You mean I'm not the only one who thought Harry and Draco stormed around Hogwarts acting like Elizabeth Taylor and Richard Burton?! I remember reading Half-Blood Prince and thinking Harry needed to chilax with the Draco obsession or invite him to Madam Puddifoot's Tea Shop and be done.

I became more invested in the Simon/Baz story–Fangirl includes excerpts within the story–than in Cath's story. It reminded me how much I liked Harry and Draco as characters, and to throw them into my very favorite enemies-to-lovers trope (Cecily and Nico! Moonlighting! The Taming of the Shrew!) was just gravy. When I finished Fangirl, I was sad to leave behind Simon/Baz. Then, a few days later I–swear, no joke–went online to see if anyone else liked the idea of a Harry/Draco pairing.

HAHAHAHAHAHAHAHAHAHAHA!

Yeah, turns out one or two other Harry Potter fans like the idea of Harry/Draco. Since then, I've read many, many, many stories involving Harry/Draco. Some of them are horrible and focus on the sexual relationship. Eh. No thanks. I'm not interested in erotica for the sake of erotica. I'm interested in watching a relationship evolve into what it will ultimately become. For me, that's the best part of any romantic story. I tend to lose interest once the initial tension resolves. The other stuff, though, has been really well done. There are fanfic authors who, like Cath, write better/tell more compelling stories than what you see in publishing today.

That's why I thought yesterday's comment from Anna was so great.

I just want to speak up, briefly in defense of fanfiction: I have been reading fanfiction for over 13 years now (wow, just did that math) and have often found it to be much more compelling, true, and profound than many published works – especially the kind you're calling for here, books for teens/tweens. I won't argue that there is some real junk out there, but the same can definitely be said of many "real" books.

Fanfiction is primarily a labor of love, and it shows. The time and effort put into penning works of 75K+ words cannot be understated. I have always loved to read and devoured books at a pace that my family and library couldn't always keep up with; fanfic filled the gap. It also made writing much more accessible (as people my age were writing things both great and terrible, and therefore I could either look to them or definitely do better). Don't knock it; reading IS reading – I ended up with a degree in Publishing.

I completely, totally, almost agree 100%.

In my experience, the fandom often determines the quality of the fan fiction. The Harry Potter fandom, for example, is so gigantic, and has such a wide demographic, odds are you will find something amazing. On fanfiction.net alone, there are over 670,000 pieces of Harry Potter fan fiction. If we apply Sturgeon's Revelation to this and assume 90% of that 670,000 is crap, that means, theoretically, there are 67,000 pieces of damn good Harry Potter fan fiction on that site. Funny, by the way, that Sturgeon was talking about Science Fiction, another much maligned genre, when he came up with that 90/10 rule.

Anna's comment was in response to my desire for the 7th grade girls at school to read something other than Wattpad fan fiction. I believe reading is reading, and I would rather they read One Direction fan fiction than nothing at all, but I can't go so far as to say "thank God for fan fiction because otherwise there would be nothing to read." There are plenty of books to read. There are so, so many books kids can read right now, this very second. I didn't read H/D because there was nothing else for me to read last month. (And I did read 4 other "real" books in that time.) I read H/D because I wasn't ready to let go of those characters/that plot, and that's fine.

I'm thrilled fan fiction exists; I wonder who I would be today if, at a very impressionable and creative 12 years of age, I had a community like that to support and nurture my writing. It is a wonderful introduction to the world of fiction writing and world building. But, I want the 7th grade kids to be cautious about becoming so comfortable they lack motivation to try something new or assume nothing else of value exists. This isn't an idle concern. I believe The Baal Shem Tov said relationships are mirrors, and what we see in others are the traits strongest in ourselves.

Images: Cremebunny's Drarry digital artwork kills me. Something so adorable shouldn't exist.

And she turn'd—her bosom shaken with a sudden storm of sighs—
All the spirit deeply dawning in the dark of hazel eyes—

Saying, "I have hid my feelings, fearing they should do me wrong";
Saying, "Dost thou love me, cousin?" weeping, "I have loved thee long."

I was walking to the 4th grade classroom when the 7th grade girls stopped me with a question about the dance posters they were painting.

"Mrs. Kendall, is Sadie Hawkins dance theme? Don't you think our dance should be a Sadie Hawkins dance?"

"Hmmm." I quickly caught the eye of the principal and waived him over.

"Sadie Hawkins isn't really a theme," he said.

"It's a type of school dance," I said.

"Okay, so can we have a Sadie Hawkins dance?"

I smiled, blissful in my complete lack of decision making authority and looked to our principal.

"Well," he said. "I'm assuming you want it to be a Sadie Hawkins dance because otherwise the boys won't ask any of the girls to the dance?" There was a murmur of assent among the girls. "In that case, you're probably right," he continued. "The boys aren't really thinking about dates and dances the way the girls are, but a Sadie Hawkins dance might intimidate a few of them. Besides, you're all strong, modern young ladies, right? You don't need the title 'Sadie Hawkins' to give you permission to ask a boy to a dance! So how about this–let's call it the 7th and 8th grade dance and if you want to ask a boy to the dance, ask him. Just, you know, be gentle with them and remember that having fun as a community is what's important."

I thought his response was brilliant, though I inwardly winced thinking about what some of those utterly clueless boys had coming. The girls were less impressed, but took it in stride. Later that week, I heard a few girls had asked a few boys and, for the most part, it was a comedy of manners where she asked him and he said, "Uh" and she said "Never mind, I'll ask him," and he said, "Uh," and she said, "UGH!"

The principal told me this happens every spring in the 7th grade. The girls all of a sudden think BOYS! while the boys are still thinking RECESS! I've even seen it in the library. Every girl in middle school wants to read a romance, and they're looking to me to bring them into the library. We have all the classics like Pride and Prejudice, Jane Eyre, Anne of Green Gables, and the like, but they are not interested. I'm more than willing to bring in contemporary romances, but I have to find books that will work in a Catholic K-8 library. The girls are reading books from home I could never bring in without a fight from a few parents and the diocese. They're also using apps like Wattpad to read fan fiction and self published books. I have mixed feelings about Wattpad. There's great literature on Wattpad, but there's also 300 metric tons of One Direction fan fiction. Reading is reading, I know, but…

As far as age appropriate romances go, I have a few picks for the library. Please recommend more if you know of an author or book that won't get me kicked out the school gates!

Jennifer E. Smith books work. I've read The Statistical Probability of Love at First Sight and This is What Happy Looks Like. I feel fine putting both in the library. I hear her other books are similar in maturity level, so those will probably make it to the coveted "romance" shelf, too.

11 Birthdays by Wendy Mass (as well as the other books in the series) looks good. I'm going to use the money given to me by a very dedicated parent to buy the series.

Kissing Shakespeare is a book I'm not sure about. I read it, and as far as sexual content goes, it's completely tame. The problem is that the main character, Miranda, travels back in time with a 16th century boy to Shakespeare's time to save him from himself. She drinks mead/wine the entire time she is there, and it's explained to her (and the reader) that it's necessary because the water during that time wasn't safe to drink. This is true, and I'm all for historical accuracy, but I can see the underage drinking being a problem with some parents and diocese.

Big is Beautiful is a fantastic book by my friend Kelly Martin. I've also read her book, Crossing The Deep. It's not too much of a romance, but it was good. I'm going to work my way through the rest of her books and see how it goes, though I'm positive they'll be fine.

Last, and possibly least, is The Selection series. This series is really popular, and it's the one that flipped the switch on my formally reluctant reader niece, but ugh, it's the bachelor with tweens and a prince. Blurgh.

Contemporary romances, clean but hip. Hit me with your best shot?

The images in this post are from Brooklyn Gang by the amazing Bruce Davidson.

Thank you, thank you, thank you for everything. Thank you so much.

I took this picture of my vanity tray in December, maybe earlier, because I thought the light was pretty and it conveniently highlighted my favorite perfume. At the time, I thought I had discovered my "signature scent," which I put down as a life list goal years ago. It sat around in my photo library because I had serious doubts when it came to writing about the perfume my husband bought me on his first out of town business trip 6 months earlier.

Today, though, I'm feeling like writing something frivolous and shallow. Bonus points because I can finally say I have one perfume. A signature scent, thankyouverymuch.

Like I said, this perfume was a gift from my husband. It's Diptyque Do Son, and when I first opened it I had reservations. I'm particular about my perfumes, and in the past my husband favored fragrances with amber, sandalwood, and pretty much everything I despise. Amber is only good for gnat repellent.

Newsflash: most of the world disagrees with me. Amber and sandalwood–and anything that smells fruity/brown sugary/warm–remain the top notes in perfumery.

I like rose, tuberose, almost all florals except honeysuckle and lilac, baby powder, orange, and most herbaceous scents that form "clean florals." Anything vanilla, warm, spicy, fruity, or rich will give me a migraine. I will never burn a candle that smells like a baked good. No way, no how.

Again, I know I'm in the minority.

When I first sprayed Do Son, I thought it smelled like an all-natural bug spray. The dry down was better, thank goodness, so I started wearing it regularly. I started to really like it, but even then I wasn't thinking it was Holy Grail perfume level until I started getting asked what perfume I was wearing. Like a TV commercial people were all gee, your skin smells nice! (No they weren't.)

People who have asked me about my perfume:
A doctor (not mine) stopped me in a hallway to ask what I was wearing and asked me to leave the name at the front desk
Many of the female students
A woman in church during the school honor roll ceremony
My tax preparer
Several parents at school
My mother in-law and sister in-law
A couple of the teachers at school
Coaches at the boys' swim practice
Random people at Michael's, The 99 Cent Only Store, Trader Joe's, and Stater Bros
What people think about your perfume doesn't matter if you don't like it, but I love this perfume because I can't really smell it on me. I know that sounds pointless, but if you get migraines, you know what I'm trying to say. You want a perfume that smells nice but isn't so powerful that you end up walking around in a cloud.
Basically, it boils down to how a perfume reacts with your skin, and I think this one reacts well enough that people notice, but not so well that it's all I can smell. Works for me! Garnier BB Cream, which I love, is like this. Many people complain about the smell of the Garnier product line, and that they can "smell their face" all day long. I love the smell of Garnier products, but even if I didn't, the smell doesn't last 10 seconds on me before it dissipates–at least in my mind.
So. Favorite perfume: CHECK! The Mister is so pleased with himself, he can't even handle it. I think he's going to hang on to this victory for a long, long time. When I asked him why he picked Do Son, he just shrugged his shoulders and said, "I don't know. I thought it smelled like you."
That's as deep as it gets, folks.
I checked out the notes for Do Son while I was writing this post to see if it contained any of the scents I like. Yeah, it's no wonder I love it.
Do Son is inspired directly from Yves Coueslant's childhood in Vietnam, where he grew up in Haïphong, a port in Northern Indo-China. Not far from there, in the little seaside resort of Do Son, his father had a pagoda built by the sea to go to and enjoy the sea air at the end of the day.

Do Son recalls the memory of this place where flower fragrances dominate, in particular the tuberose, whose scent his mother particularly loves. In Do Son, the tuberose and Turkish rose bouquet expresses a sweet flavour freshened up with the orange blossom leaf and the rose berries. The white musk and the iris add a delicately powdered aspect to it. [link]