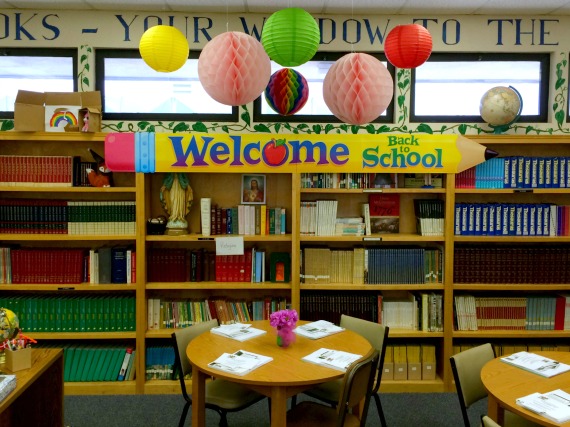 Thank you so much for all the helpful comments on my Veggie Boy post! I haven't had a chance to reply to them, but I will. I was out of the house yesterday and will be the rest of the week because…I'm the new 4th grade aide at the boys's school!

It's only a part-time position because I told them that while I would love to help in any way I can, I didn't want that help to jeopardize the existence of the library. They looked at me like a was a little crazy because, like most schools in our area, there is no budget for a library.
"You do realize that if you kept the library open we wouldn't be able to pay you, right?"
"Yes, but it's important enough to me that I'll do it for free."
This may sound ridiculous to some, especially since we could use the money, but I don't care. I have faith that this is what I am supposed to do. God provides us with what we need, and I need the library and those kids more than the small increase in money a full time aide paycheck would provide. The library has brought me joy and purpose. It's an incredible feeling to touch the life of a child in a positive, long-lasting way. It's jump-for-joy exciting to see a child fall in love with reading. As a school parent, it has been inspiring to see the power of a school in action. We, the school community, have come together to build something great. I have received so much money in donations to buy books. People trust me with their money! I've had parents empty their toy rooms of games and puzzles for the kids to play with during library. They have purged their home libraries of books their kids no longer read or have outgrown. They have donated decorations, bought Christmas trees, volunteered their time to help…it's been amazing and heartwarming. The never ending supply of books for me to read hasn't been a bad thing, either. (Except for Flora & Ulysses. There's a handful of hours I'll never get back.)
I'm expected to aide in a classroom with a teacher I love, then they want me to sit in a room full of books and kids and talk about what to read. Life is good.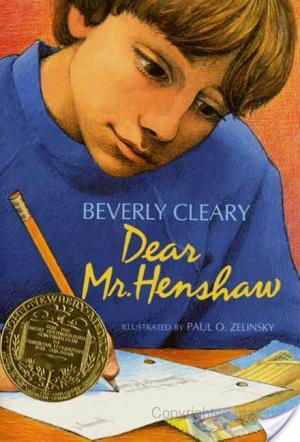 Dear Mr. Henshaw
by
Beverly Cleary
Published by
Harper Collins
on 2009-10-06
Genres:
Classics
,
Family
,
Friendship
,
General
,
Marriage & Divorce
,
Newbery Gold Winner
,
Social Issues
,
Young Adult
Pages:
176
Goodreads
Amazon
•
Beverly Cleary's Newbery Medal-winning book explores the thoughts and emotions of a sixth-grade boy, Leigh Botts, in letter form as he writes to his favorite author, Boyd Henshaw. After his parents separate, Leigh Botts moves to a new town with his mother. Struggling to make friends and deal with his anger toward his absent father, Leigh loses himself in a class assignment in which he must write to his favorite author. When Mr. Henshaw responds, the two form an unexpected friendship that will change Leigh's life forever. Supports the Common Core State Standards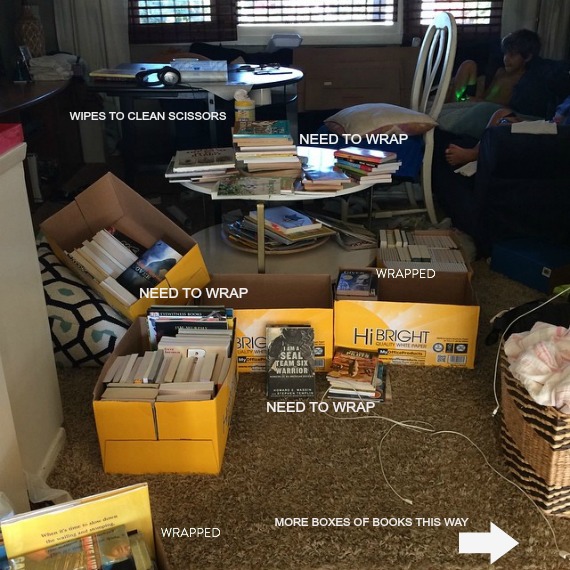 This is my life right now. I'm wrapping books for the library with protective covers. I've done 100+ so far since Tuesday but, as you can see, I have a long way to go. There may be radio silence around here as I spend the next two weeks wrapping, organizing, and decorating the library for the school year. I'm taking pictures because I'm calling it a William Morris Project.
It's very hard to sit on your duff for hours at a time wrapping books. I like a monotonous task as much as the next obsessive thinker, but even I need a break from monotony and hours of Netflix crime shows. When I need a mental break I read a Newbery. God knows I have enough of them at my feet!
I wasn't going to post today, but I just finished Dear Mr. Henshaw and I'm so excited I had to tell someone. What an amazing book! Epistolary novels are some of my favorites! I had no idea Dear Mr. Henshaw was an epistolary novel! Exclamation points!
This is why I'm reading Newbery winners and this is why I'm trying to read more elementary/middle school books. I tried to get the kids to read this book last year, but because I didn't know what it was about I couldn't sell it very well. I'm not a salesperson. If I don't like something or can't tell you much about it, I won't push it on you.
Now that I I've read Dear Mr. Henshaw, you can bet I'll be encouraging the kids to give it a try. It's an excellent book.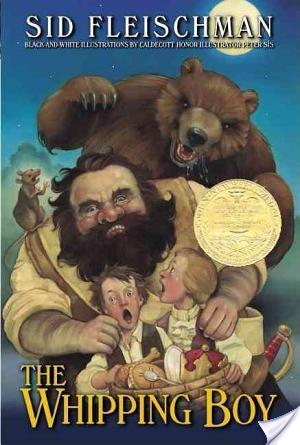 The Whipping Boy
by
Sid Fleischman
Published by
Harper Collins
on 2003-04-15 (reprint)
Genres:
Action & Adventure
,
Friendship
,
General
,
Humorous Stories
,
Newbery Gold Winner
,
Social Issues
,
Young Adult
Pages:
96
Goodreads
Amazon
•
Barnes & Noble
•
A Prince and a Pauper Jemmy, once a poor boy living on the streets, now lives in a castle. As the whipping boy, he bears the punishment when Prince Brat misbehaves, for it is forbidden to spank, thrash, or whack the heir to the throne. The two boys have nothing in common and even less reason to like one another. But when they find themselves taken hostage after running away, they are left with no choice but to trust each other.
I don't know why I bother reading the Goodreads reviews for young adult/early elementary literature. I keep going back hoping to read something that won't make me huff and roll my eyes and curse humanity. I'm like the person who is allergic to peanuts and applies for a job at the Skippy plant. I should really know better and yet there I am, huffing and rolling and cursing.
Here is the most important thing you should know about The Whipping Boy: IT'S A CHILDREN'S BOOK. The grade level equivalent for this book is 4.0, so 4th grade. The Lexile Measure® is 570L, the DRA is 40, and the Guided Reading Level is R. This a book for the average 4th grader.
Got that, People of Goodreads?
As a piece of young adult fiction, The Whipping boy earned a Newberry Award. I'm not sure why.
You're not sure about a lot of things, Jessica. You're not sure what young adult means. I can tell you it doesn't mean "books for 3rd and 4th graders." You're also not sure how to spell Newbery or what it awards. The Newbery (one 'r') celebrates children's literature, not young adult literature. You're thinking of the Michael L. Printz award.
This book is simple, but entertaining. It's a quick, easy read. I remember reading it at some point during elementary school and enjoying it then. Reading it lately, though, it seems that it might hold more interest for kids than adults.
I can't imagine why a children's book would hold more interest for kids than adults. I'm stunned and once I wake up from my stupor I will view life through a new lens.
Yes, it's entertaining. But the Newbery? This is such a doggone short book that I'm surprised it even made it onto the discussion table in the first place.
+10 points for spelling Newbery right
-05 points for using the word doggone
-95 points for assuming the Newbery has a page requirement
Final Score: -90
After reading "The Hunger Games," this book seemed incredibly simple…
Please stop thinking.
This is a terrible book that I was forced to read in fifth grade. I was put into a group of other kids who were also made to read this miserable piece of fiction against our will, and it was so bad, that I was able to persuade my teacher to put me in another group. I thought it'd be better, but everyone else in that group were way ahead of me and understood a lot of it. It was called "The Westing Game" and it was by some guy who doesn't know how to write, and it would take me forever to catch up to the other kids. I never did, so I was put back in the Whipping Boy's group again, but the kids in that one had already finished it.
Snort. OK, so this guy actually made me laugh.
Please, understand this is a book for children. I would give this book, which I very much enjoyed, to 3rd and 4th graders. I will encourage my reluctant readers in 5th and 6th grade to give it a try. It's a great read aloud book, too, because it is so short. I plan on reading it to Nico and Mikey, who have not read the Hunger Games, thankyouverymuch.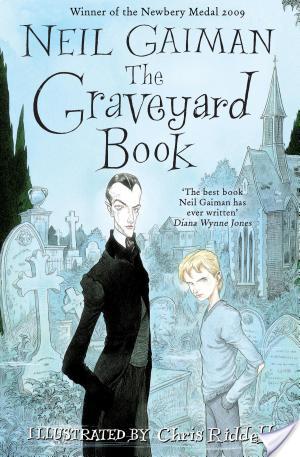 The Graveyard Book
by
Neil Gaiman
Published by
A&C Black
on 2009-11-02
Genres:
General
,
Newbery Gold Winner
,
Young Adult
Pages:
304
Goodreads
Amazon
•
Barnes & Noble
•
Kobo
When a baby escapes a murderer intent on killing the entire family, who would have thought it would find safety and security in the local graveyard? Brought up by the resident ghosts, ghouls and spectres, Bod has an eccentric childhood learning about life from the dead. But for Bod there is also the danger of the murderer still looking for him - after all, he is the last remaining member of the family. A stunningly original novel deftly constructed over eight chapters, featuring every second year of Bod's life, from babyhood to adolescence. Will Bod survive to be a man?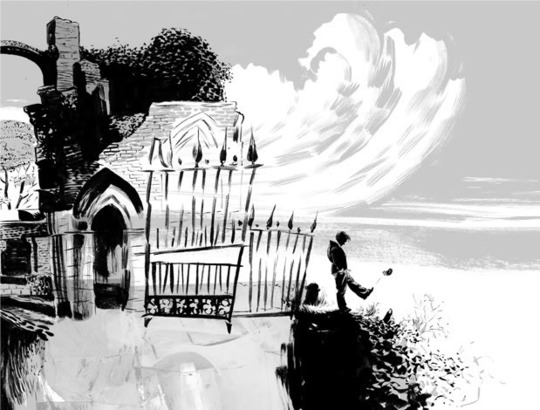 One.
Two.
Three.
Four.
Five stars.
Five stars! FIVE.
I do that, what, two, maybe three times per year? This book deserved every last star. This is the first Gaiman book I have read, so I'm not comparing to the other books he has written, unlike some reviewers. I don't know how it compares to Coraline or adult books like American Gods and The Ocean at the End of the Lane. I picked The Graveyard Book because Gaiman is an author I've always wanted to read, it's the Newbery Gold Medal for 2009, and it's a new book in the library I can sell to the kids. Reading this book was a to-do list crossing, multitasking explosion of smugness. I felt like I accomplished two months of work in 304 pages.
I'm going to encourage the students who love Gothic and macabre in literature to read The Graveyard Book. The story centers around Nobody Owens (Bod, for short), a young boy raised in a graveyard of ghosts after a man named Jack brutally murders his family. The action starts immediately with the murder of the family in the middle of the night. Bod, at this point 18 months old, wakes up and leaves the house without knowing he's escaping danger. While it is not gruesome when you compare it to many of the video games kids play, it is still a murder.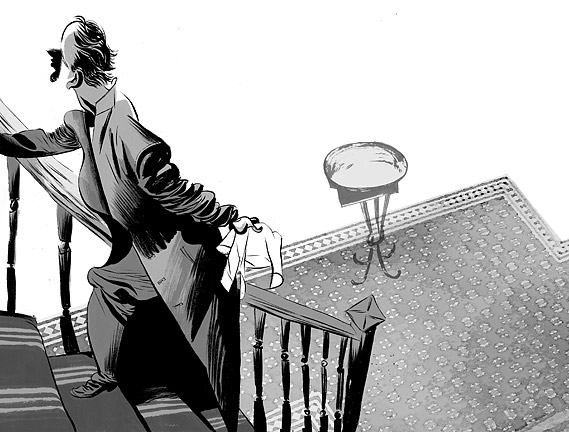 The novel begins with the following passage.
The knife had a handle of polished black bone, and a blade finer and sharper than any razor. If it sliced you, you might not even know you had been cut, not immediately.

The knife had done almost everything it was brought to that house to do, and both the blade and the handle were wet.

The street door was still open, just a little, where the knife and the man who held it had slipped in, and wisps of nighttime mist slithered and twined into the house through the open door.
Bod makes his way to the cemetery and falls under the care of the resident ghosts. It takes a village to raise a child. This village happens to be full of dead people.
The Gothic writing style of the book nicely compliments the tone and plot of the story. It is a refreshing change to the overdone soundbite writing I feel compelled to complain about every few days.
"If it sliced you, you might not even know you had been cut, not immediately."
That line is proof you don't need four paragraphs of 10-dollar words and witty dialogue to show the reader the family was taken by surprise and died before they were able to comprehend what happened. You need fifteen words and two commas.
The normally ironclad grip I hold on my emotions started to slip as I neared the end of the story. I didn't so much as sting my eyes reading The Fault in Our Stars, so this surprised me. The truth is, I didn't want the book to end. I fell in love with the characters of The Graveyard Book the way you fall asleep, slowly and then all at once.
#soundbitewriting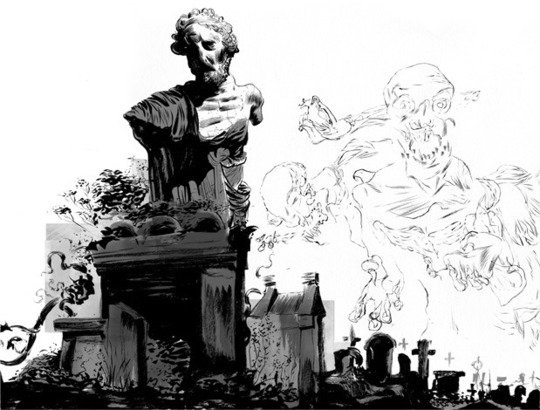 My quibble with the book is that Gaiman doesn't spend enough time describing the antagonists or explaining the reason for the murders. Jack's motivation to hunt Bod for years is also difficult to understand until the answers come, but those answers happen neatly across one or two pages. I understand the reason for the murders and the antagonists was to get Bod to the cemetery: a catalyst for the story to begin. I still feel they deserved more development.
I initially felt the same way regarding Bod's guardian, Silas. We don't know who or what he is, and for a while that bothered me. After I thought about it, I decided it made sense. Silas was a mystery, but all adults and parents are a mystery. I'm a woman with children of my own and my parents are still a mystery I have no hope of solving.
Even those (teeny, tiny) complaints weren't enough for me to take away a star. Five stars, people! Unheard of for me. This is one of the best children's books I have read and one I will recommend to the older students.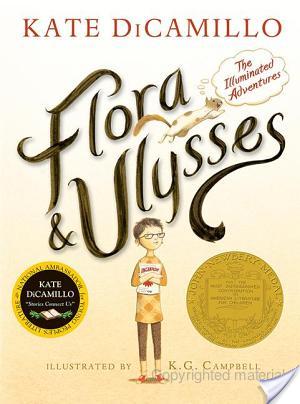 Flora and Ulysses
by
Kate DiCamillo
Published by
Candlewick Press
on 2013-09-24
Genres:
Action & Adventure
,
Comics & Graphic Novels
,
Family
,
General
,
Marriage & Divorce
,
Newbery Gold Winner
,
Superheroes
,
Young Adult
Pages:
336
Goodreads
Amazon
•
Barnes & Noble
•
Kobo
Winner of the 2014 Newbery Medal! Holy unanticipated occurrences! A cynic meets an unlikely superhero in a genre-breaking new novel by master storyteller Kate DiCamillo. It begins, as the best superhero stories do, with a tragic accident that has unexpected consequences. The squirrel never saw the vacuum cleaner coming, but self-described cynic Flora Belle Buckman, who has read every issue of the comic book Terrible Things Can Happen to You!, is the just the right person to step in and save him. What neither can predict is that Ulysses (the squirrel) has been born anew, with powers of strength, flight, and misspelled poetry- and that Flora will be changed too, as she discovers the possibility of hope and the promise of a capacious heart. From #1 New York Times best-selling author Kate DiCamillo comes a laugh-out-loud story filled with eccentric, endearing characters and featuring an exciting new format- a novel interspersed with comic-style graphic sequences and full-page illustrations, all rendered in black-and-white by up-and-coming artist K. G. Campbell.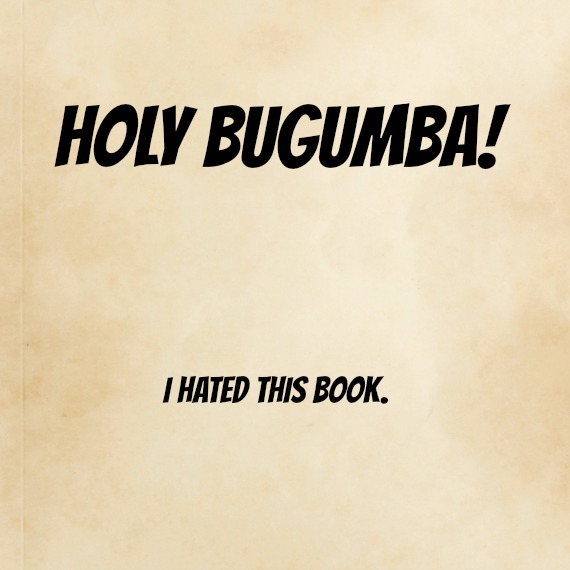 God save me from people who write like John Green. Actually, God should save them from me because I want to smash them over the head with hardcover editions of Strunk & White.
If you write a phrase and think, 'Wow, that's really poetic, that's really pretty, I really nailed it,' you get rid of it [because] you've overdone it.

–David Sedaris
YES. Yes, David Sedaris. YOU ARE CORRECT.
Flora & Ulysses is the Newbery Gold Medal winner for 2014 and mark my words, this book will not stand the test of time. It is the product of Twitter and Snapchat, of John Green and quirky characters, of precocious kids using big words in place of humor. It is what I call "soundbite writing," a collection of clever sentences strung together without synergistic effect. It's like John Green, Kate DiCamillo (in this case), and authors with the same writing style clack away at their keyboard until they can lean back in their vintage rolling chairs and say, "Hot damn, that sentence is going to look awesome when someone overlays it on a soft focus image and puts it on Tumblr. Please, God, let it hit Pinterest!"
No more quirky characters, please. Flora Belle is a hopeful cynic; William Spiver is her temporarily blind neighbor; Ulysses is a superhero squirrel who flies and writes poetry because he was sucked up by a vacuum.
No more children with odd hobbies, I beg you. Flora compulsively reads a bonus comic book series called TERRIBLE THINGS CAN HAPPEN TO YOU! because hipsters don't play with Barbies.
No more witty sentences, for the love of everything holy. "Nothing would be easier without you, because you are everything, all of it — sprinkles, quarks, giant donuts, eggs sunny – side up — you are the ever – expanding universe to me."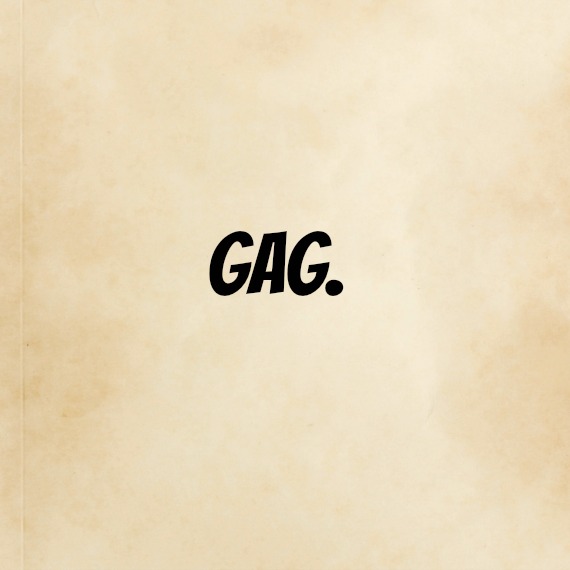 Many people I know loved this book. It's so clever and inventive! It's funny! It captures the spirit of childhood! Is that so? Because when you take away the clever dialogue, it's a story about a girl who feels lost after her parents' divorce. It's funny the way tweets are funny until you retweet and forget about them. As for capturing childhood, I don't know a single 10 year old like the ones in this book. Mikey is the age of Flora and William Spiver, and if I ever heard him say to a girl "Your face, Flora Belle, is particularly beautiful to me. Even the sepulchral gloom of this hallway cannot dim your loveliness," I'd straight up roundhouse kick him into anti-poser class.
[sidenote: reviews claim this book is wonderful for teaching kids SAT words. Stop. Stop trying to communicate your thoughts. This book is marketed to late elementary/middle schoolers. Grades 4-8. Middle schoolers don't need to worry about SAT words, and they learn their SAT words by reading increasingly complex material as they progress through school, not by reading ONE BOOK ABOUT A SQUIRREL THAT WRITES POETRY.]
Legions of people loved this book and it won a Newbery, so it's both commercially and critically adored. I know I'm in the minority when I say I was completely underwhelmed reading this book. I'm trying to imagine enthusiastically recommending this book to the students at school. "Holy unanticipated occurrences!"
That's how clever people say 'ain't gonna happen.'
EDITED TO ADD: Called it.