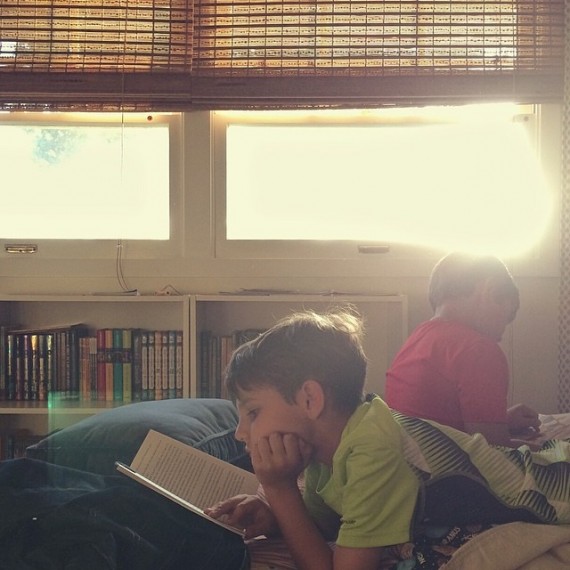 Mikey
With all the book pushing I do on instagram, I thought I might share what the boys are reading and loving right now. These aren't Newbery winners. These are books that draw them in and keep them reading. I'm good with that.
Mikey loves animals, so any series that features them as main characters is a guaranteed hit. His absolute favorite is the Survivors series, which features a post-apocalytic world (earthquake) where only dogs survive. All the "long paws" (humans) are dead. Lots of social dynamics and territory battles. Of course there's a bad gang of dogs.
Shark Wars was similar, though more military in nature.
He burned through the most recent Survivors novel in one weekend, so he moved on to WereWorld, which Jessica mentioned is a riff on Game of Thrones. He read the first book quickly and is now reading the second book. It will take him longer to complete it because it's a book report book, so he needs to journal his thoughts for each chapter as part of the assignment.
James Patterson. Oh, James. His books are pfffft, but he's capturing the interest of reluctant boy readers, so I can't hate him. This is the first author Mikey recognizes as a popular and someone he likes. Patterson is an auto-buy for him. Mikey likes his Middle School series, but I refuse to buy them for him because he reads them in a few hours. He has to wait until they're available in the school library.
Nico
My reluctant reader is finally getting the hang of reading. He wants to read all the big books Mikey reads, so that's a bit of a problem. I think this is the curse of the younger sibling–always wanting to be as old and mature as his sibling…until that sibling turns 40.
He loved the Notebook of Doom series, as I've mentioned in the past. Captain Underpants is just so-so. He was into it, and then got bored. He prefers Ook and Gluk, which is a series by the same author, but that also bored hiim after a couple of books.
I don't think Nico is a series reader, which is fine with me. I think once he sees the pattern in a story, he loses interest. This happened with Magic Treehouse. There are some kids in his class who can't get enough of Jack and Annie, but Nico has had his fill (3 books). Same with Geronimo Stilton. Two books, and he was good.
As for stand alone books, which is what I'm going to focus on for him from now on, he really liked The Year of the Panda, which he read for a book report. I bought Chocolate Fever recently, and I think that's a book I'll have him read this summer.
I'm also having him read picture books, since they are well within his age range and, frankly, usually awesome. Mikey still reads picture books, though Mikey would read anything you put in front of his face because he's like his mother. He'll read cereal boxes at breakfast.
Last thing, because I'm pretty excited about a recent idea. I'm going to create Goodreads accounts for the boys so they can keep track of all the books they've read. I'll help Nico with reviews, but Mikey will be on his own. I'm so excited at the idea of them having a record of every book they have ever read. Imagine having that account 10, 20 years from now? It's like a long term sociology experiment.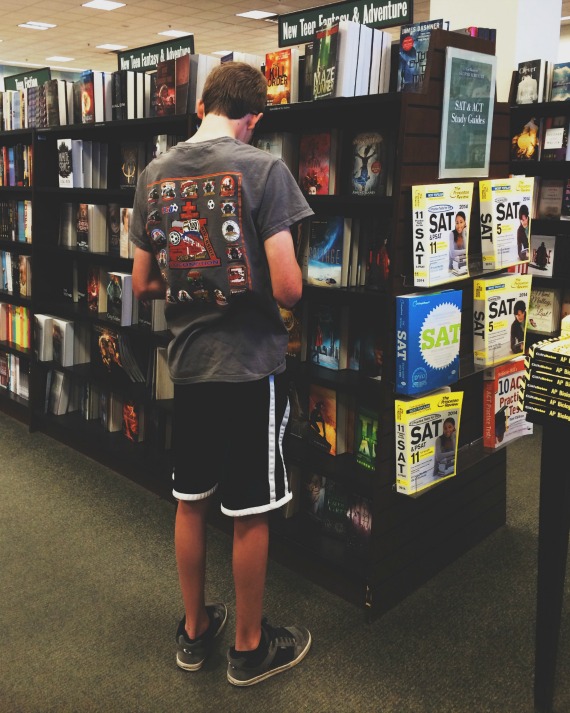 The boy was 13 years old and in the 8th grade. I know this because I walked up and introduced myself after he defended The Giver. A man not 3 feet away from where we were standing was teasing his teenage daughter, threatening he would buy her the book and force her to read it because of the grumpy looking old man on the cover.
He was in the new release section, deciding between three books when he heard the man. He looked up and said "No way, dude. That's an incredible book." Then he went back to his books as if he didn't just give a stranger over 40 a setdown.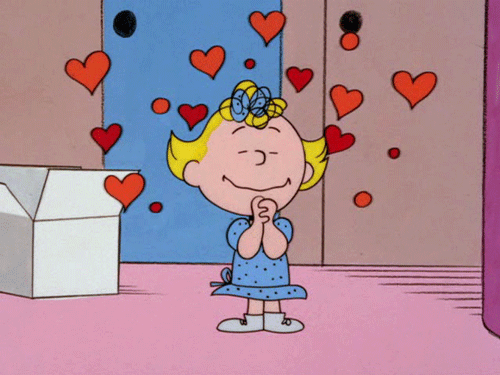 I had to meet him. I wanted to know what he was reading and why.
"I like to read books that show things that could happen, but probably won't." Dystopian, then, though he didn't know that's what it's called. We then spent 15 minutes going through all the books in the teen section. He picked out a bunch of books he thought the boys at school would like. His mother–who I made sure to find and compliment–just laughed.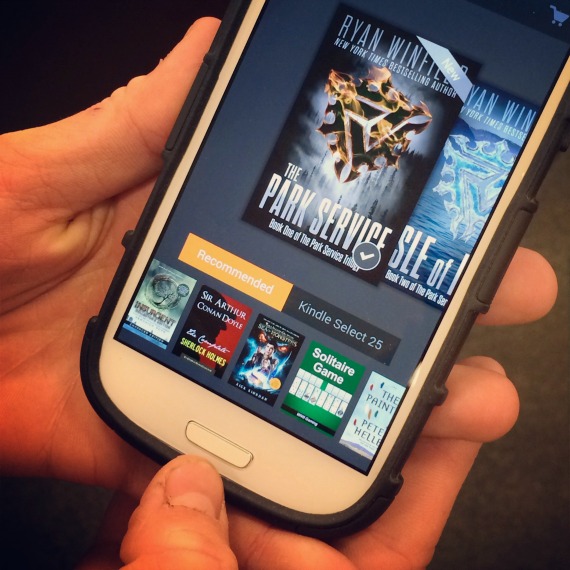 This boy reads all the time, anywhere and everywhere. He likes to go to Barnes & Noble to check out books before he buys them in eBook format. He can only afford to buy 1 or 2 per month, so his bookstore visits are important to his selection process. If he doesn't have a recommendation from a friend or someone whose taste he trusts, he selects first by cover, then he reads the synopsis. When something looks and sounds interesting, he opens the book to a random page and starts reading. He does this a few times for each book. He buys eBooks so he can read any time he has a spare minute. This is exactly what I tell the kids at school. A minute here, a minute there–it all adds up. James Patterson books are popular with the boys, and those only have 2-3 page chapters. You can read a chapter while you're waiting for your Xbox to turn on. Like most teens, he is rarely without his phone, even at home.
Of all my #nothingwrongwithreading/#dudesreadingbooks pictures on instagram, this one was the most popular with the kids at school (I'm @TheMrsKendall on instagram). Immediately the girls wanted to know more about this 8th grade boy reader. The boys paid attention to the girls wanting to know more about this 8th grade boy reader.
I told them all about our conversation and the books he picked out for the library. I had a limited budget, but I did buy The Giver. They wanted to know what he looked like. Surfer? Jock? He looks tall, was he tall? What color eyes? WAS HE CUTE?
Blink. Was he cute? Uh, I don't know? He was 13! I'm not in the habit of checking out boys who could be my children, what with me not being a deviant and all. I looked at this boy and saw a boy.
"SOOOO cute," I gushed. This is when I realized there isn't much I won't do or say to get kids to read.
"I knew it!" they crowed. Then I started a hold list for The Giver, which one girl checked out immediately. "If I ever bump into that boy," she said, "I want to be sure we have something to talk about."
"A smart move," I said. "Way to think ahead."
This exchange proved to me what I've read time and again. Kids model behavior, even reading for pleasure. I've been searching for pictures of boys reading books ever since.
This is a lot like deciding to search for pictures of centaurs dancing the merengue. I have a board on Pinterest where I collect pictures of guys reading books. This is not, I repeat not, a board for children. There isn't anything scandalous there (not like this picture), but there are some pictures of men without shirts. I mention this because a reader nicely and politely emailed me because she was afraid some of the pictures sexualized boys/men. THANK GOD SHE EMAILED ME. I was able to explain the Pinterest board is for adults, while instagram is for the kids. I won't post a picture of a half-dressed man on instagram (unless it's Sean Connery), but I will pin a picture of Paul Bettany on Pinterest even though he's smoking a cigarette. I'm not worried about the kids finding me on Pinterest because they according to them, Pinterest is "for moms and grandmas."
For those who may have lost count, the word Pinterest is in that last paragraph 5 times.
This same reader and I started chatting about instagram and social media, and she mentioned flippantly how great it would be to create a boys reading hashtag more popular than #throwbackThursday or any of those other frivolous hashtags in which we all participate. The idea got me thinking. Wouldn't that be something to have a hashtag that kids used when posting pictures of themselves reading books? Wouldn't that be something if kids posted pictures of themselves reading books? Wouldn't it be something if kids thought reading was cool?
I mentioned this on Facebook, and a few of you told me about hashtags like #whatI'mreadingnow and #Fridayreads. I had no idea these existed, but I'm pretty clueless about that sort of thing. I've since found out there are a number of book hashtags out there, but I would really like for us to start one for kids, or maybe young adult books? I haven't worked out the details, yet. My plan this week is to ask the junior high kids to create a reading hashtag for instagram. If anyone could think of something cool, it would be the kids I'm aiming to impress.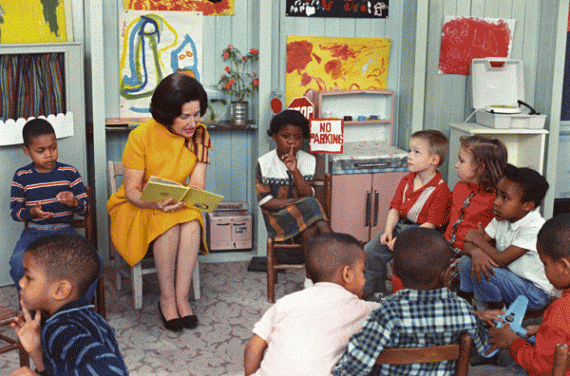 I've been taking impromptu surveys of the kids. I ask them if they like library time, if being in the library has changed how they view reading, if it has changed how much they read, and how I can do better next year. I have a ton of these, so I'm going to spread them out a bit. I guess this is really more for me, to remember my first year in the library and how it changed my life.
3rd Grade
I read more now because I figured out reading is fun.
::::::
Some books have lessons for kids.
::::::
Sometimes people can't afford books to read, so we get to get them here.
::::::
I like everything about library, but it takes a while to get a new book. A lot of the books are super old–like from 1997.
::::::
I want more fair tale books.
::::::
4th Grade
Every time you read a book, you go into another adventure and meet new people.
::::::
We read an hour every night now! We call it family reading time.
::::::
I just want to read, read, read, read, read until I…I don't know…fall off my bed.
::::::
I feel like my school has everything now.
::::::
It totally changed my point of view of being quiet.
::::::
From the older boy who checked out a romance
I know can check out whatever book I want and you won't make fun of me.
::::::
photo source: Lady Bird Johnson visiting a classroom for Project Head Start. The National Archives.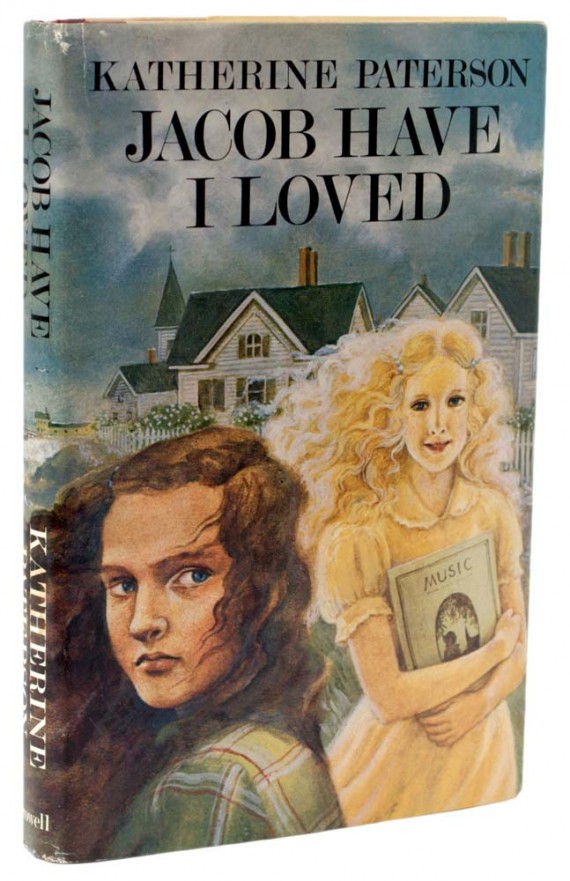 "Jacob have I loved, but Esau have I hated . . ." With her grandmother's taunt, Louise knew that she, like the biblical Esau, was the despised elder twin. Caroline, her selfish younger sister, was the one everyone loved.

Growing up on a tiny Chesapeake Bay island in the early 1940s, angry Louise reveals how Caroline robbed her of everything: her hopes for schooling, her friends, her mother, even her name. While everyone pampered Caroline, Wheeze (her sister's name for her) began to learn the ways of the watermen and the secrets of the island, especially of old Captain Wallace, who had mysteriously returned after fifty years. The war unexpectedly gave this independent girl a chance to fulfill her childish dream to work as a watermen alongside her father. But the dream did not satisfy the woman she was becoming. Alone and unsure, Louise began to fight her way to a place where Caroline could not reach.
I did it! I read my first Newbery Gold Medal winner–Jacob Have I Loved, if the enormous image of the book didn't tip you off. I posted a picture of the book on instagram and apparently gave someone traumatic middle school flashbacks. Hah! I have no such flashbacks because my librarian, Mrs. Green, wouldn't let me read it because it "was not appropriate for a 6th grade girl."
This book went along with me wherever I went the last couple of months, but I didn't really start reading it until the other day, when I failed this fun BuzzFeed quiz on Newbery winners. How embarrassing. I've read ONE, The One and Only Ivan. I've read a ton of silver and honorable mention books, so I guess that's something. You can see the list of gold medal winners in this post.
On the other hand, I was the dominator of the "How Many Banned Books Have You Read" quiz.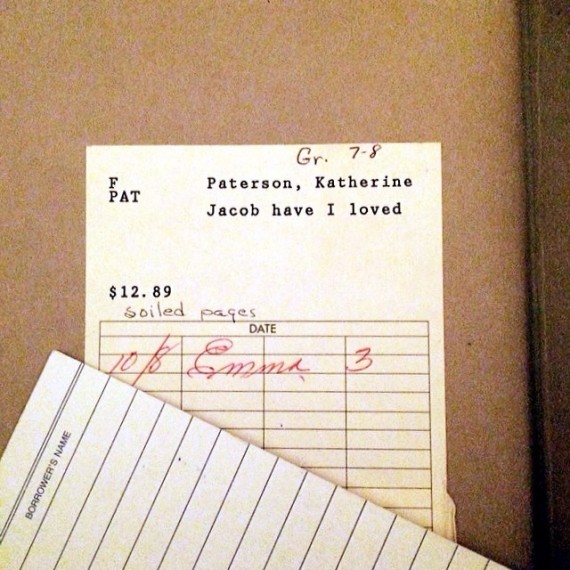 There's Mrs. Green's infamous red pen! I have no idea who Emma is, but I know she wasn't in 3rd grade. Not on Mrs. Green's watch! That must stand for the number of "soiled pages" attributed to the slovenly Miss Emma. I told the 4th graders about Mrs. Green the other day, and how she wouldn't allow us to say a word when we were in the library. She monitored what we read like hawks and and ran that thin-walled mobile trailer like a military base. Then, I told them how I walked to school in the snow uphill, both ways.
Jacob Have I Loved was good in a sad way, so of course I loved it. Nothing like sibling rivalry that never really gets resolved to warm the cockles of my cold, black heart. Toss is a 14 year old's crush on a 70 year old man, an insane Methodist grandmother, loving but clueless parents, and the struggle to find your identity on an island off Maryland in 1945, and you've got the makings of a book you will never forget.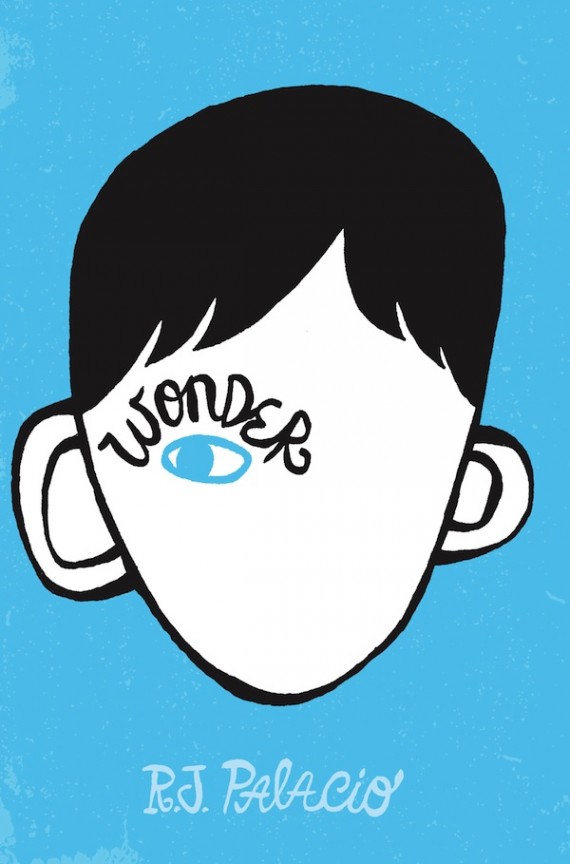 I received a couple of emails asking for book recommendations, which I love. I don't have all the answers, but I do like researching, and I'm smart enough to know when I'm out of my depth or when more than one voice may be beneficial. One email, in particular, struck close to home. It's about bullying. Or, maybe bullying isn't the right word, because I think that word gets overused. Playground politics might be a better way to describe the weirdness that surrounds 4th – 6th grade boys.
This year has been challenging for Mikey. He's sensitive to teasing, even when the teasing is harmless and comes from his best friends. He, however, has no problem teasing other kids. He's also prone to bottling up his frustrations. Top this with his elephantine memory and grudge holding capabilities, and we have a boy who loses his temper over something small because he didn't address weeks ago an issue that really bothered him.
Here's part of the email I received the other day.
Hi Jules,

I have a favor to ask of you, my 11 year old grandson has been acting out a bit at school (who knows why). This week he said some very hurtful things to a classmate. My daughter has talked with him about how our words can be so hurtful and actually shape another's personality and how they view themselves. Do you know of a good book dealing with bullying and is one that will help to drive home the emotional side of these kind of actions? A novel with emotional impact.
She goes on to say that her grandson is an impressionable reader. He is one of those readers who can immerse himself in the characters, so reading a story about the other side of bullying might open his eyes to a new perspective. It's a technique I've used with Mikey in the past–and present–because he, too, is an impressionable reader.
My immediate thought was Wonder, by R.J. Palacio. This is such an incredible book. I'm reading it to 4th through 7th, and they all love it. August is a boy with Treacher-Collins syndrome who finds himself in middle school after a life of homeschooling. His frequent reconstructive surgeries made homeschooling the natural choice. He has issues with a mean boy. He struggles to make friends. A friend betrays him. It's an amazing book, not just because it deals with "bullying," but because it also deals with mistakes. August knows that most people don't mean any harm. They're curious. How R.J. Palacio came up with the story is also inspiring, even though it did make me cringe. This is important, though, because it proves good people screw up. Then they learn from their mistakes and do better next time.
There is a scene in the book where August's friend Jack teases him about his face. August and Jack can't stop laughing, and at that point I stopped reading and asked Mikey's class why they thought it was okay for Jack to tease August about his face, but not Julian (the "bully"). Mikey shot his hand up in the air and said, "Because Jack is August's friend, and August knows he's not saying it to be mean." Then we got into a discussion about different types of humor, and how some people have dry humor, some people are sarcastic, and some people just like regular jokes. Your job as a friend is to know what kind of humor your friends enjoy and act accordingly.
It's a great, great book.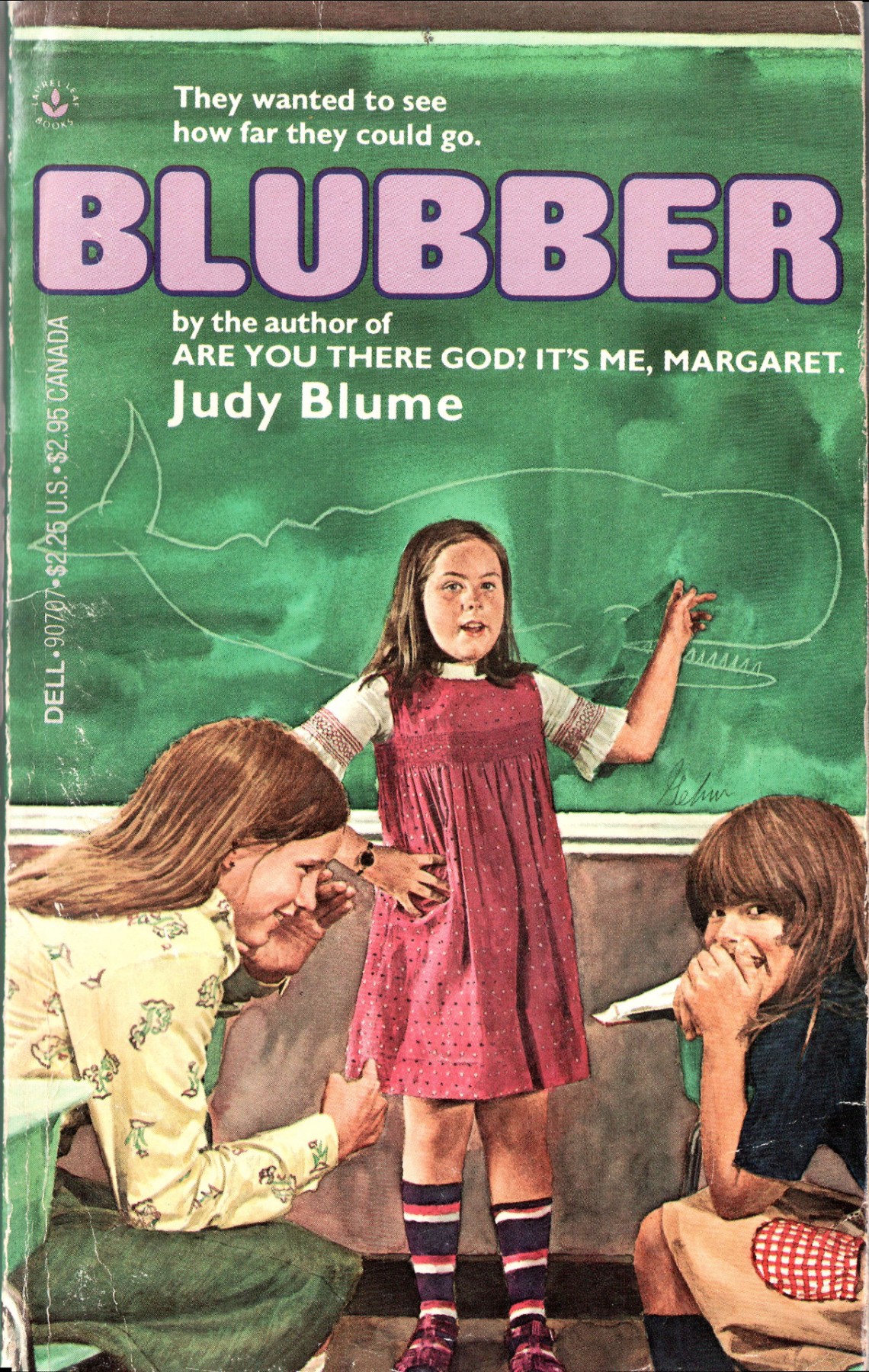 I think I forgot to recommend that book in my reply email, if you can believe it. I was so consumed with presenting more than one option that I forgot to include my first pick! Lame, but so completely me. Anyway! I found a few lists of books and thought I'd share them here. If you have more books to recommend, please do so! That's the whole point of this post.

This list on Goodreads is good, though some of the books may be too mature. 13 Reasons Why, for example, is about a suicide.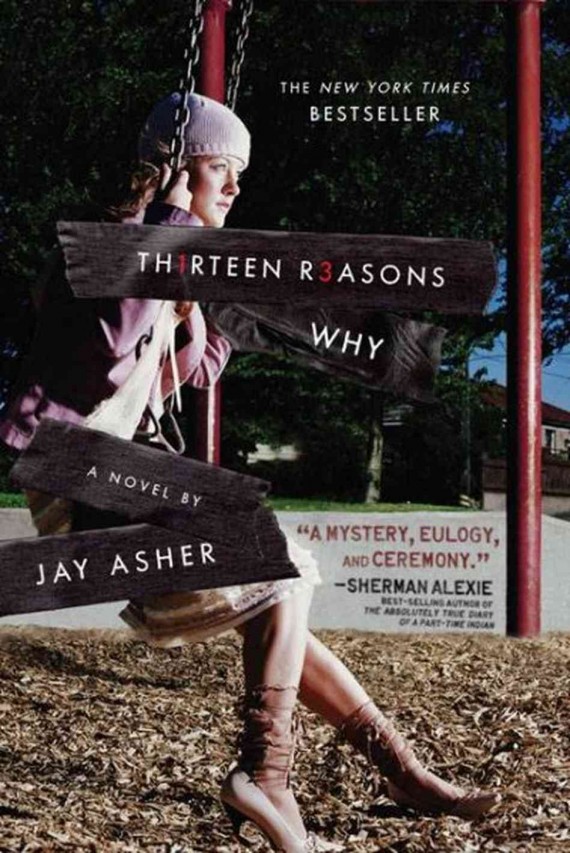 Clay Jensen returns home from school to find a strange package with his name on it lying on his porch. Inside he discovers several cassette tapes recorded by Hannah Baker – his classmate and crush – who committed suicide two weeks earlier. Hannah's voice tells him that there are thirteen reasons why she decided to end her life. Clay is one of them. If he listens, he'll find out why. Clay spends the night crisscrossing his town with Hannah as his guide. He becomes a firsthand witness to Hannah's pain, and learns the truth about himself-a truth he never wanted to face.
The book is for ages 12 and up, so it is a middle school book, but I haven't read it so I can't speak to the accuracy of the age range. I would like to read it, and I've heard great things about it, but it's been almost a year and I still haven't worked up the courage–and I'm a person who likes her books dark!
PBS has a list of books about bullies. It seems tamer, more appropriate for a younger crowd.
Finally, the state of Washington put together a comprehensive list of books called Recommended Children's Books On Bullying/Friendship Issues. That link is to the .pdf file. I hope it doesn't automatically download to your computer! On my end, it opens up to a new viewing window/page with the option to download or print.
Okay! Whew. Everyone still here? That's all I've got, fiction-wise. I'm reading a book for adults and Mikey is reading this book on handling friendships. Again, suggestions welcome.
p.s. How do you like that 80s Blubber cover? I read that book in middle school, and it's still in the library–or at least that same issue. I should check and see if my name is on the card! That would be something else.