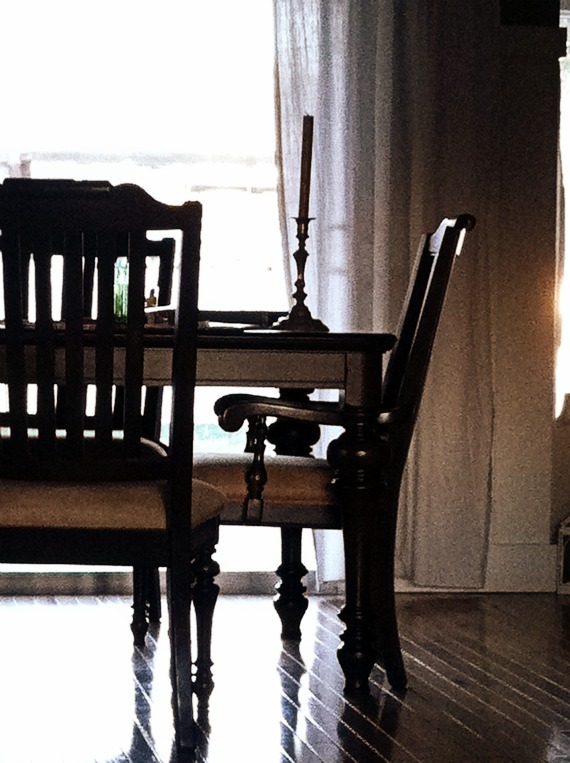 I'm going to try and return the Unstyled Life posts to the format I originally intended: unstyled images of beauty around the house and home with little accompanying text. It started as a way for me to not fret so much about the "work in progress" status of our home. Over time, the posts morphed into essays on life, both serious and frivolous. I will continue to write, I couldn't possibly stop if I tried, but I won't do it on Fridays. Right now, my heart says I am pushing myself too hard. Not the way professional working mothers must push themselves, since I bring it on myself as my own commandante. I don't pretend to shoulder your demands, but I feel a hard shove from behind nonetheless. My hat's off to you. I need to slow down and think and hear and see without attaching to it a to-do list. I'm doing a wonderful job at creating an intentional home. Now I need to be a little more intentional about how I live within those walls. It is possible to drown in a glass of water.
Yes, that is the new table. I took this from the sofa while I gave Mikey a practice spelling test. I thought the light was pretty, and it was only after I took the picture that I noticed I never put the candlestick back after lunch or shelved my 30 year-old copy of Jane Eyre after finding it the laundry room. I didn't feel bad about it, either. I closed my eyes and dozed instead, for just a few minutes, before I got up to make dinner.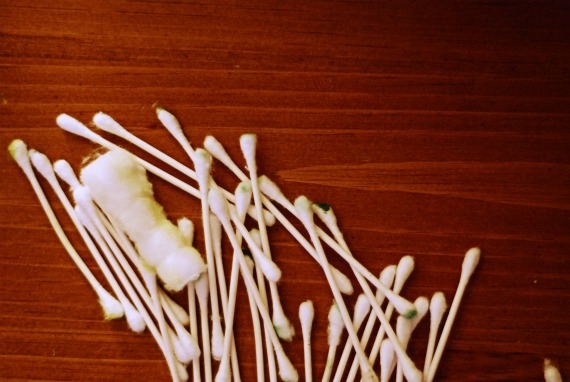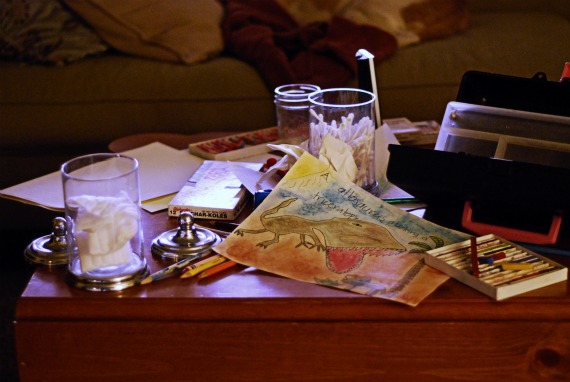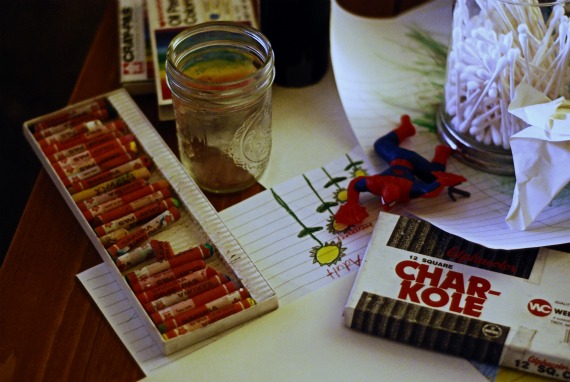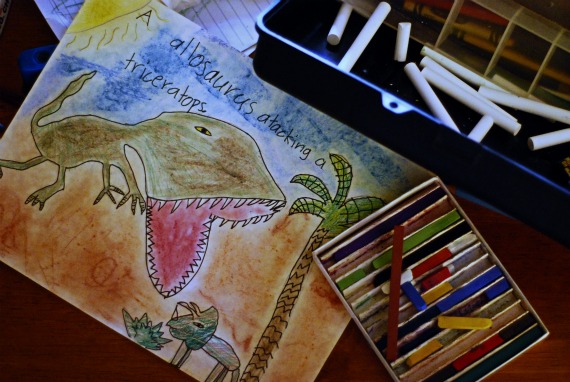 On Wednesday afternoon I danced along the fine edge of parenthood we all have, the one that separates the parent you can be from the fallible adult you are. I do a fair job keeping my foibles and neuroses from affecting the way I parent. Like almost everyone else, I keep out that which I don't want them to model with the help of a self-made retaining wall–but the Hero of Haarlem is proof that doesn't always work. What you try to keep out will find a crack and trickle in. As a parent, it's my job to see the leak and plug it.
I was helping Mikey with his picture of an allosaurus attacking a triceratops when Nicholas reached across the coffee table and reached for the pastels. He wanted them because he watched me explain to Mikey how they work, how you can shade and blend and mix to make color progressions and all around awesomeness.
"Nicholas, please don't. Use your crayons, please." He looked disappointed; he wanted to be like his big brother. I wanted to avoid a mess; I didn't want them to get on the carpet or sofa. I didn't want them to break or wear down. He reached for them again, and I sighed.
"Nicholas," and I paused, trying to think of a nice way to say don't touch my stuff. I couldn't figure out a way to say please don't touch my pastels from college, the ones I used one semester 19 years ago, the ones we found last summer buried under decades worth of memories in your grandparent's storage unit. Please don't touch those.
I felt ashamed.
Search for cracks. Find the leak. Plug the dyke.
When we were kids, my youngest brother and I used to roshambo over who would swipe the knife across a new tub of margarine. Neither one of us wanted to do it–it looked nice and new and pretty with it's little dollop on top. After the first swipe, we could care less. Smart Balance for everyone! But there was something about that first swipe. Same thing with new clothing, or socks and underwear. I used to buy what I needed and then continue to wear my ratty t-shirts and socks into oblivion. I wanted my new stuff to stay new as long as possible. I thought I was over that silliness but, so it would seem, pastels bring out the cray-cray in me.
"You know what, Nicholas, go ahead and use the pastels. Use the q-tips and cotton balls like mama showed Mikey. And use these, too. These are called oil pastels, and you can blend them with your fingers."
A happy Nicholas started coloring, and Mikey continued outlining his picture of a dinosaur, and I got up to stretch my back and crack my knees because sitting on the floor to color for more than an hour is almost as hard as parenting. The picture of Nicholas and me dancing underneath a layer of pastels (and crayons and pencils and charcoal) is worth the achy joints.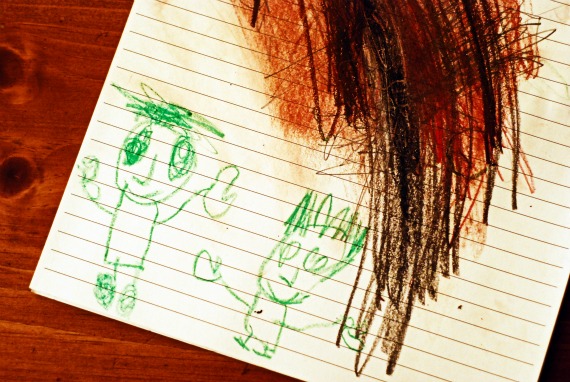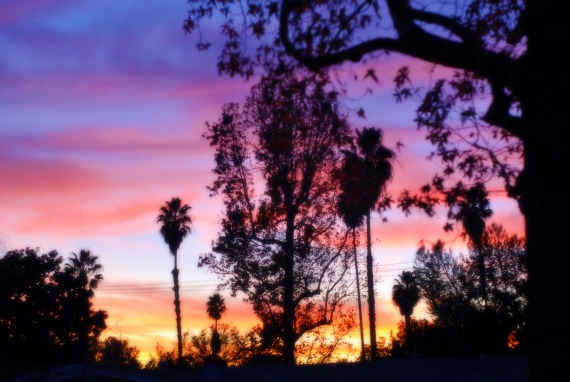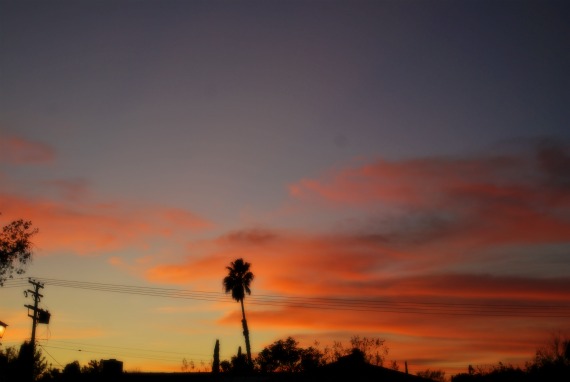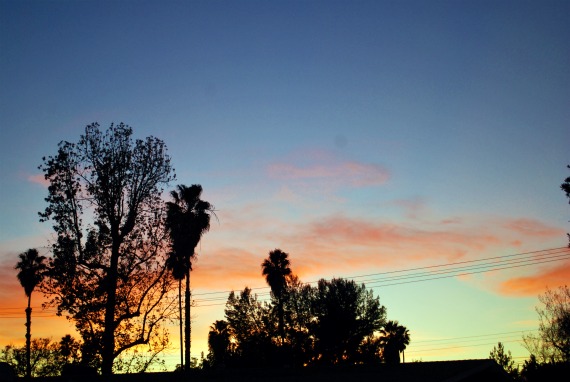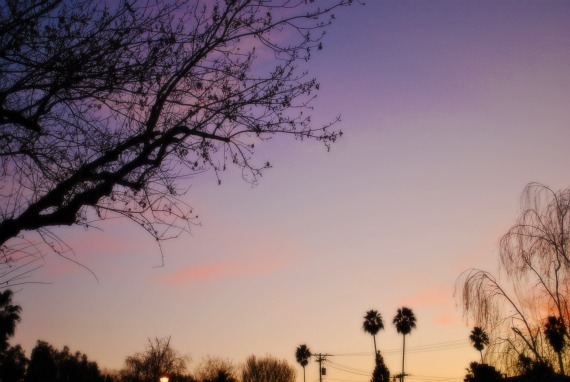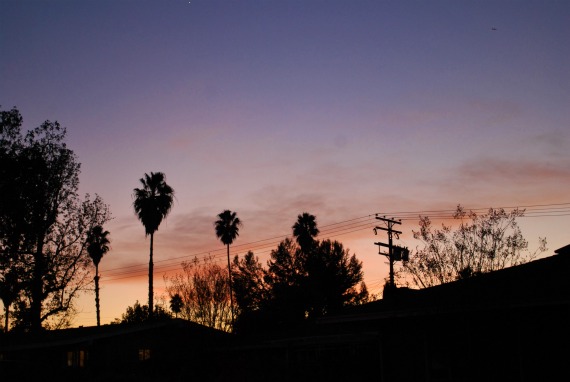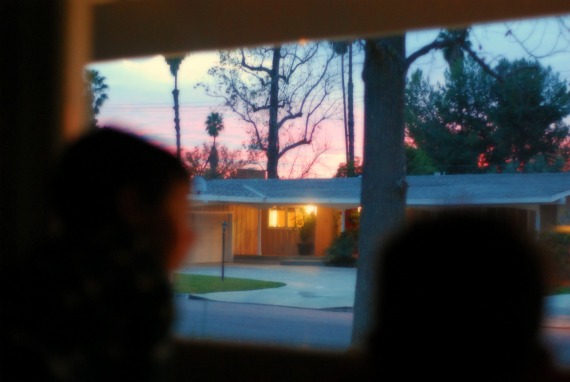 For several days in a row, the sunset stretched like taffy across our suburban skies. Blues, purples, pinks, and oranges melting into each other, one after another, until they blended into dark.  Picture after picture after picture, I clamored for more each evening around 5:00pm. I never got tired of the spectacle, not once. Like the Kardashians for T.M.Z., it never got old.
On Wednesday, the sky split open into fuschia. I gasped from my desk, and the boys scrambled up the back of the sofa to look out the window.
"It's a Sailor's Delight, mama," from an observant Nicholas.
We kept watching.
"This is a nice family moment," from an equally observant Mikey.
It didn't take long, no more than a minute or two, for the sky to bleed into gray. The boys turned around and faced the room, now darker than before.
"It's too bad the sunsets don't last very long," Mikey went on. "It's not fair that something so cool goes so quick."
That does seem to be life's general theme.
After a break from the insanity of the holidays, we are back to reading The Chronicles of Narnia. The boys stumbled upon The Lion the Witch and the Wardrobe movie over the weekend, and now that Mikey knows there are movies in his future, we can't get through the books fast enough. Nicholas isn't as interested–the English is old and complicated–but he has finally, finally taken an interest in me reading to him. I've jumped on this like a flea on a dog and try to read to him four books every morning after Mikey goes to school. Then, Mikey reads to him when he gets home as part of his homework assignment. Before we go to bed, more reading, usually Chronicles of Narnia. Whether he becomes the avid reader Mikey is remains to be seen, but it won't be for lack of trying.
Today we read four books and then played four rousing games of Tic-Tac-Toe, during the first of which he beat me fair and square. I didn't see it coming.
Then we ran errands, had lunch, and picked up Mikey and a neighborhood boy from school. Did some homework, took powers naps to recover from an accidental early morning, and ate pizza once the Mister came home. Brushed our teeth, put on our pajamas, and climbed into bed.
Now it's the weekend, the middle of January, our twelve year wedding anniversary. The days go by quick, just like sunsets.

When my brothers and I were children, our parents would buy us a flimsy piece of cardboard with punch-out chocolate of suspect quality and call it Advent. I can't speak for my brothers, but I know I never did manage to eat only one chocolate per day. I was always midway through Advent by December 3rd.
Then all us over-achieving Generation Xers had to grow up and have kids. Suddenly, punch-out chocolates seemed gauche. Positively pedestrian! We created a new kind of Advent calendar. Many knew kinds of Advent calendars. There are Advent boxes and Advent bags. Advent houses and Advent stockings. Advent trees with 24 packages. Advent, Advent, Advent.
And it wasn't enough for us to swap the delivery mechanism. Oh, no. We had to go and change what we were delivering, too. No foil-wrapped chocolates of indeterminate age and manufacturer for our children! We, in our infinite pre-housing crash wisdom, gave gifts–some big, some small; some fun, some practical–for 24 days straight. It was Chanukah on steroids.
I did that. Guilty, 100%. Our budget didn't allow me to give gifts for 24 days straight, though, which coincided nicely with the part of me that occasionally thought…something about this just isn't right. My usual gifts to the boys were Christmas pajamas, maybe some mittens and a hat, and a pair of socks. One year I gave the boys hot cocoa mugs. The remaining 20 days were things like trim the tree or drive around and see lights or watch a movie with mom and dad. Those were fun. We didn't do the calendar this year. With everyone so sick, especially Nicholas, I just didn't have the time to get it together. The gift of "experiences" may be free, but it takes time to plan and organize.
Alas, parents far better than I weren't content stuffing Advent calendars and celebrating Christmas. Of course not! Why be stressed when, with a little work, you can be positively insane? Let's create the Elf on a Shelf, an androgynous little doll with adoption papers (naturally) that sits in your home watching over children. Every night, the elf goes back to the North Pole and reports to Santa who has been naughty and who has been nice. You move it every night to a new location as proof of its travels. It's supposed to keep kids in line. So does my withering stare, but okay, fine. I get it. Cute!
But then. Then! We couldn't leave well enough alone and have the elf move twenty four(ish) times. No. Noooooo. No. Now the elf with the name you register at an online adoption center (naturally) does things while children are sleeping or at school or practicing cello. They upend laundry baskets. They put food dye in the faucets. They make cookies, but (hahaha!) they leave a big mess of flour and cracked eggs all over the kitchen!
Oh my gosh, that silly elf! Whoever is going to clean that up? Is it going to be Papa Claus? Because Mama Claus spent all day shopping for teachers' gifts and bought her mother in-law a sweater at Kohl's. Ho! Ho! Ho!
I love my boys. I really do. I read to them. I bake with them. I shuttle them around to all their activities. I volunteer in their classes, team-mom their soccer teams, and pretend like there is nothing I would rather do on this earth than go on a play date. This week we are transferring chrysalises into a butterfly cage and next week making marbled paper. By God, I do not have the time or the energy or the desire to clean up a mess made by an elf on a shelf.
I don't need an Elf of the Shelf. I need a Ryan Gosling on a shelf, the kind that will write me letters every day for a year. Or a Don Draper on a Shelf. Twenty four days of mixed drinks and nihilism sounds good to me. And after finishing that Fever series last week, I'm all in favor of 365 days of Christmas if it means I get a Jericho Barrons on a Shelf. Make that two dozen Jericho Barrons on a Shelf. I'm a reader; I have lots of shelves. Lots and lots of shelves.
Please don't judge me. I'm a good mom, I promise. And if you are one of those moms with an Elf of a Shelf who loves to type out elfin letters or clean up messes or leave little presents to your kids from "Belegurphen" or "Ashley," please know I'm not judging you, either. Everyone is different, and there is room in this town for both of us. There just isn't room on my shelf for an elf.
p.s. The boys want an Elf of a Shelf so badly they can taste it. Just watch: next year I'll cave.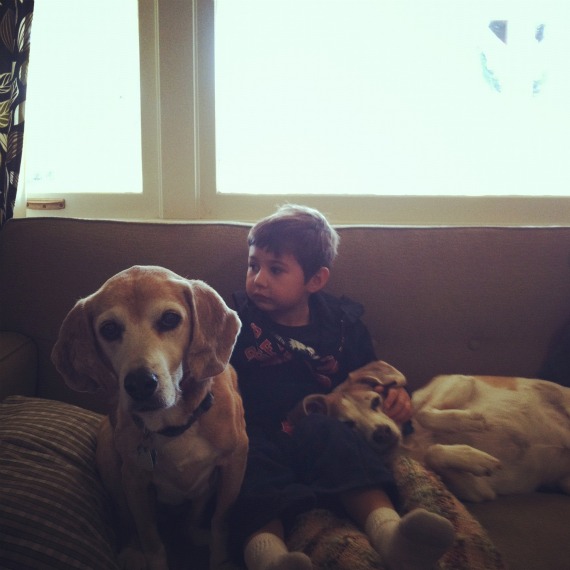 Last week I turned 39 years old. I didn't say much about it for several reasons. One, I'm uncomfortable being the center of attention. My last official birthday party was around age 7. I had slumber parties here and there with a handful of close girlfriends, but nothing more. One time, my dad called my friends on my 23rd birthday and had them take me out for a "surprise" round of drinks. My closest friends knew I would be mortified, so they told me ahead of time so I could practice my happy face. I put "have a birthday party" on my life list for a reason.
The second reason I didn't say much about my birthday is because I can't believe I am 39 years old. It's not old(ish), but it felt ancient on my birthday. Maybe that's not true. It felt sad. That's more accurate. More than anything, 39 was an unwelcome reminder that time is marching on at a pace faster than I can manage. I can't seem to be enough, do enough, or see enough for my age. At 39, my list should have more strikethroughs.
When I mentioned this on my birthday, I got a lot of eye rolls. I thought the Mister was going to throttle me. Hear me out. I have professional degrees, but I don't use them. I have a growing blog, but not one large enough to take any of the weight off my husband's shoulders. But I'm a good mom with great kids. That should be more than enough. That is more than enough. What a shame it is that I have to remind myself. I'm selfish, ungrateful.
The further I get from my birthday, the more rational my thinking. Everything is going to be okay. My birthday freak out was proof that, at 39, I am the same anxious, over-achieving, people pleasing perfectionist I've always been. I should have made praying the rosary one of my five goals this year. Mama needs a daily meditative practice, pronto.