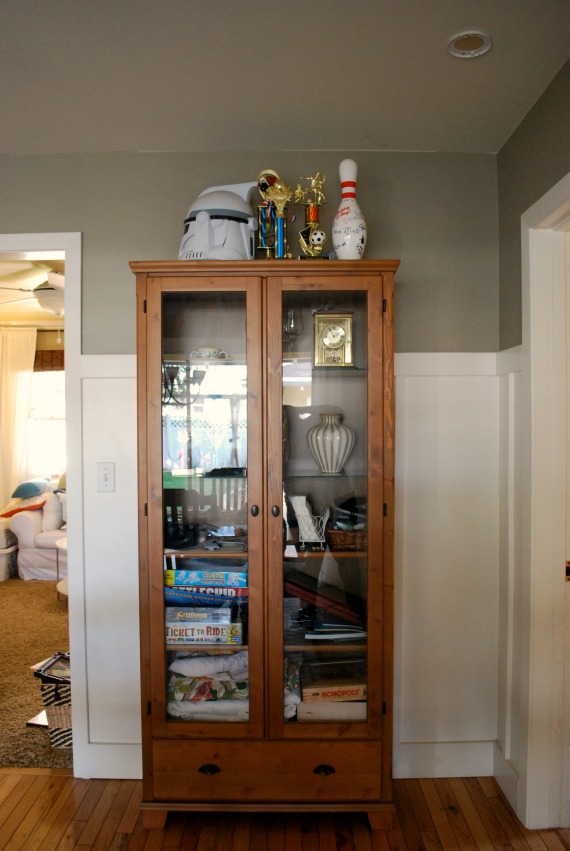 The family game night was another item I wanted to start up, but so far it hasn't happened. We're close. The boys are getting older and their games finally more interesting. (Candyland is for the birds.) Of critical importance, however, is their emotional maturity. They are almost at the age where playing with me won't result in life-long, irreparable trauma. Playing Battleship with me isn't like entering an arena with an unchained lion, but it's close.
In preparation for the day I snuff the innocence from my sons' eyes with a ruthless Stonewall Attack while stroking a green-eyed cat, I decided to clean out the future game cabinet. It was, as usual, the place where "Mom said to clean up or we're grounded" stuff and things went.
I took out Legos, paper, a Hawaiian necklace, model airplane supplies, and a Star Wars book.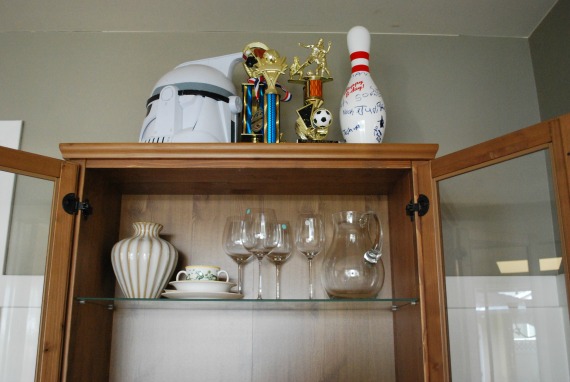 From the top of the cabinet I removed trophies and a Clone helmet.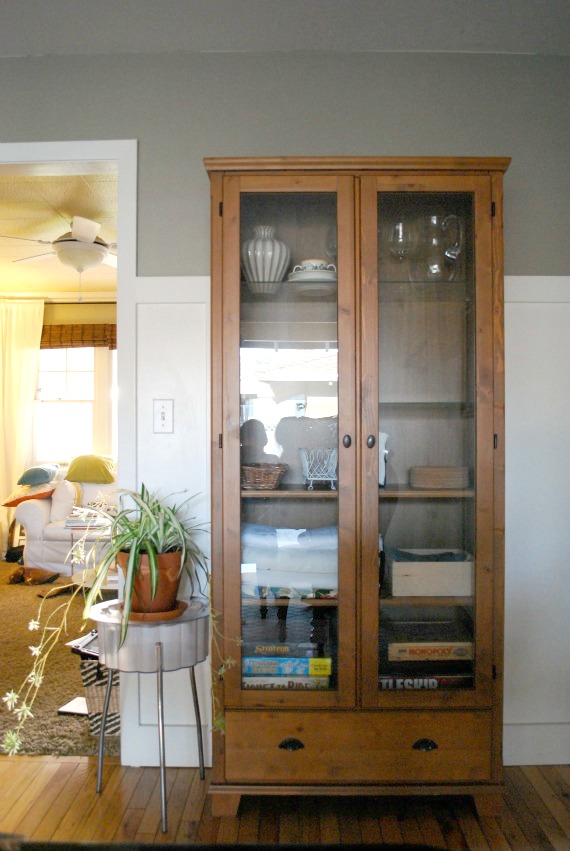 It was a matter of organizing the linens and putting the games all on the shame bottom shelf. When I finished I decided to give my fiddle leaf fig tree a leaf bath (don't let dust collect on leaves if you want healthy plants–it blocks the sunlight and reduces the plant's ability to photosynthesize) when I noticed my spider plant was not happy in his new corner of the house. Really unhappy. Edward Cullen unhappy. The situation was dire.
I put him in the shower and sprayed him down with cold water, trimmed as much as I was willing (I need to go back and trim down to the base), and moved him next to the cabinet, which is directly across from our large slider. I lucked out and remembered I had an old plant stand in the office collecting dust. It's not something I would normally have in the house, but the plant stands I like are cheaper online and I needed something right then.
Anyway, he'll get eastern light here. The corner where he was at was indirect north-east and clearly not enough. It's also possible the draft from the window was too much for him since spider plants like humidity.
In conclusion, I cleaned the future game cabinet. Also, I used personal pronouns when discussing my plants. This is, I believe, the best point at which to conclude this post and still maintain a modicum of dignity.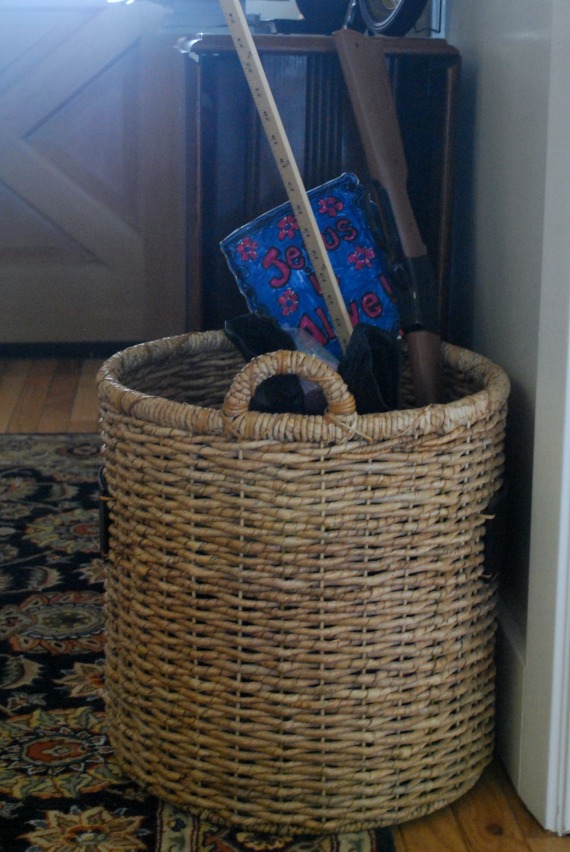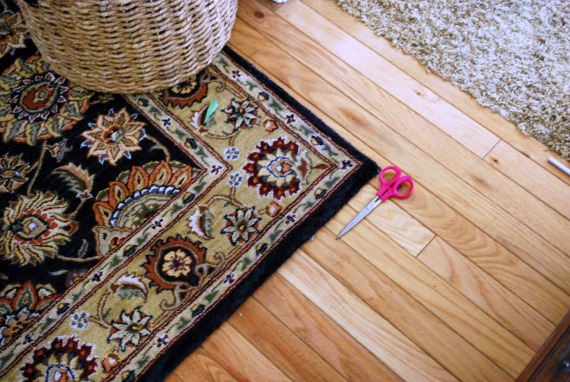 After my post on organized the art supplies last week, Shannon asked me if the boys to put their supplies away in the tackle box because her girls wouldn't over the long haul. I pasted my reply below.
Yes, actually, which is why I started putting everything in boxes. It's key that you figure out your kid's organizational style. Mine like compartments, which I figured out last year when I made the battery boxes, and it's why I moved all their Legos to those clear boxes. I think they feel less overwhelmed by the little compartments? Like the symmetry and order? They know where the battery box is, they use it religiously, and it gets put away. Same with the Legos, though I have to prod them about that because it's more work. Someone mentioned yesterday that she stores all her sons Beybaldes in the Bey Stadium. That never worked for us. They ended up on the closet floor in the general vicinity of the Bey stadiums, and when they wanted to bring their Beys over to a friends house, it was a nightmare trying to find them.

Pokemon baseball card binder sleeves? Miserable failure. Shoes basket in entryway? Miserable failure. Giant crafting drawer I did last year? Miserable failure. I'm learning as I go what works with them.
The shoe basket from last year turned out to be a miss. Basket, bins, large containers: they are all bad ideas when it comes to Mikey and Nico. They function best with structure and order because it balances their natural tendency to upend a room like a snow globe. Just yesterday Mikey's teacher told me his desk and general area is the messiest–by far–in the entire class. When I brought it up to him he got upset and said he didn't understand how the rest of the class managed to keep the piles underneath their desk so neat.
I told her to wait until she gets Nico. She hasn't seen messy.
Notice the scissors laying there on the ground waiting for a piece of paper to cut.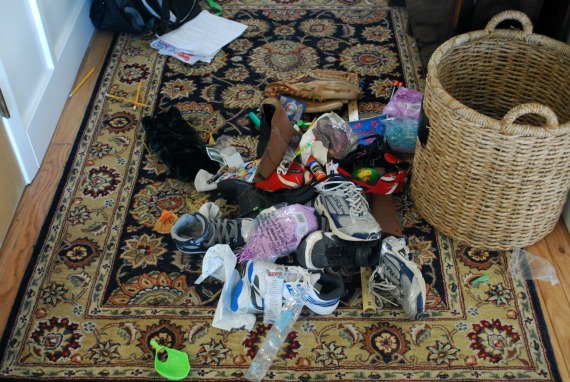 So the large basket was a bad idea. It was an invitation to toss in items that had nothing to do with shoes. When I emptied it yesterday I found among the shoes a homemade Jesus sign; a yardstick; trash; Beyblades; a toy shotgun; a light saber; Easter grass; a holster; dirty socks; a badminton birdie; army men; Pokemon cards; paper; Mad Libs; action figures; an old baseball mitt; and a velvet bag filled with chess pieces and authentic fossils from the Smithsonian.
When Nico saw the velvet bag he said, "Ohhhhh, I remember that day!"
Really? Because I don't. I'm trying to picture Mikey and Nico playing chess and looking at fossils, maybe taking in a Merchant Ivory movie marathon on PBS while classical music plays in the background, but the scene isn't coming together.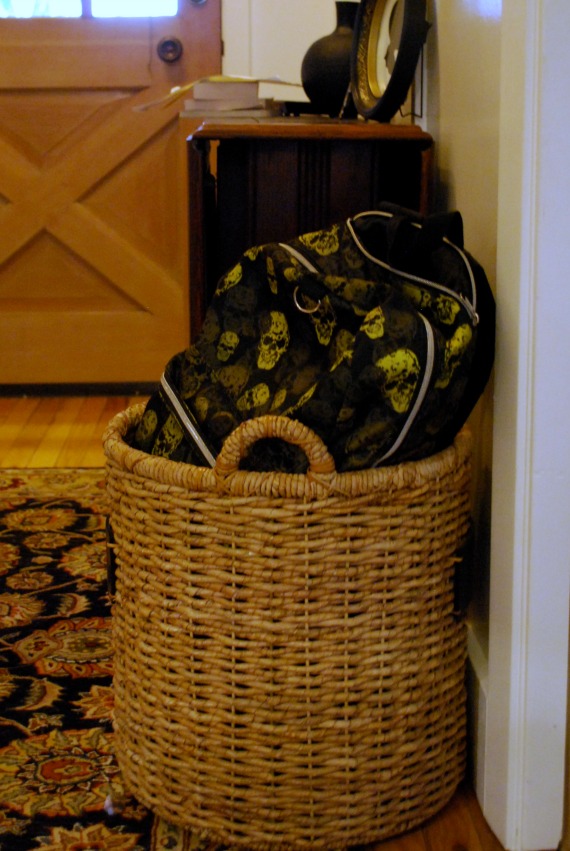 I made quick work of everything by throwing away almost all of it. The three pairs of shoes in the SHOE BASKET went to the boys' room. I'm not sure what we're going to do with this basket in the future, but yesterday I tossed in their backpacks and called it good.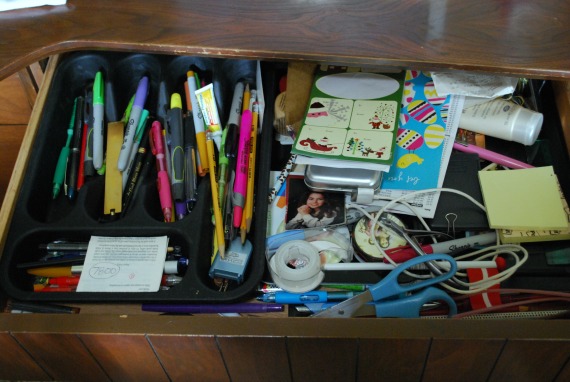 My desk was one of the first William Morris Projects I tackled two years ago, and I still can't believe I cleaned that entire thing in one day and made the desk trays. Was I mainlining caffeine?
I haven't touched my drawers since that day, at least not to clean them. This wouldn't be too bad except Nico knows I have a desk so he goes to it constantly and pilfers my supplies. In fact, my favorite pair of white Martha Stewart scissors and a heavy pair of brass scissors from West Elm are missing and have been for some time.
This reminds me of a story my mom used to tell about my dad and umbrellas. He was forever losing umbrellas, even as a kid. He would leave them behind at school, in the library, at the bus stop, at a friend's house, or anywhere else it wasn't raining. He would go through dozens of umbrellas every season until eventually, as an adult, he stopped carrying them to save money. He never figured out how to remember umbrellas existed when he wasn't standing in the middle of a downpour. I think Nico inherited this trait with scissors. Unless he is physically cutting a piece of paper in two, they exist in another dimension. Never have I bought so many scissors as I have since Nico was born, and I'm still bitter about my kitchen shears and my favorite rose pruning shears. He swears he has no idea what I'm talking about.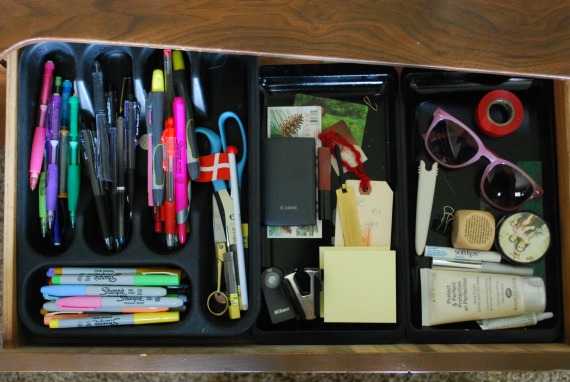 This only took me a few minutes, so if you have a messy desk drawer, hop to it! I have way too many pens, but that supply takes into account the pens the boys will lose or break over the next few months. By next summer I'll be using the burned end of a whittled twig to write checks.
If I could change anything about this set up, it's that I have to use a utensil caddy to hold my pens and pencils because it's the only thing that fits my vintage desk. They don't stay in there perfectly (they kind of fly around if there are too many in there, like now) but I haven't found a modern desk tray that fits the drawer's shallow profile. Regardless, it's now clean and looking (reasonably) good!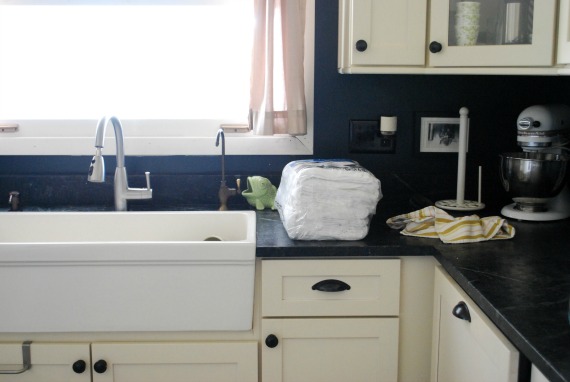 When I asked for advice on eliminating paper towels, we had already been out of paper towels for a few days. I figured it was as good a time as any to quit and, like I said earlier in the month, jumping in with both feet seems to work for me. I read through the comments and thought about the suggestions for a few days while I washed and rewashed the same three dish towels. Ashlea recommended this post on giving up paper towels, which I thought was good. I took it as a sign that Kelly from Imperfect Homemaking stores her towels in the same small drawer I have to the right of the sink.
I told the family what we were doing and that we are in Phase 1 of a multi-phase plan. As predicted, they cared not a wit.
Phase 1 is about replacing the paper towels, which I did with bar mop towels. They were the cheapest by far at 60 towels for less than $20.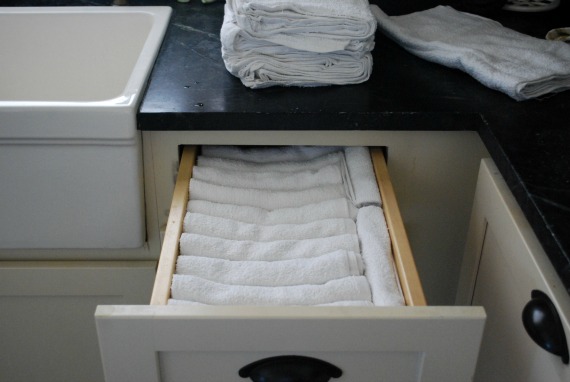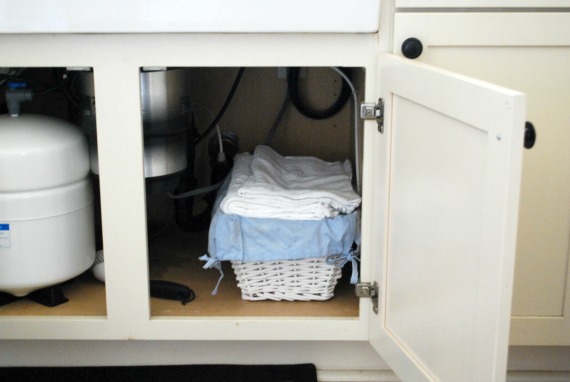 I was able to fit 25 of them in the drawer to the right of the sink by folding them in half and rolling them like little cigars. It looks fussier than it was because it took me no time at all to do. The remaining towels I placed in an old basket (from Mikey's nursery) under the sink.
Phase 2 will include hand towels for drying hands (duh) but since I was able to find a pack of 60 bar mop towels, it's not as pressing as it was earlier this week.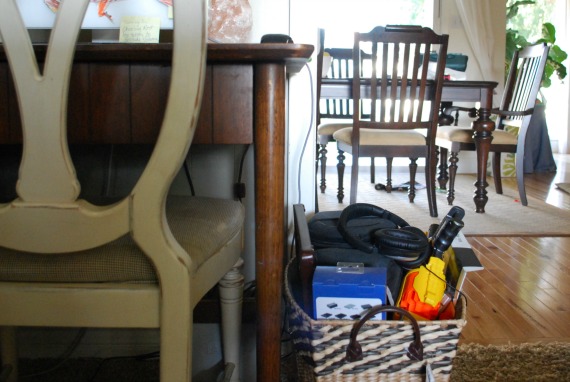 A couple of weeks ago the Mister mentioned how proud he was of Nico for cleaning up the family room, especially the coffee table, of all his toys, crayons, and paper airplanes. "You know," he said. "I told him to clean it up and he went ahead and did it without me having to nag him. He's growing up."
I was impressed. I was also dubious, and so was the Mister. "I mean, I think he cleaned it up. I guess we'll see if he just didn't take it all back to his room and dump it on his bed."
He didn't dump it on his bed.
But he did toss it all behind the sectional for us to find it three days later.
On Friday I was at school working in the library when Nico's teacher walked up. "You should know that Nico lost his religion book this week."
"But you found it, right?" I asked, wondering how one lost a religion book.
"Yes, but only after I went to his desk and emptied it, because he was sure it was missing. I pulled on a book and out flew 5 empty water bottles, a banana peel, and dozens of paper airplanes."
"Naturally."
The basket next to my desk is supposed to hold my camera and computer equipment, and nothing else. Over the years, however, it turned into a "Mom said to clean up the room and this looks like a good enough empty hole into which I can drop stuff and things."
The thing with empty holes is that once one person starts to fill it, you start to fill it, too. So once the guns and Legos went in, I followed up with a framed picture, some old stationery, and some more magazines. I also found an unopened pack of birthday napkins and a stop watch.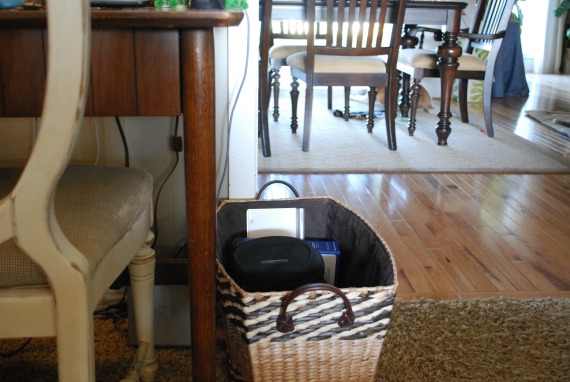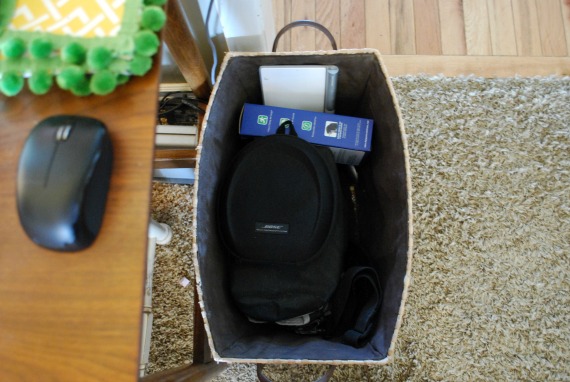 It's back to holding camera and computer equipment.