A while back I wrote about looking for a plant stand. I wanted something larger than what I found, and I also wanted something in a dark finish so it would sort-of match the dining table since they'd be in the same room–mere feet from each other, actually. The IKEA one I mentioned in the post was in the right price range, and I liked the glass shelves, but I wanted something sturdier in such a high traffic area. I had visions of glass all over the floor following an attack from an errant soccer ball or light saber.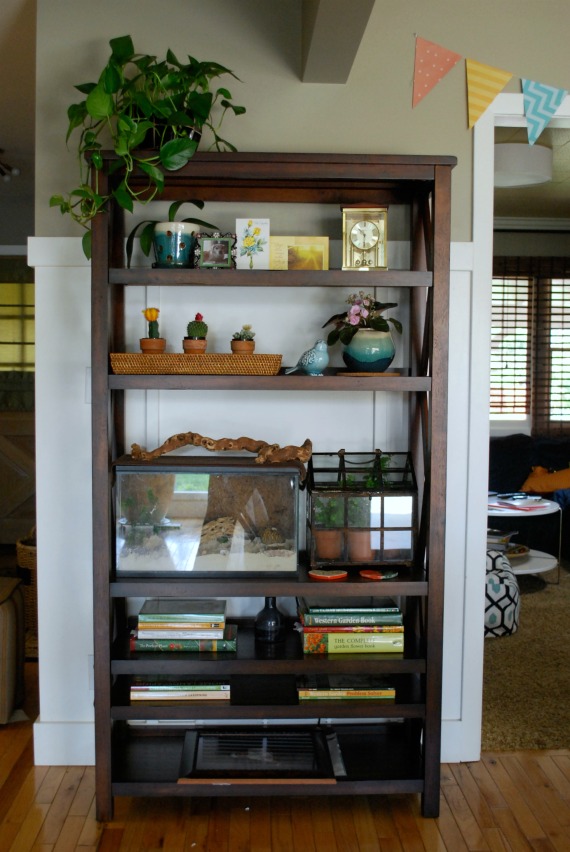 I ended up buying this bookshelf on sale at Cost Plus World Market. I wanted solid wood in a dark finish, and this bookshelf meets both requirements. Cons: the shelves are wood, and I wanted something less easy to suffer water damage. Another con (and this is a major one) I can't display any of my tall plants. The shelves are for books, so that's expected. Also, our hermit crab takes up a good deal of room and determined how I was going to place the rest of the shelves.
There is enough room on top for my pothos, and I'm thinking of adding a string of pearls, but I killed my last one. I think the pot and soil were the problem, so I'm willing to try again.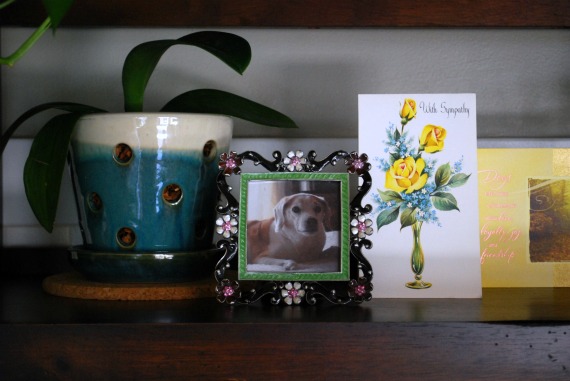 I finally printed out a picture of Buster. Nico and I cried when I placed it on the shelf. I was in a glum mood for the rest of the day. Mikey just stood there with a stoic look on his face.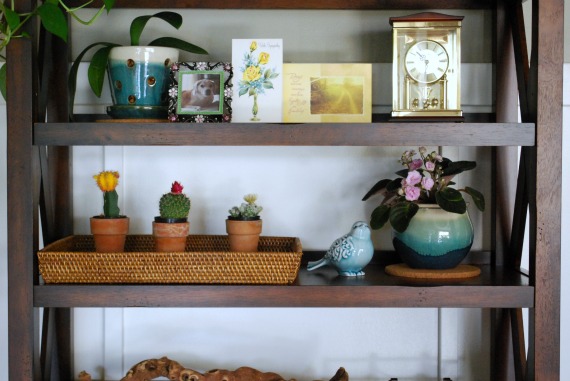 I need to repot my cacti, but I can't decide If I want to add more.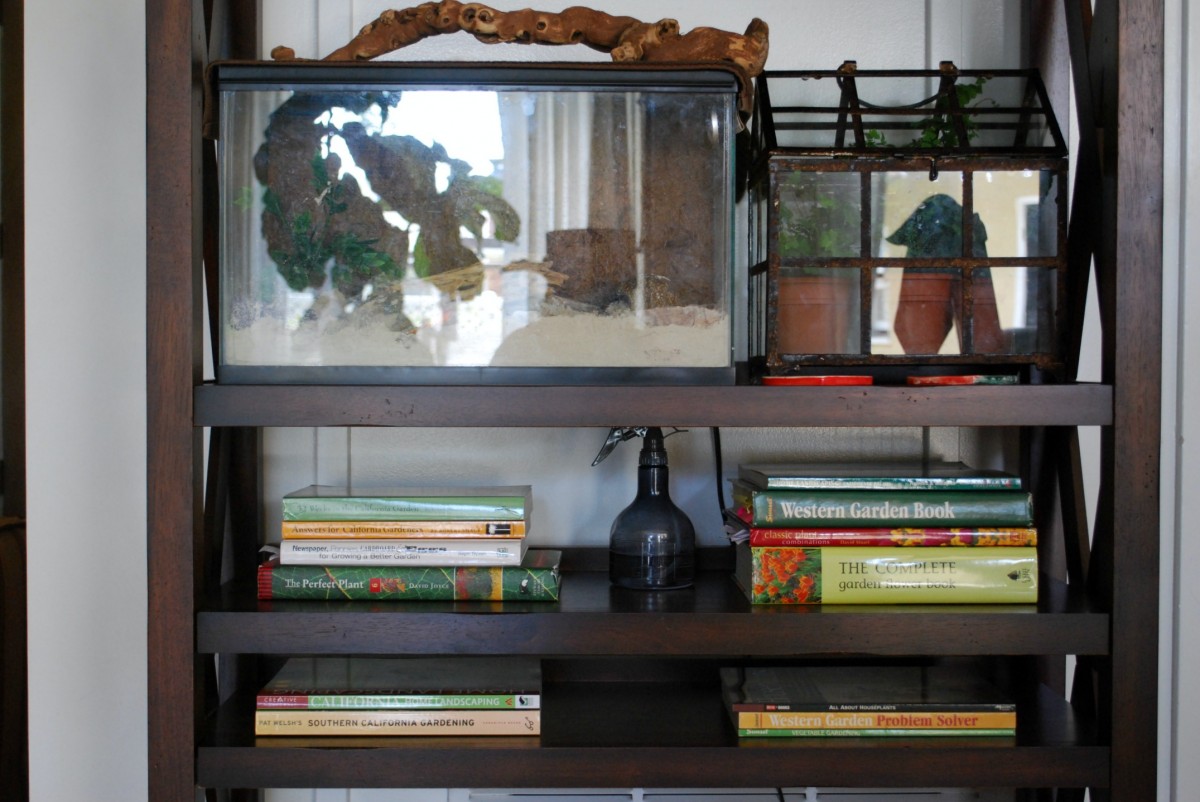 The hermit crab tank and my ferns, which are so far doing well in the terrarium. I mist them regularly, but I don't know what I'm going to do once they outgrow the terrarium. Buy a larger one? No clue what to do. The main point of this picture, though, is to rejoice that I finally have a place to easily access my gardening books. Observation: the best garden books are vintage or at the latest from the 80s. (Which I guess is vintage now. Gah.) Today's garden books are slick and pretty and, from my experience, rarely of much use. I would love current recommendations that aren't a waste of money and are for people who actually enjoy and grow house plants. The books I reference most are goofy-looking Sunset publications from the 70s with poorly-styled photos. I've used this one since I was a kid. (Wish I was joking.)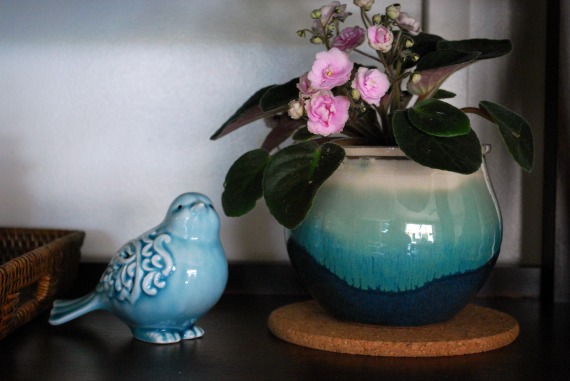 I bought my first African violet pot! I've resisted for years, and after a disastrous attempt at keeping African violets 14 years ago, I figured they weren't for our dry area. Aha! All that changed with this short and squat self-watering pot. I'm now a firm believer in the right pot for the right plant. I thought if I babied them enough, I could make anything live. Nope. Wrong. So wrong. I'm now so happy with my violets that I want to start a collection of them.
I posted a similar picture on instagram, and someone mentioned that African violets reminded them (in a good way) of their great grandmother. Sounds right up my alley.
A couple of weeks ago I noticed a pimple on Mikey's left cheek. He's nine, so I was a little surprised. Pimples in 7th and 8th or maybe 6th grade I expect. Not so much in 4th grade. I told him to wash his face. The next morning I looked at it again and wondered if it was really a pimple. By the end of the day, I decided it was a spider bite.
The next morning I an appointment with the doctor since it didn't seem any better. I was talking about it to some other moms at school and pointed it out. They thought it looked more like a mosquito bite, and then Mikey turned his head and said, "Well, I got more last night." His ear was blistered with bites. One was really and truly blistered over. I kept my poker mom face on the outside. On the inside I was already imagining dousing his bed in gasoline and lighting a match. The doctor confirmed my suspicions. Five spider bites. FIVE. I wasn't surprised after I gave it some thought.
A week prior, as I was getting into bed, I pulled back the sheets and saw an enormous spider on the Mister's pillow. I briefly considered pulling him out of the shower to handle the situation while I called a real estate agent. During my internal debate, I lost track of the spider. (!!) I did what anyone would do in my situation. I tore apart the bedroom and moved all the furniture until I found the spider and snuffed out its life like a 17th century candle. My apologies to vegan and animal activists.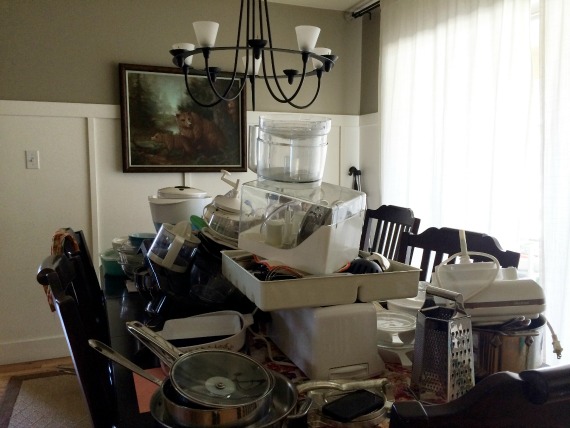 This, on top of the ants. The first thing I do in the morning is roll over and put on my glasses. There were days where I would put on my glasses and see ants crawl across the lenses. Ants and spiders in this area aren't unusual, especially when it gets hot. But this, this is unheard of. We are teeming with ants and spiders and even one cockroach. One, but it was large enough for me to think I had Gregor Samsa in my family room. Also, there is never just one cockroach.
I am really weird about kitchen cleanliness. I don't like food laying around, don't leave stuff on the counter, and eat in the dining room or family room since we use our bedrooms only for sleep. The Mister is even more particular about crumbs and, for the most part, the boys are pretty neat when it comes to food because we live in ant country. They know better. If you grew up in this area, you don't leave food on the counter or dishes out overnight. It's just not done by humans age 7 and up.
I'm trying to explain that I have no idea why we are suddenly having this ant and spider problem. A friend on Facebook suggested that one of our neighbors must have recently bombed their house for pests. Well, that sucks for my other neighbors because we are bombing the hell out of this house on Monday. In 14 years of marriage, we have never had to bomb or spray or do any sort of pest control. There's a first time for everything. They're even testing for bed bugs–OMG PLEASE NO. GROSS.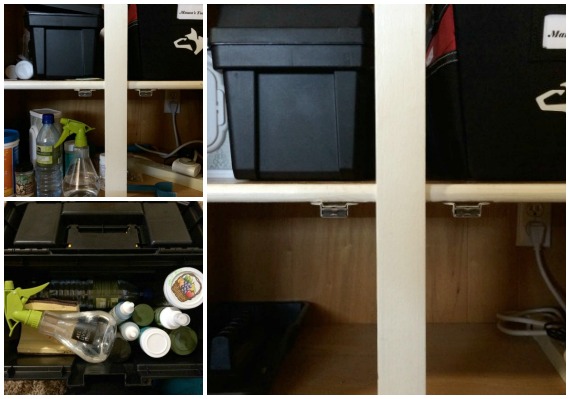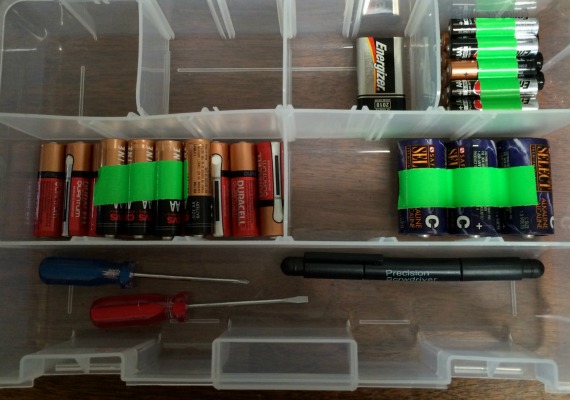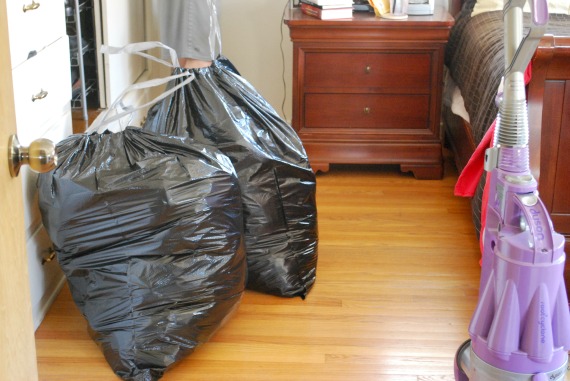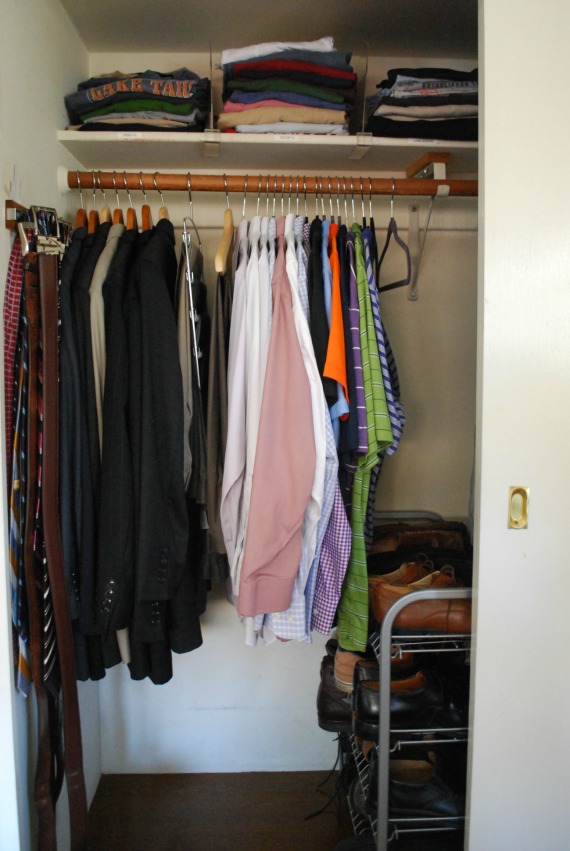 We were told to remove all items like food and kitchen equipment stored waist high or lower and put it under a tarp on the dining room table. Pull all furniture away from the walls and make sure there is access to baseboards and corners. What a task! And on a Sunday! I freaked out about it from Friday on because, really? Who wants to do all that on the weekend. It's like moving.
Well, we did it as a family and as much as it sucked, I knocked out so many projects. Gone are the little piles. The Mister got rid of two large trash bags of clothes. The boys finally cleaned out and organized their closet and toy cabinet. I purged the kitchen again, though there wasn't much I got rid of. I bought two precision screwdrivers for my battery box and cleaned out all our goldfish supplies and replaced it with our hermit crab supplies. The counter tops are clear of paperwork and clutter. I created a donation pile. I feel really, really good.
Thanks, ants and spiders.
Hello! Please click on the image below if you would like to learn more about The William Morris Project. Thank you for visiting!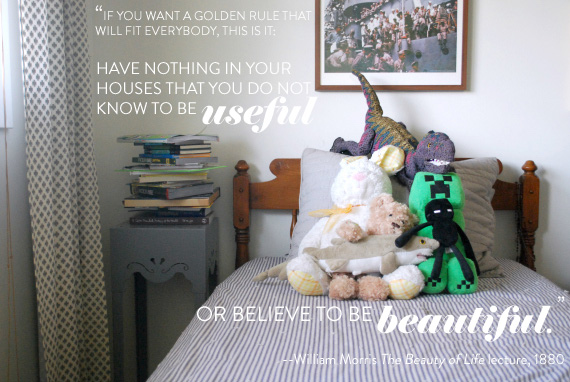 I'm pretty pleased with this one, folks! Not that it's revolutionary or anything. I admitted to myself that every project I do will adapt as we change as a family. When I put all the books in one room, Nico wasn't much of a reader and Mikey was reading small series books. Now Nico has interests of his own and Mikey likes big books. I can't blame him.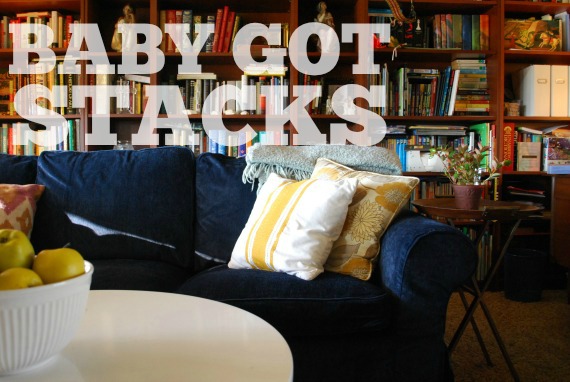 Between Mikey's many series and Nico's developing interest in reading, books started to collect in every room of the house. The fact I continue to buy books is absolutely irrelevant to the issue at hand. (HAHAHAHAHAHAA!)
Side note: I started reading most of my books on my ipad because the Mister was ready to make me sleep outside with my books and a flashlight. I love to read at night, so much so that I can't fall asleep unless I've read two hours before going to bed. This is a problem when two hours means after midnight. He bought me the ipad and begged me to read with the lights off. That was fine for a while, but over time it bothered my eyes and I started to miss the experience of owning books. I like the look of books everywhere. I like going to the bookstore and searching for the perfect book. Also, and this will sound odd, but I swear my taste for books has turned tawdry now that I know I don't have to worry anyone at school will see my copy of Gay Wizards, Consulting Detectives and the Women Who Love Them: The Best of 2014.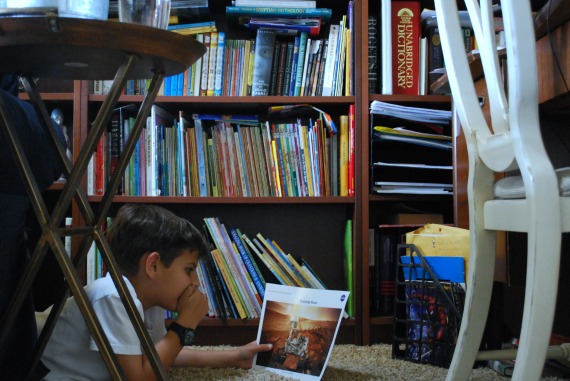 I realized believing I could store all our books in one room was like that one time the Greeks told the Trojans, "It's just a horse!"
So I bought two cheap bookcases from Target for the boys room and had Mikey and the Mister put it together. Both went into the room and we started the book purging process. It wasn't easy with Mikey, who is a sentimental pack rat. Nico, not so much. If he saw the movie and read the book, he was okay tossing it. I took close to 50 books to the school on Monday and, I'm happy to say, a lot of them were checked out by the younger grades.
I'll show the boys' new bookcases another day, but for now here is what I have done so far with my new found four shelves of space.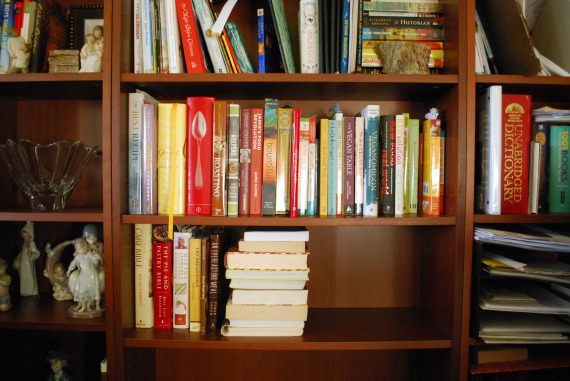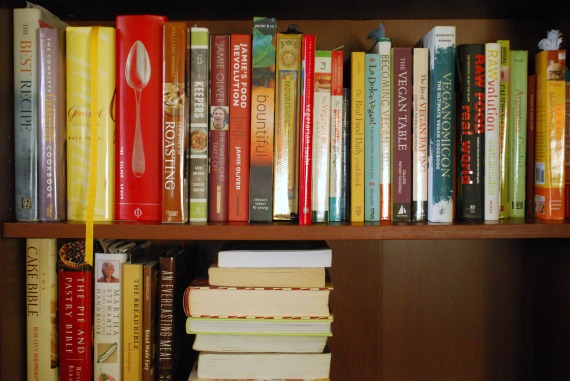 Cookbooks! I finally have a place for all my cookbooks! I used to keep them in the pantry in the kitchen, which was fine, but my motivation to use them was less than zero. To access them I had to get a step ladder and forget it. I forgot which books I owned and I ended up storing my most used books in a kitchen cabinet. Now I have them all on two shelves with nine ready to go to Goodwill. Yes, I purged my cookbooks while I was at it to make room for two cookbooks I bought last month. That means I'm seven cookbooks lighter, so at least I'm going in the right direction.
Hello! Please click on the image below if you would like to learn more about The William Morris Project. Thank you for visiting!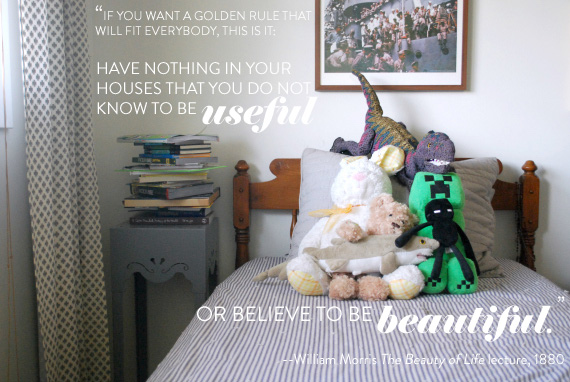 The last time I worked on my makeup drawer, it was a total redo. I was proud of how much I had purged at the time, but looking at the after now, I see I could have tossed in the trash another bag's worth of makeup.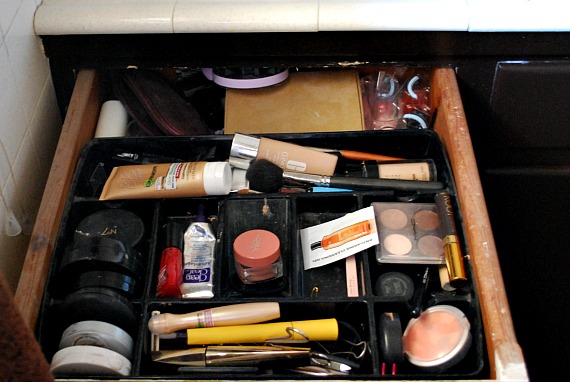 My makeup drawer last week may have had less makeup than the first time I cleaned it out, but it was back to being cluttered and messy. Loose powders and compacts are dusty monsters.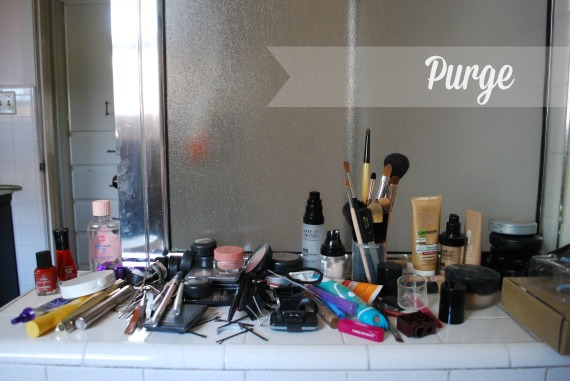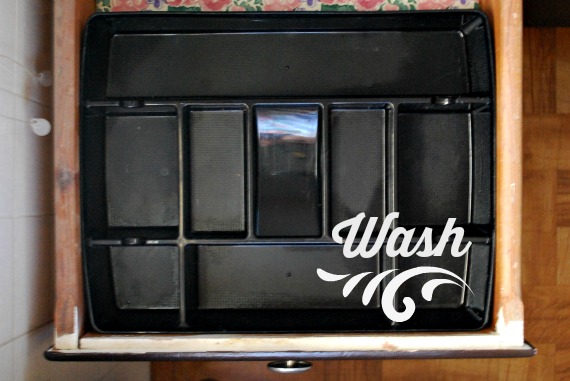 I took out everything in the drawer and put it in a purge pile. The obvious items went out first. I admit, there weren't too many obvious items. I knew I would start rationalizing, so I went into the project with some notes on makeup expiration. If it had expired, I tossed it out–with the exception of a handful of eye shadows because while the beauty editors at Allure says they expire in 3 months, other sources said 12 months. I wear eye shadow, at most, a few times per year. I don't want to toss out everything I have and then buy replacements that will sit in a drawer. For now, some eye shadows stay until I can figure out a workable solution.
Sticking to bright line rules whittled down my makeup by at least 50%. After that, it was as simple as washing out my makeup caddy and putting the makeup back in place.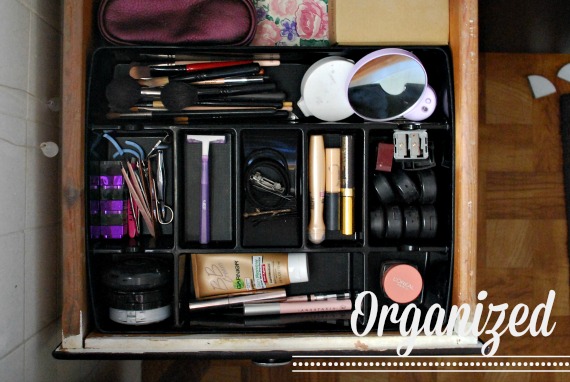 Here's the new and decluttered makeup drawer. I admit that I will probably add some mascara to the drawer–or nice eyeliner since I shouldn't wear mascara.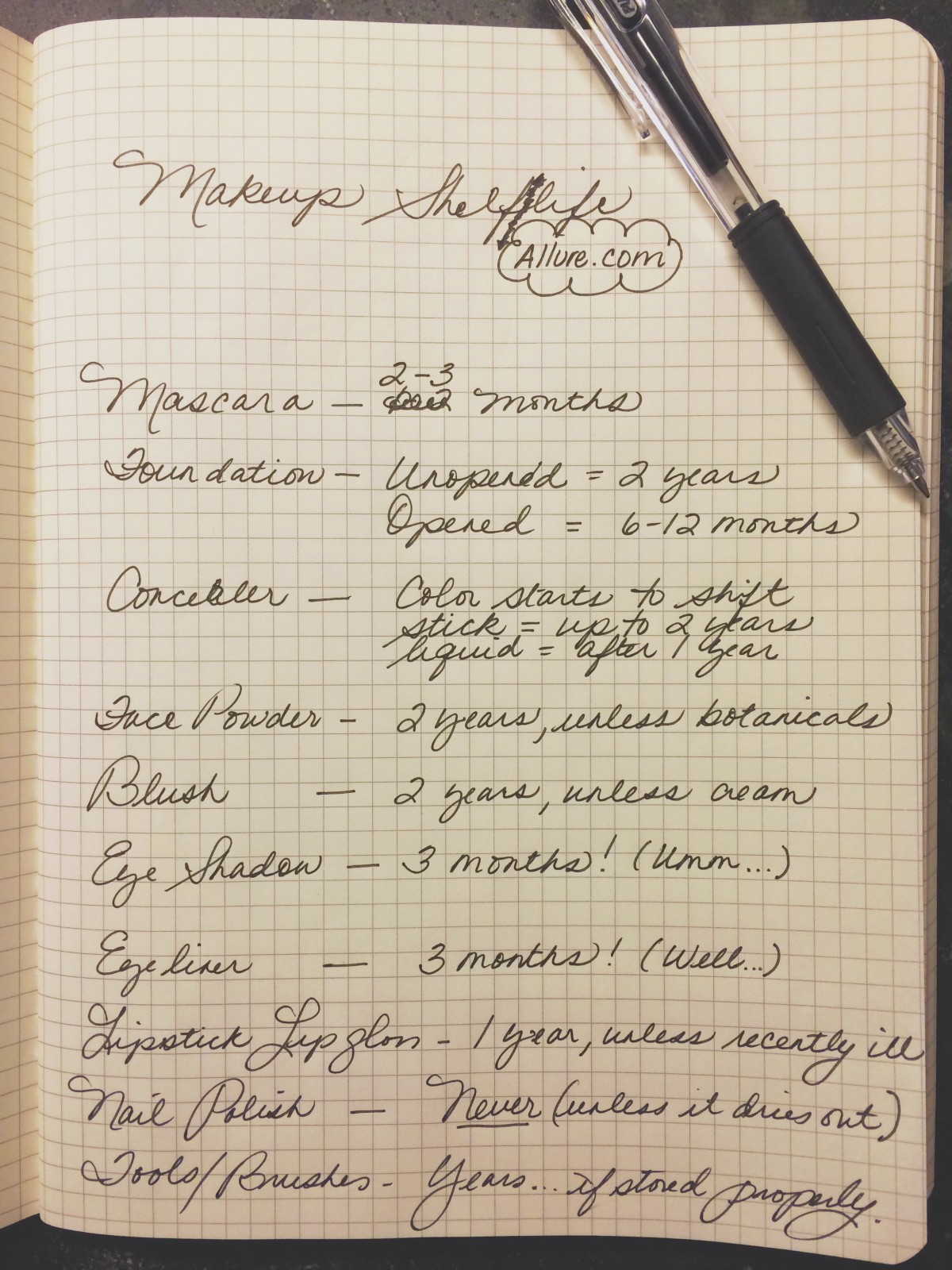 These are my notes in case you were wondering about the expiration dates. You can see them–sans scratch outs and misspellings–in the Allure link above.
Hello! Please click on the image below if you would like to learn more about The William Morris Project. Thank you for visiting!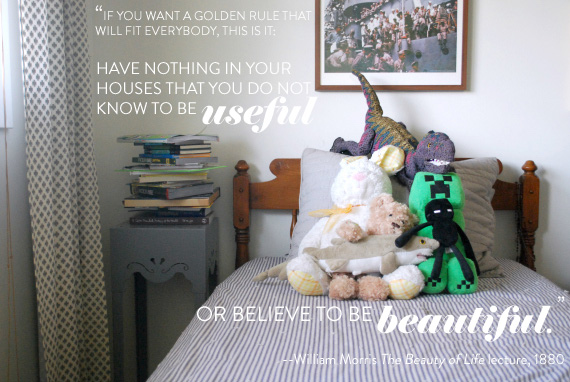 Only a holiday, in this case Easter, can take a cluttered refrigerator and turn it into Monica's closet. It never fails. I'm not fantastic when it comes to cleaning out the fridge. I have a friend who cleans out her fridge every week before going to the grocery store. Every week she washes the shelves, cleans out the drawers, and tosses out whatever needs tossing. She rarely has anything that needs tossing, as you can imagine. Insufferable organized clean person.
My fridge gets nowhere near that attention. There isn't food molding or open cans of soup or raw meet dripping onto the vegetables, but yesterday, 3 days past Easter, it was a mess. (You can see the before picture on instagram.) Cramming the boxes of kale was the second to the last straw.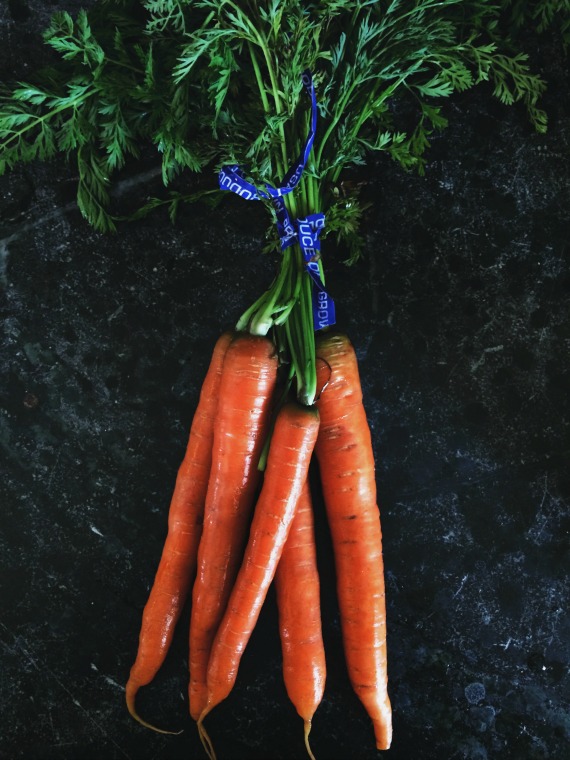 The last straw was receiving my first order from Farm Fresh to You. I wasn't about to stick all those vegetables in a cluttered fridge so they could get lost and spoil. I cleaned out the fridge, which wasn't as bad as I thought it was going to be. Again. If I had a dime for every time I said that I could pay someone to declutter my house.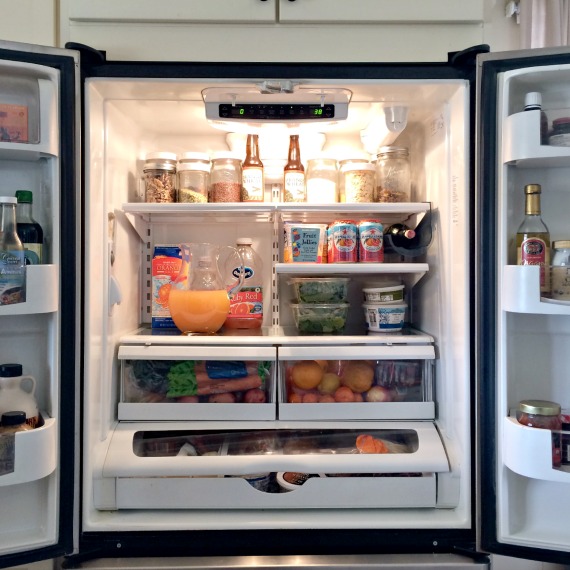 So much better! I even decided to make use of the wine rack thing that I always said I would never use. I tried to use the soda tray, but I couldn't figure out where it went. Both the wine rack and the soda tray may go back once we're done with the wine and soda. Both reflect Easter shenanigans since we don't drink wine or soda regularly.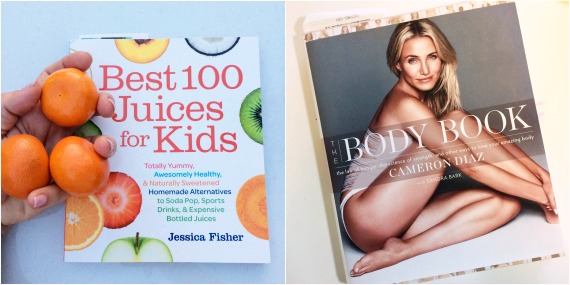 The Farm Fresh to You membership happened by accident. I opened the door to a solicitor and I signed up immediately. It's something I've wanted to do for years, and I'm glad I did. I know I could get everything cheaper if I did the shopping on my own, but I also know that's not something I will do. I need it delivered to my door, and I need the weight of picking out what to buy removed from my shoulders. I do best when I don't have a lot of options and I'm a creative cook when I'm forced to use something before it spoils. If left to my own devices, I'd forget the days the farmer's market was open or show up and buy the same thing over and over again.
My post on skincare motivated me to tackle my diet, which I'm sure contributes to my breakouts and rough complexion. Since the boys and I are on Easter vacation, I haven't found bought Starbucks or snacks. I already feel better. I'm going to eat at home more, plan out breakfasts (my downfall), and try out some recipes. I've been resistant to cooking from recipes lately, which wouldn't be a problem if I was making nice meals on my own. I swear, if I liked quesadillas, that's what we would be eating every night.
I'm debating buying the Bountiful cookbook. I've heard amazing things about it, and Andrea made a goat cheese + lemon spread recipe from the book that was incredible. Any other healthy cookbooks you recommend? I know, I know. You're going to recommend Gwyneth's It's All Good. Any book but that one, even though it completely changed Andrea's life and by all accounts is fantastic. This is going to sound horrible, but I can't stand Gwyneth Paltrow. She drives me stark raving mad. Everything is so sui generis with that woman. She doesn't get a headache. She gets "light-headed" and fears she's "having a stroke." Heaven forbid the woman decides to divorce like the rest of the plebs. No, she has to "consciously uncouple" and access her "pain toolbox."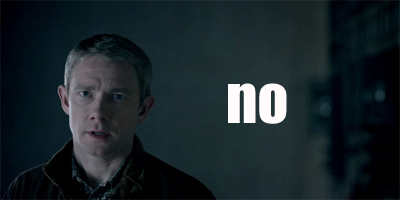 I can't handle her. I really, really can't. She's beautiful, though, and her relationship with her father was touching. I'll give her that. Gotta end on a positive note.