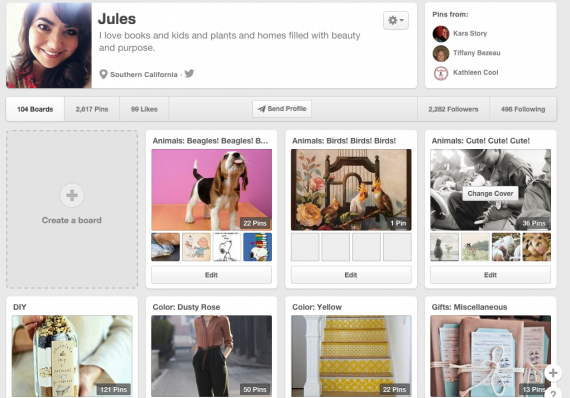 This might be one of my biggest projects yet, and I don't even have to move from my chair. I spent two hours last night cleaning up my pinterest boards. I went from 156 to 104 boards. That's a decrease of 33.33%. Not bad! I would love to get under 100 boards, but that's impossible since I haven't moved over my boards from the library account I started a couple of months ago.
Yes, I started the library account because my original account was too cluttered for me to find anything. Heaven forbid I just clean out the cluttered account! At least now I can say that I've taken steps to having a pinterest account that won't give me a nervous breakdown.
Things I'm doing to clean up my Pinterest space:
Deleting all boards with only 1 or 2 pins
Deleting all boards that are no longer relevant, like boards on specific books I've read
Deleting all recipe boards that include ingredients I no longer eat, like chicken
Deleting inspiration boards for rooms/trips/designs that are no longer relevant (I no longer need a laundry room board, for example)
Giving all boards heading and sub-heading
Alphabetizing all boards

I'm still working on all bullet items, especially the last two. Alphabetizing boards takes forever! You have to move them around with your mouse because pinterest isn't enough of a time-suck as it is, I guess. I want to see a button that says "ALPHABETIZE BOARDS" and then be done. I'll pin that under "In My Dreams."

I survived my first day of school as a teachers aide! I came home exhausted but aware of the fact that I have to be more organized at home than I have ever been if I want to juggle everything successfully. To that end, I decided yesterday I was going to work on how I store homework and classwork throughout the year.

My proven method worked until last year. Having both boys in elementary school meant a dramatic increase in paper, and it was no longer easy to pull out what I needed when discrepancies arose. There was too much stuff, and I was getting bad about discarding the items that weren't graded. In Nico's case, it seemed like everything had a grade.

[I keep all graded assignments, classwork, and tests until the final report card for that trimester. This has been fabulous for those times where grades were entered incorrectly or assignments were marked missing. It doesn't happen often, but when it does, I'm glad to have the backup I need before I question the boys or the teacher.]

This year I am straight-up copying my friend Susan. She makes Martha Stewart look disorganized, so when she says a system works for her, I feel pretty confident in appropriating it as my own and doing no further research.

This is what she does.

I couldn't find two accordion files–Susan uses the big ones with the handles–so I bought two Martha Stewart accordions on clearance. I figured if the smaller size doesn't work, paying rock bottom for the files wouldn't hurt as much. And I can always re-purpose them, too.

Here is how I set up Mikey's accordion. Because these accordions are smaller, I doubled up every month except for the beginning and the end of the school year. Nico's doesn't have the student handbook file since only one of those goes home, so I don't know how, or if, I'm going to use the last pocket.

I'll give an update in a few months on how they are working for us.

I have a couple of reasons for this post. First, can you see images? Please let me know if the problem has been resolved for you. Thank you for putting up with the inconvenience, too.

Second, day planners! Specifically, paper ones. I can't handle the new calendar in iOS 7. Appointments disappear or get moved to other days, I'm not getting my alerts, and the wheel date selector makes scheduling difficult for people with man-hands. I already dislike relying on electronic devices and am 1 of 5 people who still uses a paper address book. Also, and here another instance where computer-loving folks will toss their hands up in shock and think I'm really, really dumb: I keep all my passwords in a paper logbook.

That's right! All my passwords in a paper logbook, not in a cloud or in an "impossible to access by hackers" security site online. When people found out about this on Instagram (I shared a picture of my logbook) there was an outcry of warnings and recommendations for online password keepers. I appreciate the concern and welcome the constructive feedback. Here are my thoughts on that: I'm a middle class, unknown woman from suburbia. I doubt I'm the mark of an Ocean's Eleven team of hackers intent on stuffing their coffers with millions. And, God forbid, should a couple of random burglars enter my house when I'm not at home, they won't ransack the place looking for the internet password logbook I may or may not have. "Put down the TV and jewelry box, Bob. Time is of the essence, so let's first figure out if she bought one of those cute password logbooks I saw at Target."

When it comes to online security, I don't believe there is a safe way to protect myself, with the exception of avoiding all online activity and paying for everything in cash. Even then, security is a myth. Identity exposure is the reality of living in a world increasingly dependent upon digital communication, especially if corporations like Target can get hacked twice in less than 6 months. I'm at risk whether I store my passwords in a book or online because it's the act of necessitating a password that puts me at risk. Online or paper, we're all screwed in the end because if someone wants our information, they'll get it. Maybe I'm just a pessimist.

Back to day planners. Anything computer/electronic/online is not an option for me. I know many of you use Google Docs/Calendar or have had great luck with ABC online planner, and that's great! It's not you, it's me. Paper all the way.

The problem I have is that finding the perfect planner is like having fun at a timeshare presentation. It's possible, it's just not likely.

I've spent an obscene amount of time researching planners. It's embarrassing. So embarrassing that the Mister turned to me last night and said, "The amount of time you have spent researching day planners is embarrassing."

I've narrowed down the options and will now crowd-source you for opinions or planners I may have missed.

LESS THAN $30

The Arc Planner by Staples is a letter-sized planner with a neoprene cover. The calendars and paper accessories come separately, allowing for customization. There are plenty of free printables and customizing tips on Pinterest. Arc refills are around $5.00. My concerns: the low price of the planner disappears once you factor in the price of the refills. The 6-ring layout makes it difficult to customize your own refills without a special punch, which makes using the Arc-made refills an easier option. That's intentional, I'm sure.

$58, PLUS SHIPPING

The Simplified Planner by Emily Ley is clean and simple. The available patterns are limited, but I like them, aside from the pink key-pattern. The size is 9×10. The daily schedules are from 7am-7pm in half-hour increments, which is a must for me since I need the planner to keep track of my library schedule, doctor appointments, swim team, music, choir, and the Mister's travel schedule. An appointment calendar isn't necessary for many people, but it is for me. Each page has a to-do list, a spot for notes, and a spot for dinner plans. There is plenty of white space and the layout isn't cluttered. This planner would be perfect for me except for the calendar year organization. I absolutely need a planner with an academic calendar.




Do it All Planner by Orange Circle Studio

$14.99

This planner is by Orange Circle Studio, but it represents that category of day planners you can find in stationery stores or big box stores. These planners are small, sturdy, and simple. The price is reasonable. Rarely are the days organized in 30 minute increments, but in the case of the Do it All Planner, there is enough room for multiple appointments in one day. Still, I need the time increments to avoid double booking myself. There is no real way to customize the planner or refill pages, which means you're buying something new every year. Because the price is low, that's okay.




The Life Planner by Erin Condren

$50-$75, PLUS SHIPPING

If you are a blogger or read blogs, you might have heard of this planner. Erin Condren is the chevrons of day planners. They life planners are colorful, full of pattern, come with 300 bells and whistles, and can be customized to within an inch of your life. There are pockets and stickers and rulers and coil clips and gift labels, and contact pages, and blank pages, and lined pages, and stationery pages, and a little monkey that follows you around each day playing a music box to alert you of your appointments.

The number of reviews and youtube customization videos devoted to this planner is overwhelming. In fact, everything about this planner is overwhelming. It's too much for me. Too much color, too much pattern, too girly, too much everything. Even the commercials are too much.

Is it a planner? Is it a scrapbook? I don't have time to make Easter Egg shapes out of washi tape, that much I can tell you. I don't do brunch with girlfriends. The daily schedule is morning, day, evening–no 30 minute increments. I spent an hour looking at patterns and couldn't find one I truly liked. I'm pretty sure this planner isn't for me.




2014-2015 Plum Paper Designs Planner

$31, PLUS SHIPPING

The Plum Paper Designs Planner is another popular planner among bloggers. It's not an Erin Condren, but it's slowly but surely capturing market share. There are a lot of "Why I ditched my Erin Condren for Plum Paper" videos out there. The Plum Paper planner is cheaper, so that's good. The planner is 7.5×9 with a plastic cover and spiral binding. The pages are semi-customizable, which means I can organize my days in increments. Best of all, I decide the month I want to start my calendar. No waste, no juggling another calendar until January. This is a huge selling feature for me! There are some bells and whistles, but not so many that I'm overwhelmed or feeling like I'm wasting time and paper.

I don't like most of the patterns, so that's too bad. I also don't like the frosted plastic cover that protects the patterned cover underneath. That makes me think the patterned cover isn't durable. I'm not confident in the spiral binding.

Out of all of the planners I've looked at, the Plum Paper is the one I will most likely buy. We'll see. I still have a couple more weeks to make a last-minute decision.

OK, so. Anyone else out there using a paper planner, or am I a lone ship at sea?

A while back I wrote about looking for a plant stand. I wanted something larger than what I found, and I also wanted something in a dark finish so it would sort-of match the dining table since they'd be in the same room–mere feet from each other, actually. The IKEA one I mentioned in the post was in the right price range, and I liked the glass shelves, but I wanted something sturdier in such a high traffic area. I had visions of glass all over the floor following an attack from an errant soccer ball or light saber.

I ended up buying this bookshelf on sale at Cost Plus World Market. I wanted solid wood in a dark finish, and this bookshelf meets both requirements. Cons: the shelves are wood, and I wanted something less easy to suffer water damage. Another con (and this is a major one) I can't display any of my tall plants. The shelves are for books, so that's expected. Also, our hermit crab takes up a good deal of room and determined how I was going to place the rest of the shelves.

There is enough room on top for my pothos, and I'm thinking of adding a string of pearls, but I killed my last one. I think the pot and soil were the problem, so I'm willing to try again.

I finally printed out a picture of Buster. Nico and I cried when I placed it on the shelf. I was in a glum mood for the rest of the day. Mikey just stood there with a stoic look on his face.

I need to repot my cacti, but I can't decide If I want to add more.

The hermit crab tank and my ferns, which are so far doing well in the terrarium. I mist them regularly, but I don't know what I'm going to do once they outgrow the terrarium. Buy a larger one? No clue what to do. The main point of this picture, though, is to rejoice that I finally have a place to easily access my gardening books. Observation: the best garden books are vintage or at the latest from the 80s. (Which I guess is vintage now. Gah.) Today's garden books are slick and pretty and, from my experience, rarely of much use. I would love current recommendations that aren't a waste of money and are for people who actually enjoy and grow house plants. The books I reference most are goofy-looking Sunset publications from the 70s with poorly-styled photos. I've used this one since I was a kid. (Wish I was joking.)

I bought my first African violet pot! I've resisted for years, and after a disastrous attempt at keeping African violets 14 years ago, I figured they weren't for our dry area. Aha! All that changed with this short and squat self-watering pot. I'm now a firm believer in the right pot for the right plant. I thought if I babied them enough, I could make anything live. Nope. Wrong. So wrong. I'm now so happy with my violets that I want to start a collection of them.

I posted a similar picture on instagram, and someone mentioned that African violets reminded them (in a good way) of their great grandmother. Sounds right up my alley.

A couple of weeks ago I noticed a pimple on Mikey's left cheek. He's nine, so I was a little surprised. Pimples in 7th and 8th or maybe 6th grade I expect. Not so much in 4th grade. I told him to wash his face. The next morning I looked at it again and wondered if it was really a pimple. By the end of the day, I decided it was a spider bite.

The next morning I an appointment with the doctor since it didn't seem any better. I was talking about it to some other moms at school and pointed it out. They thought it looked more like a mosquito bite, and then Mikey turned his head and said, "Well, I got more last night." His ear was blistered with bites. One was really and truly blistered over. I kept my poker mom face on the outside. On the inside I was already imagining dousing his bed in gasoline and lighting a match. The doctor confirmed my suspicions. Five spider bites. FIVE. I wasn't surprised after I gave it some thought.

A week prior, as I was getting into bed, I pulled back the sheets and saw an enormous spider on the Mister's pillow. I briefly considered pulling him out of the shower to handle the situation while I called a real estate agent. During my internal debate, I lost track of the spider. (!!) I did what anyone would do in my situation. I tore apart the bedroom and moved all the furniture until I found the spider and snuffed out its life like a 17th century candle. My apologies to vegan and animal activists.

This, on top of the ants. The first thing I do in the morning is roll over and put on my glasses. There were days where I would put on my glasses and see ants crawl across the lenses. Ants and spiders in this area aren't unusual, especially when it gets hot. But this, this is unheard of. We are teeming with ants and spiders and even one cockroach. One, but it was large enough for me to think I had Gregor Samsa in my family room. Also, there is never just one cockroach.

I am really weird about kitchen cleanliness. I don't like food laying around, don't leave stuff on the counter, and eat in the dining room or family room since we use our bedrooms only for sleep. The Mister is even more particular about crumbs and, for the most part, the boys are pretty neat when it comes to food because we live in ant country. They know better. If you grew up in this area, you don't leave food on the counter or dishes out overnight. It's just not done by humans age 7 and up.

I'm trying to explain that I have no idea why we are suddenly having this ant and spider problem. A friend on Facebook suggested that one of our neighbors must have recently bombed their house for pests. Well, that sucks for my other neighbors because we are bombing the hell out of this house on Monday. In 14 years of marriage, we have never had to bomb or spray or do any sort of pest control. There's a first time for everything. They're even testing for bed bugs–OMG PLEASE NO. GROSS.

We were told to remove all items like food and kitchen equipment stored waist high or lower and put it under a tarp on the dining room table. Pull all furniture away from the walls and make sure there is access to baseboards and corners. What a task! And on a Sunday! I freaked out about it from Friday on because, really? Who wants to do all that on the weekend. It's like moving.

Well, we did it as a family and as much as it sucked, I knocked out so many projects. Gone are the little piles. The Mister got rid of two large trash bags of clothes. The boys finally cleaned out and organized their closet and toy cabinet. I purged the kitchen again, though there wasn't much I got rid of. I bought two precision screwdrivers for my battery box and cleaned out all our goldfish supplies and replaced it with our hermit crab supplies. The counter tops are clear of paperwork and clutter. I created a donation pile. I feel really, really good.

Thanks, ants and spiders.