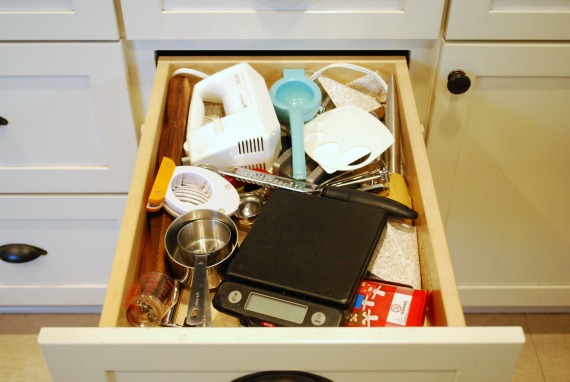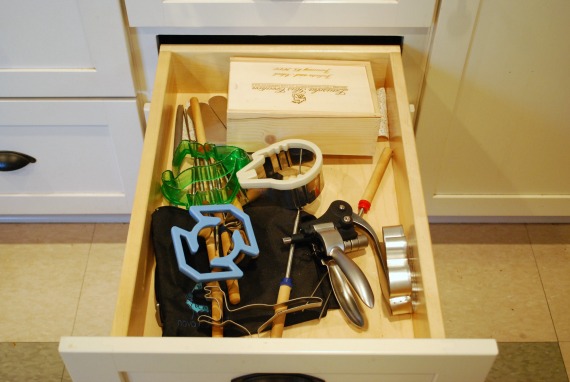 All month long I put off cleaning out these two drawers in the kitchen because I was sure it would take forever. Funny, since these drawers were part of the inspiration for participating in this month.
I first cleaned and organized these drawers during the first William Morris Project two years ago. I haven't cleaned them since, and two things have happened since then. One: life. Cooking and stuff. Two: Mikey and Nico now prepare their own snacks. Not all the time, but often enough for the drawers to see some abuse. I don't say anything, though, because it's a great help to me and they love preparing their snacks. They feel so mature and so important, especially when I ask them to make me something, too. I limit my requests to when I'm feeling strong of stomach or sure of the outcome. One time Mikey made a celery and cheddar salad. My God.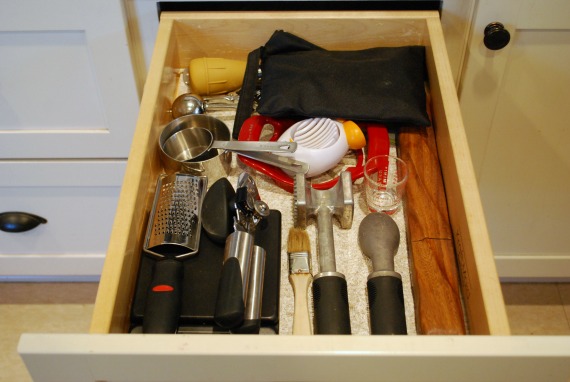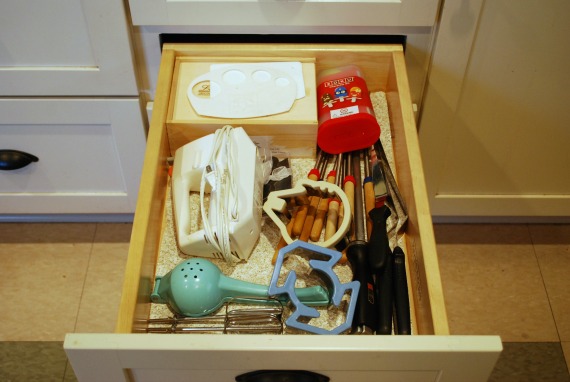 I don't think this took me 10 minutes. I didn't have to throw anything away. It was just a matter of placing things where they belong. Some things are in the dishwasher (like the rest of my measuring cups) but there wasn't anything there that I don't use or shouldn't be there. It was a great way to end this series.
BECAUSE THIS SERIES IS OVER.
YES!!!
They were simple and easy little things, but I'm still glad to be done. Thanks for taking the ride along with me again this year. I need to now catch up on book club, a few posts I've been dying to write, and other general nonsense.
Thanks again!
In order to show you what I've done to Nico's old nursery and later big-boy room, I searched my hard drive for old pictures from 2006. These are pre-blogging, pre-pinterest, pre-Facebook, Twitter, and Instagram. The concept of social media didn't exist and most people had no idea what Etsy was. To take pictures you walked into a room, pointed your camera, and clicked a button. That was it. Oh, and to decorate a nursery you went to Babies R Us. At least I did. There were some moms who were having custom bedding done, but I think we can all guess where I sat on the issue.
Behold: 2006.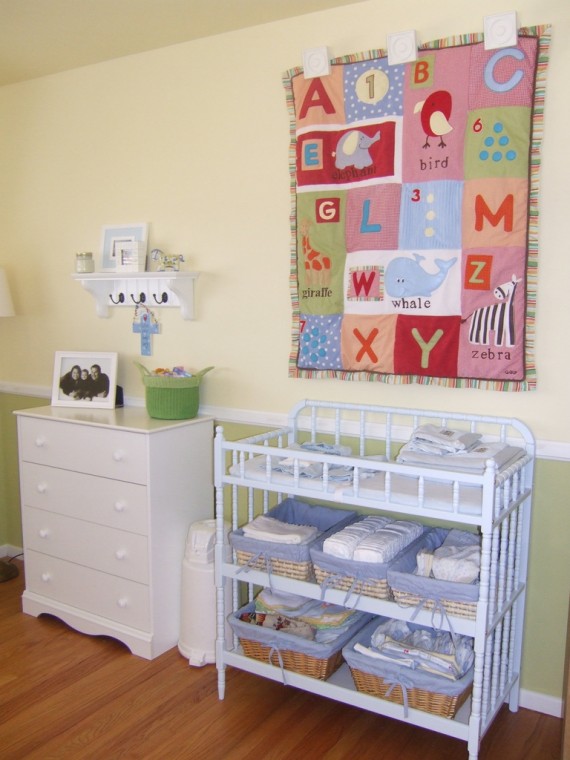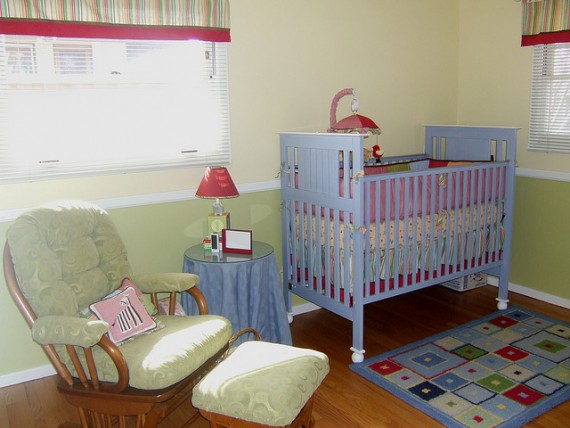 No. 1: That blue skirted table was a placeholder. I was supposed to get something else, but I never got around to it. In fact, that blue table is now full of plants. I swear, one of these days I'm going to get rid of that ugly thing.
No. 2: You see that Dutalier glider? That was top of the line in 2006. You were damn thrilled to have that glider. For Mikey I had an ektorp chair because I vowed I would never buy a glider. Hah.
A warning about what we now call the Homework/Guest room. I vowed to spend no money except new desks for the boys. That didn't quite happen, but I was close. I spent $30 on bedding from Walmart (found when I struck gold with this magic pillow) and I made sure it was bedding that would work with the paint already up on the walls. I will not repaint the walls until we are ready to redo the entire room. I don't care if paint is the cheapest fix. Not painting is an even cheaper fix.
Ask me how hard it was to find bedding that goes with green and yellow walls and red, green, brown and powder blue striped valances.
Country Living fake quilt for the win! Mikey's old crib converted into a full size bed. Two desks from IKEA used as night stands…and desks. My desk lamp from law school on Mikey's desk, Nico's nursery lamp on his desk. Nico's old teddy bear on the bed (we also use this room when one of the boys is sick) and behind him is a toss pillow from the Mister's bachelor days. It was my first "serious girlfriend" purchase for him.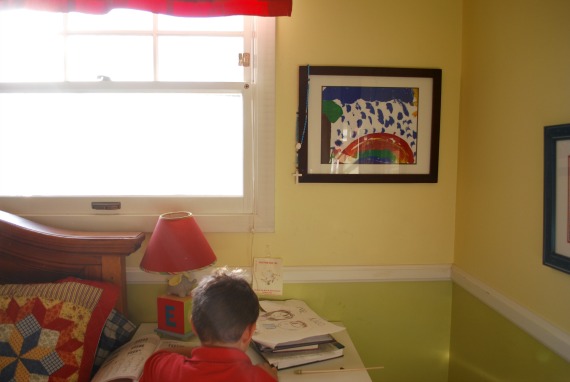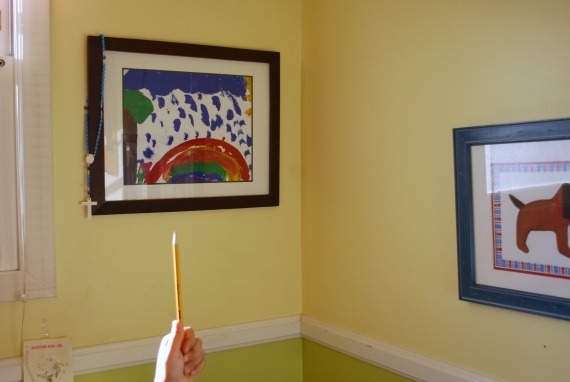 A rainbow Nico painted in Kindergarten framed because I loved it immediately. In the blue frames are prints from Mikey's nursery, but those I'm replacing with pictures of the boys in Lake Tahoe. Do you like Nico's hand holding the pencil? He thought it would be funny if the pencil was in every picture.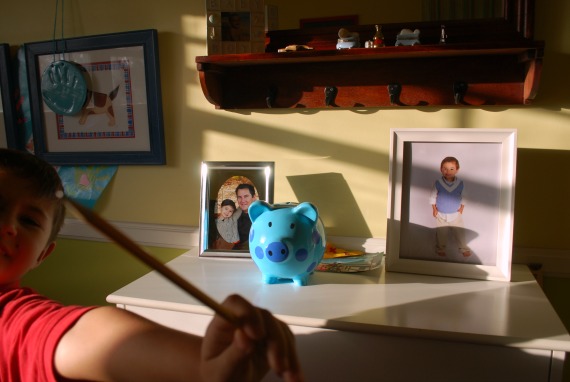 More funny pencil. Also, Nico's old dresser from the nursery now filled with extra blankets. An old shelf and mirror from Mikey's room. That hanging blue hand print in the background is the Mister's from kindergarten. I haven't bothered hanging it properly yet. More artwork from Nico tucked behind one of the frames because I'm thinking about hanging it on that side of the room.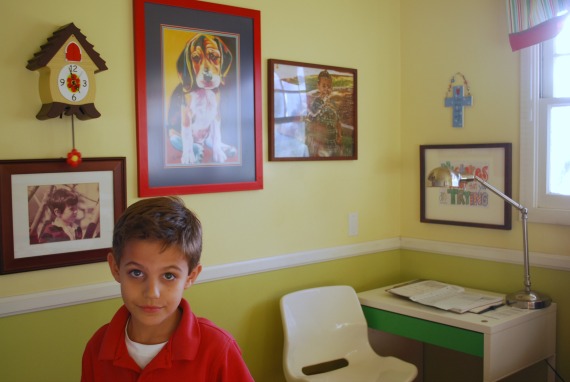 Mikey's side of the room.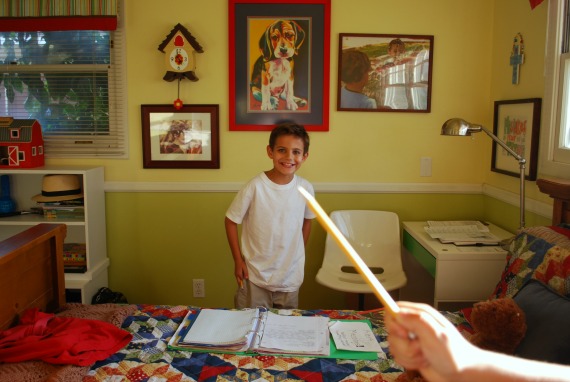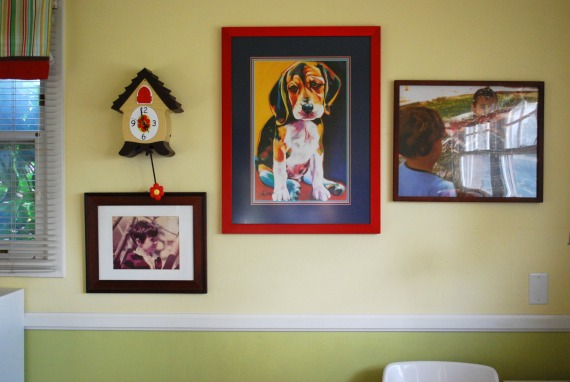 A beagle print from Mikey's nursery, a photo of Mikey and Nico from Nico's big-boy room, a cuckoo clock from Mikey's room, a picture of the Mister when he was Nico's age. Plenty of room for more pictures.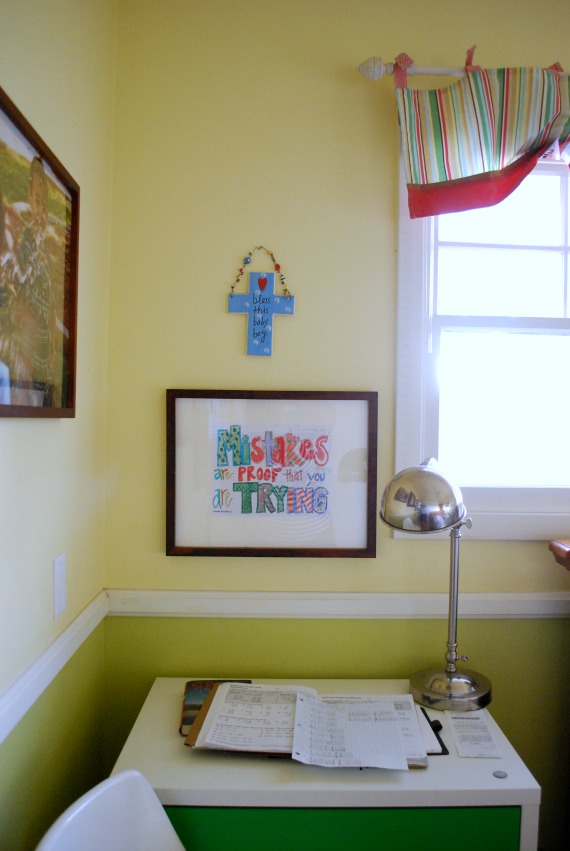 Mikey made this at school last week. It went into a frame and above his desk for obvious reasons. The cross is from his nursery.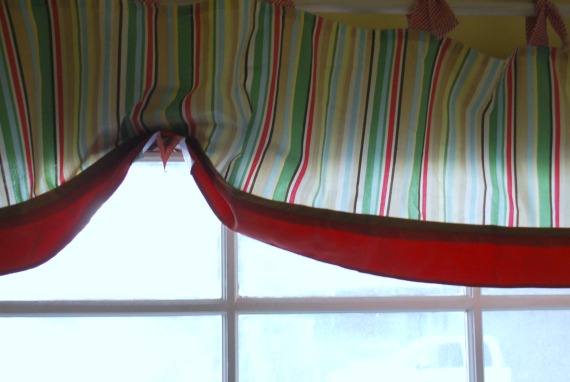 Last, but not least, a paper airplane stuck in the window because this is a homework room in theory only.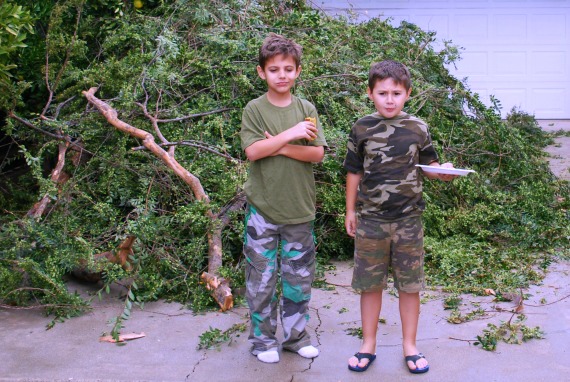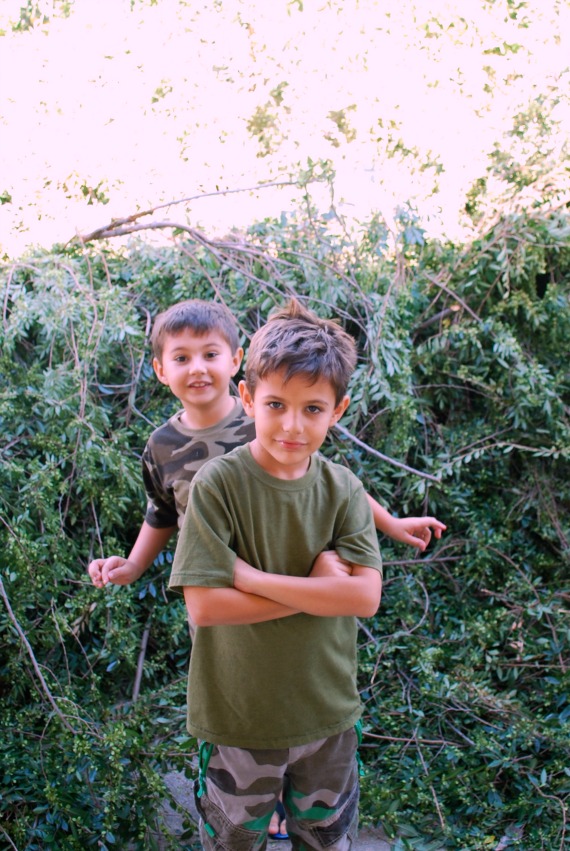 That first picture cracks me up. We had the Chinese elm in the backyard trimmed after two years of putting it off. The piles of limbs and branches and leaves kept growing until it reached Sarah Cynthia Sylvia Stout height and grazed the bottom of the roof. I had the boys go outside and stand next to the then-small pile for scale. They were in the middle of breakfast, watching TV, and so excited to do this for me.
They like camo, Nico especially.
Mikey's favorite color is green, all shades. His closet is black, dark gray, gray, light gray, some dark blue, and all the greens. If I let him buy his clothes, his closet would be black and green. He'd look like a 3 day-old bruise.
Mikey is never barefoot. Nico swears socks and shoes make his feet itchy.
Nico loves wearing shorts. Sometimes Mikey tries to wear jeans when it's triple digits. I make him take them off.
They both love pumpkin bread for breakfast.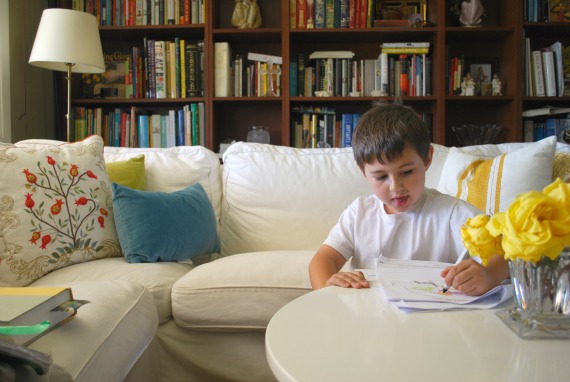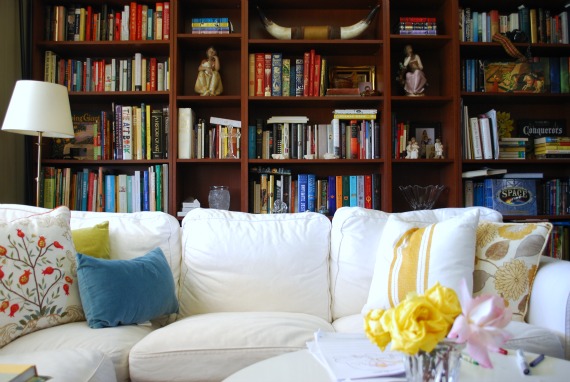 Hello! Only three more days left in the month! I'm going to be glad when the month is over, let me tell you.
There are two things you already know about our family room: we have a white Ektorp sectional from IKEA that we love and my inspiration for the family room featured a blue and white settee and a wall of bookcases. The only similarity between our room and my inspiration room was the books.
Our family room doesn't look much like the picture. One day I will have white bookcases and a little more color on the sectional. Specifically, blue and white because confession: I love blue and white. Second confession: I never use blue and white. I've found it's a color combination that can go wrong quickly, or if not wrong, really, really specific.
I went into IKEA on Sunday prepared to buy a blue slip cover–the vellinge in dark blue–but when I went in there I started to second guess myself. A quick text to Nicole and Andrea and a post on Instagram confirmed I should follow my gut and go for dark blue. So I did!
Thank you to Andrea for not reminding me that I scoffed and said, "Life's too short for beige sofas!" when she debated her teal sofa two years ago. I already have a blue sofa, so I'm not sure what the hand wringing was all about.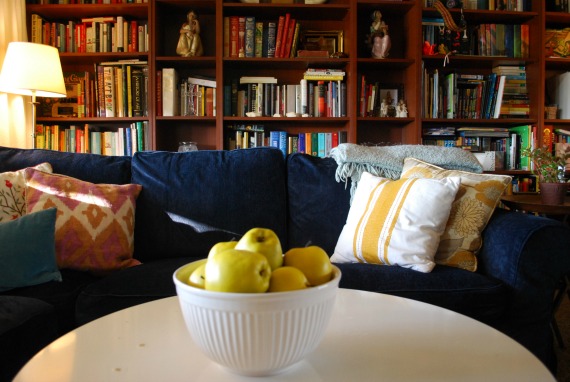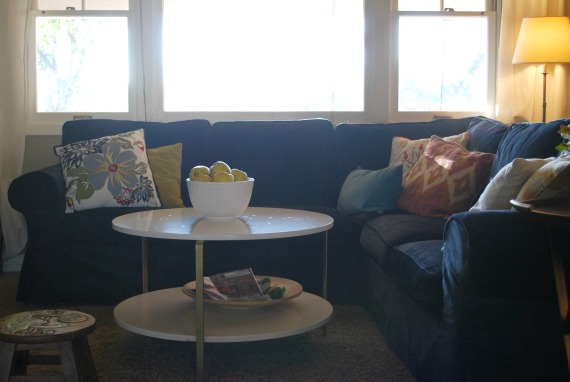 I still loved the look of white, but I'm fickle–never lied about that–and was looking for a change. The dark blue with its not-really-velvet texture is warm and comfy for winter. Plus, the blue is taming some of the olive in the wall color, which is what I was hoping it would do. Because this is a west facing room, the afternoon light filters through the trees in the front yard and turns the gray walls a drab olive color. You can see it clearly in this picture. The dining room (where the game cabinet is) and the family room have the same wall color, if you can believe it.
In the picture above, where the sofa is below the window, you can see a corner of the wall. It definitely looks more gray and less army green thanks to the deep blue of the fabric.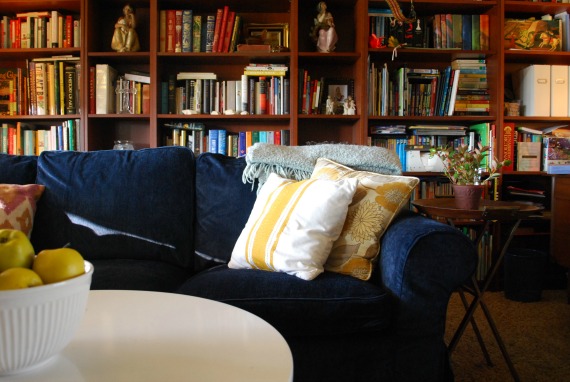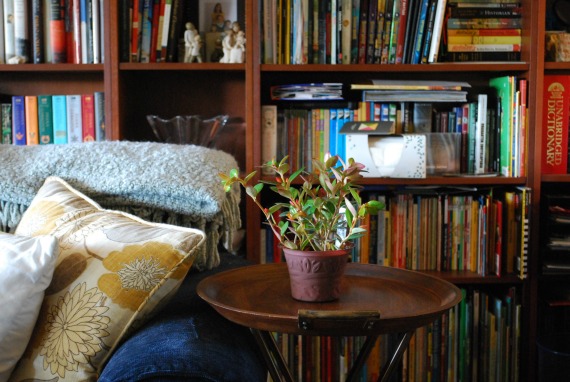 I found the plant stand at Target (clearance!) but I've already moved the goldfish plant to another spot. My zebra plant, which I kept in the living room, is now on this small table. Hopefully it does better here with the brighter light. That living room is a plant killer. It's way too dark.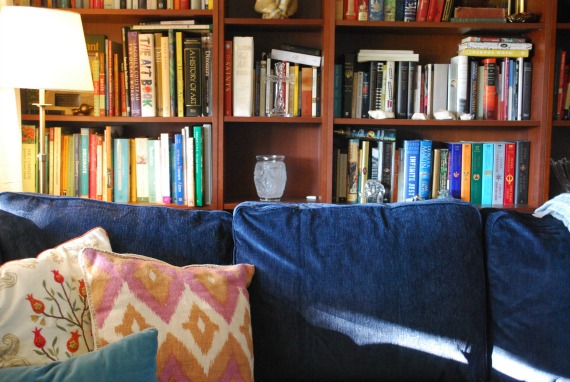 This is a closeup of the fabric. It's a redundant picture, I know, but I have a blue sofa so I went a little nuts with the camera.
p.s. The bowl of apples is not me doing a blogger style thingy. It was my mother in-law's birthday dinner and there wasn't room on the table for the bowl, so my husband moved it there. I didn't bother moving it for pictures, but I did later for cake!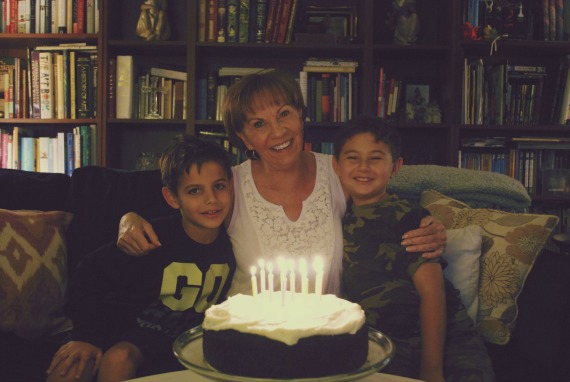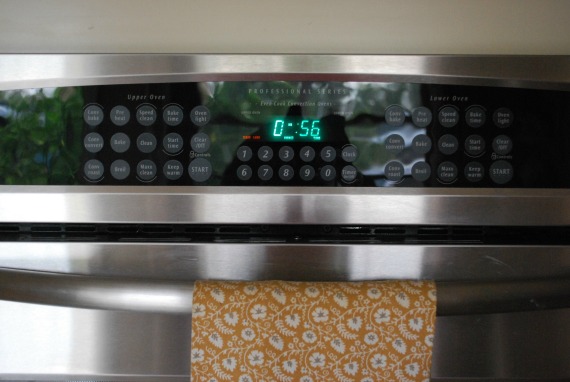 Yesterday I cleaned the oven, and in this case "cleaned the oven" means pressed the Speed Clean button, put on my sneakers, forgot to open the windows and turn on the fan, and left for a walk while my husband tore up the front lawn and replaced the irrigation did something to help with drainage zzzzzzzzzzzzzzz.
I came home to a house filled with acrid smoke. It was like a circa 1984 TWA transatlantic flight in the smoking section. I opened up all the windows and doors, set every fan we own on high, and added "wash all fabrics to remove burned smell" to my to-do list. But the oven, it's so clean!
Cleaning the oven is the littlest of the little things, but it had to be done. First, I've been cooking more than usual so the necessity was obvious. Second, I spend most of the day nursing a migraine and helping Mikey with a school project. Not mutually exclusive.
Mikey is creative and I love that about him. I signed him up for clarinet lessons on Friday, and while I was filling out paperwork he was reading a Popular Mechanics for Kids magazine he found in the waiting room. To be honest, I wasn't really paying attention and assumed he was skimming because he was bored, but later on our way home out of nowhere he says, "Mom, I'm not going to lie. I'm jealous. There was an 8 year old kid who built a functioning Rover in that magazine I was reading. He may think he's hot now, but wait until he sees mine. I'm putting an air launcher on it."
Creative is one thing, but when your son has lists in his room that read "build battery cells for Iron Man suit", you know he's not going to accept your diorama suggestion for his book report.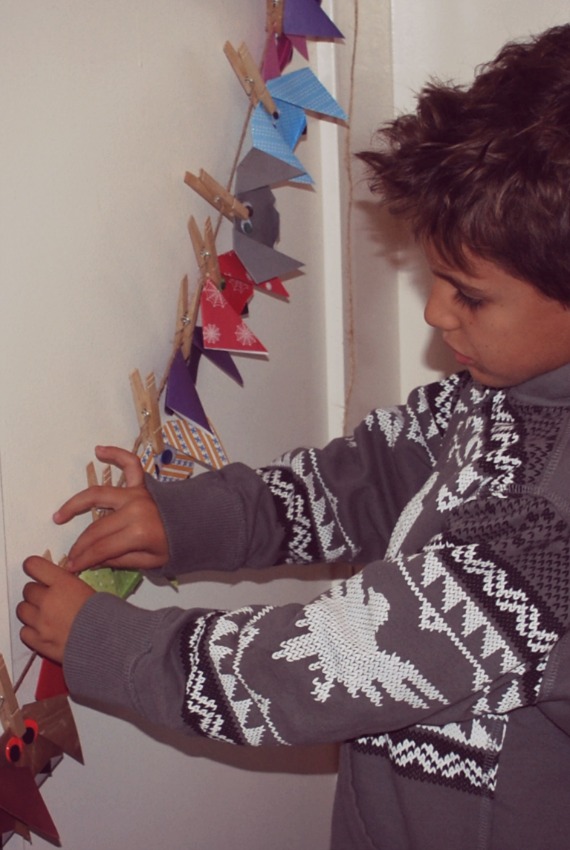 When Mikey did a book report on Erin Hunter's Survivors, I suggested a diorama, a poster board, a dog in a kennel, a mobile, and drawing of his favorite scene in the book. At one point Lucky and his new pack of dogs go into the woods to look for food and shelter, so I thought it might be neat to recreate that using supplies train enthusiasts use to set up their train tables. This was my big suggestion, the most intricate and by far the most expensive.
He blinked at me, took a minute to compose his thoughts so he could let me down gently, and said, "Mom, your ideas…they're not that great. Don't worry; I've got this."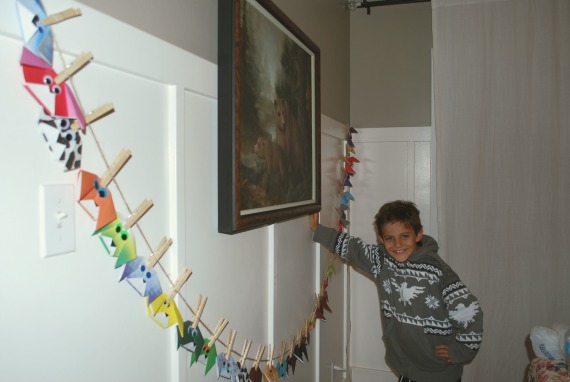 His idea was to create a "pack" of origami dogs, one for each student in the class. He's really into origami right now, so to him it was a no-brainer. In retrospect, it should have been for me, too. It was also the cheapest of all the projects, and far cheaper than anything I suggested. He made all the dogs and coordinated all the googly eyes with the paper. It was my idea to hang them on a clothesline and make use of the hundreds of clothespins I have hanging around the house from Nico's birthday party 3 years ago. How sad that I had to toss that in there, my one little credit on the project.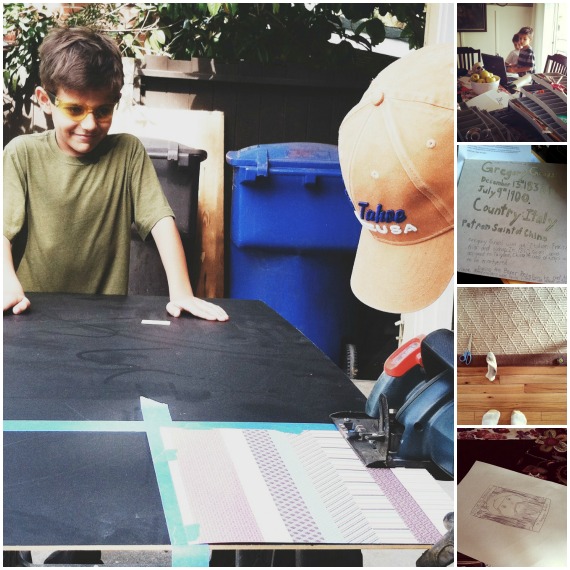 All Saints Day is coming up on November 1st, and this year Mikey is doing a report on The Franciscan Martyrs of China, with an emphasis on Saint Gregory because there is so little information on the martyrs other than there were 29 of them and they represent the more than 100,000 Chinese martyrs during Empress Tz'u hsi's reign.
Again I offered up what I thought were some very good suggestions that were simple and wouldn't take much time. Alas, my suggestions remain "not all that great." I joked on Facebook that in order to do a project with Mikey, one must have a very healthy ego because never in my life have my creative ideas been so soundly rejected. A friend with teenagers replied that in a few years the only items Mikey won't reject are money and car keys. I can only imagine.
I'll have to share Mikey's project when he's done because, dammit, it's good. Better than any of my ideas, again. And even worse, it's cheaper to make than anything I suggested. It's one thing for him to say my ideas aren't all that great when compared to his, but it's another thing for him to prove it to be true.
Humility: it's a lot like lemon in a paper cut.