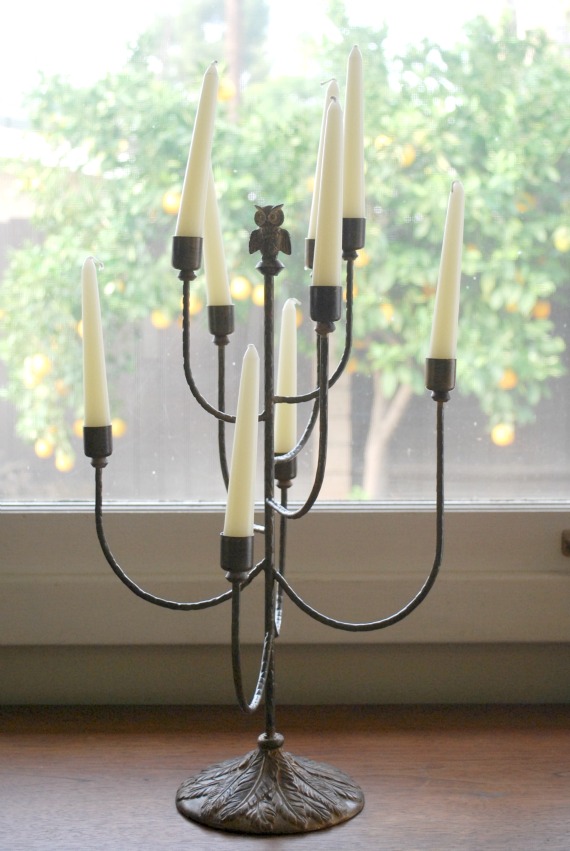 I doubt I am am the only knucklehead who is a sucker for antique, brass candle sticks. I can't resist them. I do better at resisting candelabras, but I saw this faux brass number at Target and couldn't pass it up. I imagined it full of black tapers for Halloween and into the cart it went. That's exactly how I used it, but I kept it up and away from the kids because, as you can see, the standard size tapers were too big.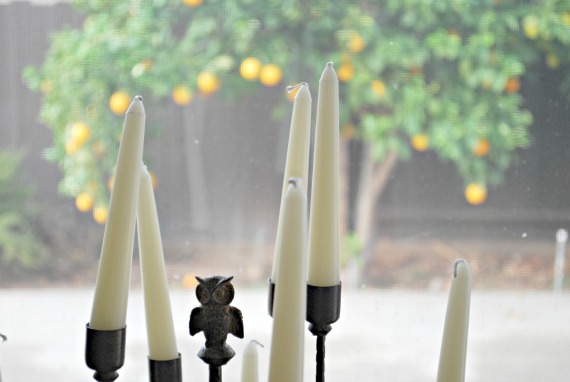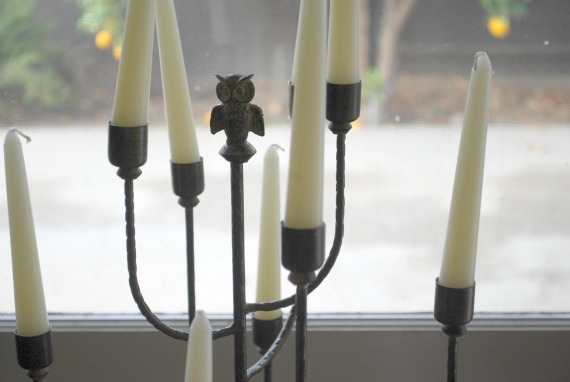 It happens. Unless your candlestick/candelabra designer also manufacturers candles, finding candles to fit can be a challenge–even when the candlestick claims to be a standard size. I stopped buying hand-dipped beeswax candles (my favorite), because the sizing was so unpredictable.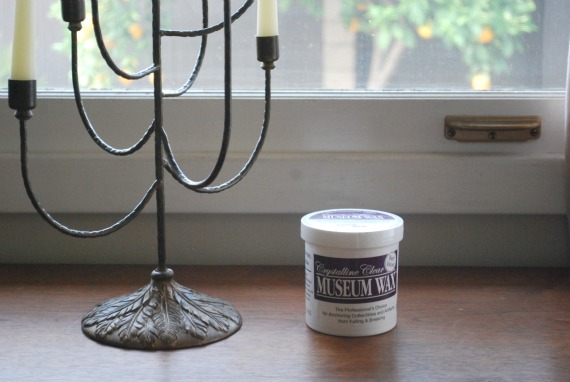 I can finally go back to buying hand-dipped candles! I don't know why it didn't occur to me sooner to use my Museum Wax–also called Quake Hold! here in California–to anchor the skinny candles in wide holes, but better late than never. Did I miss the obvious? Maybe. Forgive me if I'm posting on the obvious, but this has been a game changer for me. I'm too excited not to share what you've probably been doing for years.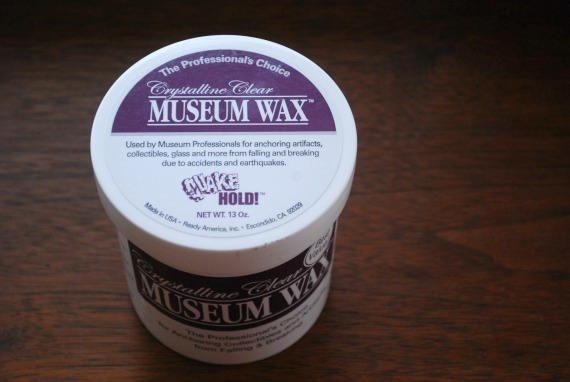 You need this product. It's dirt cheap and available at Home Depot, though I'm sure it's available at other stores, too. Maybe it's readily available to me because I live in the Land O' Quakes, but I don't think so. I'm sure it's available at Walmart, too.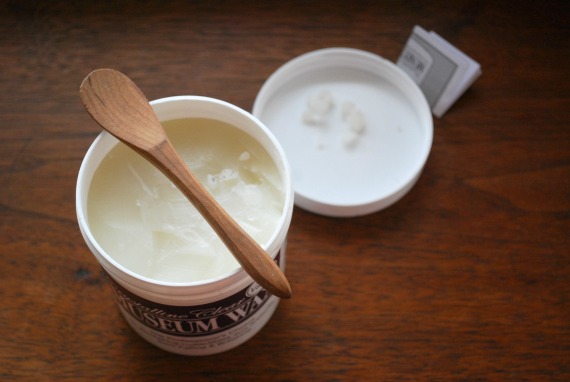 This is how little of my $8 tub I have used in 7 years. It's nontoxic, non-acidic, and safe to use on wood furniture. It's reusable and you only need a little, which is why this tub will last me the rest of my life. It comes with a little tongue depressor-looking spoon, but I lost mine just yesterday as I was fixing my candles.
Speaking of which, let's get to it.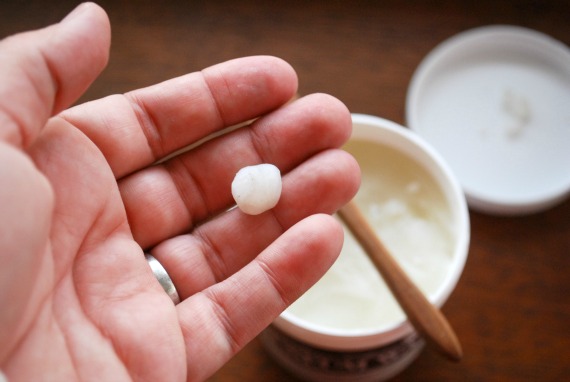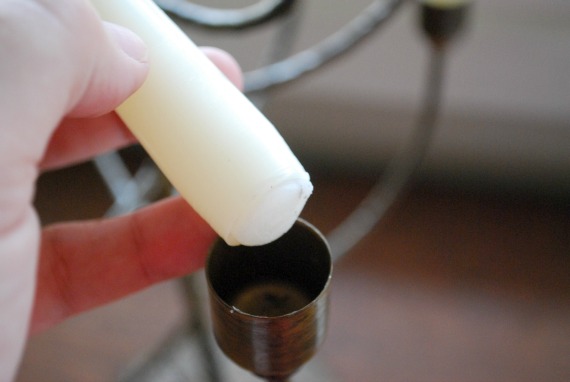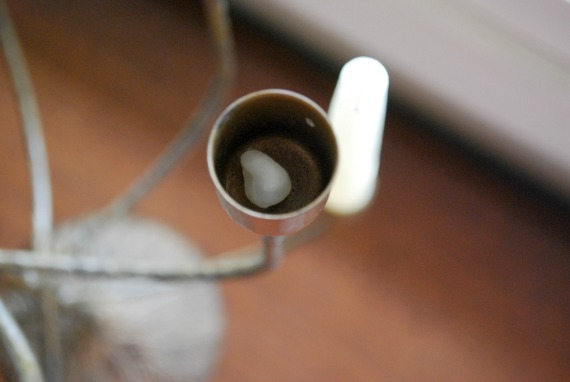 Scrape a small amount of Museum Wax and knead it into a pliable ball the size of a large pea. This will take seconds. Mold it to the bottom of you candle or drop the ball into the candlestick. I prefer to mold it to the bottom of the candle so I get even coverage. Insert your candle as usual. You're done.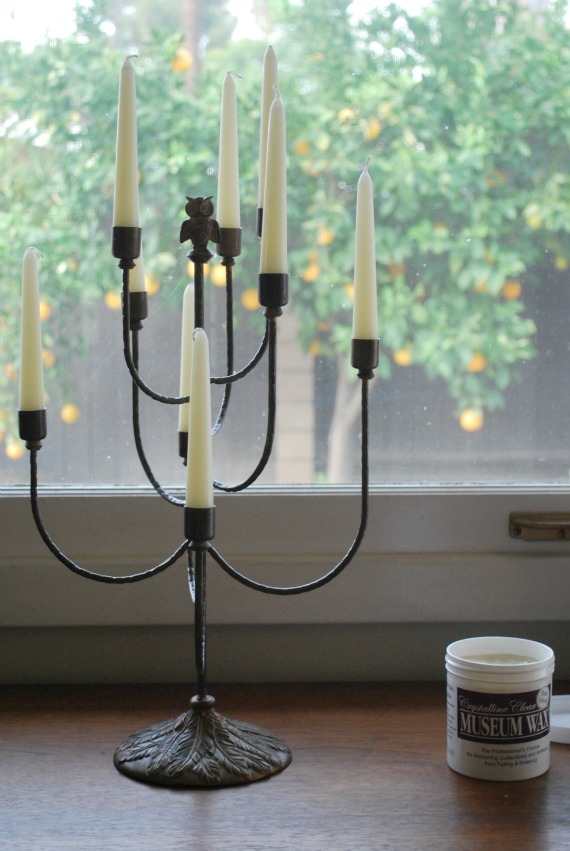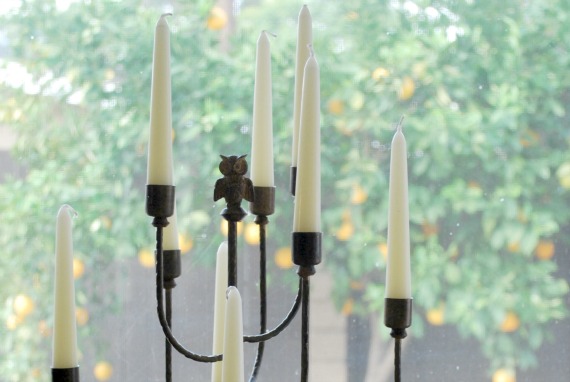 The candles will pop out easily. You will leave wax behind in your candlestick, but that doesn't bother me. In fact, it makes my job easier the next time I buy candles. If it bothers you, you can easily scrape it out with a spoon. I did that, and it worked fine.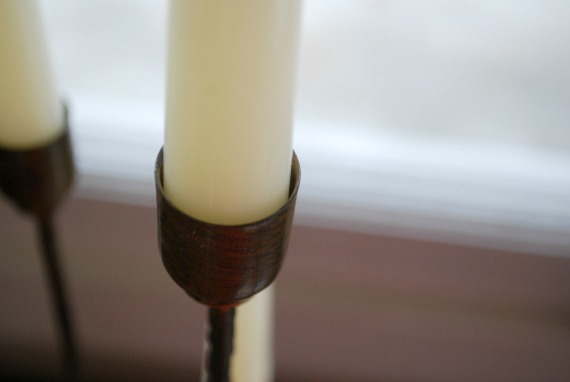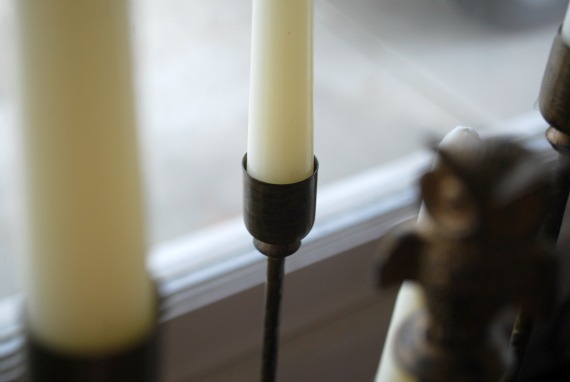 These pictures are to show that the candle is sort of floating in the candelabra, but they're not very impressive. It's hard to believe such a slim sliver of space can make your candles to lean like the Tower of Pisa, but there you go.
You know, if you don't have a candelabra or candlestick and still want to use tapers, you can always use Museum Wax to anchor them to saucers, tea cups, or small vintage plates. No dried beans, sand, or beads needed.
Trust me, it will hold.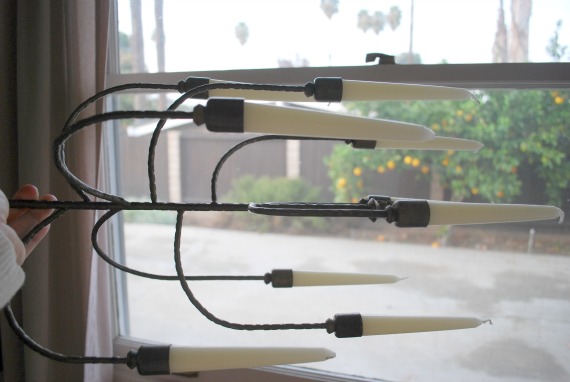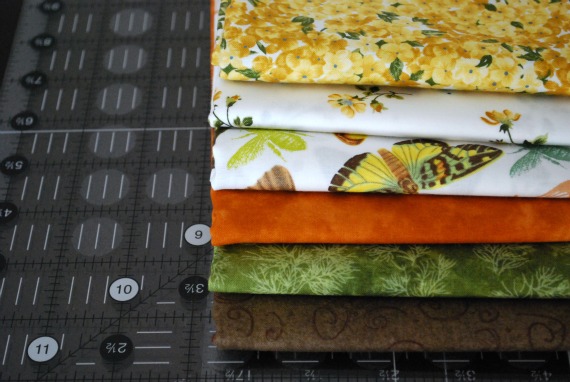 A few weeks ago I realized there was still much to do on my life list. The only item I could cross off was "Attend a book signing." What?! That's a poor showing for someone who counts making a batch of salad dressing as a life goal.
As we get closer to moving the boys into one room (maybe next month?), I've been thinking more and more about making them quilts. I've been obsessed with quilts since I was Mikey's age which, if you recall, was the height of the Little House on the Prairie years. Quilts and country and small calico prints became the rage a few years later, which suited me fine. We would visit Lake Tahoe in the summer and winter, and many of the stores would hang quilts from their balconies for decor and enticement. I wanted one desperately, but they were so expensive I didn't bother asking my parents. I did say out loud once, "Boy, I sure would like a quilt one day!" while I pointedly stared at a pretty blue and white Star quilt, but my parents were impervious to my super-sly manipulation. Years later my mom bought me a Laura Ashley quilt-like comforter as a compromise. I still have it.
Making quilts is on my life-list, so I signed up for a quilting class in September. I ended up missing the first of two classes thanks to a last minute practice for Mikey's Filipino choir performance. I called ahead of time and was able to move to the October class instead, so it's not a big deal except that two days before the class was to start I went to the quilting store to buy fabric. Even that isn't a big deal, except I liked only two fabrics in the entire store. I was there for over an hour waiting for pretty fabric to magically appear. It didn't happen.
There was country fabric, traditional fabric, children's fabric, batik fabric, contemporary fabric, and Harley Davidson fabric. Some of the children's fabric was cute, but it was way too baby. Two women helped me put together the pile above, and at the end one of them turned to me and said, "You sure are needy!"
And I said, "If by needy you mean needing fabric that doesn't suck, sure. " Actually, I said that in my head. In reality I just smiled and felt stupid.
Had I known I would miss the first class and have more time to find fabric, I would have gone to a different store or shopped online. Instead, I ended up settling for yellow roses and butterflies. The pattern I am going to make is called Yellow Brick Road, and the women in the shop swore to me the final product will not scream BUTTERFLIES! or BROWN SWIRLS! or IS THAT SUPPOSED TO BE WATERCOLOR (ORANGE)!
We'll see.
After a few days, I realized it was probably for the best that I didn't find what I liked. I won't feel bad about cutting it up the fabric or screwing up, and it will make for a good practice quilt. I'm not sure what pattern (or fabric!) I will eventually use for the boys, but I'm sure it will be simple. I have my eye on this book and I own this book and this book.
I have a few quilting resources pinned on Pinterest, but I would love to add more (or hear advice!) if you have any good links.
p.s. Three more days until my library deadline, and 31 Days of William Morris starts on Monday. Where did the month go?!
I knew The Craft Cabinet wouldn't turn out half bad when I saw the yellow store front. "At the very least," I thought, "we'll give a good first impression." 
Cautious Optimism: My motto in life.
Expect the Best, Prepare for the Worst: My other motto in life.
Salvage Life in Long Beach was an amazing venue. Beth Giles opened the doors to her vintage boutique wide open with a 3-week old infant on her hip and a toddler at home. She was indefatigable! Never did I look so calm, so rested, and so energetic when I had a new born and little one underfoot. I certainly didn't sweep the floors and clean windows an hour before twenty strangers walked through my doors when I was in her shoes almost 6 years ago.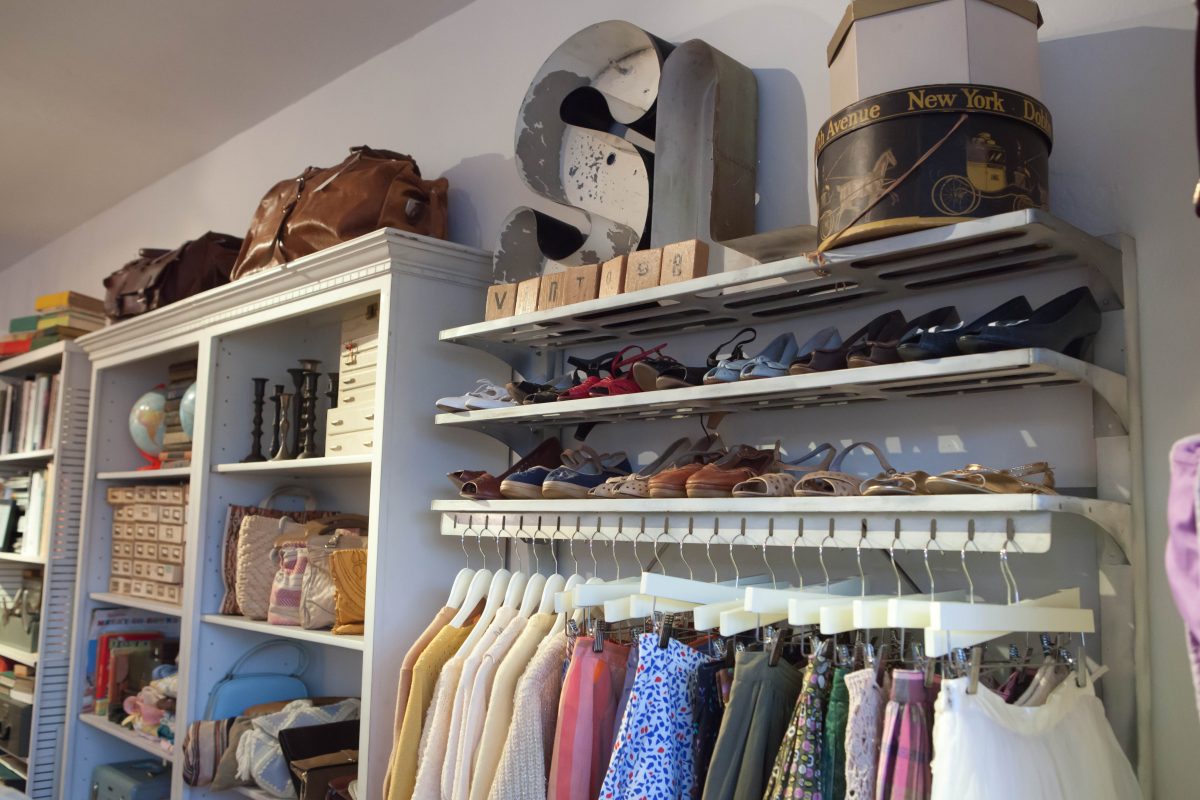 With such a limited budget for decor, we knew we needed a place that was pretty on its own. Salvage Life was bright, clean, and filled with stylish vignettes. We added balloons, vintage inspired party decorations, and a few ribbon streamers.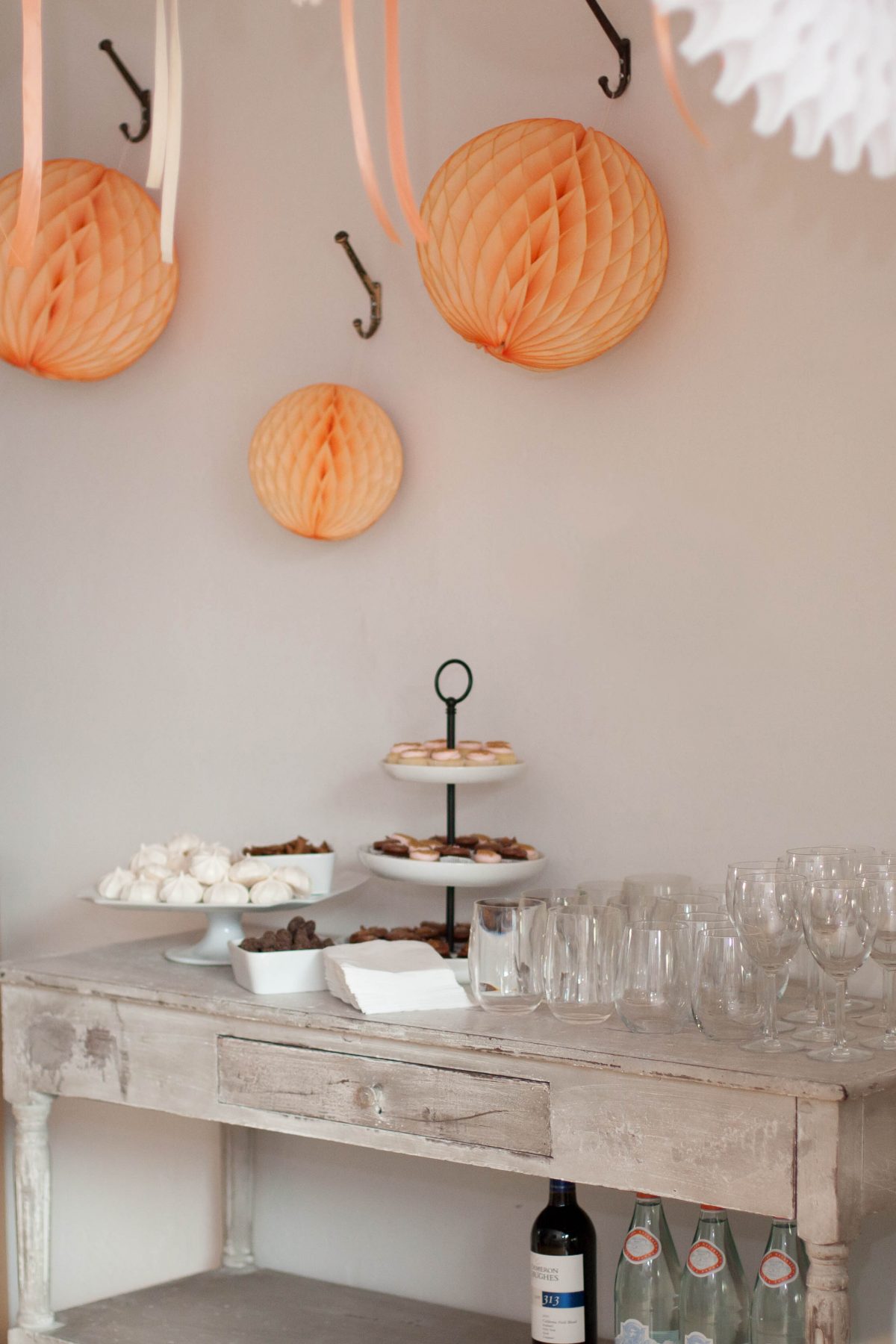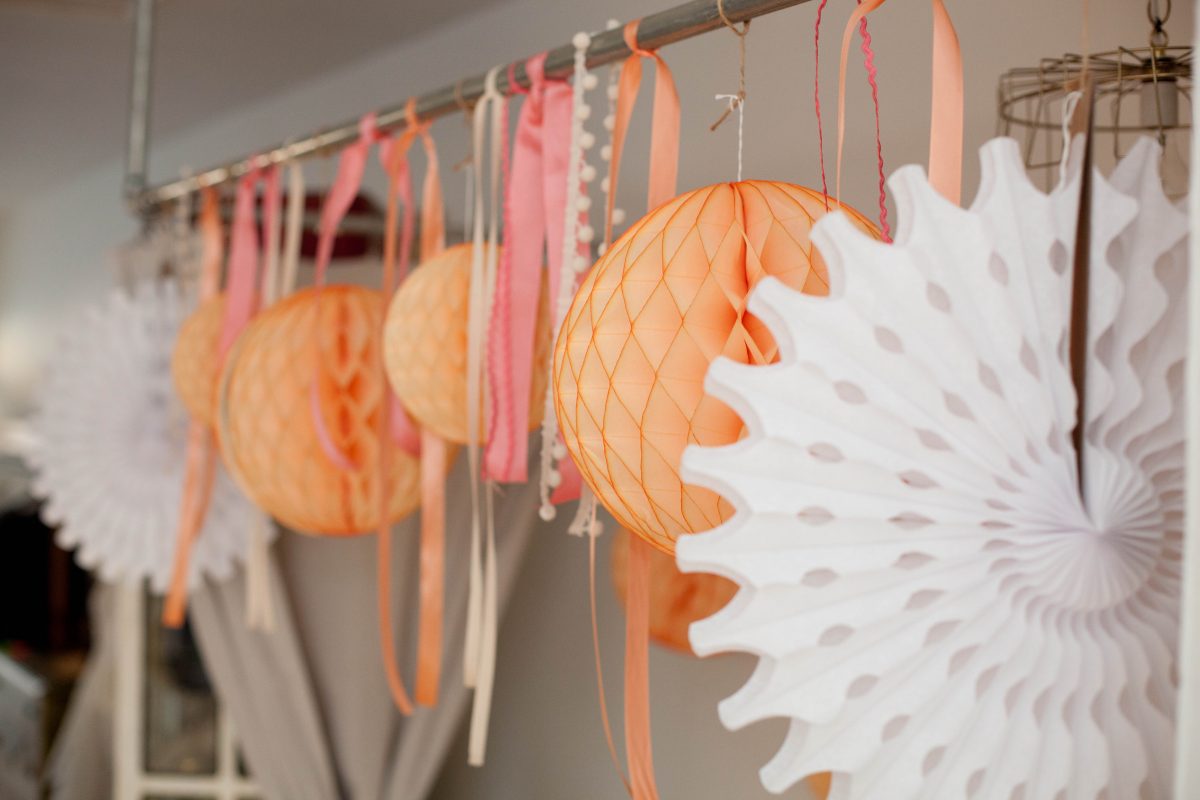 Danni and Gena are the lifesavers responsible for the pretty dessert archway. Andrea and I gave them a rough idea of what we wanted and then they took it to the next level.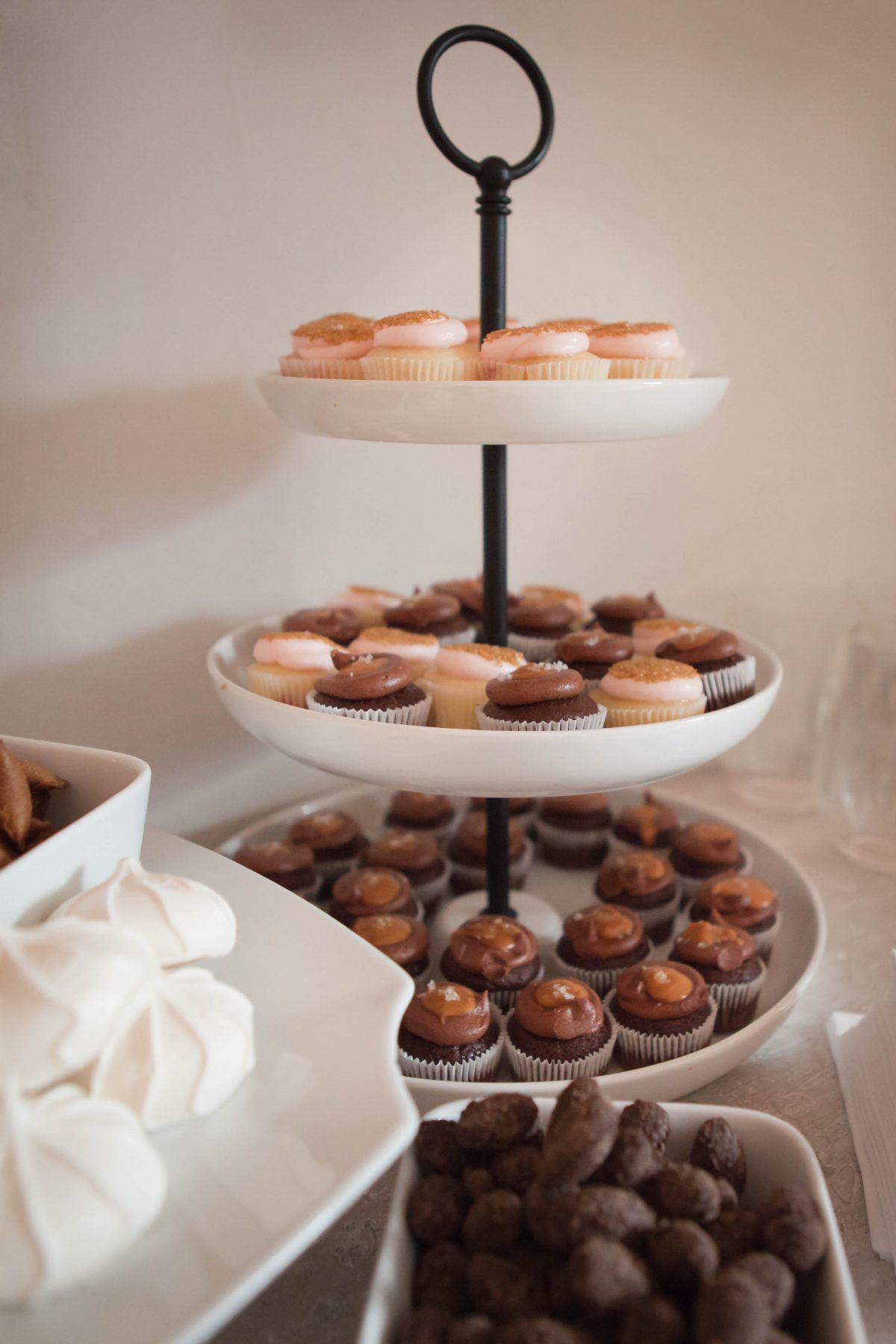 The miniature cupcakes (sea salt caramel and chocolate; strawberry cream) are from Baby Boy Bakery. Andrea has worked with Jacqui in the past for several events, and her custom and organic cupcakes have yet to disappoint. We rounded out the table with chocolate toffee almonds and merengues.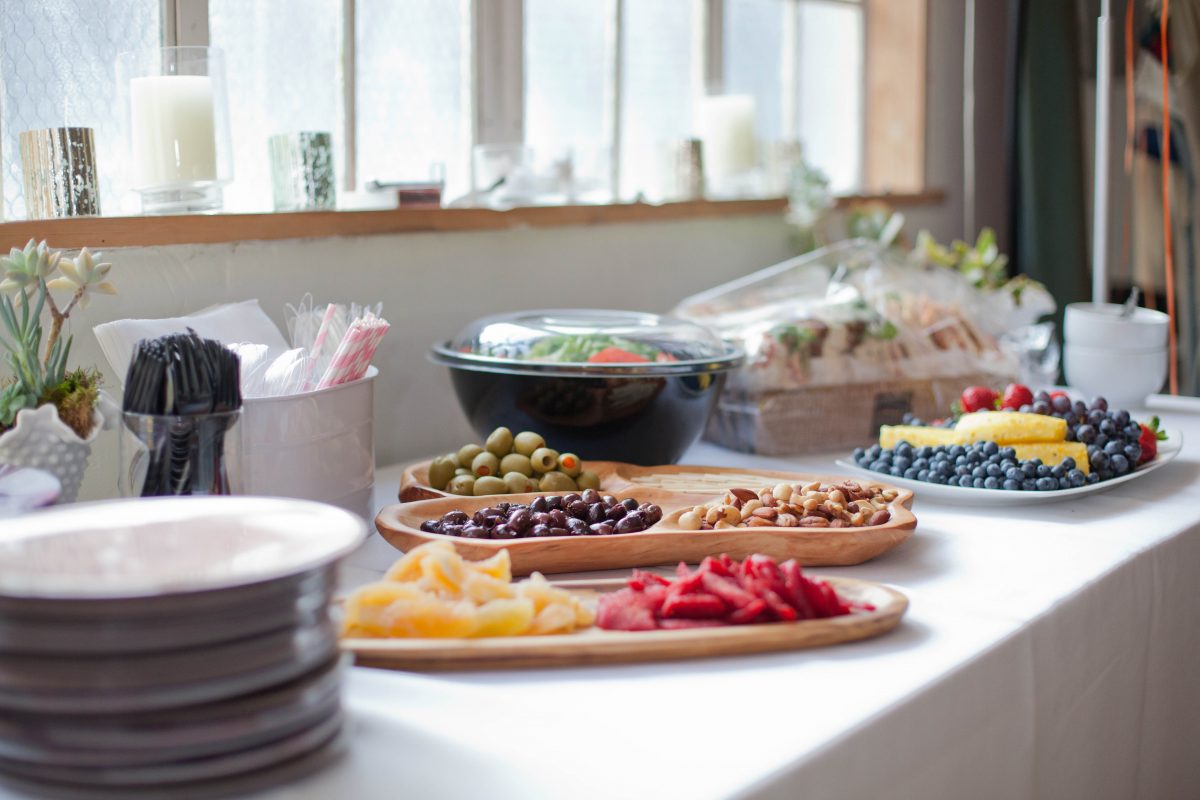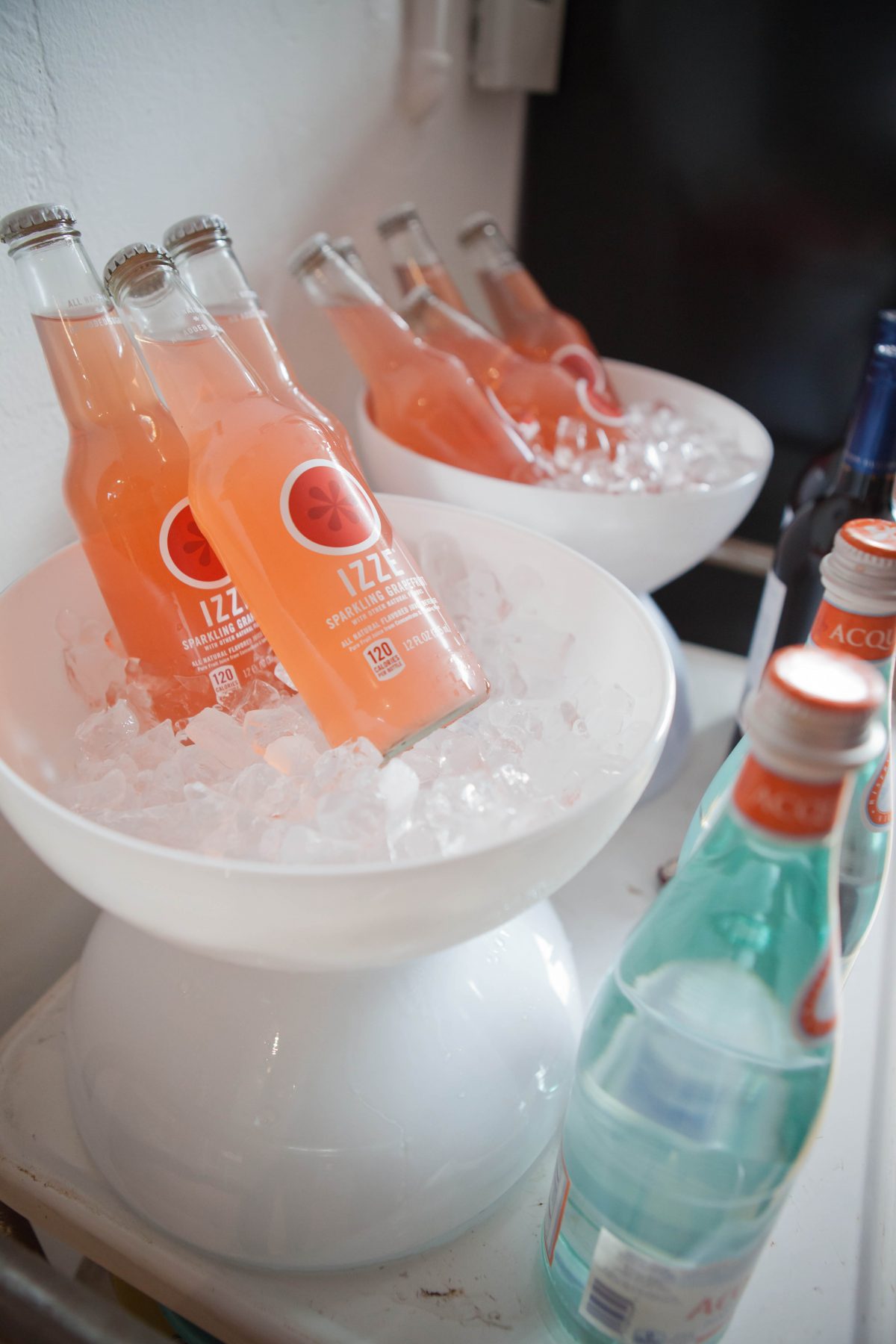 August and September are the hottest months of the year in southern California, so we erred on the side of caution and kept the dinner light and cold. Sandwiches and salad from The Corner Bakery, lots of fresh fruit, and a small platter of nuts, olives, and dried fruits. We washed everything down with grapefruit soda, guava punch, sparkling water, and wine.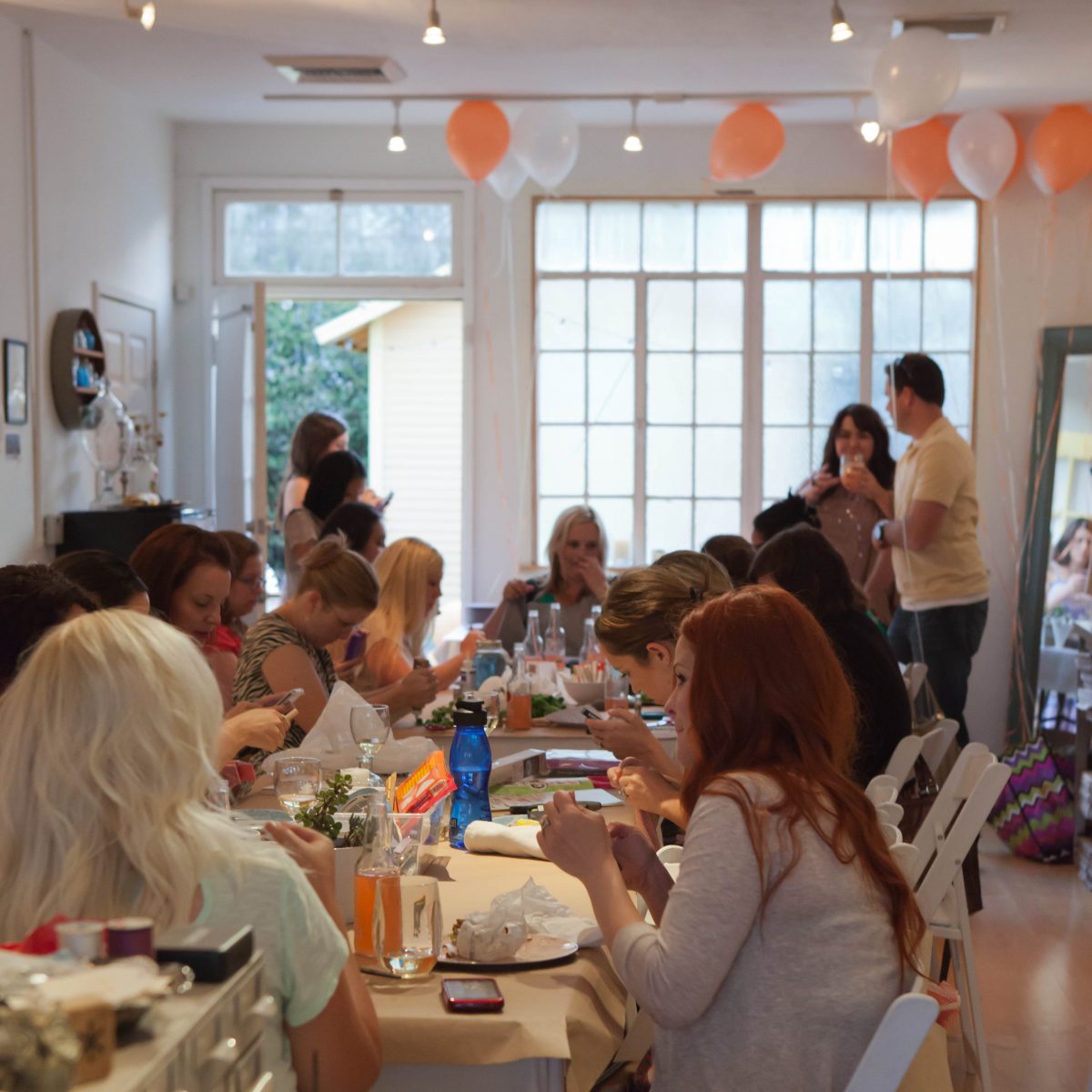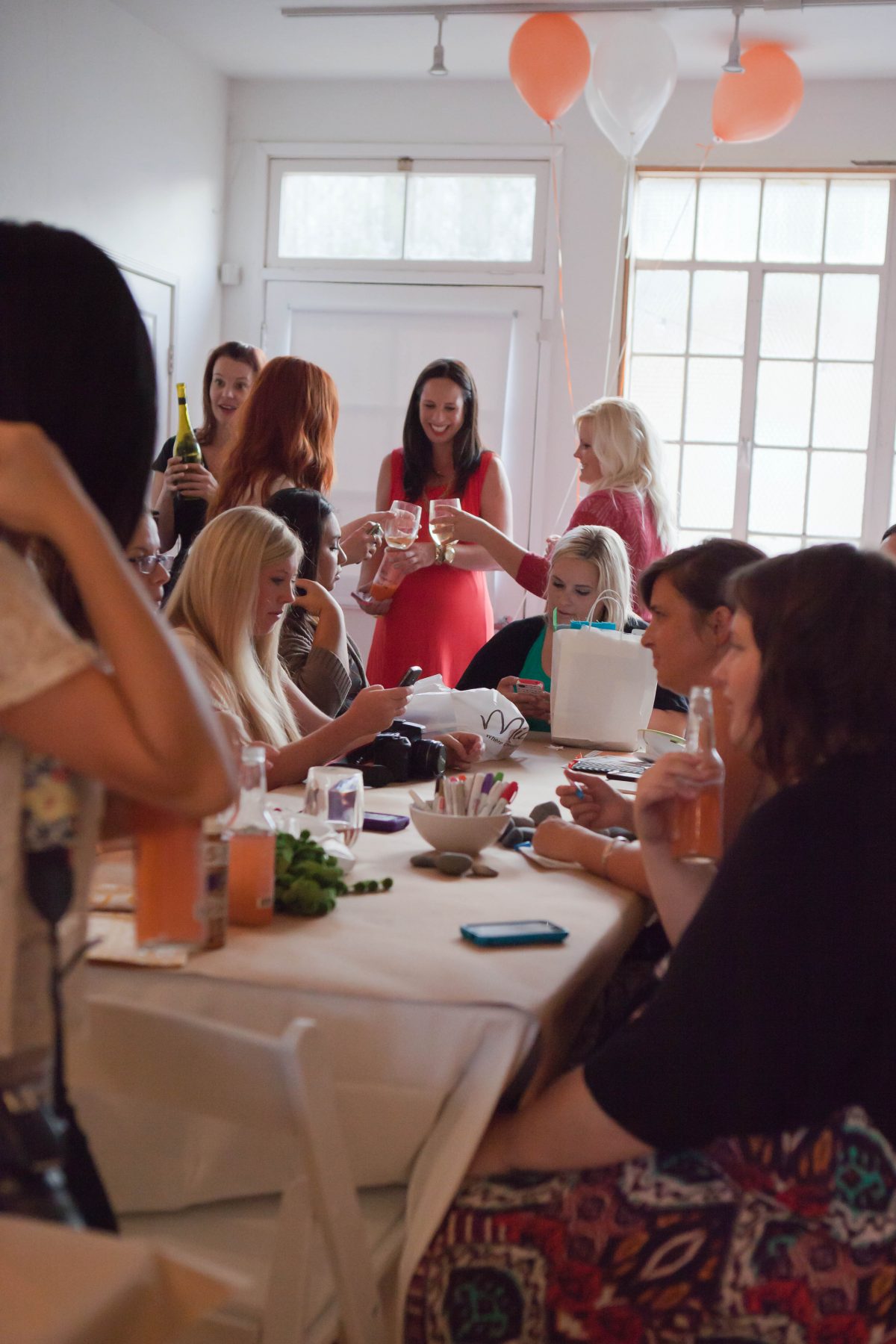 We mingled and made stuff. A simple party premise, but it was so much fun.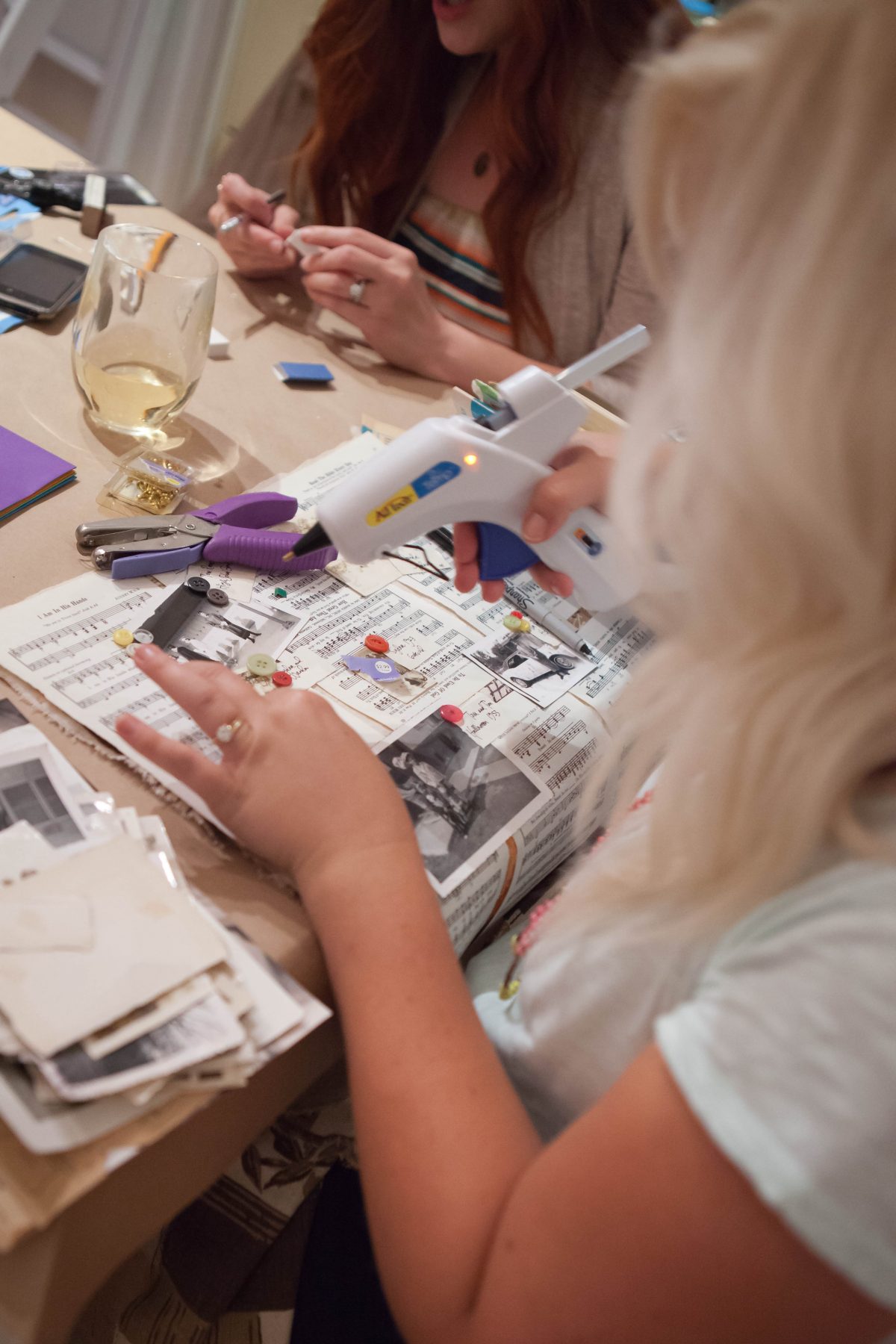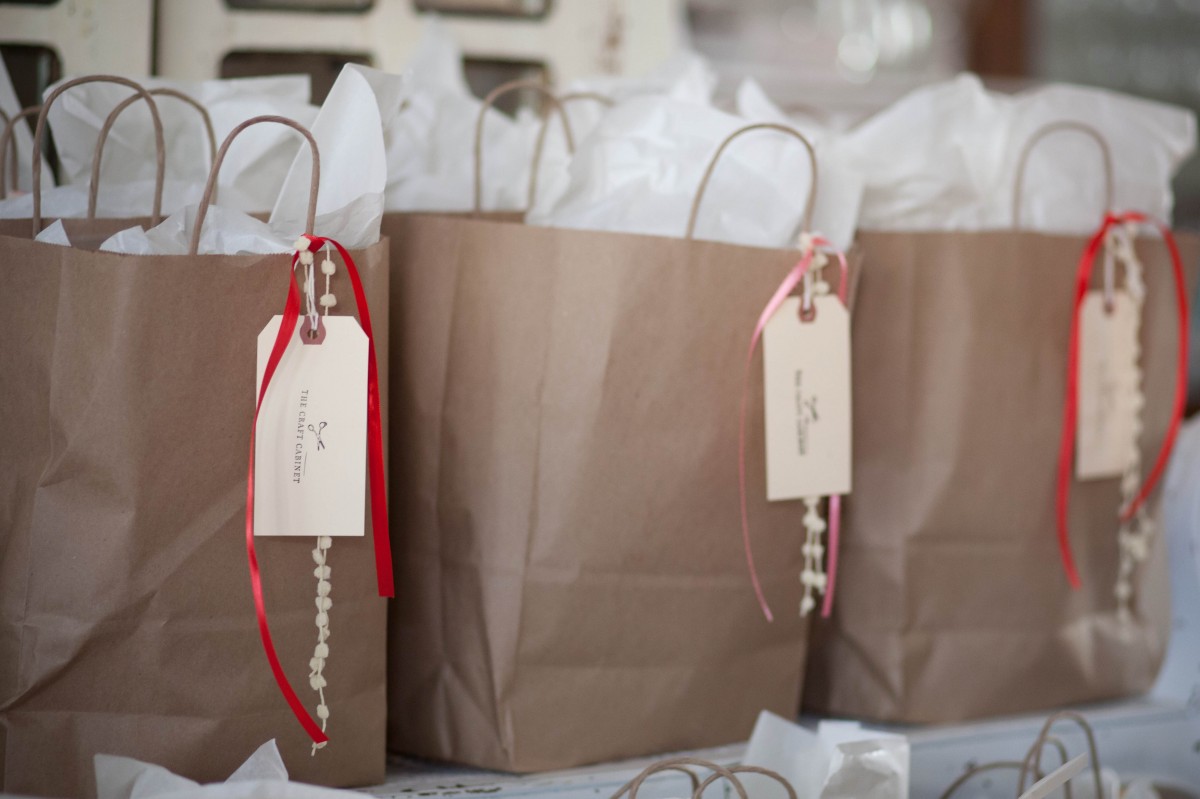 Andrea and I had a small budget, and we couldn't afford to do everything we wanted, but we both agreed from the start that we wanted to generously thank everyone who came out in support of The Craft Cabinet. I know I'm being rude by bragging, but I think our swag bags (hate that term) were fantastic. The contributions from Tristan and Danni alone would have made me a happy crafter. We even included sweet treats for the drive home! (Thanks, Gena!)  The bags deserve a post of their own, and Andrea will share what went into each bag this week. I'll be sure to link to it.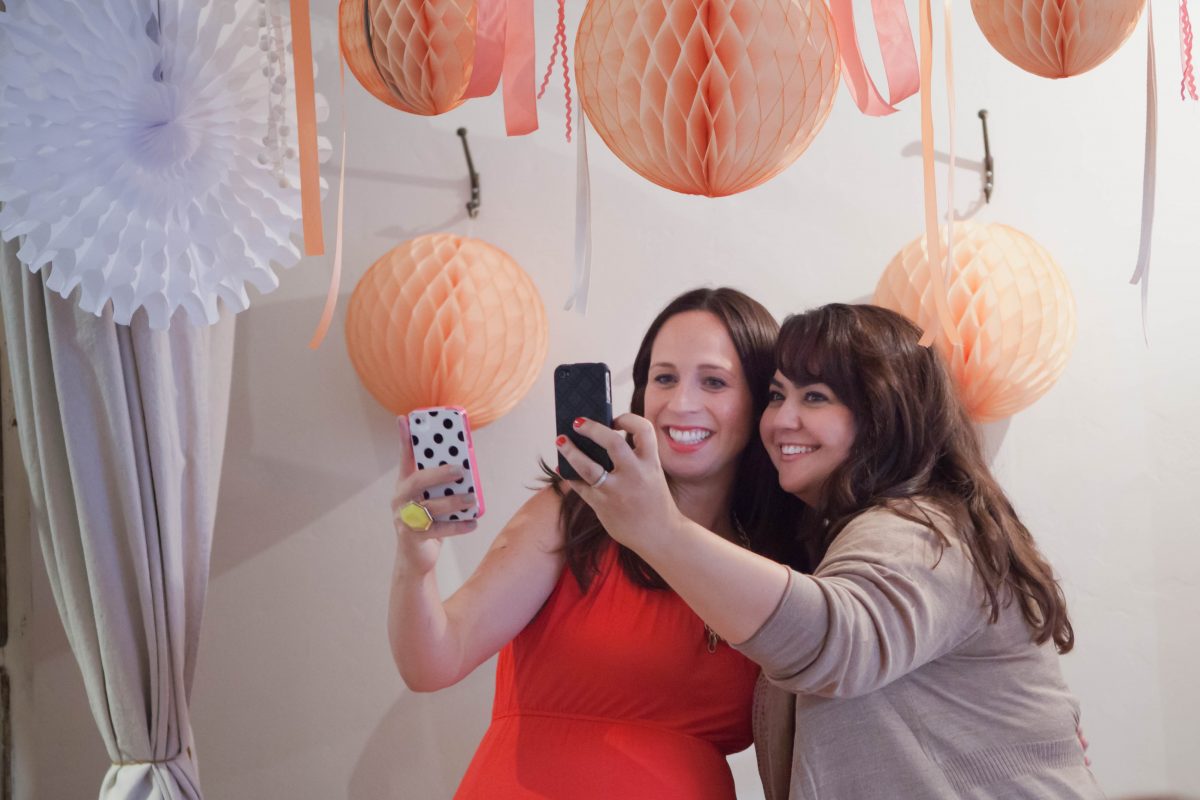 Not everything went smoothly, of course. I spent way too much time worrying about how I would be perceived and if I would disappoint anyone. I dodged the camera a lot. I wish I hadn't expended so much brain power on something so silly but, on the plus side, no one will ever accuse me of being an attention seeking ham! Nevertheless, I'm proud of what we accomplished and even more proud that I stepped far, far outside my comfort zone. 250+ points to me for that one, regardless of my execution. I'm sure I'll get better with this sort of thing over time. Speaking of which, we're thinking of having another one right before the holidays. Are you game?
…………………………………………………………….
All photos in this post were provided by Mary Dau Yung of Yung Bean Photography. Thank you, Mary. You were able to capture more than I ever could, and that's not because I forgot my camera.
A special thanks to Danni and Gena, who helped set up and contributed to the gift bags.
Would you like to know who came? Here are their blogs! I've also included an opportunity for those who attended the party to link to their posts, so you can check them out that way, too.
Brenda | Secret Agent Josephine
Lisa | Trapped in North Jersey
Sarah | Little Penelope Lane (and Penelope Lane Boutiques)
(And hello to Tina, Andrea's sister and Larissa, my friend!)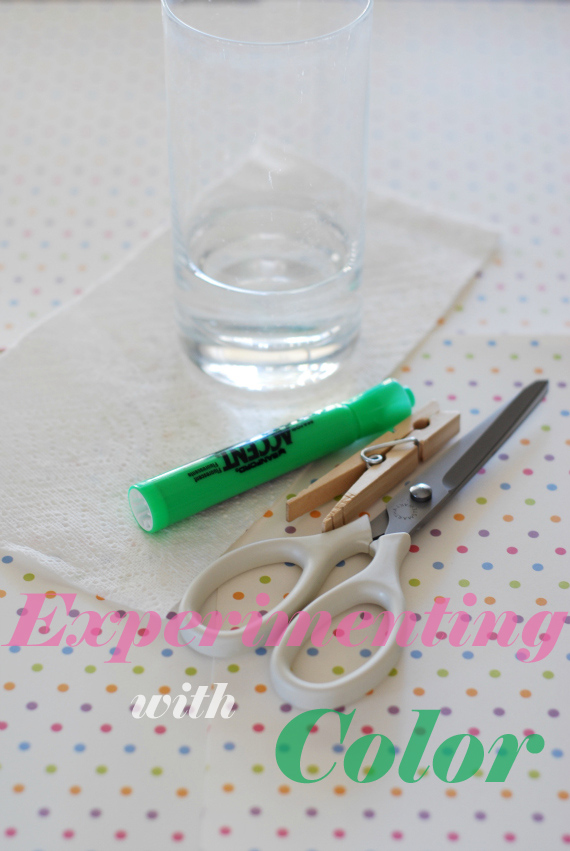 The world opened up for Mikey when he learned colors can combine to form other colors. He figured this out in his final year of preschool, and for months afterwards he would pick apart the color combinations in crayons, flowers, leaves, and rocks. I thought this might be an obsession singular to Mikey, but when Nicholas learned yellow and blue made green in his final year of presschool, the reaction was the same. It blew his mind.
I did this super quick, easy, and cheap science experiment with them because I knew they would love watching the color breakdown in action.
Supplies
Paper towel
Scissors
Clothespin, alligator clip, or small clamp.
A tall glass with 1″-2″ water
Green felt tip marker or green food coloring (I used an ancient highlighter from law school!)
Cut a strip of paper towel, about 1 inch thick. About 2 inches from the bottom, make a large green dot with your felt-tip marker or apply 1 or 2 drops of green food coloring.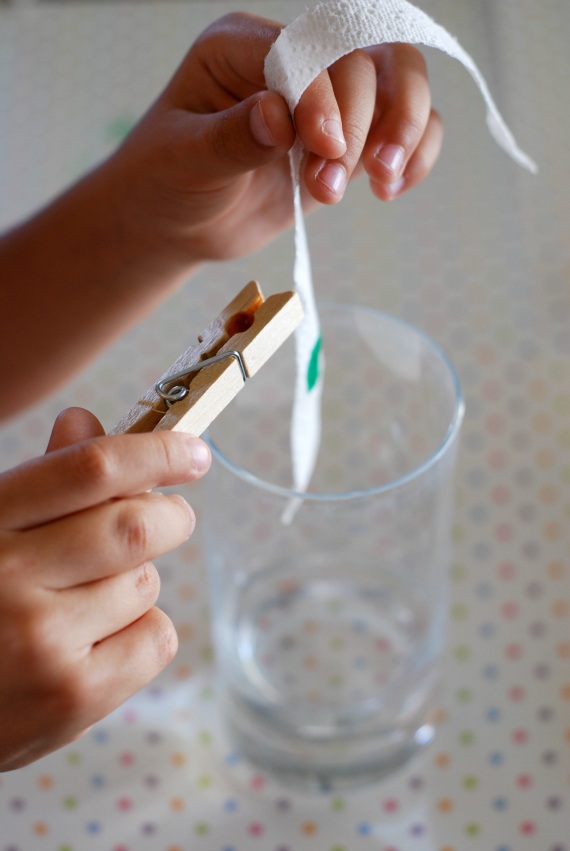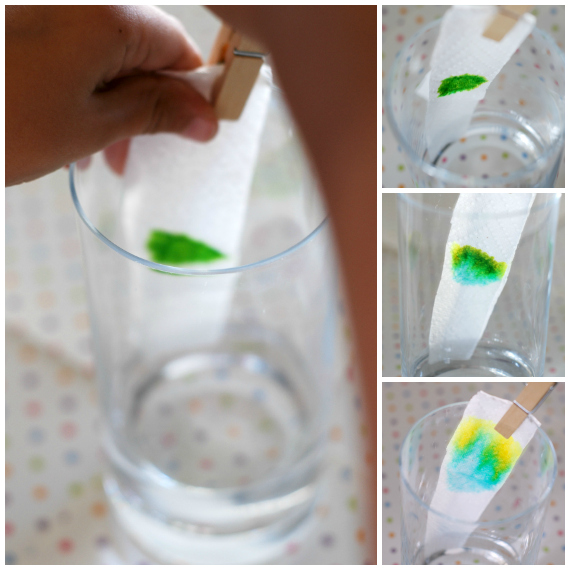 Pin your strip of paper towel to the interior of your glass, allowing the bottom inch of paper to hit the water. Keep the green dot clear of the water.
The water will quickly move up the strip of paper towel. As it travels up the paper, it will slowly dissolve the green dot and carry with it the yellow and blue pigments used to make green. This will take about 15 minutes, maybe less. My decrepit highlighter only took seconds.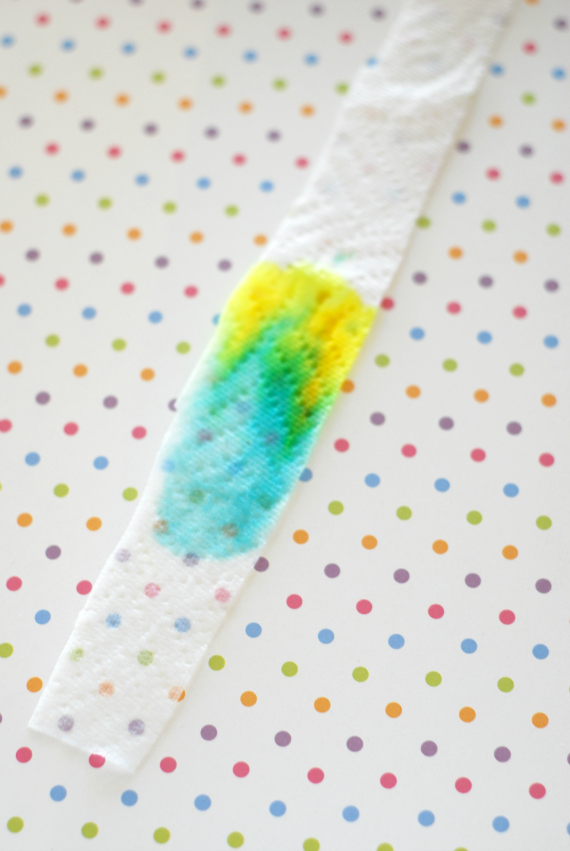 After 20 minutes, the green dot disappears completely. Above that will be a puddle of blue, and above that yellow. You can see above I didn't have 20 minutes. I had to get the boys ready for camp so not all of the green broke down. Regardless, the boys were fascinated. High fives all around, even for mom.
A couple of notes:
The marker you use is important. I used Crayola markers thinking they were felt-tip, but I guess they aren't? It didn't work, regardless.
I tried this with other colors (orange being one of them) but it didn't separate as nicely. Again, I used a Crayola marker. That may have been my downfall.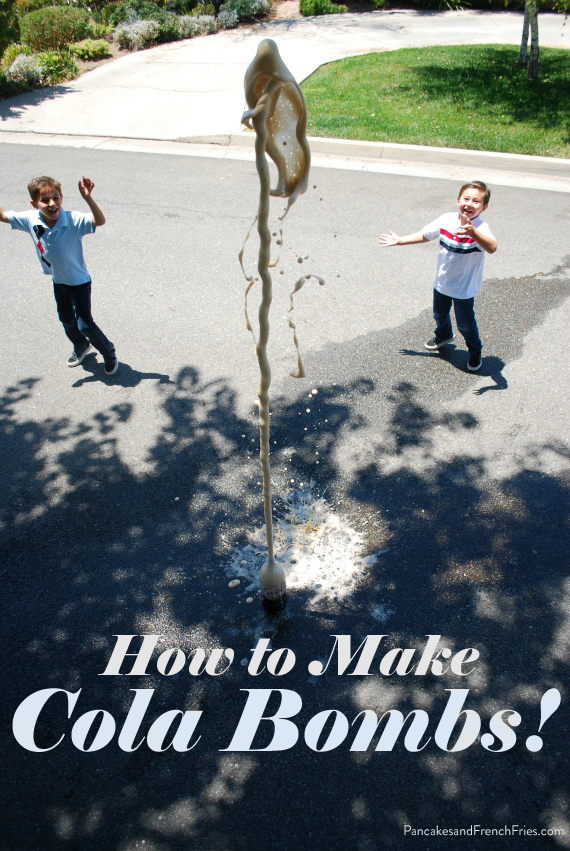 I mentioned last week that the cola bombs were the highlight of Mikey's birthday party. They were so much fun! Cola bombs (aka: Cola Geysers, Mentos Bombs, Soda Rockets, etc.) are easy to make and all over the internet. A few of you asked me last week how we made them, and while I can direct you to the thousands of pages and youtube videos with directions, I thought I would toss out a tip we learned from Mikey's 1st grade teacher the day of the party. It's a total lifesaver, especially if you're setting off several bombs at once or in succession like we did. This tip also allows little ones (preschoolers) to participate without getting diet coke in their eye. Probably.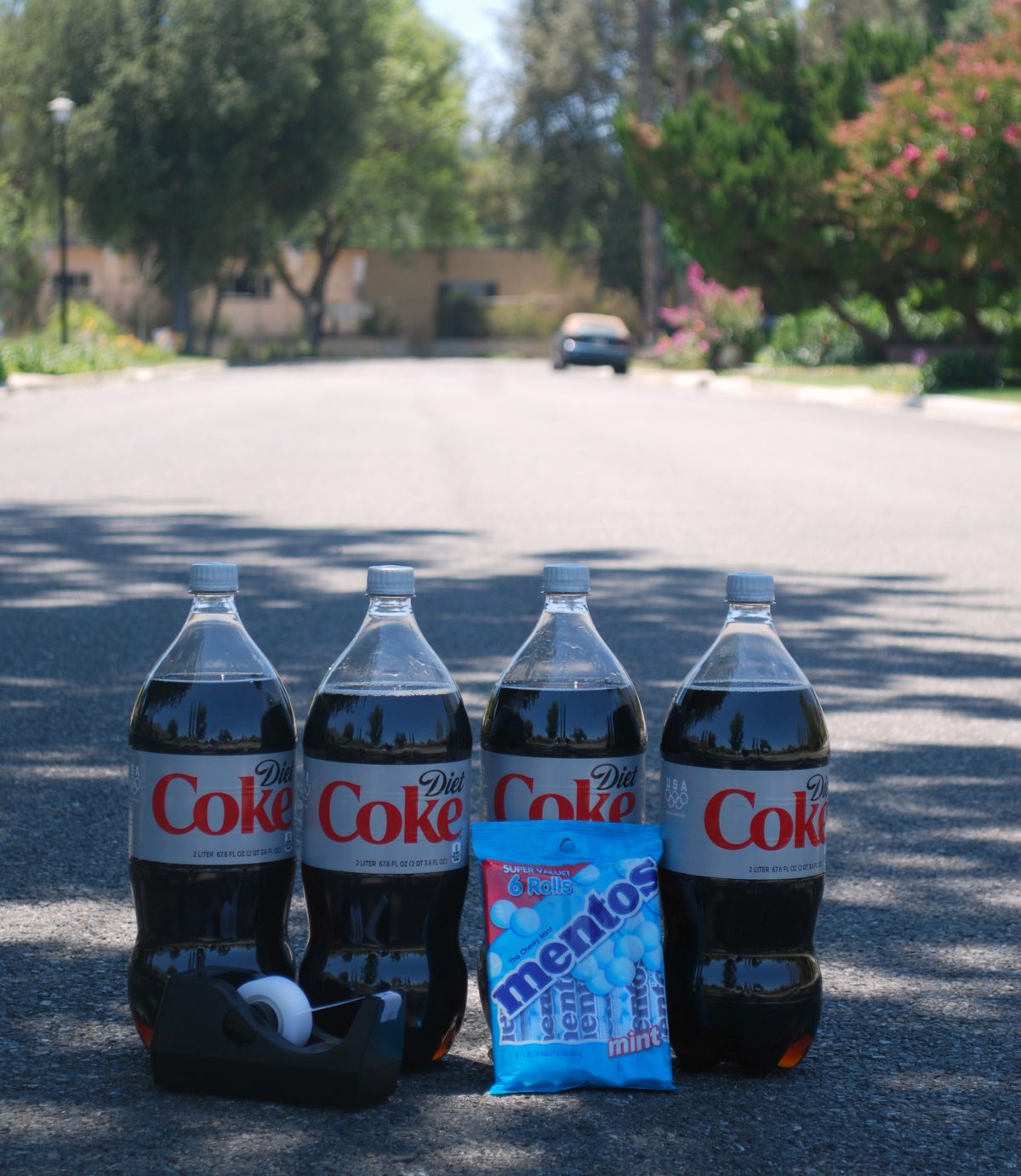 You will need:
2L bottles of Diet Coke (Diet Coke will give you the most height)
A roll of Mentos for each bottle.  That's 12 Mentos if you happen to have them loose or bought them in bulk
Scotch tape
Most tutorials suggest you use a card and tube to funnel the Mentos into the Diet Coke. You place the card on top of the bottle, the tube on top of the card, and then quickly slide out the card like a trap door and let the Mentos fall in. That works, but not well. We found the paper tubes were flimsy in little hands and not all the Mentos made it inside the bottle. Sometimes the bottle falls down. You have to be quick and limber! There are kits you can buy online, but…no.
Scotch tape to the rescue!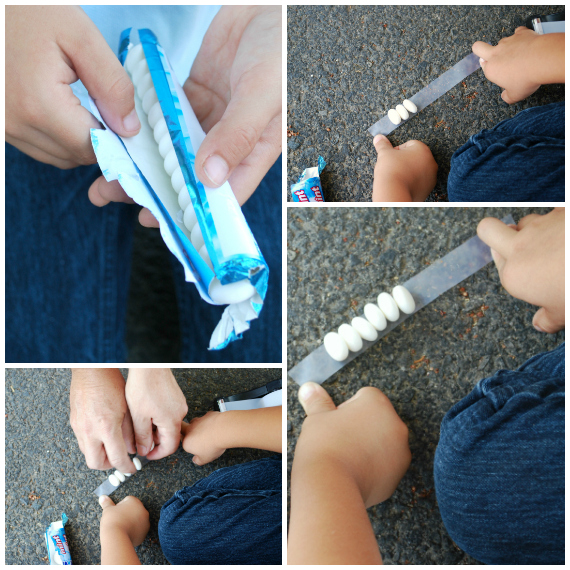 First, go outside! You don't want to do this inside, though there are plenty of pranksters on Youtube that recommend otherwise.
Next, unroll your pack of 12 Mentos and gently place a strip of scotch tape along the top. You can also lay the tape sticky side up on a hard surface and place the 12 Mentos individually. They will stand up!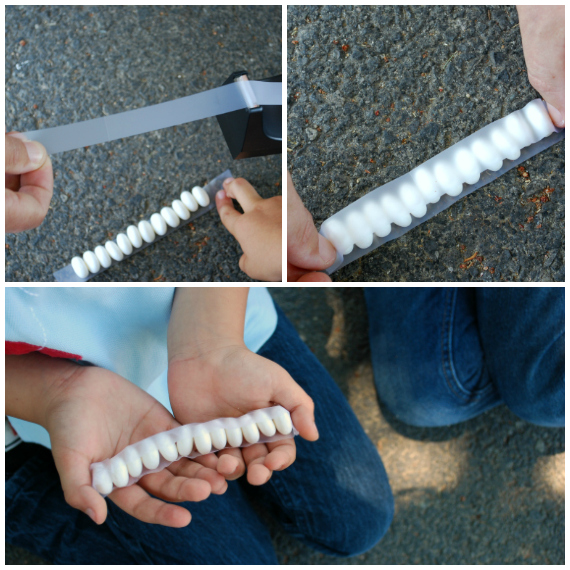 Place another strip of tape on top and lightly press the candy into a makeshift cylinder. You want the tape to barely hold the Mentos in place. See how only a miniscule portion of each Mentos candy touches the tape, and that two sides are completely clear of tape? You need plenty of surface area for the Diet Coke to seep in and around the candy.
Carry your roll of candy like a baby bird to your open 2L bottle of Diet Coke. If you want, you can spill out about 1 cup of the Diet Coke on the ground. Your bomb will be smaller and it will give little ones more time to run.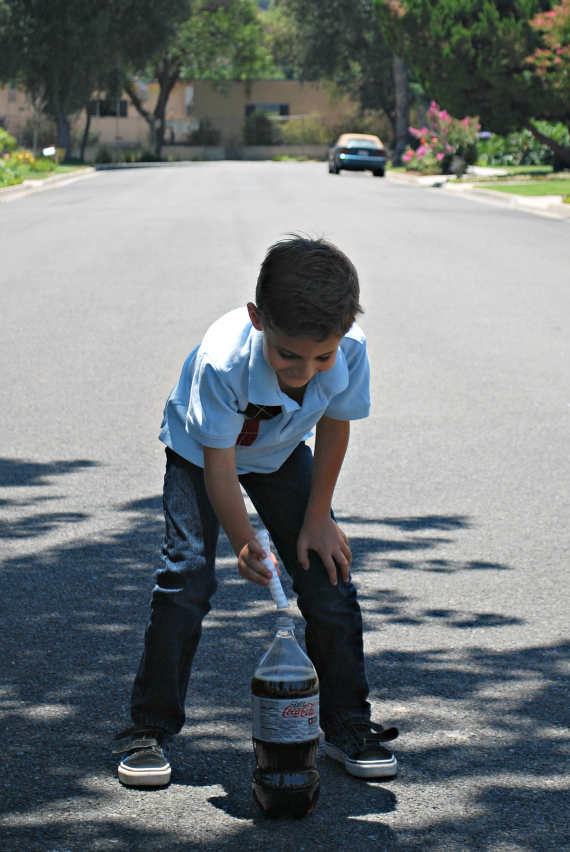 Drop it in. The scotch tape makes it pretty simple, but you still have to beat feet once the candy hits the soda!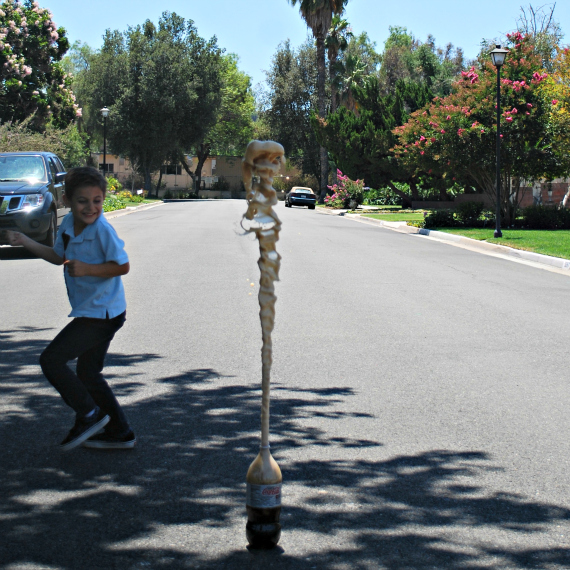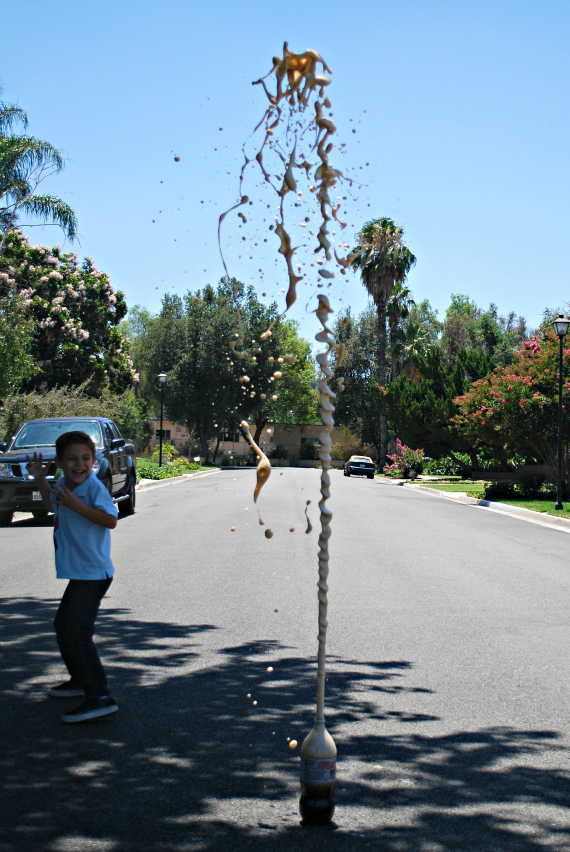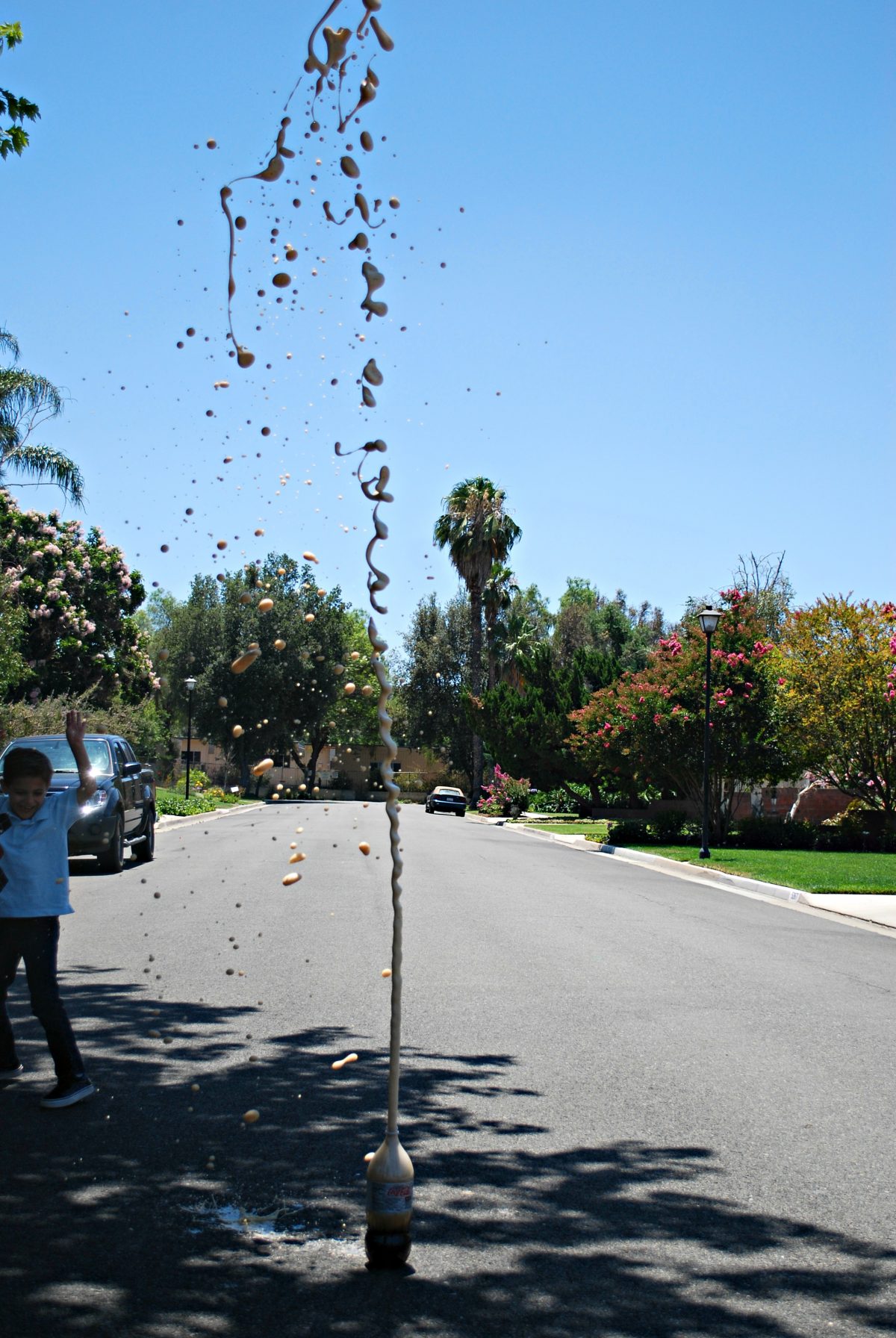 Shall we try that from another angle? Yes, lets. Thanks to the scotch tape, 5 year old Nicholas can be in charge of setting off the Cola Bomb.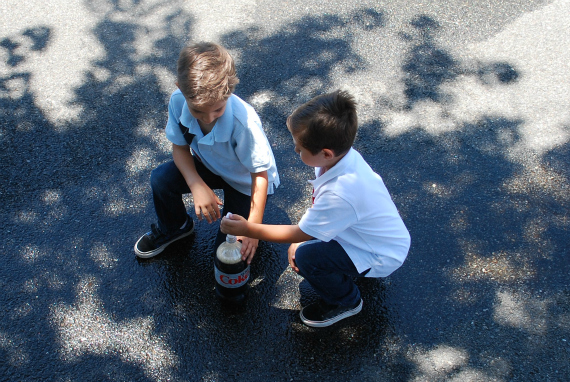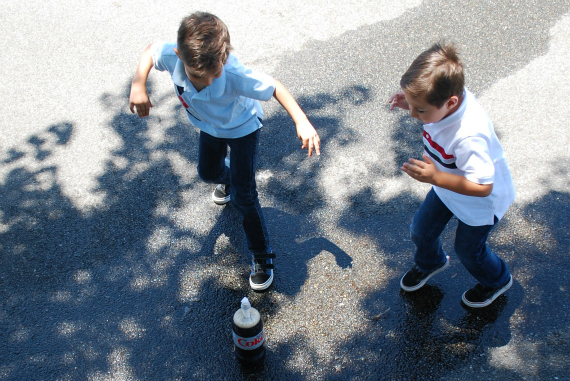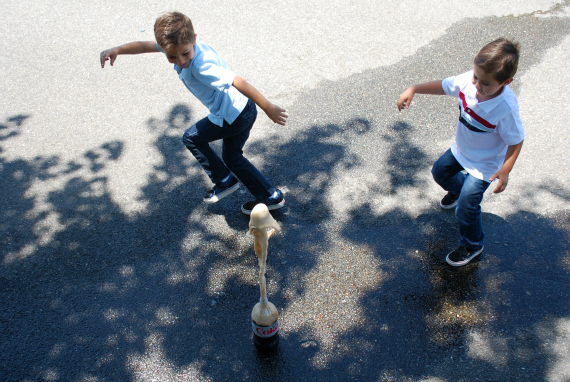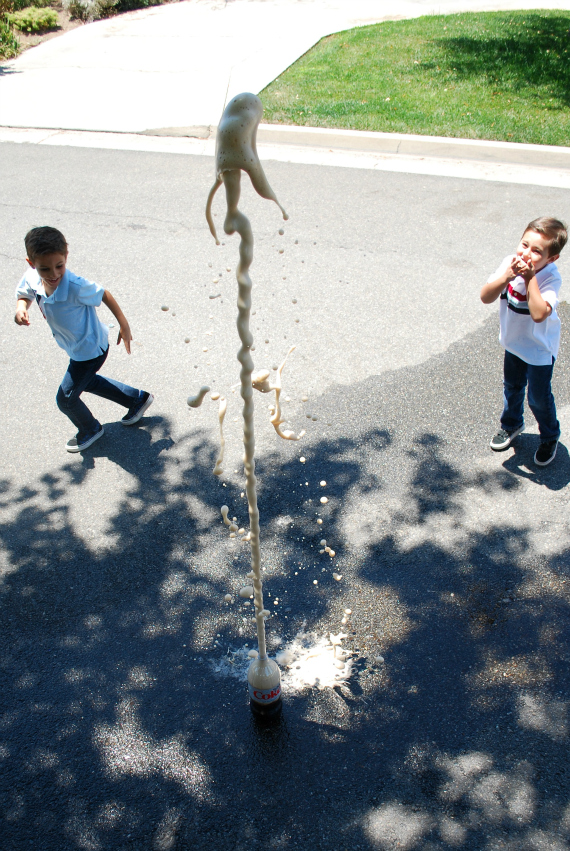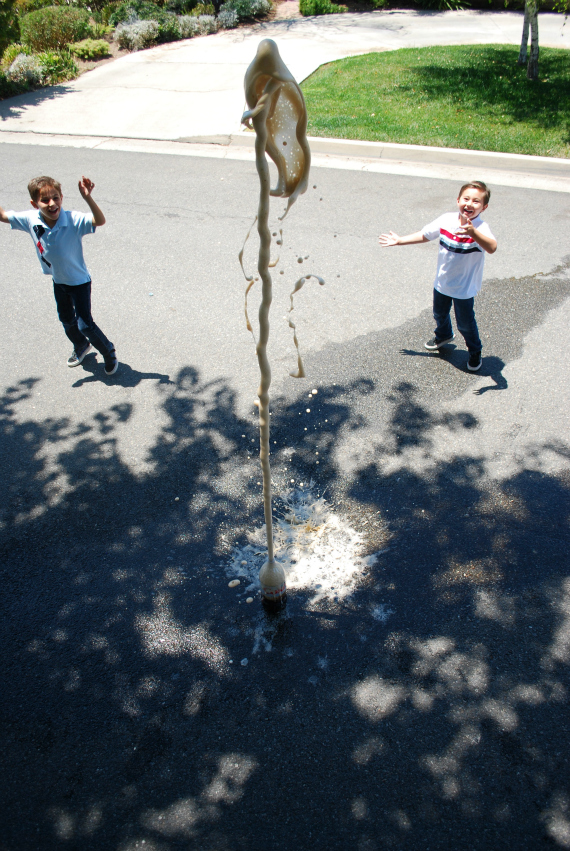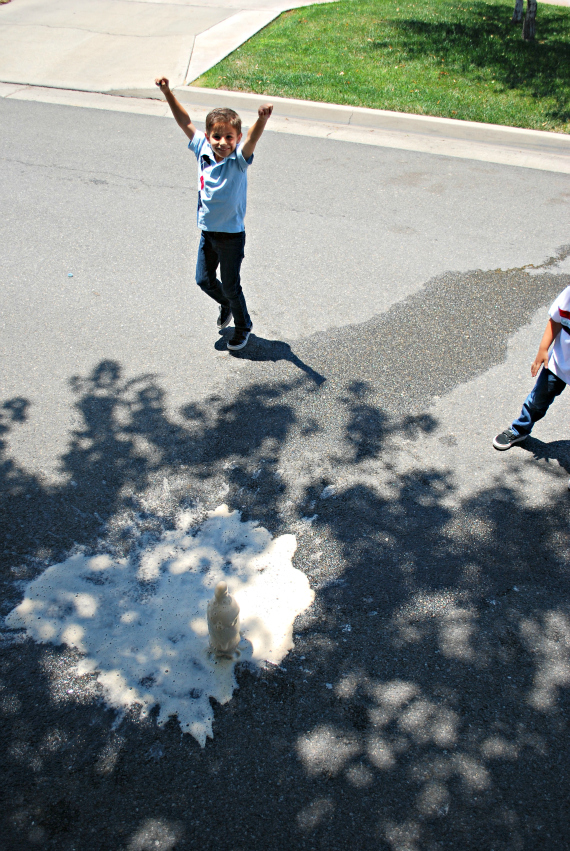 4th of July is on Wednesday, so you all have to do this with the kids and the adults. We set off these bombs in front of our neighbor's tree. She laughed and laughed, partly because it's fun to see something harmless explode on purpose, and partly because the joyous screaming and dancing by Mikey and Nicholas was infectious. "You guys just made my day," she said as she walked inside, still laughing. I believe it. You just can't be in a bad mood after watching soda shoot 15 feet into the air.