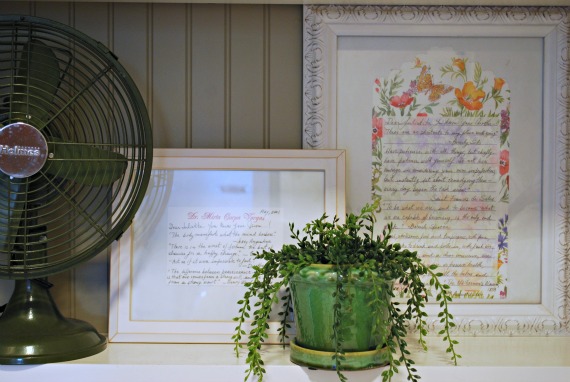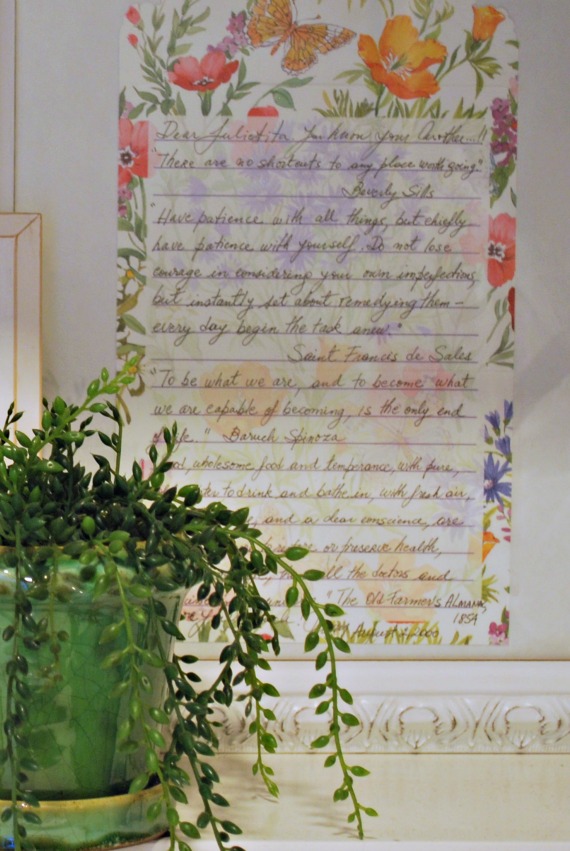 My mother collects words the way another woman collects charms on a bracelet. Each one is special, some more than others. Although she writes books–five to date, all of them in Spanish–she struggles when it comes to expressing how she feels. The exceptions are anger and disappointment. Those words roll off the tongue like slick candy. (More like spitballs.)
Every birthday card she has ever written me says: I love you very much!! Mom. Two exclamation points, always. Ellipses, often. For a long time she included a quote she felt represented me or my year ahead. She did this for my brothers, too, and in the days before the internet you could find her sitting in her library with at least two of her quotation books on her lap. You can still find her sitting with books in her lap. I'm confident she has no idea you can find quotes on the internet.
When I first got married, she used to send me letters filled with quotes. A quick greeting (You know your mother…!!) followed by a series of quotes she felt I needed to read. I miss those letters. They stopped, probably because she felt I was grown up, but I don't know that children ever really grow up.
The earth is full of people with clever things to say. You need only go on Pinterest to figure that out. There are quotes about writing, living, and dying. There are quotes about loving, hating, and letting go. There are quotes about running. Quotes about travel. Quotes about faith and despair and apathy. There are a lot of quotes!
Being the quote lover that I am, I pinned many of them at first. Then, one day I heard of this pin. The photographer of the picture commented that it was unauthorized use of her image and requested that the pin be taken down. The original pinner and at least one other person told her lighten up, and that if she didn't want people to use her work she shouldn't have put it on the internet.
The most frustrating thing about mean and stupid people is that they are unavoidable.
Honestly, it never occurred to me that many or some or even one of those quote-images used stolen photography. Never even crossed my mind, probably because it's something I would never consider doing. I stopped pinning quotes after that unless I could verify the image wasn't stolen. I've had to pass up on a lot of pretty pins.
That's what some Sundays are going to be about around here. If I find a picture of mine I like that goes with a quote I like just as much, I'll put them together. If I come up empty that week, so be it. It's a semi-regular feature, and I already sneaked one in. It was a response to a minor freak out I had about fan fiction on facebook.
It's part dedication to my mom, part opportunity for me to keep collecting the words I love so much. Of course, it's okay for anyone to pin and share–just not sell. Not that anyone would want to sell my photos, but you know.
::::::
The letters pictured above are from my mom in 2001, shortly after I got married. I believe I was struggling/hating every minute of law school at the time. I framed them immediately and hung them in my office. They're only in the laundry room because it's prettier than our office, but I might change out the frames (12 years, it's time) and hang them above my desk.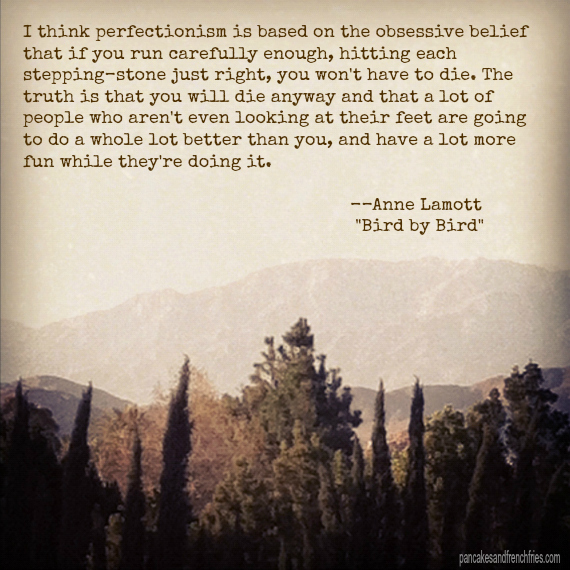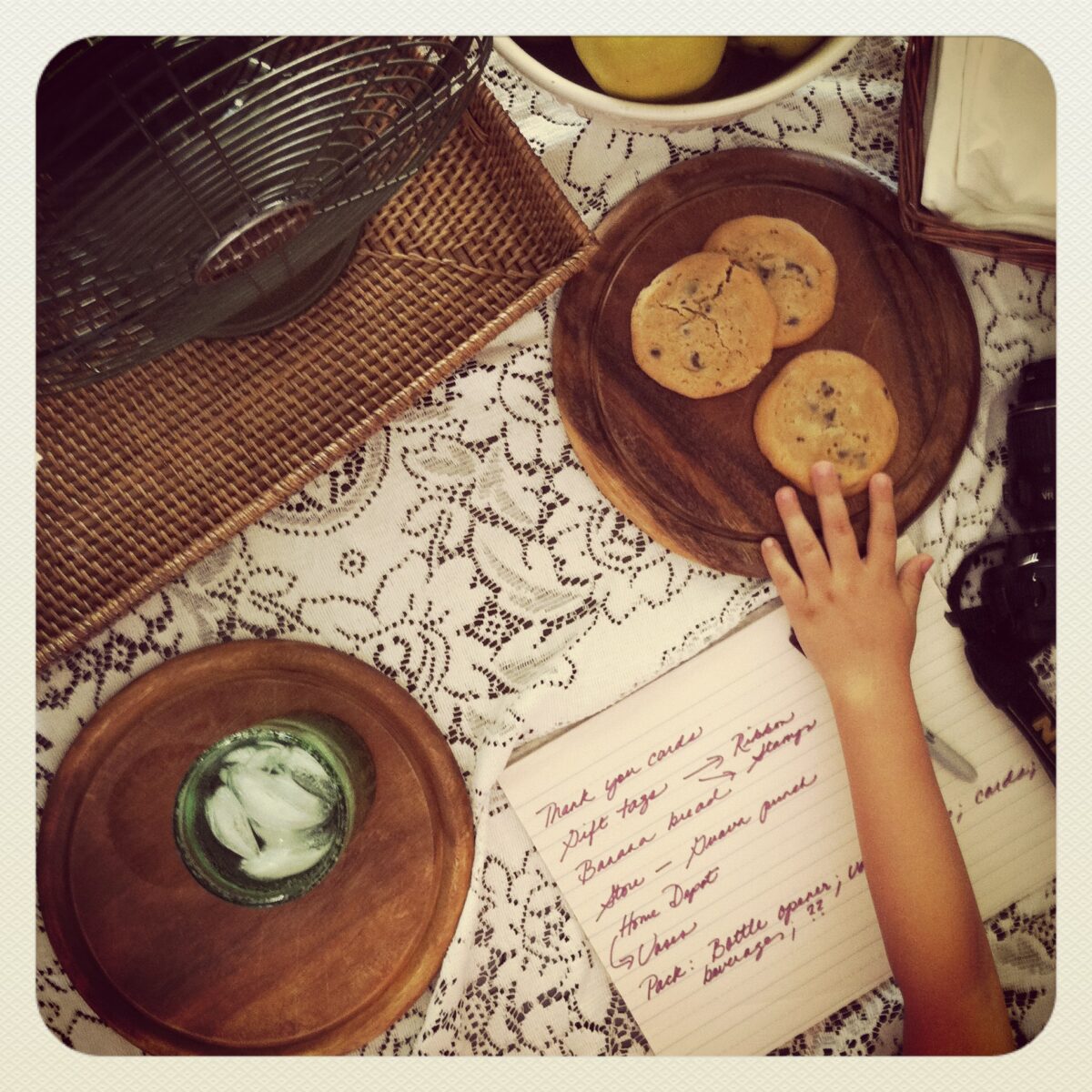 I can't decide if I'm extraordinarily calm or numb with nerves. The Craft Cabinet is only a few days away; it's time for me to start cracking on that To-Do list. After that, the count-down begins for the first day of school. We'll be eking out every last bit of summer vacation until then. Please excuse my infrequent posting until September, is what I'm saying.
Doesn't September seem a long ways off? It's only two weeks. Two weeks! We'll start the month off with a bang: book club discussion on The Immortal Life of Henrietta Lacks on Monday, September 3rd, followed by the return of The William Morris Project on that Thursday.
For September, we'll be reading book 1 of the Detergent Series, which I believe is Divergent. I honestly have no idea–I'm not trying to be funny–so please double check that I have it right before you buy or check out. It's Divergent or Insurgent. That much I know.
In October we will read Gone Girl by Gillian Flynn. It's on sale right now at Costco and Sam's Club, if that helps. I hear the library holds are moving quickly, too, and that might be because the ending has people either waxing poetic or shaking their fists. Each side is convinced the other is insane. What we have here, folks, is an all out Book Nerd War. I can't wait to see what happens in the comments.
November…well, we better be snowed in because we're reading Anna Karenina. I know, it's 800+ pages. On a positive note, it's readily available. Hey, your mom might still have your copy from high school! It's only $0.99 for kindle readers, too. (Edit: It's free on Project Gutenbergpan! Thanks, Bethany!) The movie is coming out in November, and I thought it might be a nice challenge to read it in time for a SoCal PIBC movie date. I'll take a pulse around mid-November to see how likely it is people will finish, and if it doesn't look good, we can make it the November/December pick, since December is a busy month.
Wish me luck on Friday. I suddenly just got nervous. I'll be back on Monday with some pictures and stories…and hopefully a handful of new friends!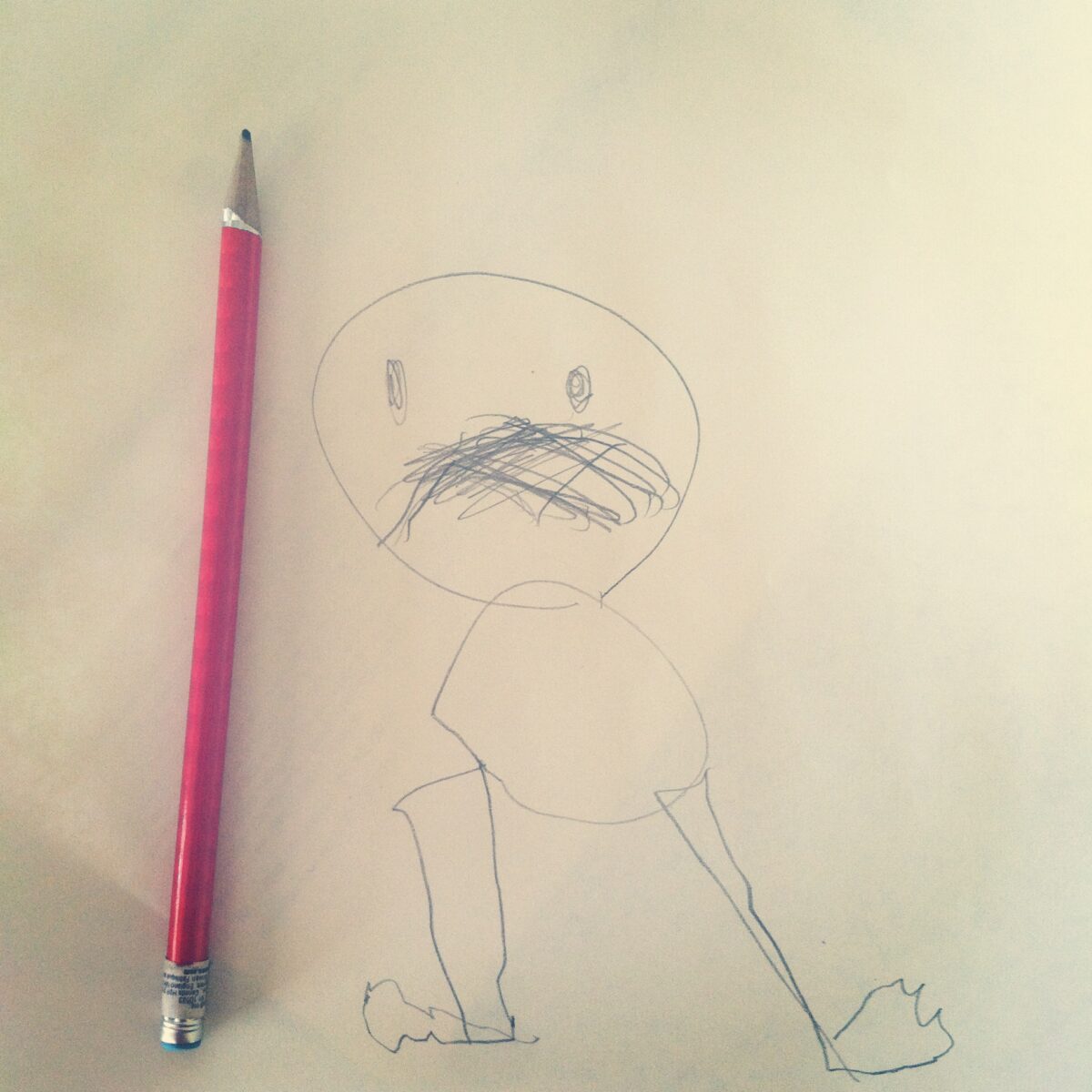 I started the week determined to make it great. I'm ending it committed to making the next one even better. These are some of the things that made me happy.
Saturday we ate sushi and watched The Hunger Games, just as planned. I thought it was an excellent movie adaptation and in some ways more suited to 12-year-olds than the book.
I spent three hours gardening in perfect weather last Sunday.
Lunch was a delicious salad on Monday. I ate at home, and I ate healthy food. That always makes me happy, happy.
On Tuesday Nicholas drew a picture of The Lorax.
I found signs of spring on Wednesday. Things really got happy after a book series recommendation.
More book recommending goodness on Thursday by one of my very favorite bloggers. Vampires and zombies in quasi literary fiction? I'm dubious, but intrigued. It's amazing that two fantasy-ish books would strike my fancy. A year ago my eyebrows would have hit my hairline if you told me I would one day willingly read that genre. The idea was so far fetched, I put it on my life list to force me out of my comfort zone. But, ever since starting PIBC, I have been fearless about reading new genres. In fact, I welcome it heartily. This reminds me of something Andrea said to me at Camp Mighty. I told her I helped plan my high school reunion to get out of my comfort zone. Then later we mentioned a book or something, and I said, "Oh, I read that to get out of my comfort zone." I must have said something along those lines another time because she looked at me and said, "You know, you keep saying your stepping out of your comfort zone, but maybe it's the comfort zone that no longer fits you."
It's Good Friday today. Happy, happy.
And to those who celebrate, happy, happy Easter, too.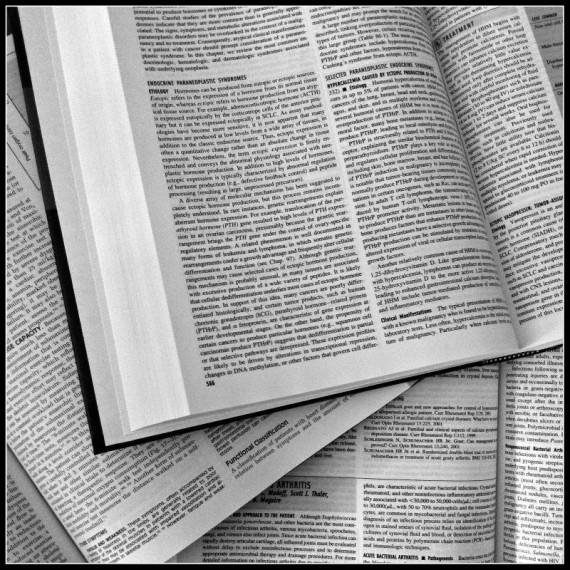 My appointment on Tuesday with the new doctor went well. The results of this latest course of blood work is similar to what I had over the summer. I am in excellent health, including my lipid panel, which is I am happy about given I am over weight. Thin doesn't equate health, of course, but being overweight does come with risk factors and health concerns. My blood work belies all that, with two exceptions.
My vitamin D levels remain positively dreadful. Truly awful.
My blood work suggests inflammation somewhere in the body, with a possible elevated cardiac risk factor. Given that everything else is normal, this most likely relates to my vitamin D levels, which were discouragingly low, if I haven't already mentioned.
This new physician is an M.D. who believes in alternative treatments, so I left with a list of herbs and supplements to buy at the health food store. We'll see how I feel in a month.
Vitamin D was not on that list. Instead, we are going to try applying it topically through a cream dispensed by a compound pharmacy. I don't have it yet–it should be ready by next week–but I'm hopeful this will be what brings my levels into an acceptable range.
Enough about me. I feel like I am whining.
We spoke of Mikey, of course. I gave him a brief history and he suggested, without seeing him, the removal of dairy and wheat from his diet. I scheduled an appointment for him in March so he can do a proper work up on him, but for now I begin the task of modifying our diets. I'm not afraid of the challenge. When Nicholas was deathly allergic to nuts, his allergist told me the greatest chance he had for outgrowing his allergy would be complete avoidance of any and all nuts, including tree nuts. We were also instructed to avoid any item made in a facility that handles nuts. That eliminated most foods sold in health food stores and Trader Joe's.
I made almost everything from scratch and we rarely ate out. It was a challenge at first, but I got used to it and established a good routine. In retrospect, it was the healthiest the boys have ever been. Still sick frequently, but not as much.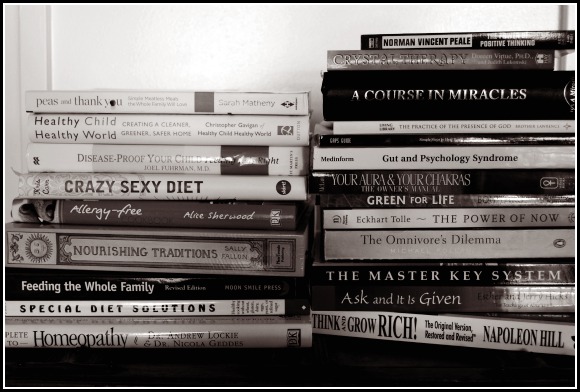 I found a few books on Amazon that touched upon childhood asthma, allergies, and healthy homes. Before I bought them, I thought I would try to corral some of the books I already have on the subject to avoid duplication. This is but a smattering; there are a few I know I have but can't find. I was embarrassed, and closed the page on Amazon.
After my appointment on Tuesday, I felt more tired than usual and didn't feel like doing much of anything. I attributed this to the stress of getting my blood results and the stress of talking about Mikey and admitting that something is not entirely right. I spent the last two days doing more research, of course (those of you who follow me on Twitter know I've been tweeting studies I've found), but I also spent a good deal of time vegging out reading books and blogs. Kelly always shares the best links, and her Monday post was no different. I found myself on Rachel Saldana's blog reading about positivity.
Positivity is an attitude I often lack when it comes to myself. For others, I can be a damn fine cheerleader. Top-notch, in fact. But when it comes to me I resemble Eeyore. I'm never good enough, smart enough, and definitely not thin enough. My mom bought me that Norman Vincent Peale book at the top of the right stack when I was a newlywed. Come to think of it, she's bought me plenty of books simplifying, slowing down, and positive attitude. When I was in college, my brother bought me this book for Christmas. I thought he was joking. He was not. I should see if I still have it. (I never read it.)
So there I was, reading Buttons Magee, thinking maybe Mikey could get better, or improve faster, if I change my attitude. Many people I admire credit positive thinking for much of their success. Even Oprah, for goodness sakes, thinks it's the bee's knees. At Camp Mighty, one of Oprah's producers shared  her philosophy on positive thinking and creating intentions. I remember feeling inspired, convinced I would start being more positive from that point forward. Then I started worrying about looking stoned because my new mascara made my eyes burn. So much for that.
Every few years I think, "This is the year!" I'm going to believe in myself and get positive. I buy a bunch of books on the subject, most of which go unread. Every book on positivity you see in that pile is unread. I have a few more, like the Eckhart Tolle book I have listed in my Unread Library, but I can't find it. Probably because when I tried reading it (several times) I just couldn't get past the woo-woo.
The three books on the bottom right I bought on March 18, 2009. I know this because I found the receipt tucked inside the top one.I read the first few chapters of the book second from the bottom, realized the premise was that a ghost/spirit/other worldly being named Abraham was speaking through a woman and quietly closed the book. The others I haven't even opened. They were all highly recommended by someone but, I don't know.
Do you believe in positive thinking, intentions, and that what you think multiplies? If so, how has it helped you? I'm not unreceptive to the concept, as my library can attest. I'm want to believe, but I don't know. I suppose it's the age-old battle between the left and right sides of my brain. My analytical side wants double-blind studies with p-values > 0.01. My expressive side wants a new gauzy caftan to wear to the next smudging ceremony.
Both sides want to be sold, or at least more convinced than not.
p.s. Happy birthday to my Mister. Your present this year is my better attitude, and I promise not to worry as much about little things. This is the year! That sounds vaguely familiar.