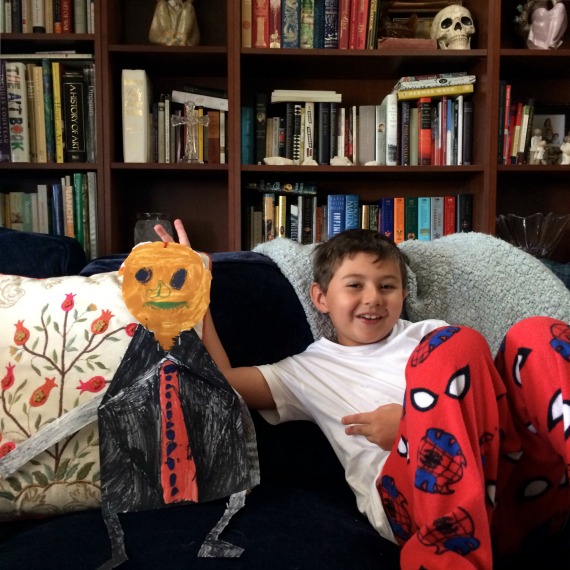 I'm trying to get back into the habit of blogging again. My NaNoWriMo project is going terribly! I think I made a mistake deciding to just focus on that and not NaNoWriMo and blogging because by stopping my writing here I seem to have shut off a creativity faucet. I stopped the closest thing I had to a daily writing practice. Fail! Oh well, live and learn.
Nico was sick this week, but not so sick that he couldn't make 3,000 paper airplanes and shoot them all over the house. I told him to find something else to do, so he decided to make a toddler sized vampire. We call him Count Flatula in honor of Flat Stanley.
I responded to the comments from yesterday's post after spending all day long at a 1st grade field trip. I am many things, but I am not a field trip mom. I can spend hours with kids grade 1st-7th several days per week, but put me with a few moms for one day and I come home drained of all energy.
I made a craft for the 5th graders. If they like it, I'll share it here. If they don't and think I'm a total old lady dork, we'll pretend I never mentioned it, okay?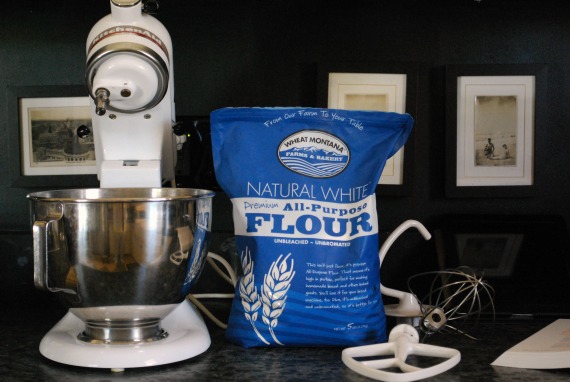 Okay! Next Tuesday is the day my eat at home experiment begins. I'm excited and already have two meals semi-prepped. Only 29 more to go! O_o
Monday
Even though Mikey had strep throat, we caught it so early he was better in no time. This was a big load off my mind.
Tuesday
I had the day all to myself so I was able to catch up on some projects I didn't really want to do. Paying bills was one of them, but it ended up giving me the push I needed to start my eat at home project, so I can't complain.
Wednesday
Every week I get new TV show recommendations. The 7th grade is bound and determined to get me to watch TV just like I am bound and determined to get them to read books. Most of the time, it's stuff like Pretty Little Liars (girls) or Duck Dynasty (boys). This time, a boy suggested I watch Sons of Anarchy. I almost slid out of my chair. Isn't that show supposed to be incredibly violent? Of course, what do I know. There was a 1st grade boy who asked me the other day if I had any "Walking Dead" books. WHAT?! Buddy, we don't even have Twilight. Get out of here with your Walking Dead. Then, on the same day and in the same 7th grade class another boy asked me to order more Charles Dickens. The range of 7th grade personalities and interests is best represented by walking up to a soda fountain and fixing yourself a Suicide. (Tell me that's not just a 1980s California thing.)
Observation: parents everywhere will let their kids watch movies about zombies or read a book about kids killing kids, but they'll freak the hell out if there is kissing or bad words.
Thursday
I was unproductive all day but was able to pull it together late afternoon and make some pizza dough using a recipe from Jessica's cookbook. I popped them in the freezer and boom. Two meals for next month now ready to go.
Some answers to a few questions:
Go ahead and use the #eatathome tag on Instagram. The more the merrier! The cookbook I will be using for freezer meals is the one I have mentioned before and linked to above. It's great, and I highly recommend it. If you don't feel like buying anything right now, check out Jessica's websites: Life As Mom and Good Cheap Eats. Both are a great source for menus, budgets, and meal plans.
Friday
I just found out my favorite flour might be sold at Walmart super centers. Say what?! I've been buying it at health food stores, no doubt at a premium. I'm going to Walmart and buying at least two bags if it's true. If it's not, I'll go tot he health food store and buy one bag. That flour makes the best cakes!
The Weekend
The Mister comes home! Yay! It's only for a couple of days, but we'll take it. I'll use some of that time to make same meals ahead of time and do some meal planning.
Have a happy, happy weekend, everyone.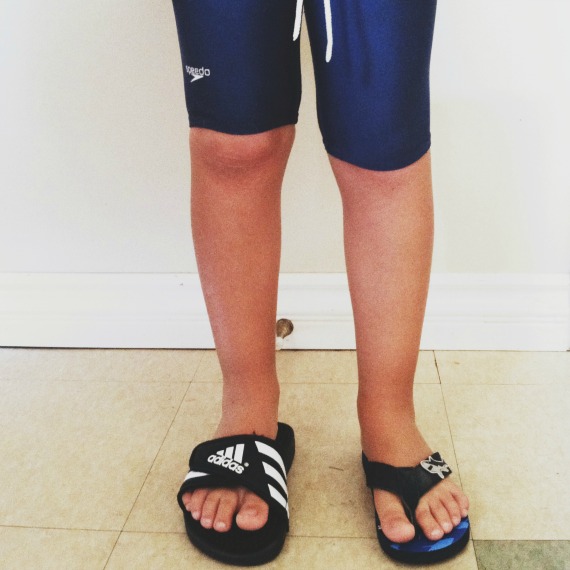 This is what you get when you ask Nico to get ready for swim team try outs and he can't find his other Adidas slide. What the heck, just slip on a shark flip-flop! This is after I asked him what on earth was wrong with his jammers. They were down around his calves, like he was pulling them on, got the waist past his hips and when it came to adjusting the legs so that they came to the knees he just said, "Eh. I'll swim in capris."
This conversation actually happened:
"Nico, you had better find that shoe. We are not leaving the house until you are wearing shoes."
"Mama, I am wearing shoes."
"I MEAN THE SAME SHOES!"
Monday
Mondays are my busiest days in the library and I learned you should never try to read poetry on the fly to little ones because a teacher made a request minutes beforehand. Not unless your library has modern poetry and nursery rhymes that don't involve children being spanked, whipped, cooked, or dying. Never was I so happy to be a good on my feet word thinker who can simultaneously read out loud while reading ahead. That farmer boy fell off the roof and died? Not on my watch. He tripped on a cow hoof and cried! That's why we pick up after ourselves, boys and girls.
Tuesday
I must not have traumatized them too much because on their way to a potty break a group of them waved and said, "Hello there, Mrs. Library Lady!"
Wednesday
I bumped into two moms at Starbucks before my classes started and before I knew it, they were with me in the library helping. They were sent from God! With them there, I could spend more time with each child finding books, figuring out what they like/don't like, and familiarizing myself with the collection. A 7th grade girl said my outfit was "smoking" and I was able to sneak in a lecture on Miley Cyrus and objectification. What? They crack the door, I'm going to kick it open.
Thursday
I bought a camera charger and started reading Beautiful Ruins in earnest. It's actually starting to pick up! I was getting worried.
Friday
More kids, more books, more reading. No bad luck.
The Weekend
I think I'm going to try to get some William Morris Projects done, and of course finish my reading. I also want to sneak in some episodes of Fringe and Hell on Wheels.
Happy, happy weekend, everyone.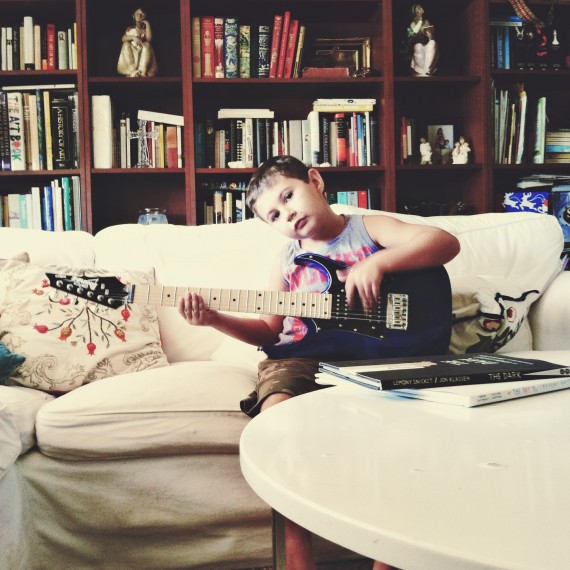 I lost my camera charger! So annoying. I'm not happy about it, but I am happy camera phones are somewhat decent these days.
Monday
We had the day off which was great, since I spent it sleeping off the hangover that is life as Nico's mom.
Tuesday
My first day in the library! I was nervous, but I had help and it ended up going as well as could be expected when someone who doesn't know what to do is running the show. It will be a year with a big learning curve, but by the end of it I think I might be able to call myself a faux-media specialist assistant in training wannabe.
Wednesday
The middle school kids came to my neck of the woods. The night before I turned to the Mister and told him not to tease me but I was really nervous to meet the 6th and 7th grade kids for lots of reasons, but mainly because I wanted them to like me.
"Trust me," he said. "You have nothing to worry about. If you were my librarian in the 7th grade, I would have liked you. Really, really liked you." In other words, he teased me and was no help.
It didn't go as poorly as I feared. The kids were, for the most part, well behaved. The boys did a lot of posturing, a lot of trying to impress everyone in the room by doing things that would impress no one past 3rd grade. The girls spent most of their time rolling their eyes at them. Honestly, I loved watching them interact and hanging out with them. They could do some more leisurely reading, but we'll work on that. I did convince three girls to read Anne of Green Gables by calling it a love story everyone has to read at least once. Next week one boy who "hates books unless it's about sports because there's no action" wants to check out The Outsiders because I called it a book about a gang war that "my husband, who can be a total dude" thinks is the best book ever. He looked at me and said, "I want to be a 'total dude!'"
"Well, then you're just going to have to read The Outsiders by S. E. Hinton because it's a dude classic. Then I'll see if we can watch the movie–it has Tom Cruise!"
To which the romance table responded:
"Oh my gosh! He's, like, sooo old and gross!"
[And I was doing so well!]
"It's an old movie! This is was made back when he was young and cute. (And not so crazy…)"
The older kids were great because I got to slightly geek out on books with them and explain to them that The Hunger Games was inspired in part by Greek Mythology (all our Greek Mythology books = immediately checked out), and series like Hunger Games, Divergent (book 3 out October 22!), Matched, et al have a dystopian society in common (had to explain what that was), and usually one young kid around their age able to make a difference by thinking independently. Hint. Hint.
Aaaaand now I'm geeking out here. Sorry about that.
Hello! Still with me?
Thursday
I had 4 pre-K and Kindergarten kids breathing all over me while I read Peter Pan. And I had a little line forming behind me of kids that wanted me to read other books. I don't remember Mikey or Nico ever being that small.
Friday
I need to put down the little kid books and start reading Beautiful Ruins. I suck at my own book club! I'm also going to be responding to comments. I don't have access to the internet while I'm at school, so I'm a little behind!
The Weekend
Books, obviously. I've got some reading to do on the Dewey Decimal system (don't laugh, I'm actually pretty excited about it) and I think I'm going to fashion a book hospital similar to some I've seen on Pinterest because wow the little ones really do like to report ever single microscopic tear they find.
Have a happy, happy weekend everyone!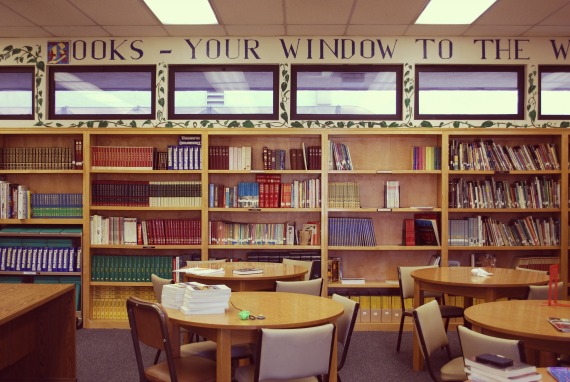 I touched 90% of the books on the back wall of the library. This is the semi-before, and you can probably tell where I stopped last year. (The two shelves on the far left.) The wall extends another bookcase to the left and about 4 or 5 to the right. I cut the picture off to protect the identity of a student/victim who was there because her mom was helping me. I put this off last year because I thought it was going to be a lot of physically taxing work unshelving, organizing, and then reshelving countless sets of encyclopedias and reference books in an eye-pleasing, but still logical and useful, manner.
So right! Not only was it physically demanding, the air conditioning wasn't working and it was 101° on Thursday. To look at it, the job doesn't look all that big, darn it.
I think it's going to look good in the end and be worth the effort, even if the only person who appreciates it is me.
The week was a blur, but the happiest moment by far of every day was the moment I finished my walk, took off my sports bra, and put on the coolest, loosest pajamas I own. My husband may be gone all week, but I'm so beat I can't even manage to put on my Paranoia Uniform of yoga pants and tank top. I'm hoping to deter any criminals by laying down an impenetrable perimeter of frump.
Have a happy weekend, everyone.