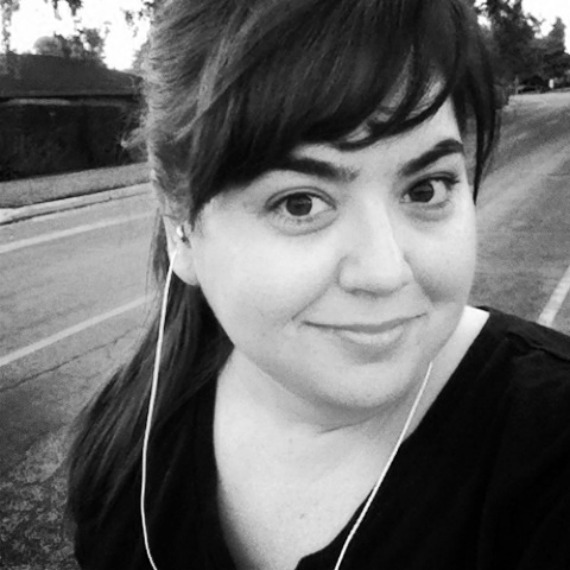 Six months ago, I wrote two posts on weight and disordered eating. (This one and this one.) Yesterday I put them in my favorites page so I can find them easily. It's a subject I don't like to write about because I don't know how to do it without sounding maudlin or, worse, making light of a serious disease. It's a balance that, much like with my issues with food, I still struggle to achieve. I put them in my favorites because until I reread them for this post, I hadn't looked at them again. This was a mistake.
I am uncomfortable with flattery or attention (all attention, positive or negative). I want it, but I don't. I'm not sure why, but this is how I have always been. Both posts were well received. I received comments and links and emails of support and thanks even though I stated clearly in both posts that I was not one to admire. I don't know the answers. I white knuckle through every day, holding tight to the thread of normal I can reach, and most of the time I feel it slip through my fingers.
When the comments and links and emails came in I did what anyone in my broken position would do. I took it all in and panicked. Clearly I wrote it all wrong. Clearly I put forth a false image. Clearly I bamboozled everyone. Clearly I needed to resolve the cognitive dissonance between my mind and my scale. So I gained back the 2 pounds I lost.
It was a failure and disappointment, but at least everything matched up.
Time went on, I met with Diane, and I lost the two pounds once again. I ramped up my exercise. I walked in triple digit heat for miles and miles. I wore a tank top almost everyday with my compression pants, which was huge for someone who the year before didn't like to wear short sleeves.
I don't like to walk around town in my workout clothes, and certainly not a tank top, but on May 14th I was hot after a very long walk and decided to brave the public. I considered it an exercise in body confidence, something Diane wanted me to work on.
There is something you should know about me. I'm shy and introverted, but only when it comes to talking about myself. If you walk up to me in a store and ask for help, I'll gladly help you search the aisles for almond butter. I'll talk to your kids or make small talk. I've asked check out boys about their piercings. In my experience, they kind of love it.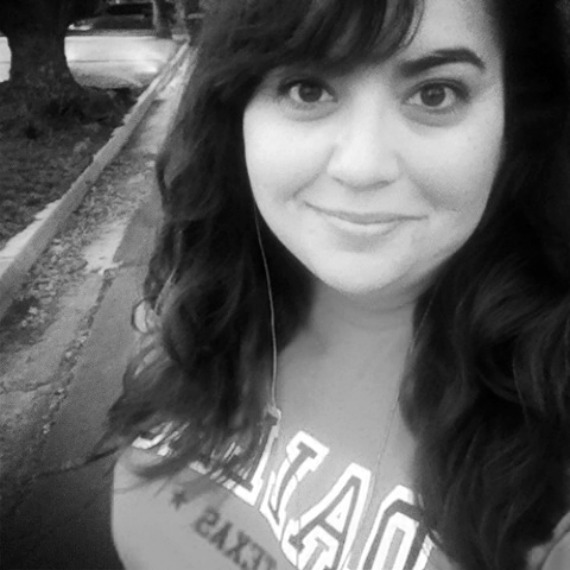 I went to the health food store wearing my pants and tank top to buy my favorite vegan takeout sandwich and some coconut vinegar. While I was there I remembered these chips I really liked, so I went down that aisle to pick up a single serving bag. I was there when a woman approached me from behind and me, stupid, stupid me, thinking she was looking for almond butter, turned around and smiled.
She told me that it was obvious I needed to lose weight and then she launched into a series of diets tips, one of them being the ingestion of safflower oil. She even brought me a bottle.
I held up my hand and told her I wasn't interested. I'm not sure if my face showed anger, shock, or hurt (I felt all three). She said she was sorry she offended me, but she was only trying to help me.
There is something else you should know about me. I don't cry. The last time I remember crying was almost 8 years ago when my sister in-law's father died, though I know I've shed a tear for mushy animal/kid stories and the like since then. But full on crying? No. So when I stood there in the cracker and chip aisle and stared blindly at a white box of gluten free rice crackers I thought to myself that would be a fantastic time to cry. Instead, I tweeted (!), texted Diane, and paid for my lunch–except for the chips. Those I put back.
I sat in my car and took my first bite of sandwich while thinking about not thinking. That bite sat heavy on my tongue like an unconfessed sin. Two minutes later the rest of the sandwich was in the trash uneaten. Within ten minutes I was at Target holding a large iced coffee and a hand-basket of Lean Cuisines. I didn't eat another full meal until I'm not sure when.
And in that time, I gained 5 pounds.
By the end of May I was in a state and joined Weight Watchers. Diane questioned my decision. (Hah! Understatement.) She felt it would be a huge trigger for me and that nothing good would come from me counting and measuring and, besides, I'm being shamed in public for free, so why pay for it? (This pretty much sums up her thoughts on diet programs, and you won't changer her mind. I've tried.) I was determined to prove her wrong.
I gained two pounds the first week, and I'm still not sure how I managed it because I was starving the entire time.
The next week I dropped the coffees, the diet food, and Weight Watchers. I ate ice cream. I lost the two pounds I gained.
I am still 5 pounds up from my last post. But then there is that woman who thought I lost 30-40 pounds. So, really, I have no idea what to think. And I that's all I can do right now–not think too much about it and trust that everything will be okay.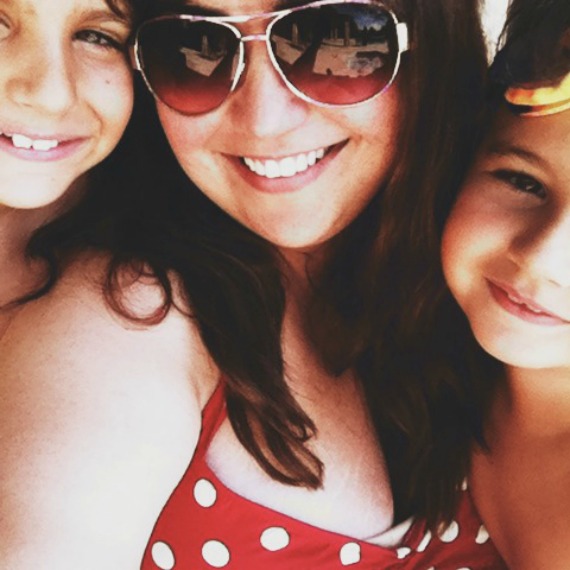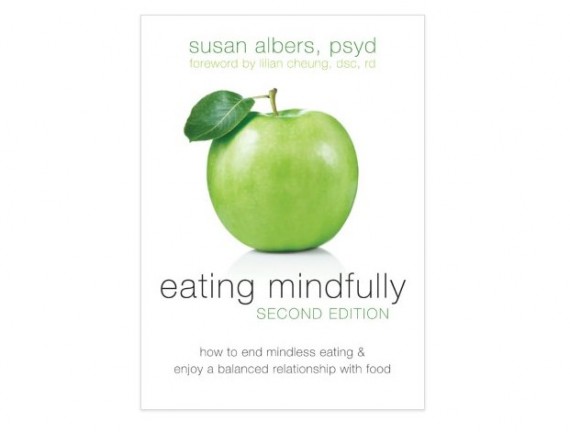 I wasn't entirely on my game when I wrote today's post. I forgot to include the name of my nutritionist, something a few of you asked me to share. Of course! I didn't include her name in my post on Wednesday because I didn't yet have her permission, but now that I do I can tell you I see Diane Keddy, MS, RD, FAED in Newport Beach. I found her a couple of years ago after a marathon Google search for a nutritionist who specialized in treatment of eating disorders. I'm very happy with her except when she refuses to be manipulated or believe my lies. Then I think she sucks. She's not cheap (treatment of eating disorders never is) and she makes you do unreasonable things like giving up diets and eating regularly. You've been warned.
Eating Mindfully is a book Diane likes. Every time I ask her for a book she feels best represents how people should eat, she recommends this book. I've picked it up a dozen times in the store, but have yet worked up the courage to bring it to the register. It's small and simple and looks a little woo-woo. I'm going to try to read it this month, and I'm thinking I'll update on how things are going for me–if you are interested–every 1-3 months. I say 1-3 months, but I'm secretly hoping it won't turn into 10.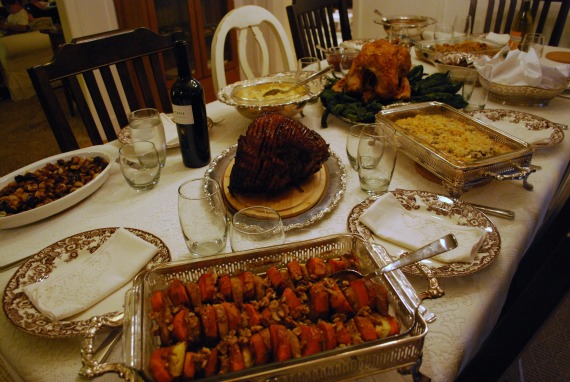 My mother will often toss around the Spanish word empacho after a big meal. It's a romanticized way to describe indigestion that can kill you if you don't drown yourself in herbal teas (te digestivo). Empacho can't really kill you. I know this because, folks, me empache.
I didn't, really, but I thought I did. One egg, two ounces of ham, and one roll for breakfast was all my stomach needed on Sunday to become really, really angry. Christian Bale angry.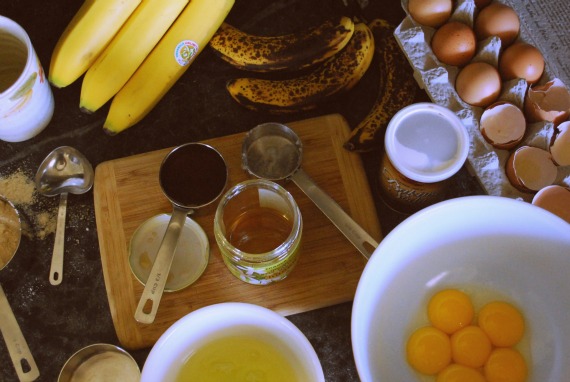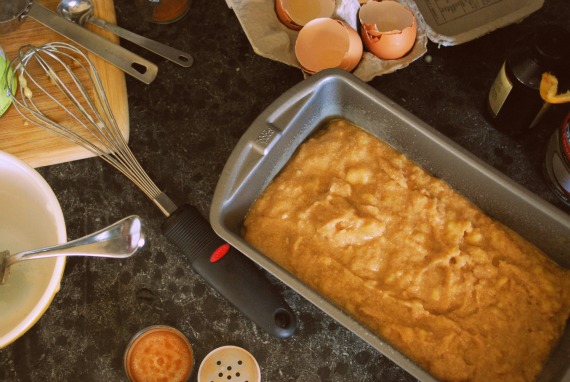 I drank my weight in tea and followed the directions on the Mylanta bottle precisely. I was in the middle of making Summer Harm's banana bread when I decided this was more than romantic indigestion. I tried unsuccessfully all morning and afternoon to find a doctor who could see me, to no avail. My entire city was suffering from empacho.
So, for the first time in my life–not counting preterm labor with Nicholas–I went to the urgent care. The man triaged ahead of me had a similar complaint, but he lasted two weeks before deciding to see a doctor. I gave him a once over and decided he must have had two eggs,  four ounces of ham, and two rolls. I gave the woman crawling out of the bathroom holding her stomach a once over and, after watching her gingerly sit down in the wheelchair, decided she either ate the entire ham, turkey, green bean casserole, and pumpkin pie or her appendix was about to burst out of her stomach like a fully gestated alien.
Sidenote: her husband had the most inane grin on his face the entire time. The woman was in excruciating pain and there he was, politician-smile firmly in place. The poor woman was trying to get into her wheelchair without upsetting the alien while he stood beaming at her purse strap like a boy on a first date. I wanted to tell him to go drink some chamomile tea, relax, and put on his game face. Now is not the time to showcase your wide range of crazy.
They ushered me back quickly, and the short of it is I have gastritis, an inflammation of the stomach lining. I rarely drink or take ibuprofen, so they believe it was caused by stress and ham.
"Ham?! I had two ounces, and that's actually the first time I've tried had baked ham."
"Sometimes that's all it takes."
Zantac twice per day, Mylanta three times per day, and a bland diet. By Saturday I should feel better. I was still muttering about the injustice of gastritis over 2 ounces of ham when the nurse came in to take my blood pressure. As we waited for the machine to take my reading he listened to me sympathetically and flipped through my chart.
"Well," he said, "you are about to turn forty. This sort of thing happens as you get older."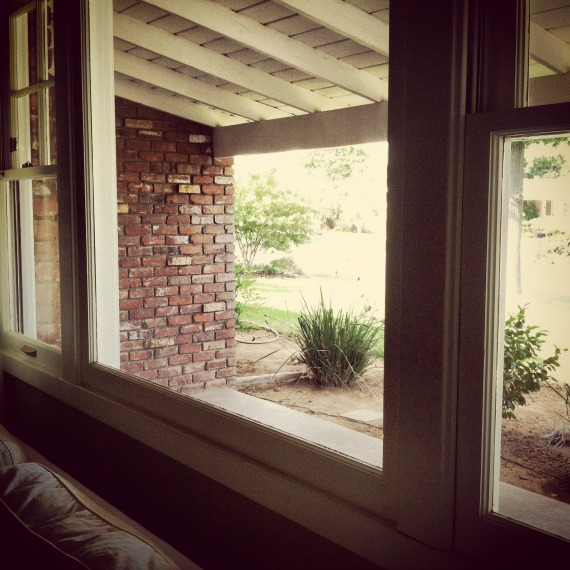 I couldn't work up the nerve to enter my own comment section until after the boys were in bed last night. Truth be told, not only was I overwhelmed (thank you for being so gentle with me in that post), I was suffering from caffeine and chemical withdrawals. I dozed for a couple of hours in the afternoon once I admitted that my headache and bad mood were going nowhere and doing no one any favors. In short, I was a horrible, nasty, viper of a mom yesterday. Not even a pretty view out the front window could cheer me up. I put myself in time out.
Once I finally had the courage to concentrate on your comments, I found some great resources and recommendations. I'm putting them all together in this post so it's easier for us to check out. It goes without saying that I would love for you to share in the comments any more sites, books, or articles related to emotional eating. Strange the way life works, by the way. Last week I was working on a post on emotional eating experts to follow on twitter. I never got around to it, but I think that would be a nice addition to this list, too.
Websites
Word of Wisdom is a wonderful blog written by a retired engineer with a medical background. I used to read it when he first started blogging (his daughter runs an incredible blog of her own). I don't know why I stopped reading, but it's back on the reader again.
The Happiness Project is one every one has at least heard of, probably because of the book of the same name. Lisa mentioned that Rubin makes an interesting distinction between two personality types: abstainers and moderators. The personality distinction would go a long way in explaining why intuitive eating doesn't work for everyone.
Another Lisa (Lisa in Seattle) recommended The Fat Nutritionist. I read the post she linked to on emotional eating while Mikey and Nico were at swim camp. I went over her blog with more attention to detail last night, and was thrilled to see she cites Ellyn Satter as a personal hero. That's all I needed to read. In all the research I did on childhood eating disorders this year, Satter is a name that came up again and again as an expert in the field.
I love Geneen Roth, so I was happy to see at least one person recommend her books.
"We don't want to EAT hot fudge sundaes as much as we want our lives to BE hot fudge sundaes."
I love her writing voice, I love what she says, and I love that she still screws up and then writes about it. (She fell victim to Bernie Madoff.) Despite that, I haven't had luck with her eating plans. But, if I'm being honest, I've never really followed them or gave them a shot! Sitting down to eat, eating slowly, allowing yourself to have ice-cream for dinner…all of it like the ramblings of an insane person. Katherine found one of her books in college (Breaking Free From Compulsive Eating, which was retitled Breaking Free From Emotional Eating and is listed below) and believes it changed her life and her relationship with food.
Books
This is How | Augusten Burroughs
Never Satisfied: A Cultural History of Diets, Fantasies, and Fat | Hillel Schwartz
The End of Overeating: Taking Control of America's Insatiable Appetite | David Kessler, MD
The Happiness Project | Gretchen Rubin
Breaking Free From Emotional Eating | Geneen Roth
Update: Man, my head is still pounding and it's now the next morning (I wrote this last night). I had to edit this post for 32 grammatical errors in the first sentence alone. I would close with something clever, but I don't have it in me. Again, please share any great resources in the comments.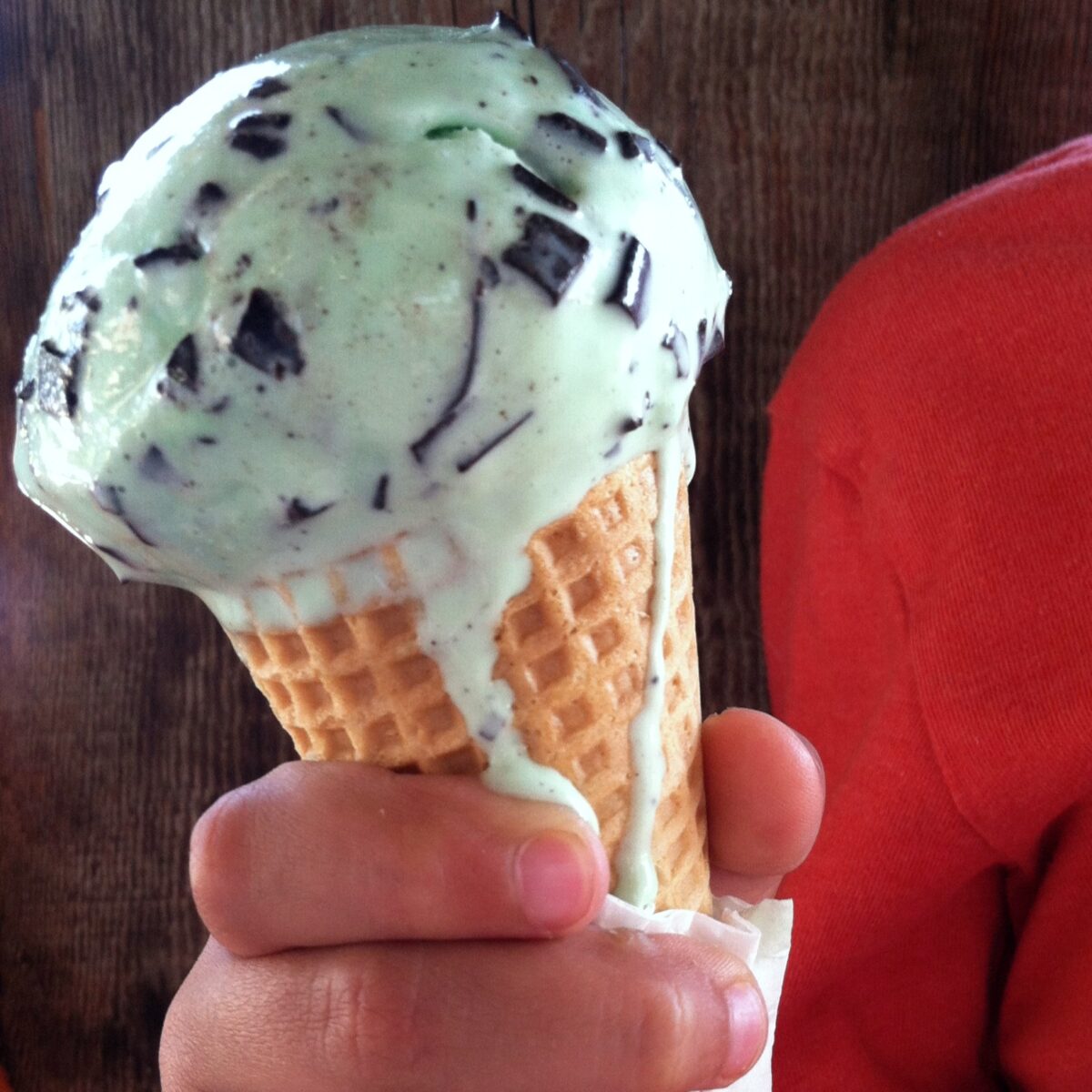 My issues with food were going well until they weren't. It's insidious, this disease. It starts off with a skipped meal, usually breakfast, because I'm busy. Too busy to bother. A diet-coke to help me make it to lunch. The small shot of caffeine is enough to give me energy to read later than usual, so I stay up late. I have to wake up at the same early hour, though, so I drink two diet cokes and make it past lunch. Those diet cokes mean I can stay up even later, and by the time a week has passed, I'm drinking iced coffees throughout the day to stay awake. I'm not hungry until dinner–which secretly thrills me–but by then I'm famished. Eating dinner flips a switch. Soon, I'm ravenous–though I'm pretty sure it's false hunger. I read to keep my mind off the hunger and stay up even later.
And so on, and so on, and so on.
I get to the point where I have so much caffeine and artificial sweetener coursing through my veins that I don't know what I want or whether I'm hungry. Everything tastes false. I puff up heavy and soft, a fluid-filled sac of sodium and discontent. My skin feels tight when I flex my fingers.
This can go on for weeks until I swing the other way and indulge my cravings, cravings I'm unable to ascertain most of the time. I don't know what I want. Nothing sounds good. Everything sounds good.
I'm in a better place right now, as impossible as that sounds. I've been skipping meals for the last few days, but this time I'm cognizant of the subterfuge my mind attempts on my body. I know what I am doing, but I feel like a cadet surrounded by an elite militia. It seems hopeless. I read the story of David and Goliath to remember it isn't.
I drank a diet coke yesterday, but not the coffee I wanted at 3:00pm. I drank water, several glasses, and sat and wondered what to do.
Helpless and clueless, I did the only thing I could think of. I made my breakfast and put it in the refrigerator so that in the morning I have no reason to skip my first meal. All I can do is take it one meal at a time, one day at a time.
I'm doing many things right. I go to meetings. I talk to other emotional eaters, though not as many as I should. I journal, but I could do better. I could read more program literature, I suppose. I need to meditate and pray. But I do a little bit of all of it, enough for me to know I'm walking a thin line. Enough for me to remain somewhat sane when my friend shares she lost 30 pounds in two months.
I'm happy for her, truly. But I'm so tempted to do what she is doing. I want the quick fix. I want someone to tell me to take this pill, inject this chemical, eat this root harvested by elves wearing striped stockings. I would do it all, any of it and gladly, if only I didn't know my success would be fleeting. I hope her success is lifelong.
Along with from the small areas of improvement I mentioned above, I wonder what I should eat. I was doing fine with my meal plan until the other day, when I read an article in a magazine about intuitive eating. It was all my mind needed. Within minutes I had myself convinced that my strict meal plan was preposterous and that I could eat a little of whatever I wanted. What a shame that what I eat has little to do with what I want, at least not physically.
Since then, I've been doing research on intuitive eating. I found many practitioners and proponents, all with wonderful and inspiring messages. I own many of their books. The thing is, that's all I found. In all my research, I never did find an individual who successfully repaired their broken intuition eating a little of everything they wanted. At least not an intuition as broken as mine. I found people with hope and acceptance, but that's not enough for me. I want it all.
I want hope and acceptance and results. That is the only true craving I recognize.