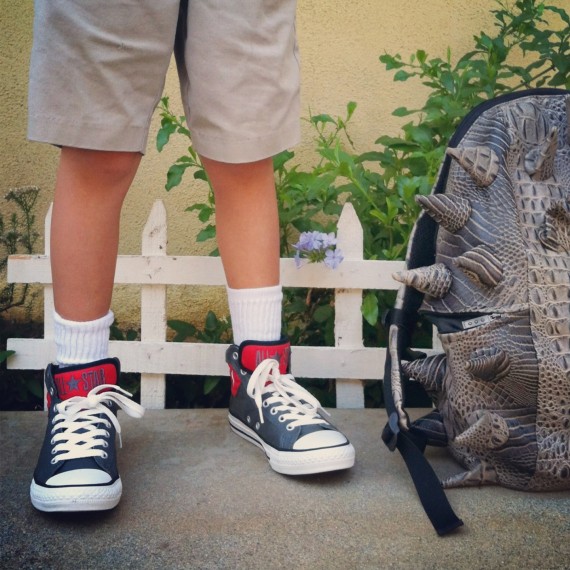 I don't know about this week! Yesterday I was on the phone with a man in the fraud division of my bank because someone in Georgia was having the time of their life in a Dollar Tree on my dime, and when he asked me how my day was going I said, "Absolutely lousy, but thank you for asking!" He laughed and told me the money hadn't left my account but to keep an eye on it. I asked him to double check because my bank balance was considerably lower than it was the day before. So he taptaptaps on his computer and asks me if the charges to the Ford dealership were mine and I said, "Oh, that's right. How could I forget? My car DIED as I was crossing a lane of traffic during rush hour on one of my city's busiest intersections after boo-boo fixing one of my children at school."
So then he laughs even harder and says, "Okay…so…the vet charges. Is your dog dying?"
And I said, "No, that was just dog food."
I made him laugh a few times and even though it was a result of my craptacular week, it did make me happy. My favorite thing to do is to make people laugh.
Monday
I walked 2 miles in triple digit weather and felt great about it. Strike that. I felt downright humble-brag, post a sweaty picture of myself on pinterest-smug about it. So there.
Tuesday
I went on another long walk and saw this guy. ZOMG WHAT. I want to meet these people. I guarantee they wear matching wolf sweatshirts–and not because they're ironic hipsters.* I need to know how they reached the conclusion to place a life-size Native American doll in Western wear on a plastic patio chair. (And why they don't fix the right foot!) I can speculate that it happened after a marathon of Curb Appeal and one too many neighborhood cats, but you can never be too sure. I had a friend in college whose parents had a life-size grandma doll that wore curlers and held a broom. They had her positioned so she appeared to be looking into the front yard from behind a kitchen curtain. You know, like she heard something suspicious and she was checking it out. I'm dead serious. She even wore housecoats–several, it varied according to season–and she had a name that I can't recall. They said she was a great alarm system, but I don't think it's for the reasons they assumed.
* Ironic hipsters, just stop. Honestly.
Wednesday
Mikey christened the leather Chucks my brother and sister-in-law gave him for Easter. We buy our kids shoes, preferably cool shoes we may not spend the money on ourselves. It's awesome, and even the kids like it because my brother has great taste in shoes.
Thursday
Larissa came over and taught me how to hand-tie the quilts! It's only a matter of time before they are on the bed and I can call the boys' room done for now. I can't wait.
Friday
Today will be a day without insults, broken down cars, injured children, fraud, and scales that lie. Also, I was promoted at Wayfair to regular writer aka Homemaker! I've made the cut. Here is my first post, though I'm still listed as a guest here.
The Weekend
I'm so far behind in my reading, it's not even funny. Let's discuss The Shoemaker's Wife on Tuesday, May 28. That leaves Daring Greatly, which we'll have to bump a week or two. I swear, I'll get back into the swing of things. At least that gives some of you with long wait times at the library time to get the books. (?)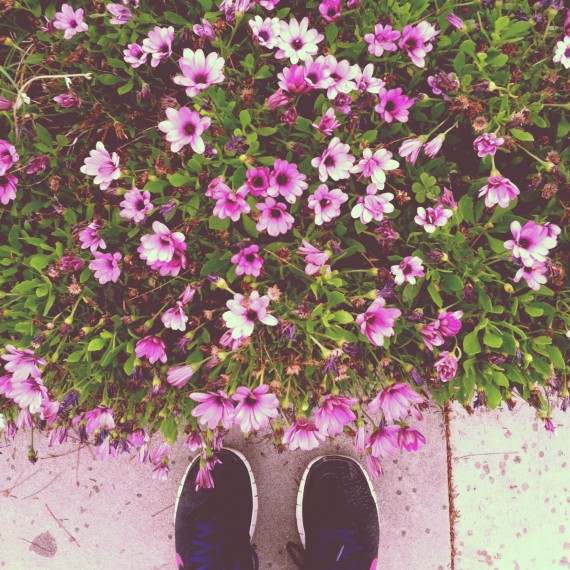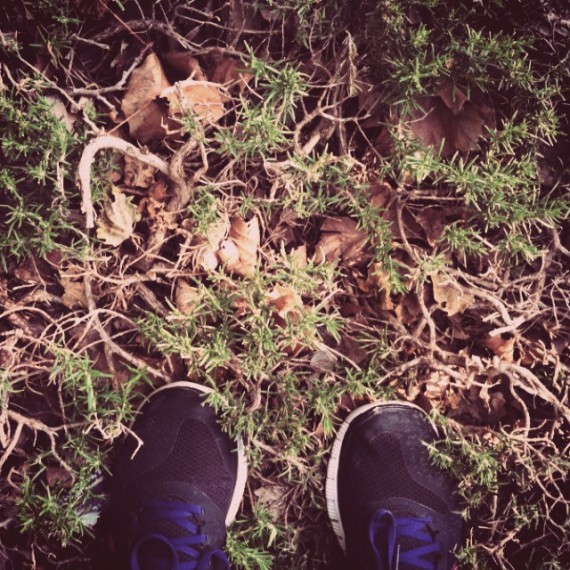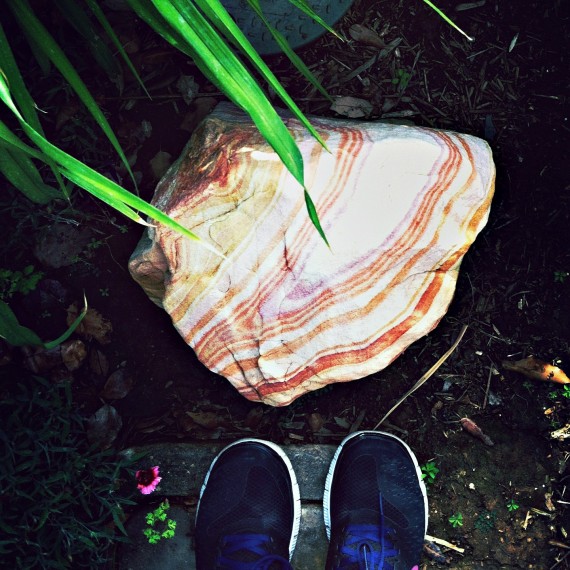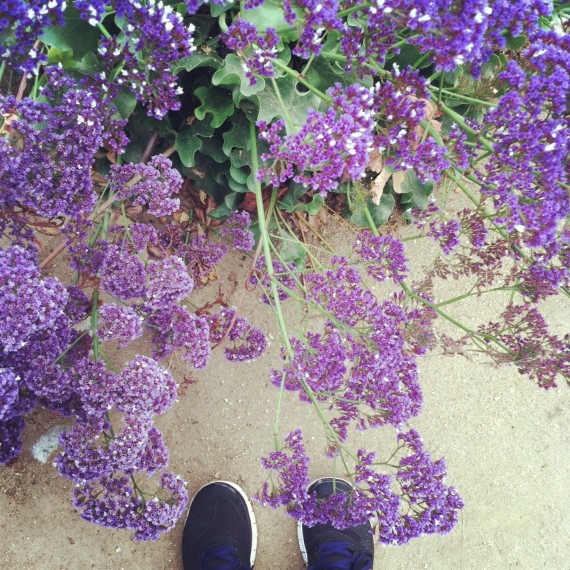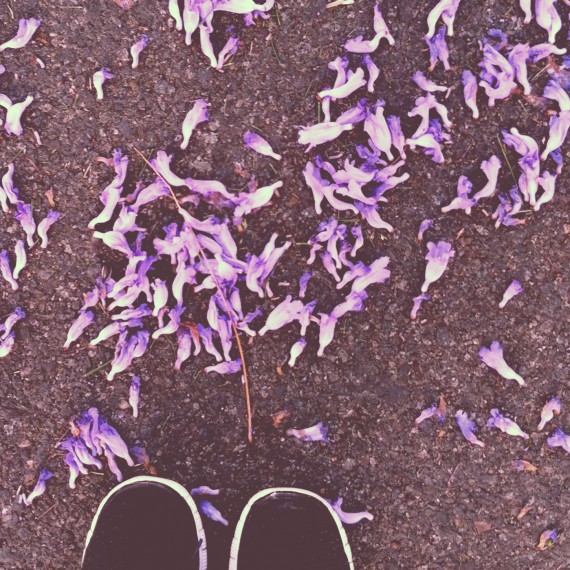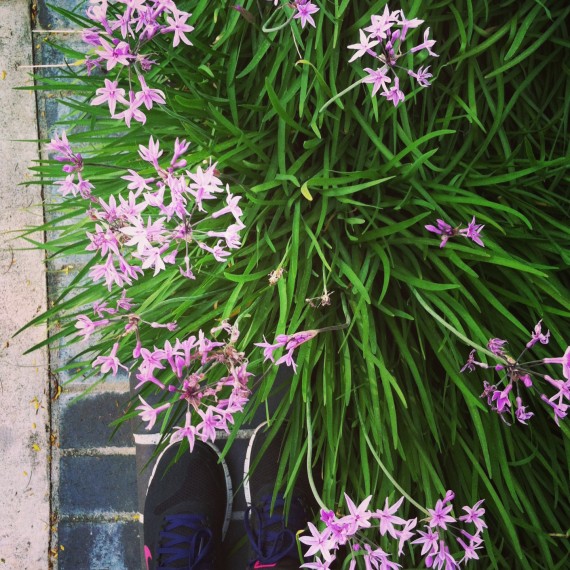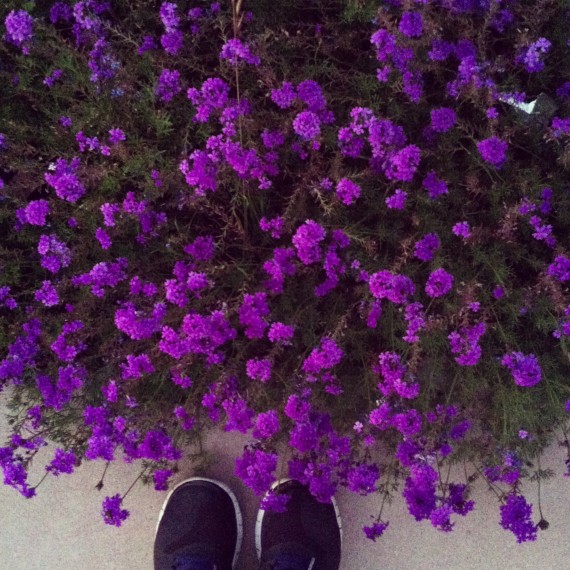 Body
Purple is the hardest color to photograph. Ever. It turns blue! Aside from that, this week was hard from a 1st world project perspective. Hard, of course, because I put challenges upon challenges on myself. I get bored and assume you get bored and try to shake things up and make it fun. (?) It didn't help we had a heat wave. In February and April I thought purple might be the Color of the Inland Empire because it seemed everything was purple. Thinking that, I thought this week would be easy. Instead, everything withered and died in the heat. I should have made this dessicated week.
I am proud of myself for walking in the heat. On Sunday I trucked through 2.5 miles in 40 minutes–including several stops for pictures of dead things that were once purple–with the temperature still in the high 90s. I was covered in sweat, and I was the day before, too, but it's worth it. Of course, the next time I do that I will check my appearance in the mirror before I head to Trader Joes to buy organic eggs from a tattooed hipster. After I paid for my groceries, the kid looked at me and says, "So, is this your last errand, or do you have somewhere else to go?"
And I say, "Nope, this is it. I'm on my way home after this."
"Cool."
It was an exchange I thought was really odd because until he handed me my receipt and asked me my schedule, he didn't say one word to me. Well, he asked me if I checked my eggs for cracks, but other than that, he didn't say one word to me. I grabbed my bag, gave him a wave and didn't give the man-child another thought until I got in the car and looked in the rear view mirror. Because my bangs are long, I have a habit of pushing my sunglasses on my head to keep them off my forehead until I cool off. I must have forgotten to tweak my bangs once I took my glasses off because a chunk from the middle stuck straight up. Like, straight up.
But only the middle part. The sides were still down.
Maybe he was debating breaking the news to me about my bangs and it hinged on how much longer I planned to be in public.
Mind
Excited! Kate let me know that Ann Voskamp's 1000 Gifts app was free (don't know if it is regularly), so I downloaded it to keep better track of my gratitude list. I like it because you can take pictures and share them on Facebook, Flickr, and Twitter, which I will probably do.
Spirit
Sadness. I'm going to start reading the Bible again because we just found out one of our favorite priests–the one who coordinates the trips to Rome–has been assigned to Manilla and will leave us in June. He'll be working with the charities in the area. That's the way it is in the priesthood. You get assignments and go where you're needed, just like the military. He mentioned over Christmas that his term was coming up and he wasn't sure if they would let him stay or if they would transfer him. I knew they wouldn't let him stay–he's too good. He should have dumbed it down a bit. Kidding. Mostly.
Why this inspired me to read the Bible is still vague in my head, but I'll take it.
Song of the Week
Johnny 99 — Shovels and Rope
I love them so much. It doesn't hurt they are a husband and wife duo. As tumultuous as it can be for the couple, band members in a relationship make the most passionate music.
Here is the same song played live. Covered in sweat (awesome), she misses a beat in the middle, and for some reason I'm enamored by the fact he's wearing a baseball cap.
One last fan-girl moment. I can't wait for this.
The top video is of Mikey pitching–only the first one is a strike–and the bottom one is of him catching. Those of you who don't have children in organized sports might be surprised to hear all the commotion from the coaches and parents. I think the kids are listening to 12 different voices at any one time.
Monday
My husband got a big promotion at work a couple of weeks ago, and today was his first day on the job. So far he likes it. We're still figuring out how this will all work. He will work from home when he is not traveling, but he will be traveling a lot.
Tuesday
It was the first travel day on the new job, which meant he missed Mikey pitching and catching. I took a video of both, which is why it is bare bones basic. I did much better with the pictures, if I do say so myself. I really need to learn how to make videos. I assume the first step is to buy a video camera instead of using a phone.
Wednesday
I really appreciated your support on my post about perfectionism, as much as it surprised me. It's funny–I wrote that post after Mikey's game feeling tired and rushed. I thought it was too long and a bit of a jumbled mess. I woke up early and almost deleted it before too many of you read it, but I didn't miss the irony in doing that so I kept it up. I still have so much to learn about writing and blogging and self criticism. Related: Hillary Rettig wrote a book on perfectionism. I don't know how she got wind of my post, but luckily I passed muster for the most part.
Thursday
Daddy came home today! Also, I'm getting requests to read, review, and talk about books, which I love. Here is a guest post I did on Erin's blog about what I'm reading now with the boys. As for reviewing books, I do worry every time someone asks me and I always encourage them to go through my previous reviews because I'm not really a gusher or a ZOMG I super-heart this book! kind of gal. I'm picky and like to complain, but not just for the hell of it. Well, at least not in this case!
Friday
I'm so behind on reading–mainly because I got caught up in that stupid YA/NA list of books and read three paranormal books (Sunday, Monday, Tuesday) for I have no idea why. Today my schedule is pretty light, so I should be able to catch up on my reading for book club and for a review I promised. A day where I "have to" read isn't a bad day at all.
The Weekend
I have no idea! It's Mother's Day, and I don't know what the family has planned for me. I can tell you I have planned to become intimately familiar with the corner of our sectional to do some reading.
Have a happy, happy weekend everyone!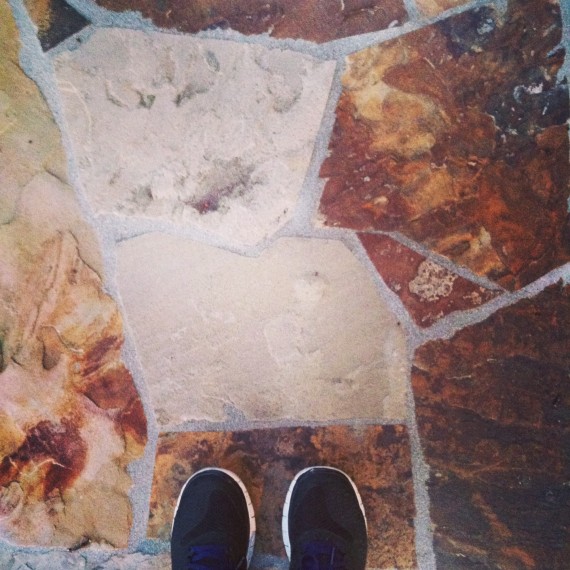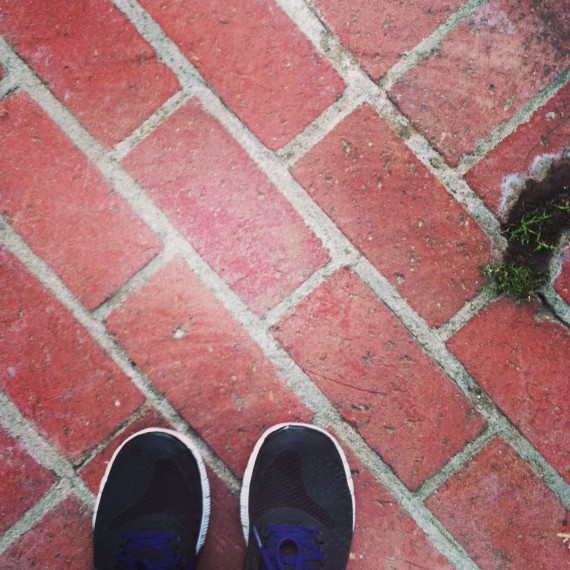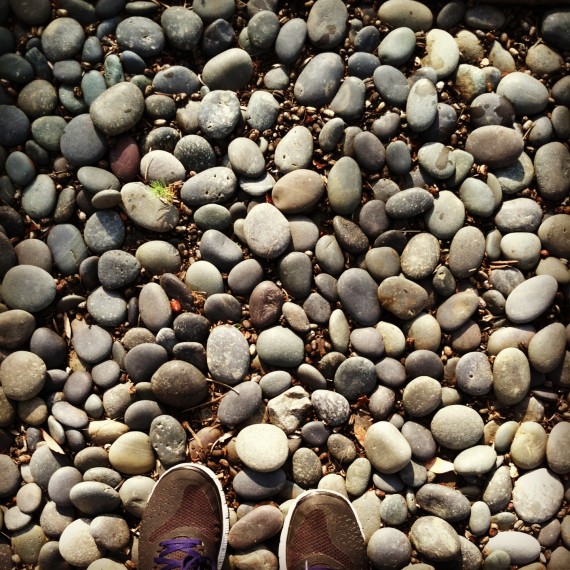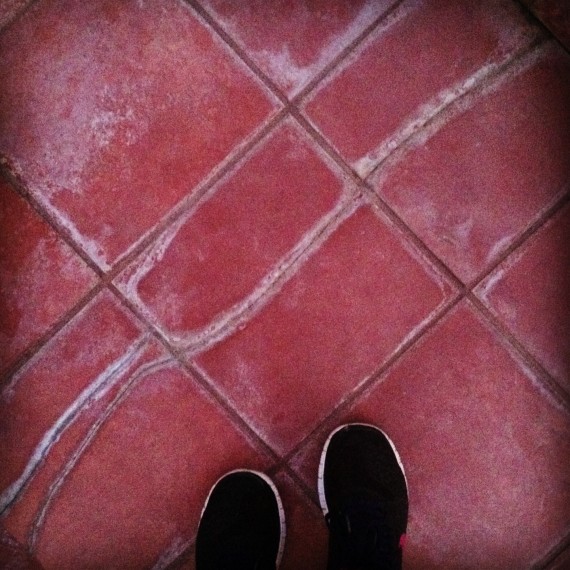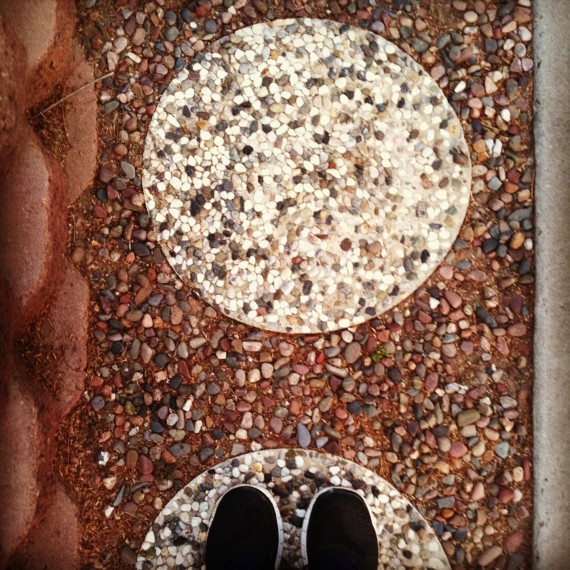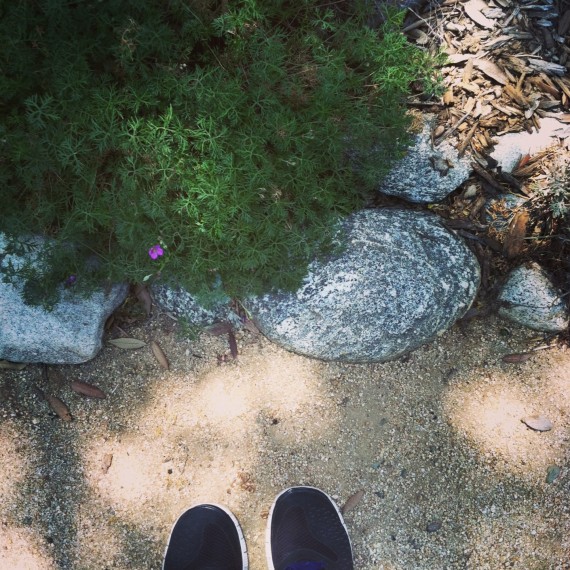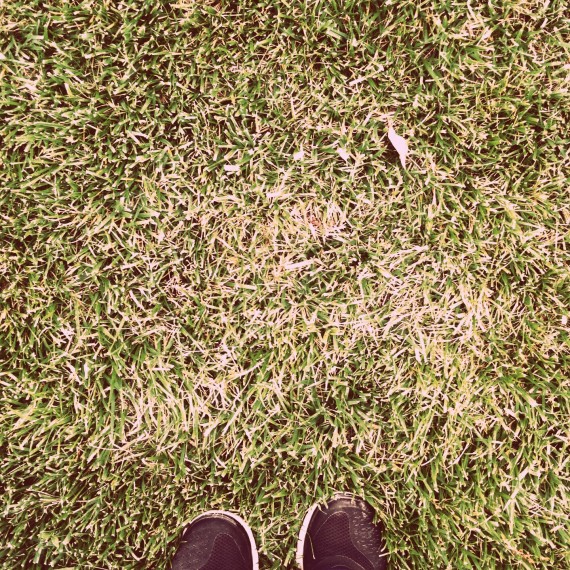 Body, Mind, Spirit
Surfaces week! I'm running out of things to take pictures of, but at least my enthusiasm for walking isn't waning. I swear, sometimes I think it's the only thing that keeps me sane. I get to go out, even if it's only for 12 minutes, and be completely by myself. This is so key for an introvert. I need at least an hour per day where I am by myself, completely alone. Normally I do this at night by reading, but walking is even better because I get both mental and physical benefits.
I also get to listen to the music I want to listen to without interruption while I walk whatever route suits me. Most of the time, I don't even know where I'm going. I'm convinced my iphone is a photographic divining rod leading me to something I can instagram with my feet. So far, the gut feeling technique hasn't lead me astray too far.
I chose surfaces this week because I thought I would be staying in Laguna for the conference. Since I didn't know where I would be walking while there, I figured a treadmill or sand would factor in somewhere. Ergo, surfaces. I stayed home so my planning ended up for naught, but the challenge of this photo assignment was good. I had no idea how many of the surfaces in my neighborhood were red. Also, photographing grass with black shoes is really hard. The colors went whacky and it was boring. The end.
The other surfaces: Arizona Flagstone, brick, river rock, Saltillo tile, pavers, and decomposed granite.
Song of the Week
Lost in My Mind – The Head and the Heart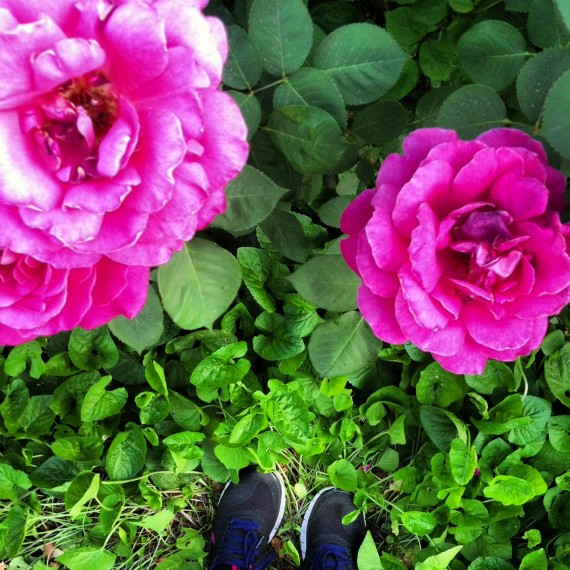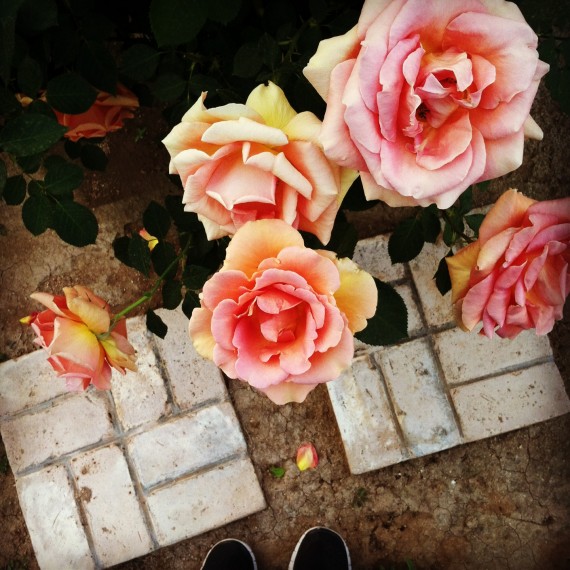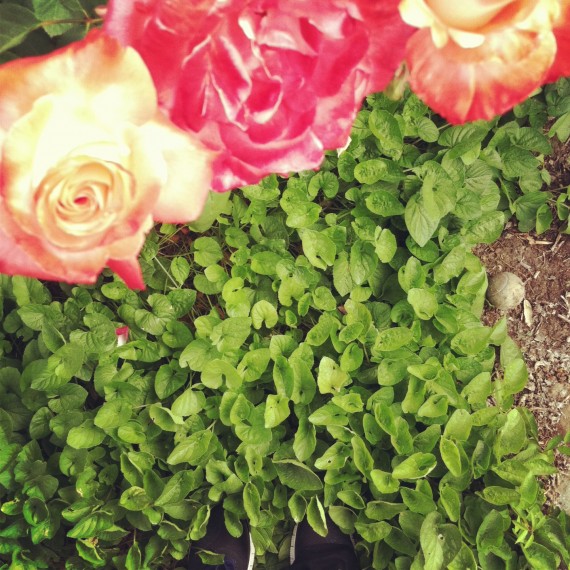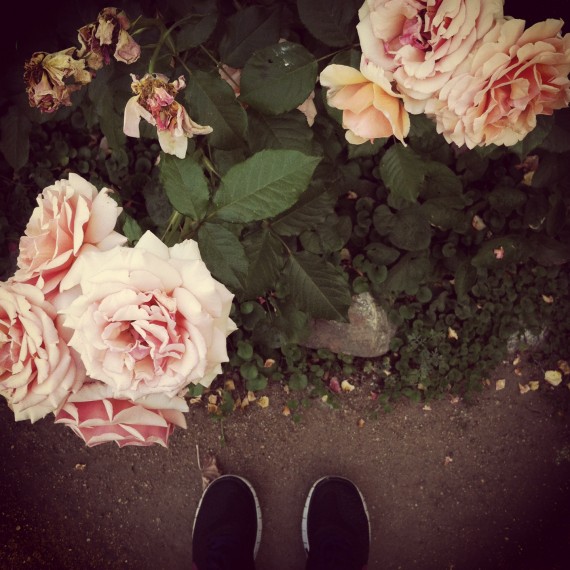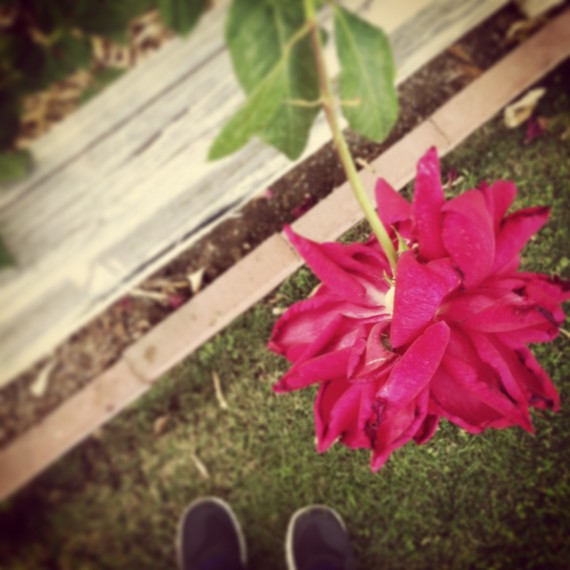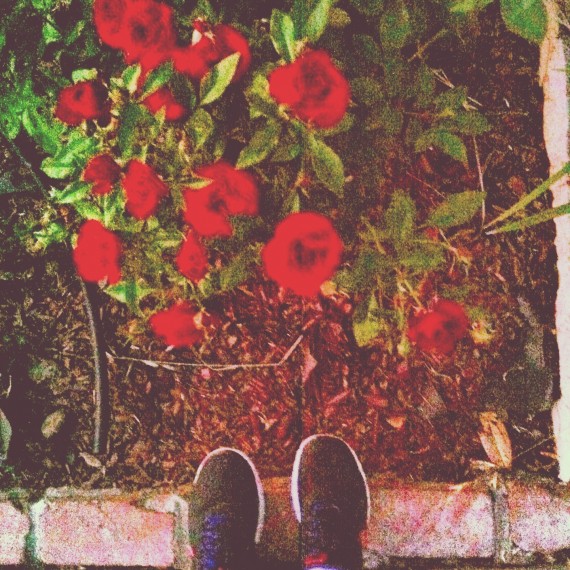 Body
I have been taking my new allergy medication everyday and am feeling much better. During this 365 day project I expected struggles, improved physical fitness, and hoped for muscle tone if not weight loss, but I never thought I would discover I have bad seasonal allergies. I always knew I had allergies, but I didn't know they were so severe. That's what happens when prior to the last 118 days the closest you came to being outside was accidentally turning your car's A/C to recycle.
Now I'm walking daily in an older neighborhood with established trees, plants, and so many cats. Sooooooo many cats. Sometimes I feel like I'm the bowl in a Friskies commercial. Anyway. Allergies: doing much better and still walking.
Mind and Spirit
I'm going to give this part of the project another go after the Mom 2.0 conference and Mikey's First Communion. I figure I have the walking part down. Now I need to work on the other two, and I might take them on one at a time to keep from overwhelming myself again. I'm looking into an app for my phone–the kind that will remind me to jot down something positive for the day. When it comes to apps I'm fairly uninformed, so if you have an favorites or have heard good things about one in particular, please let me know.
Anyone else doing a 365 project this year? If so, how are you doing? (And feel free to leave a link to it in the comments.) I hope you're glad you took it on. My project hasn't gone as planned, but it's my favorite thing I'm doing this year.
Song of the Week
Can't Hold Us (Featuring Ray Dalton) — Mackelmore & Ryan Lewis