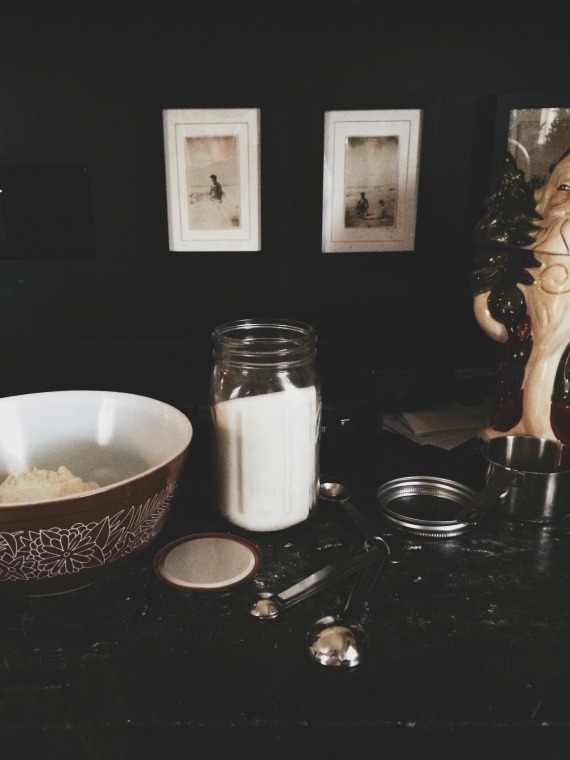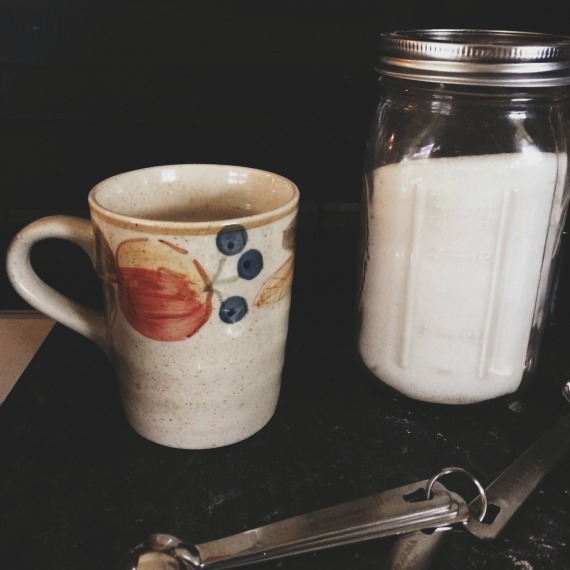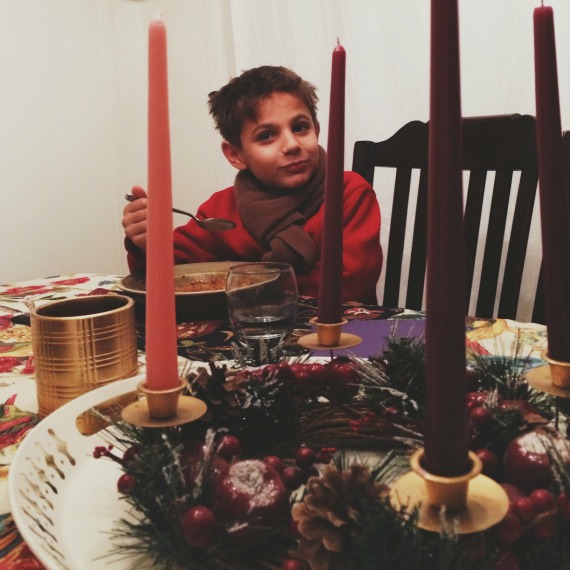 Saturday morning pancakes has become a tradition around here. I use a Martha Stewart Buttermilk Pancake recipe I found a few months back. It's my keeper recipe. I've tried several since then, and so far this one is almost everyone's favorite. Mikey favors one that produces thick, chewy pancakes no one else likes, so his vote doesn't count.
I make the pancakes in the same thrifted, brown pyrex bowl every time. It's one of my very few thrifting successes (the color could be better) and I use it for all of my baking. I have other bowls, but this one is the perfect size for mixing baked goods. If it's dirty and I have other bowls I can use in the cupboard, I'll wash this bowl.
The speckled mug with the peach and the blueberries and the inexplicable autumn leaf is for melting butter. Always and only. One day I heard a knock on the door, and on my porch were a three members of a new Seventh Day Adventist church going up in the neighborhood. We chatted for a while (Catholic, not going anywhere) and they gave me the peach/blueberry/autumn leaf mug with some literature. I didn't want them to waste money when surely there was someone on the fence who could use a good mug, so I tried to give it back. They insisted I keep it as a gift. That was 8 years ago, and every time I pull down that mug to melt butter I think of them. I shared this story with the Mister once when I asked him to bring me the "butter mug" and he looked at me like I asked him to mend a rift in time. When I explained to him the origins of the mug he didn't know we had, he called it marketing well done. I call it a darn fine butter mug. Seriously, perfection. I can melt an entire stick of butter in the microwave without the butter spilling over or the mug overheating. It's, like, the best butter mug ever.
I have the best bowl for baking and the best butter mug. I'm sure something else would work–maybe even something that wasn't thrifted or given to me for free–but I'm not willing to try because I've convinced myself that if I make pancakes in a different bowl or melt butter in a different mug the world will immediately splinter into sharp, irreparable pieces. And the pancakes are sure to taste terrible. Thick, chewy things only Mikey would like.
I've been eyeballing a Dutch oven for, oh, 13 years. I'm thinking it could become another one of my superstitious kitchen items. I would use it for soups, stews, and braised meats. Le Creuset has been out of my price range, but there are lower priced cast iron ovens on the market now. I don't know how they compare. I bought one two weeks ago (the one from Kohl's) and it's still in my trunk. I'm undecided.
It doesn't help that I made a beef and barely soup last night, only to discover no one really likes barley. Mikey called it "chewy, like tofu." Nico asked for more bread "because that's the only way I can eat this soup, mama." The Mister and I just chewed, and now I have heartburn. I knew I would get heartburn–barley has a similar texture to oatmeal, and I can't eat that in any form without my esophagus exploding into a fiery rage.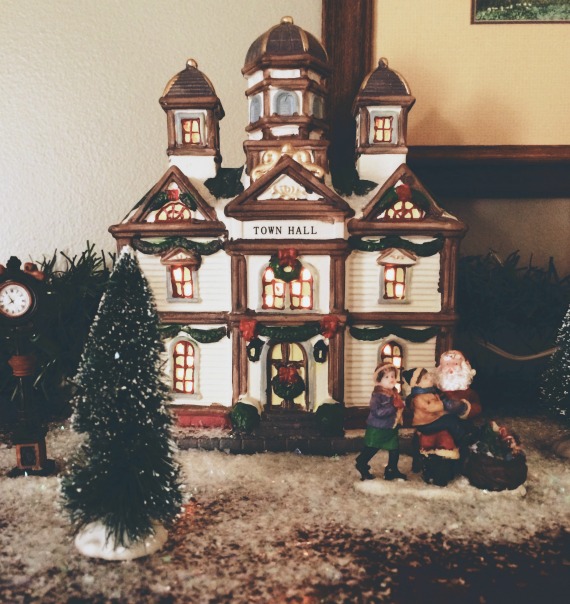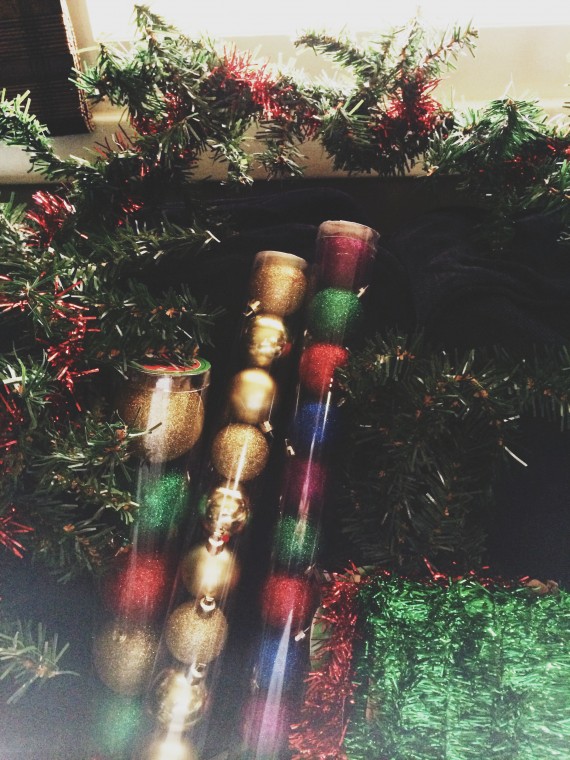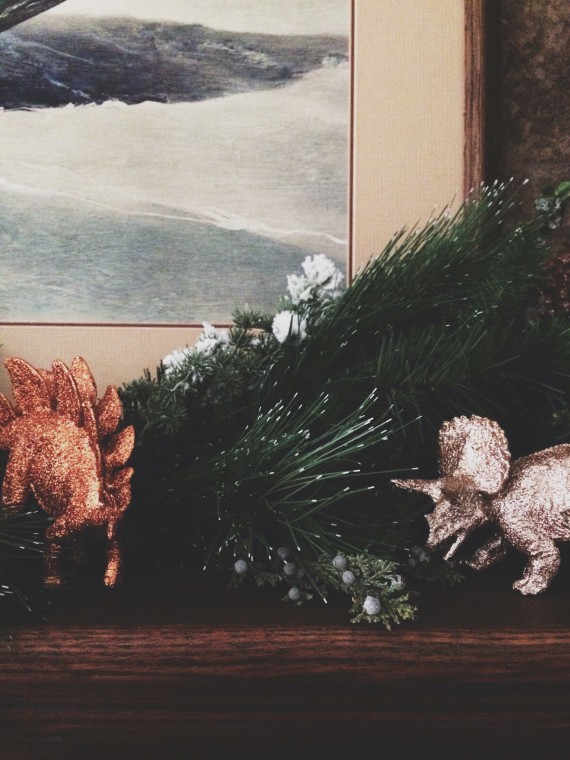 My mom was never one for holiday decorations. We had a tree, stockings, and outside two wreaths and a string of lights. I always wanted more. I wanted it to look like Christmas exploded. I wanted it to look like every holiday exploded. Didn't happen. I vowed I would be different and that, for the most part, didn't happen. It turns out holiday decorations are expensive and you have to store them when they aren't is use! Just another one of the crushing truths you learn once you grow up.
When I put up decorations in the library, I wasn't expecting the older kids to pay much attention, but they did. They immediately asked if there would be Christmas decorations and, most surprising of all, it was the 7th grade boys who were the most excited about the decorations. They wanted to put on the star, hang the ornaments, set up this and that. I was shocked. It changed my view on holiday decorations, at least a little.
I finally bought the Christmas Village I have always wanted, and I even spread out fake snow. No, even more embarrassing than that, I bought two kinds of fake snow (glittered and plain) and mixed them together because the glittered was too glittery and the plain didn't have enough pizzazz. (!!) When I showed my little snow village to the family they just sort of looked at each other and blinked, smiled, and–were Mikey and Nico tall enough–probably would have pat my head. The Mister looked at me and said, "You bought dust?"
"It's not dust; it's fake snow."
"But in a few weeks you have to dust the fake snow and throw it away."
"No, I have it all planned out–"
"This I have to hear."
"I'm going to sweep it into a container I marked Fake Snow. I'll reuse it every year! You'll see."
It was $2, so I'll probably just throw it away, but I refuse to admit defeat until it hits the trashcan.
In the spirit of things I never thought I would do, I'm making garlands! My friend's family owns Patio World, and every holiday season they turn into Christmas World. Their prices really are better than large chain stores for a much better product, and you're shopping local. But, if you're making a garland for a K-8 library and want something super, super inexpensive, then you ask your friend Kelly to give you a garland making lesson in the parking of her store using only items from The Dollar Store. It was like wizardry. I had trouble tracking her hands because there was cheap garland and tinsel the width of dental floss flying. We'll see how I do. I have this image of me looking like the Magician's apprentice, covered in soot and holding a garland burnt to cinders. Then I sneeze and the garland crumbles to dust at my feet. An ornament rolls away, exit stage left.
Do you remember Dinosaur Mountain? They are alive and well! They come out every year, without fail. Dino Mountain–as it's now called–has moved to the mantel since our three little trees gasped their final breath last year. I'm tempted, oh so very tempted, to add more dinosaurs to the mix.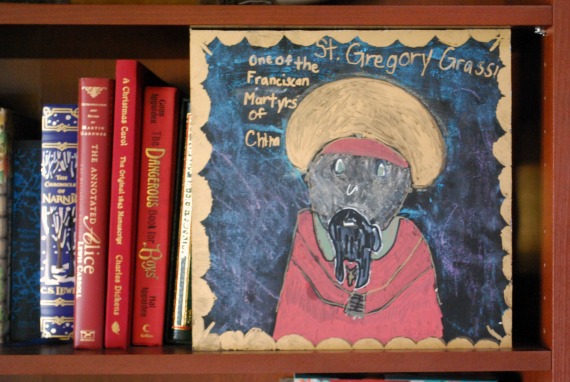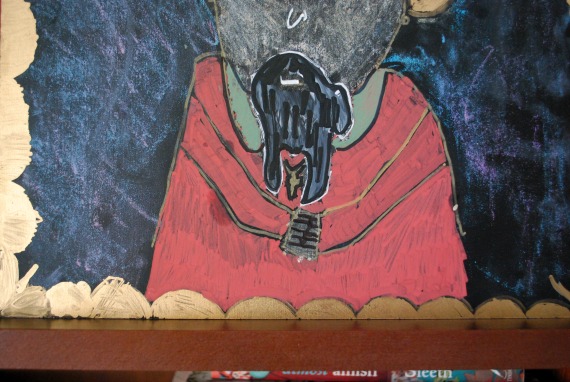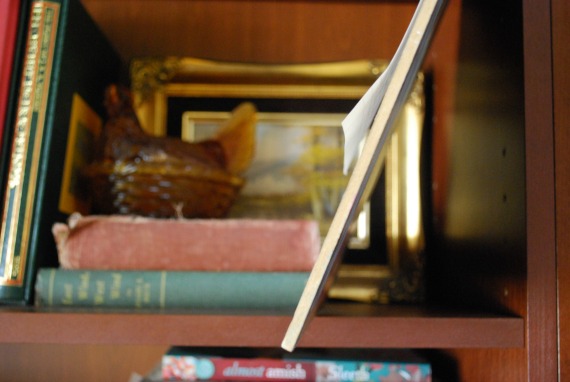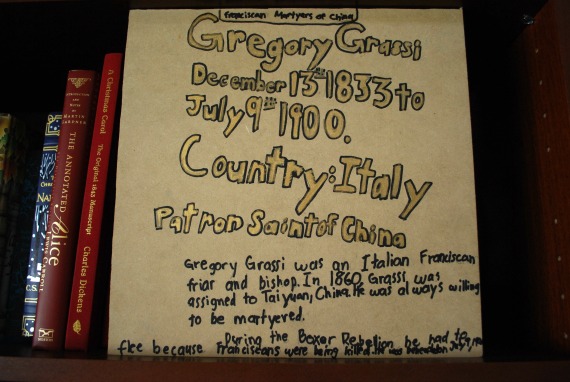 Mikey turned in his saint report lat week. He narrowed down the Franciscan Martyrs of China to Saint Gregory Grassi to avoid writing reports on 29 martyrs. Smart move. Saint Gregory represented the martyrs, who represented the 100,000 of executed Christians. Lots of representation going on; it was quite the bureaucratic saint report.
The original plan was to make a 12×12 Pokemon card for Saint Gregory. Just like a Pokemon card, it was going to have all his info, his "power" and his value. Mikey wanted to do this on wood since paper wouldn't be thick enough to paint on both sides. I sent the Mister to Home Depot to buy some thin veneer, and when he called and gave us all the options available he mentioned casually that they also had sheets of chalkboard.
That's all Mikey had to hear. His new idea was to do a chalk drawing of Saint Gregory, still in Pokemon format. Once he started drawing with the chalk, though, he realized how hard it was going to be to get any sort of detail. Midway through he changed his plans and decided he was going to make a "fancy old painting" of Saint Gregory using chalk, chalk pens, and paint pens. (I think he meant a renaissance style painting. That big gold orb behind Saint Gregory's head is his halo.) These were his reference images.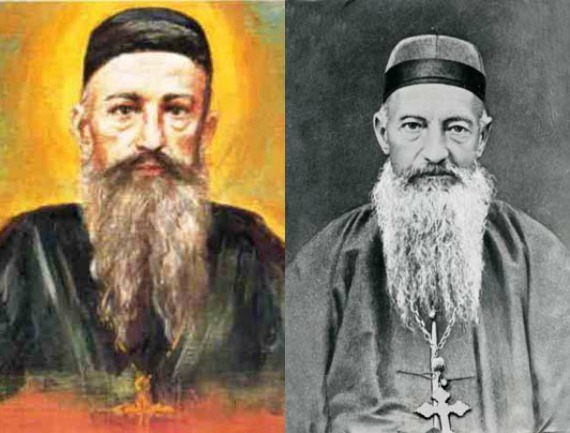 He was especially proud of his scalloped gold "frame" and the little lines that come out at each corner. Those lines, he says, is what makes the frame look real. I took a close up picture of the scallops. Guess which three scallops were mama's showing Mikey how to apply the right pressure with the paint pen? Guess who rolled his eyes and said, "Yeah, mom, I got this."
I'm curious to see what his grade is because there were some instructions that he felt messed with his "vision." He says he spoke with the teacher and got the okay to do what he wanted to do. We'll see what happens.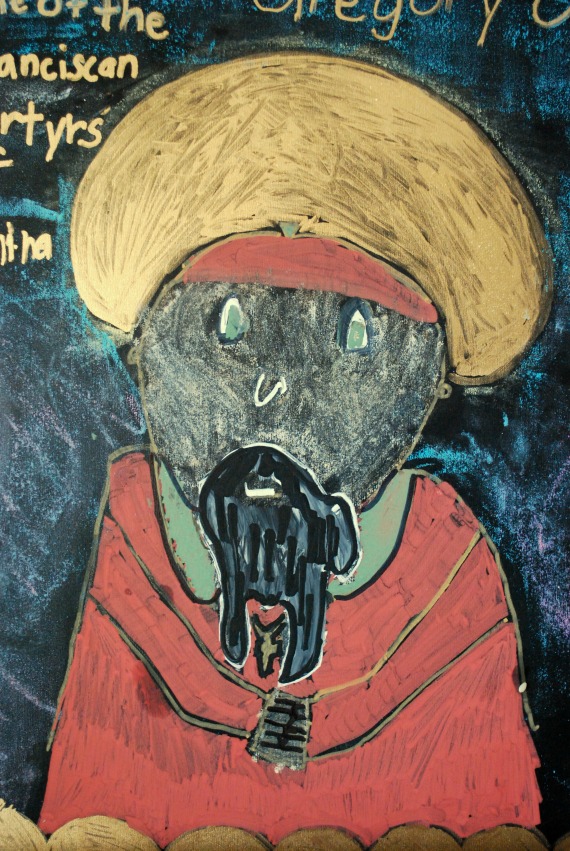 The saint reports (Nico had one, too, but only written) must have inspired me, or more likely I was desperate and looking for something to write about for NaNoWriMo, because I'm now writing a middle school book about an academy of future saints. Maybe. Not really. The story changes every day (today the main character is a regular kid convinced he's destined for sainthood, and I'm pretty sure that's the right direction to go) but I'm not letting myself go back and edit or I'll never get past the second paragraph. I'm incredibly behind on my word count and I want to burn down to cinders all…four pages I've written. This is easily the hardest project I have ever undertaken. Harder than walking every day, harder than any 31 day series, harder than eating at home for 30 days straight. In fact, if I wasn't working with Carey and Kendra or announced my intentions here, I would have already tossed in the towel. I should be at just over 6,000 words but I'm closer to 2,000, in case you were wondering.
My only saving grace is that I haven't put pressure on myself to create a work of art. I remind myself every day that I'm only doing this to get in the habit of writing fiction and to have fun. No more, no less. To facilitate that, I'm sticking to what I know: little boys, brothers, and quirky-dry humor. The main characters–two brothers–bear a remarkable resemblance to Mikey and Nico. Much of the dialogue comes from conversations with Mikey and some of the plot comes from his Friday journal. Every Friday Mikey's teacher has the kids write to their parents in journals they keep for the school year. They are supposed to discuss the week, shares their thoughts and feelings, etc. The parents (one or both) write back. When I am in the library, Mikey barely looks at me. I am the uncoolest of the uncool. If I ask him about his day after school, I sometimes get a mumble. I might get a little more if I'm lucky or if someone has especially wronged him that day. But in his journal, he tells me the best stories using his clear, unmistakable voice. (You've read his 3rd grade baseball essay, right?) It's one of my favorite parts of the week.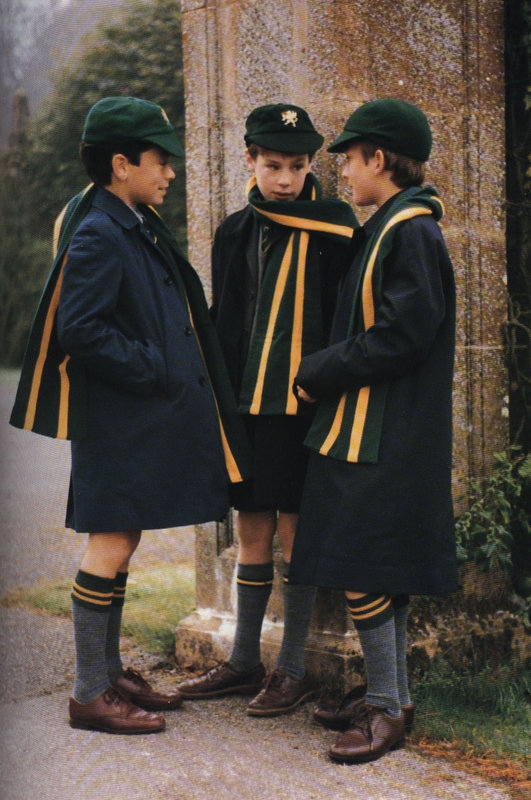 (An excerpt, but not the beginning. This is somewhere in the middle of the huge stack of 4 pages I've written.)
My name is Thomas, but everyone calls my Tommy. I am the future Patron Saint of Students. I bet you didn't see that one coming.

Forget everything you know about saints. We're neither heroes nor infallible. We're not gods. We're human, just like you. Sister Thérèse once said during assembly that our Lord needs from us neither great deeds nor profound thoughts. Neither intelligence nor talents. He cherishes simplicity.

That made me think of the Angelopoulos twins and what happened in Chemistry when they combined potassium nitrate and table sugar over an open flame. God is smart to keep His expectations low.
Thomas, for Saint Thomas Aquinas.
"I bet you didn't see that one coming" is a phrase Mikey uses often in real life and in his short stories.
"Assembly" is a weekly school meeting between students and teachers at Catholic schools. More spiritual than a pep rally, but nothing like mass.
The simplicity quote is one attributed to Saint Thérèse of Lisieux.
The Angelopoulos twins are really Sts. Cosmas and Damian, twin brothers and the patron saints of chemists. Angelopoulos–Greek for bringer of good news–is the first name that popped up when I Googled 'Greek last names.'
Image from Pinterest, no source.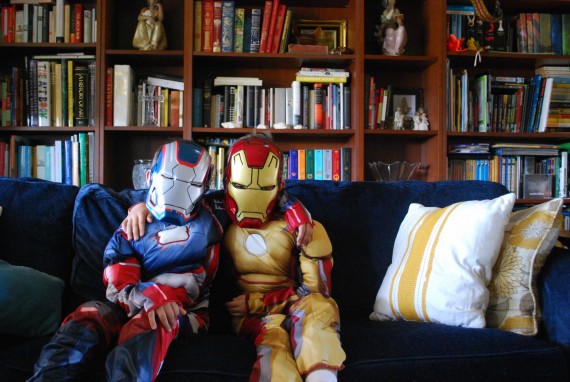 I continue to take my "jump in with both feet" attitude seriously. I'm going to do NaNoWriMo this year. I've put it off the last 2 years because the timing (right after 31 Days of William Morris) is horrible. I put it off the year before that because I was chicken. The site has been down for maintenance the last few days in preparation for November 1st, so in case that link doesn't work and you don't know what NaNoWriMo is, basically you write everyday (anything you want) with a goal of 50,000 words by November 30th. The idea is to write a book in a month.
November 30 is my 41st birthday, which is apropos of nothing.
Do I have a plan? No. Plot? No. Characters? Genre? Theme? No. No. No.
I do have prompts! A friend of mine sent me five pages of writer's prompts. I figure I'll take one of them and write until I'm done. I'm not looking for a book at the end. My only goal for the month is to get back into the habit of writing fiction.
My posting here won't be as regular but after 31 days of posts I'm sure we're all eager for the break.
Is anyone else doing NaNoWriMo? I mentioned this on Facebook last week and some people were still on the fence. Misery loves company, you know. I went so far as to drag two friends into this mess with me. On Wednesday we chatted on Facebook about some story ideas. November should be interesting.
[Unedited Facebook chat below. Please excuse typos. I'm notorious for my fast and sloppy typing.]
• 10/29, 5:20pm
Kendra
Ok ladies. Any more ideas in the writing corner?
• 10/29, 5:26pm
Jules
Nope! I'm going on a walk right now to think about it. How about you?
• 10/29, 5:26pm
Kendra
i've been tossing around ideas all day
but nothing solid
• 10/29, 5:27pm
Jules
I think my best bet will be to take a myth or classic and rewrite it. That way the plot is sort of done for me. Heh.
• 10/29, 5:27pm
Kendra
good idea
but can i just say most 2 most exciting things today
you can now renew ebooks from the library
AND amazon is introducing a program where you can get books you own in the physical world (that you bought from them) for your Kindle for pennies on the dollar
too bad i never buy books LOL
as for NaNo, I'm thinking YA, but not sure if I can pull out anything unique
• 10/29, 5:35pm
Jules
Doesn't have to be unique. It has to be 50,000 words.
• 10/29, 5:35pm
Kendra
LOL true
let's just be honest here. if i finish, it'll be a miracle
• 10/29, 5:59pm
Carey
Same here, but at least we have company
• 10/29, 5:59pm
Kendra
btw, just downloaded throne of glass from the library
i have too much to read!
• 10/29, 6:09pm
Kendra
Jules, I think you should write a YA novel that is based on love at first sight about characters named Eweniq and Zaden. (For those who don't know, here Kendra is making fun of the fact I almost never like YA, hate inappropriately weird character names, and mock insta-love.)
• 10/29, 7:05pm
Jules
Brilliant. I'm assuming Eweniq is the girl? I'll have Zaden sneak into her room at night and watch her sleep, except she doesn't sleep because she's half robot. (Her mom married Hal from 2001 Space Odyssey after he Cont-Alt-Deleted his way across Italy, India, and Bali for a year. He found redemption. And love, obviously.)
So Eweniq is a hubot and Zaden is a…jock. Some of the sports things he says and does won't compute for Ewiniq, but these two kids try to make it work until Mr. Tushman, the computer teacher, finds out Eweniq is a hubot. Now Eweniq and Zaden are on the run, finding safe haven in an underground railroad for hubots sponsored by Staples. It ends with a final confrontation between Eweniq, Zaden and Mr. Tushman in the pens and stationery aisle. Zaden, the jock, uses his quarterback skills to pelt Mr. Tushman to death with a bulk pak of highlighters. That's the first book.
Done. 50,000 words.
• 10/29, 7:06pm
Carey
Awesome- that's so … Unique
Or eweniq
• 10/29, 7:08pm
Kendra
I'm in awe. Publish that now
• 10/29, 7:27pm
Jules
Thanks. It pretty much wrote itself, like most magic. Not to brag, but I've already roughed out 4 more books. I'm seeing a 6-part series and a movie franchise.
• 10/29, 7:28pm
Carey
Don't forget the video game tie in and app.
• 10/29, 7:30pm
Jules
Line of greeting cards. *hint-hint.
• 10/29, 7:30pm
Kendra
I'll photograph your cover. I can see it now *wavy dream sequence*
A hubot and hunky post pubescent hunka burning love (with half football jersey and rock hard abs), backdropped by the smoldering remains of a post apocalyptic football field and goalpost
• 10/29, 7:32pm
Jules
YES. Can you make sure Eweniq has a plug, preferably in the back of her neck? She needs to recharge since she can't sleep, like a Prius. I want to make sure everyone understands she's a hubot.
You so get my vision, Kendra.
• 10/29, 7:32pm
Kendra
With the tag line "he only wanted to play ball. Love just wasn't in the 'program'"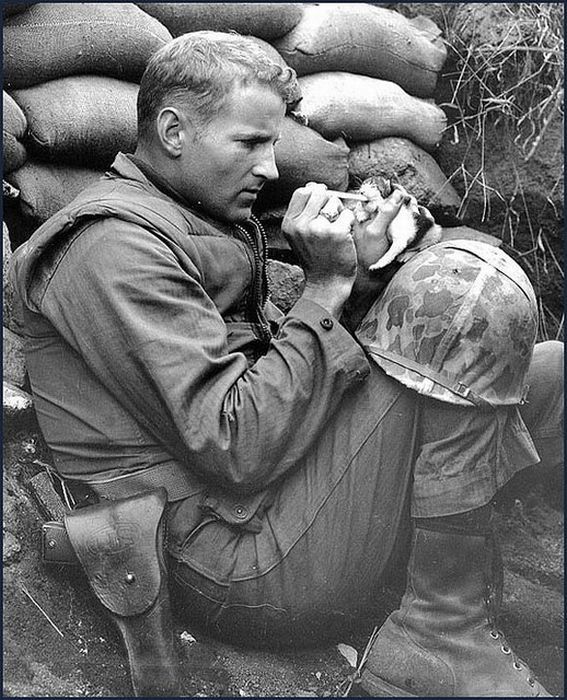 It's been almost 7 weeks since I found Morris and then lost him again. Unfortunately, he hasn't been back. I thought I would give a quick update because I do get emails about him, although I wish I had better news. I don't.
I walked the street I found him every day of the last 39 days, not counting the 4 I was out of town. It's only Sunday and Monday that I finally ventured away from that area. I walked in the morning, in the afternoon, and in the evening when the cats come out. I found a lot of cats, but not Morris.
Last week I finally noticed some people outside his old house. The new owners! There was a woman wearing ear buds watering her plants in the fading light. I called out until she heard me. I scared her half to death, which would have riddled me with guilt had I given one iota. I asked her if she had taken Morris back and if he was being fed. I even was so bold to suggest that if taking care of Morris was too much trouble for the time being, I would gladly take him in until they were more settled. (Then they'd have to find me and pry him from my cold, dead hands.)
She had no idea what I was talking about.
It took some back and forth, but this is what we were able to piece together. The daughter of the previous owner loved Morris. The owner hated Morris. She told her daughter and the new owners that Morris ran away and told the neighbors that the new owners were adopting Morris. Morris was left to hang out and dry.
This, as you can imagine, did not go over well with me. The new owners are not able to take care of Morris should he return because they already have a cat and a cat-resistant bulldog. Another cat would be pushing it. Totally understand, and honestly I probably would street rumble her for Morris anyway. I gave the new owners all my information, including my address and a description of my house in case they couldn't access my information when they had Morris. (I don't know. It seemed logical at the time.)
My only other option is to check shelters, which I know nothing about. I can't imagine it will take too much effort to find cat shelters (animal shelters?) in my area and ask if there is a flame point siamese mix made of awesome hanging around.
I'm trying not to get upset about the time wasted waiting to speak with the new owners. They only just moved in last week, and this entire time I wrongly assumed they had Morris with them at their other home. That's 30 days I could have been broadening my search and calling shelters. I'm kicking myself.
I have to believe that if Morris is mine he will come back home some way, some how. I'm not giving up hope.
You know who should also hold onto hope? The woman who gave up Morris. She better hope I never bump into her when I'm in one of my less diplomatic moods.