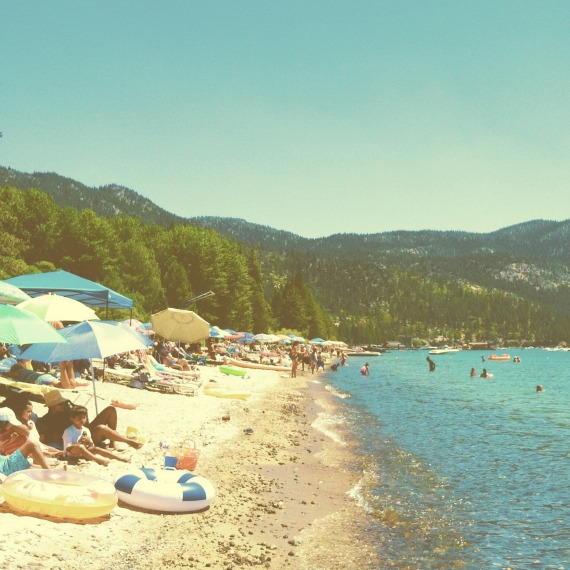 Today we were supposed to discuss Life After Life but I'm on vacation! Oops! I didn't realize I would be out of town when I picked the 6th and since I don't want to spend the day at the computer (who does?) I decided to postpone it until next week. Besides, I forgot to give everyone a head's up that discussion was coming.
Hey, head's up! Discussion is coming up next Tuesday!
My Monday post might be a little late because we'll be heading home, but I'm still walking everyday. In fact, last night I took a walk I didn't want to take.
I'm getting lots of people asking me about Morris. He hasn't returned. [Devastated Panda Face] We are all pretty sad about it, even the Mister, who agreed we can keep him if he comes back. It's cute that he believes he actually had a choice.
This has been a lesson for the boys, especially Mikey. He doesn't understand how someone can abandon a pet. The idea doesn't compute for him no matter what explanation I give, and I can't say I blame him. He spent most of Friday worried about Morris. We looked for him several times that day and I've looked for him every day since. So far, nothing. It's possible the new owners took him inside once they heard about the crazy neighbor who was threatening to beat down their door with cat food. When Mikey wasn't worried about the cat, he was worried about the dog they gave away. He's convinced Morris and this dog considered each other siblings and that the dog is worried and missing Morris. I hope he's wrong.
Nico woke up yesterday morning and said he had a dream about Morris. He dreamed the whole family went looking for him (we did, as you can see in yesterday's pictures) and when we came home, we found him sitting on one of our trash cans. We were all very happy and brought him inside to "live with us forever" with all our pets, past and present, including the hermit crabs.
Did I mention we have hermit crabs? I brought them with us on vacation because I didn't trust my brother to regulate the temperature and humidity of their tank with the proper degree of insanity I require. I do trust him enough to stay at our house taking care of Buddy and Buster since Buddy is on several medications twice per day and needs constant care–my Soft Touch opinion. Bonus: my brother is a cat guy and has been since we were kids. I showed him a picture of Morris and he knows to be on the look out. Fingers crossed!
Have a great week, everyone.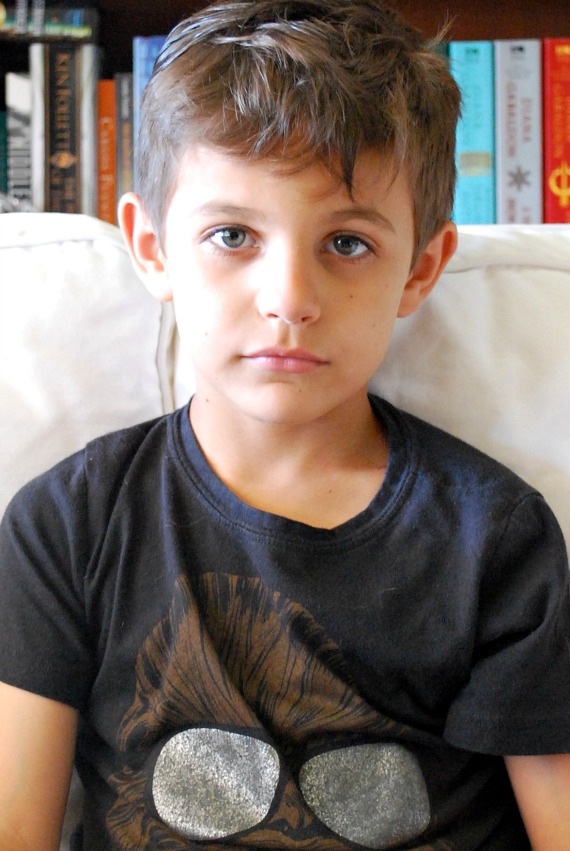 I remember everything about my first album. Blondie, Autoamerican. My mom still has it. It was 1980, so I had to be 8 years old. I was sick, sitting in bed doing nothing when my dad walked in and said he had a surprise for me. It was the Blondie album and I freaked out. My dad and I used to dance to The Tide is High and Rapture doing routines I choreographed. The zippers of my brown knee boots with the wavy gum soles would make a clicking noise every time I executed a high kick or hop. There were many high kicks and hops. Click! Click! Click!
Now that Mikey sits in the front seat with me when I drive, he takes control of the radio often. If it's loud and pumps, he likes it. If it sounds like something that would play in Tony Stark's garage, he likes it. If there are a lot of instruments and layers, he likes it. Queen, Billy Joel, Macklemore, Bruno Mars, and other artists I can't remember the names of because I think I've reached the age where I believe the music of my generation was better. I remember when I was younger I knew the name and artist of every song, including the ones I didn't like. I knew this information like there would be a pop quiz I needed to ace. Now if I don't like the song I change the station.
Not Mikey. He is just getting into recognizing artists by sound and likes to know every artist and every song. He'll reach over a thin arm and turn up the dial to blast his favorites. He'll sing along (passionately), but only if the music is loud enough, which is a shame because he has a beautiful voice. He has no problem singing in front a 1000 strangers at church, but in a car with me he rolls his eyes and snaps, "No way. Seriously, mom, I'm not even kidding!"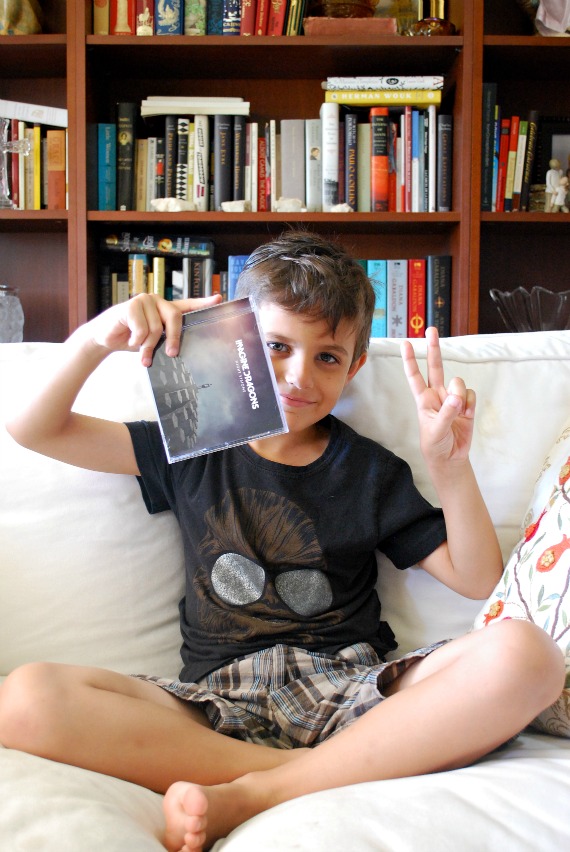 Mikey first heard Imagine Dragons' Radioactive on the History Channel last year, fell in love, and pumped up the TV every time it came on. (I think it was on a commercial for their upcoming season of…I don't know. Something military?) Then we started hearing it on the radio. He got so into it when the song came on–all conversation stopped, music went up to deafening levels, head bopping, and an orchestra of air instruments playing–that I wanted to buy the album for him. But I wanted to really buy him the album. I've bought him songs before, but I wanted him to know that once upon a time, back in the 1900s when I was a kid, people went to stores and bought things called albums, a collection of songs compiled by one artist that could possibly contain songs you don't even like right next to the one you love enough to play 300 times in a row.
We had to go to several Targets to find the album because it appears I'm the last person trapped in the 1900s. And I guess it's not even called an album. It's a "CD," which I say is incorrect but I wasn't going to get into an argument over semantics at Target. The point is, my boy is the proud owner of his first album. I wonder if he will remember everything about it the way I remember everything about Blondie?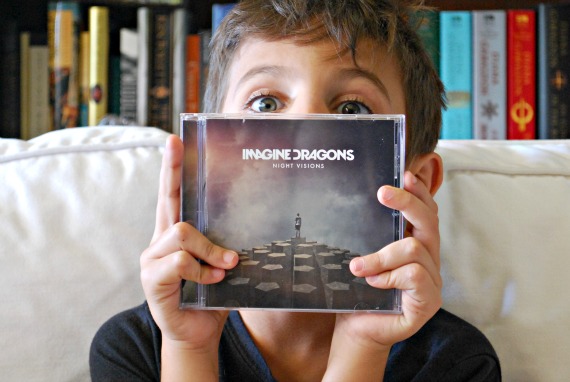 It's a good thing CDs don't wear out! I know every song on that album. Every song. Some songs, like Radioactive, It's Time, On Top of the World, and a few others I know really well because Mikey is not afraid to use the repeat button. Radioactive, with it's kicking bass drum, is his favorite and there was one day that he listened to it so many times in a row that Nico had a nervous breakdown in the middle of a Chik-Fil-A drivethru line.
"Please! My ears! No more Radioactive. My brain is getting a headache from this song so many times! Number 3, Mikey. NUMBER 3!"
Don't feel too sorry for Nico; he's no innocent. If you ask him, Twisted Sister's We're Not Going to Take it Anymore sounds like a chorus of angels.
p.s. Don't be alarmed by Mikey's serious face. First, his eyes are shaped in a way that makes it always look like he's contemplating something existential. Second, someone doesn't like his new teeth–he won't admit it, but a mama knows–and now smiles without showing his teeth for pictures. That, and I think he's shooting for cool-dude.
I shared Mikey's first clarinet video with his music teacher and he liked it so much he asked Mikey when he was going to do the next one. Mikey said he didn't know because "that last part" was pretty embarrassing. (That last part being my "I love you" to him.) He said he would gladly do one weekly if I kept the mom-stuff out of it. No "I love you," "sweetheart," or other terms of endearments allowed, and he retained the right to delete it if he thought he looked "too baby."
Oh, 9 year olds. You are so very, very cute.
The thing I love most about Mikey is that he is the little engine that could. When he messes up–and he does so in this video repeatedly–he barely flinches and then keeps going. Towards the end he gets a little embarrassed, but I have to give him a pass on that since he was trying to show everyone a trick he taught himself but at that very moment couldn't perform. (Isn't that just typical?)
I love that he teaches himself tricks, too. He saw his teacher do it once and has been practicing it ever since. He goes beyond what is expected of him not because it will win him brownie points, but because he is intellectually curious. The notes he learned on the recorder he has transferred to the piano, the guitar, and now the clarinet. He's a good kid. A little mouthy and with a short-term memory when it comes to chores, but a good kid.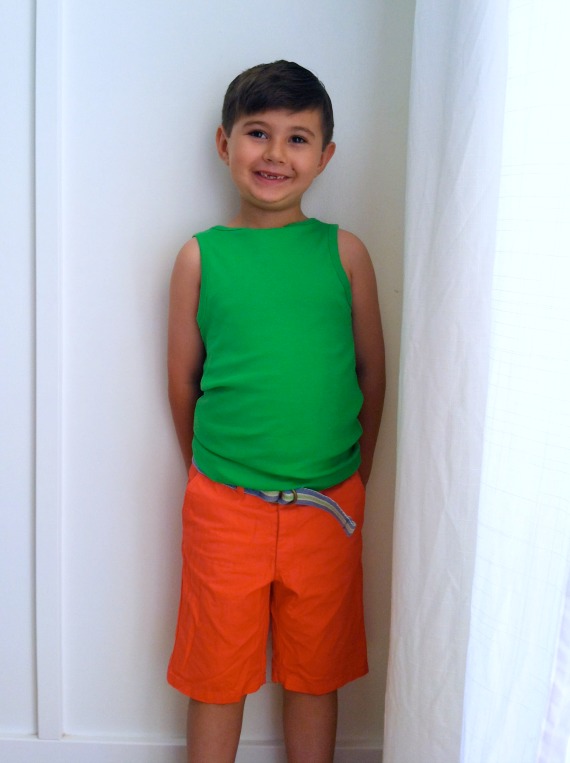 On Opera
"My opera can almost break the windows, mama. Listen."
::::::
On Bedtime
"Mama, at what thirty-o'clock do we have to go to bed tonight?"
::::::
On fisherman sandals
"Mama, remember when I had sandals like in Jesus' time? I actually liked those, you know why? They needed to be only 5 more inches to be Jesus' size."
::::::
On appetites
"Mikey said he was going to get a $5 footlong and that he was going to eat it all and he did! He ate it like he was launching a canon."
::::::
On focusing
"It's just that, mama, it's just that I was trying to focus in music but Matthew got up and was walking around so he was astracting me. And sometimes my brain, when I am trying to focus, says, 'Hey! Look over there!' when I should be looking over here."
::::::
On his two front teeth
"I AM THE DOMINATOR OF TOOFS!"
::::::
Any tips (books, websites, etc.) on helping Nico with paying attention and sitting quietly for times when it's needed, like class and choir? He's not hyperactive, doesn't need medication. He's just a big, squishy heart of a boy with a joyful personality. I don't want to tamp down his spirit or change who he is, but he does need to be respectful in class. The teachers all think he is adorable and cute, but will they think he's adorable and cute and let him get away with murder in the 6th grade? I read that extra physical activity can get the wiggles out, so he'll be joining the swim team this fall.
This post was sponsored by Fox Searchlight Pictures.
//////////////////////////////////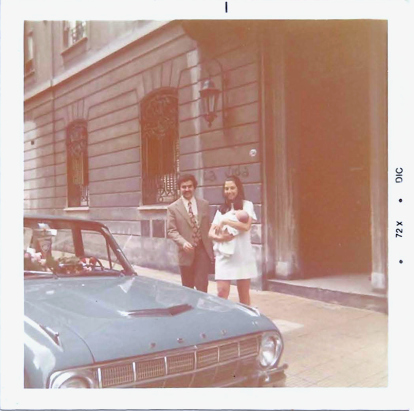 We started in the front, at least most of us did in those days before laws and car seats that did more than hold a baby upright. I had my tonsils removed in the 1st grade, and on the ride home I sat on my mom's lap with my back snuggled against her chest. My throat was so sore I couldn't speak, so to describe to my parents what a Popsicle was I pushed my finger through the film of vapor on the windshield and drew a rectangle with two sticks coming out the bottom. I was fortunate it was winter. Her arms were my seat belt.
Being in the front meant comfort.
Later, the only child sat in the front seat in between the parents if the seat stretched out like a bench. If there was a console, they laid (or sat or twirled) in back seats like royalty on wide expanses of bonded leather or short pile upholstery. One brother, then two. My space became crowded, but as the oldest I was able to skirt the middle seat thanks to irrefutable laws of sibling seniority.
Sitting in the way, way back didn't happen until the fourth sibling in most cars or, if your mother tapped out early like mine did, when friends came home with you from school or out of town family came to visit or your parents picked up a hitchhiker. The reasons for additional bodies in a car were limitless in the 70s.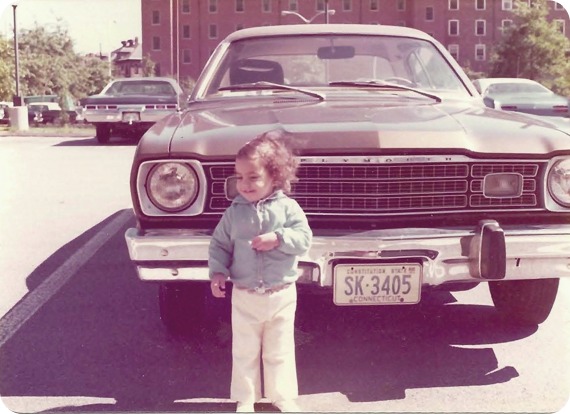 My mom drove a brown Buick station wagon, boxy with chrome trim on the windows and enough trunk space to fit a twin bed. One year, when my parents' friends came to visit from Washington, four out of five kids landed in the trunk and played Sleeping Princess. It was a game I made up on the fly and believed was nothing short of brilliant. The object: one girl laid flat on her back and stayed as still as possible while the car made turns and drove over bumps. The other two girls and one reluctant prince would lean over the Sleeping Princess and monitor her for movement. Whoever went the longest without moving–slept the longest–won. Won what, I can't remember. Bragging rights? This is where my memory fails, so the prize couldn't have been great. My last memory of Sleeping Princess is Veronica leaning over me, inches from my face, claiming I scrunched my eyes into a right turn. I can still see her black hair sheeting the cheeks of her pale face. I resented that she looked like Snow White.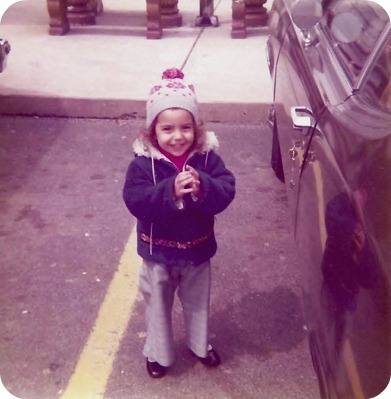 A few years later I was in the back of a dark blue El Camino with Michael and Annette, the children of our babysitter. We were coming home from getting ice cream and because my brothers were younger, they were inside on the bench seat. It was just after sunset on a warm summer day, the three of us leaning back against the cab window to look at the trees while we licked our cones. The mood was peaceful, nostalgic before it was even a memory, until a kid on a bike darted in front of the car and Mr. Gonzalez slammed on the breaks. We slid around the bed of the El Camino like pats of butter on a griddle until we came to a stop with our eyes staring up into the trees and our hands still holding our cones. We sat up, looked at each other, and laughed until our sides hurt. Then I took a big lick of ice cream and wished my parents had an El Camino.
Being in the back meant friendship.
I climbed into the trunk of my mom's latest station wagon as a teenager to escape my brothers and their growing arms and legs. They were too large, too loud, too annoying. They were altogether too too. I gladly hid among the Samsonites, confident nobody understood, nobody had it so bad, nobody cared about the Many Injustices I Suffered.
Being in the back meant privacy. Blessed, welcome privacy.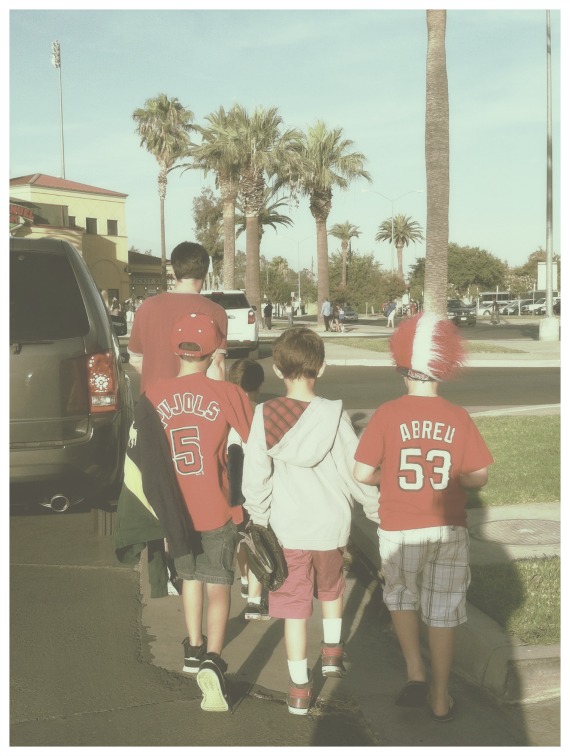 My boys have had a different experience. By the time Mikey was born, I earned an honorary PhD in Car Seat. Not only did the boys always sit properly latched in their car seats at all times, for the first couple of months I sat in the back with them so that at a moment's notice I could perform Many Critical Life Saving Measures like pop the pacifier back in, look out for spit up, adjust socks, and–literally and figuratively–back seat drive, something I should have a PhD in, if you ask my husband.
When Mikey turned 9 at the beginning of June, he reminded me that according to California law he was now allowed to sit in the front seat. I expected nothing less from him. But the front seat wasn't what he was thinking about a week later when he went over the agenda for his birthday party. He wanted to go to a 66ers game (Angels minor league) with his two best friends and then have a sleepover. He had everything planned down to the seating arrangements in the car on the way to the game. He wanted to sit in the middle with a best friend on either side and, since there wasn't anymore room, his brother would have to sit in the way, way back by himself. When Nico heard this, he burst into tears.
On that day, being in the back meant not fitting in.
Or, as Nico later cried that night when he was far more tired than he wanted to admit and far too young to watch the movie the bigger boys wanted to watch: "Mama, they're not letting me pay any attention to them."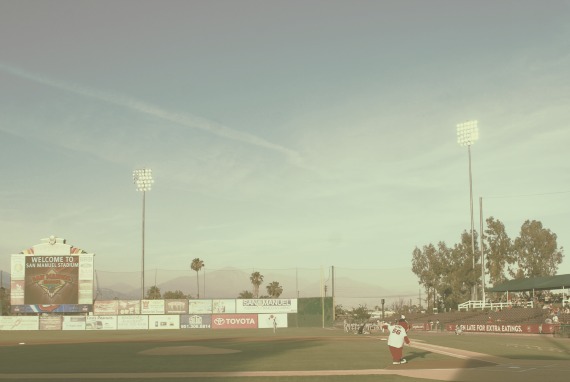 When we packed up the boys to go to the game, I wanted to spread everyone out, two-by-two, so it was fair. The Mister, himself a younger brother, shook his head and had Nico get in the back so Mikey could have time with his friends. This is how it is for younger brothers, but only for a little while, he said. In a couple of years they'll meet in the middle again.

Perhaps, and even though Nico was perfectly content once his dad revealed that being in the way, way back gave him iphone video game privileges, I wanted to climb back there and sit with him in solidarity. I didn't, but when one of the boys turned to Nico and asked to play on the iphone I did happily crow, "Sorry, no can do! Iphone privileges are one of the perks to sitting in the very back all by yourself." And in my head: HAH! SO THERE.
This may have earned me a side-eye from the Mister, but it was worth it. Turns out mamas can perform Many Critical Life Saving Measures while riding shotgun.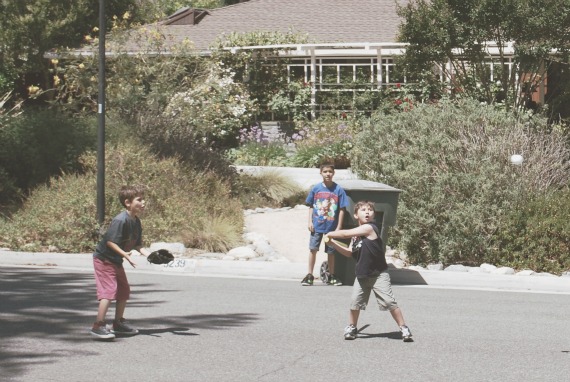 The next morning, the boys played wiffle ball in the street. When Nico scored a triple it was his brother, the catcher for the other team, who whooped and hollered and gave him many high fives. They all did, really. Nico soared around the homemade bases propelled by happy thoughts and a team of pixies. At his next time at bat, Nico struck out and burst into tears. Mikey rubbed his hands down his face before looking up at the sky in a plea for patience.
"It's just that, mama, I want them to think I'm great."
One day they'll meet in the middle.
Until then, I'll have to accept that brotherhood will some days feel like sitting in the front seat, and other days feel like being relegated to the way, way back.
//////////////////////////////////
A few weeks ago my husband and I got to see a screening of The Way, Way Back starring Steve Carell. (It comes out July 5th in select theaters.) We both had a great time, though I'm embarrassed to admit it took me a while to realize the movie is called The Way, Way Back because the boy, Duncan, sits in the way, way back of the car and life at the beginning of his coming of age summer. This is why no one pays me to review movies.