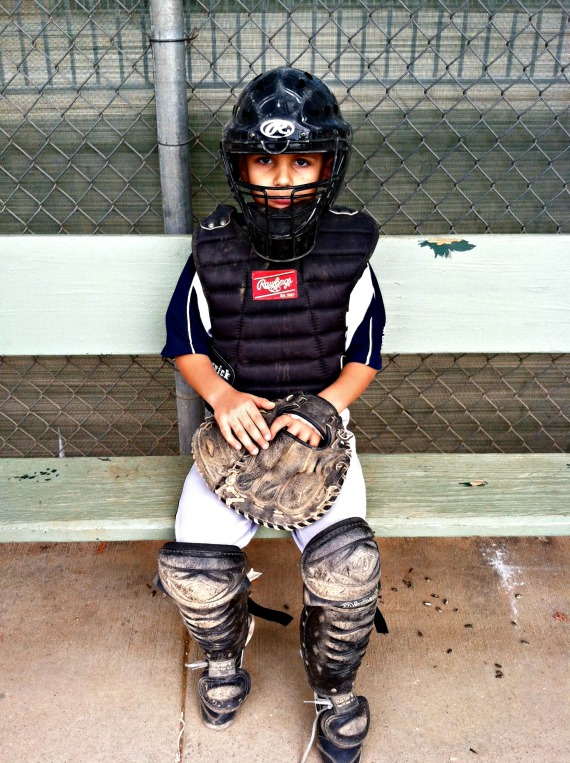 It's as simple as this: Mikey has a set of brass balls. Where Nicholas is sweet and shy and clumsy and lovable, Mikey is honest and confident and sure and memorable. When he sees something he wants, he doesn't stop until he has it in the palm of his hand. He assumes he will be good at everything and when he isn't, it comes as a shock. He is so used to overachieving that when he falls short of the mark he makes excuses. I don't say this to criticize him. I say this because he's my son and I love him, but I'm not one of those moms who believes her child is perfect. I also say this because the apple doesn't fall far from the tree.
Here is how Mikey is like me.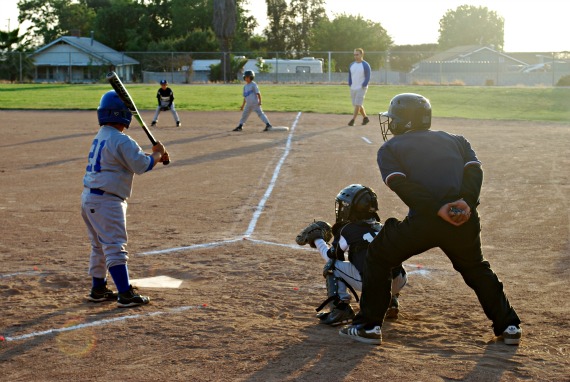 Mikey inherited my drive for perfection. Last week I hung in the laundry room some of my favorite drawings the boys have made over the years. Nico doesn't draw as well as Mikey did at his age, but if you ask him everything he does is brilliant. When he saw his pictures, he immediately pointed out everything that was awesome–and there was plenty of awesome. When Mikey saw my wall of pictures, he grimaced. This one, my favorite of the bunch, really annoyed him.
"It's not my best work."
Days later he saw it again as he was putting his baseball uniform to wash. He came storming back to my desk to complete his argument (I refused to take down the pictures days prior). "You know what really bugs me about that Allosaurus picture? It's attacking a Triceratops, which is impossible. They aren't even from the same period."
I reminded him that (1) we don't know any paleontologists so his gaffe is safe with us (2) he was barely 7 years old when he drew that picture and if anyone is allowed to take poetic license with dinosaur art, it's the under-10 crowd and (3) too bad, so sad, I love the picture and it stays.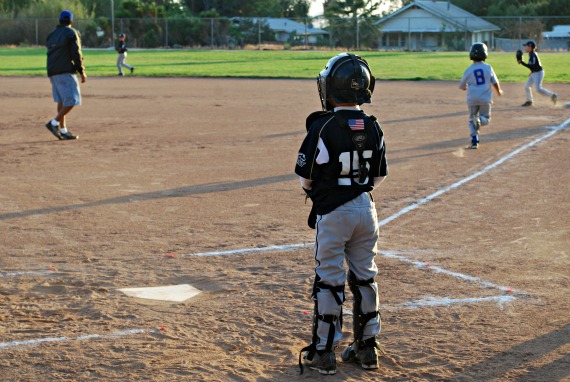 Baseball has been another lesson in perfectionism.
Mikey is now in the age group where the boys who play baseball are serious about the game. They play winter ball, participate in camps, and tour on tournament teams. Mikey has only played spring season baseball three times, and he doesn't practice outside team practices. That has always worked in the past, but it hasn't this year. This year, there was a great divide when it came to skill sets. All those camps and off season teams everyone else participated in caught up with Mikey and left him as one of the weaker players on the team. Weak was new for Mikey. New and unwelcome.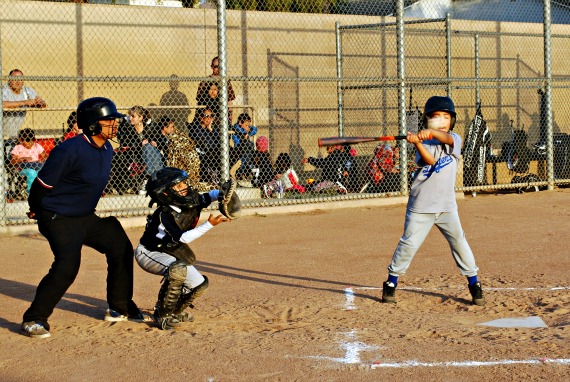 For the first few weeks of baseball, practice was a stressful affair. He came home quiet, sometimes angry. He didn't like getting his lunch handed to him. Even worse, he didn't like the ribbing he got from his teammates. A few of them let him know he wasn't the best player. Mikey let them know what he lacked in fielding he made up for in tackling. We had a family meeting that night.
There was one bad night where Mikey came home from practice, walked right past me, and went straight to his room. I found him laying on his bed, still in his dusty practice uniform. I sat on his bed and asked him if he was okay. He rolled over and looked at me with pretty blue-green eyes and said, "I suck at baseball."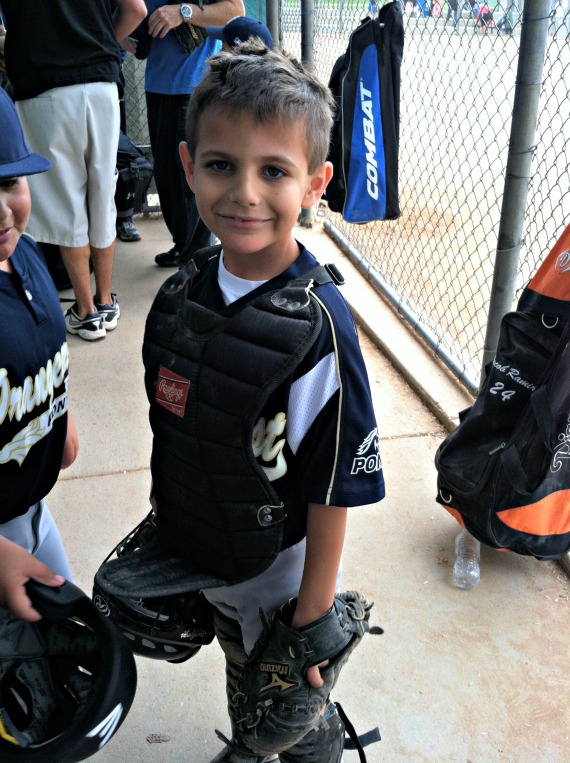 My first thought was that we should call the league and have baseball cancelled forever. After that, a quick call to the school principals of all the boys on the team to let them know they all deserved F's on every core subject on their report card. In the end, I decided to go less Mama-Bear and point out the obvious. If he wanted to be as good as the boys on his team, he was going to have to practice as hard as they do. He's at the level where good performance requires effort. Talent doesn't flutter down into your lap like leaves from a tree during autumn so…it was time to think about winter ball, baseball camp, and all the other stuff the boys on his team do if being good at baseball was what he really wants. If he didn't want to play baseball anymore, that was okay. This could be his last season. But if he wanted to keep playing, no more excuses or complaining without putting in the work.
He didn't like that idea. He liked the idea of natural greatness. Yeah, well, so do a lot of people. But if the boys on his team proved anything, it's that talent rarely comes naturally. We went round and round until he admitted that the idea of camp made him nervous ("You don't understand, mom. There's going to be 11 year-olds there.") and that he was afraid of the unknown. I tried to give him some parental advice on fear, but I missed his hints on backing off in my zeal to be super positive Mom of the Year because he stopped me mid-soapbox and said, "Mom, I'm tired, in a bad mood, and feeling like being a jerk. Can we talk tomorrow when I'm in a better mood?"
I said yes, sure, of course, and that I was proud of him for being honest and that when he was ready to talk I was available and he said, "MOM!!" and then I left his room quickly.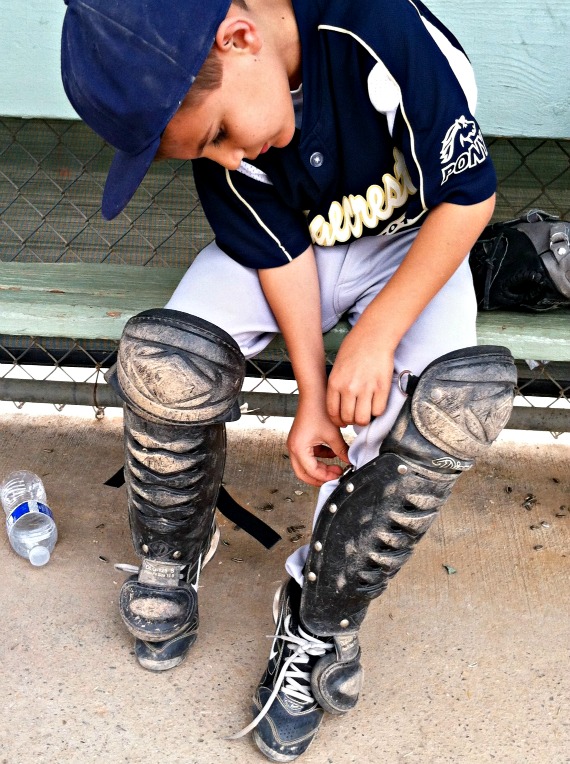 Here is how Mikey is not like me.
A few days later I decided to bring it up again but he waved me off. "Oh, I thought about it when I woke up the next morning and I told dad I'm going to do the baseball camp."
At his age, I wouldn't have done the baseball camp. I wouldn't have done baseball. Striking out, making errors, not being the best…the perfectionist in me couldn't have handled the fear of failure. I'm too safe. Mikey floundered briefly but then charged ahead because he wanted baseball in the palm of his hand.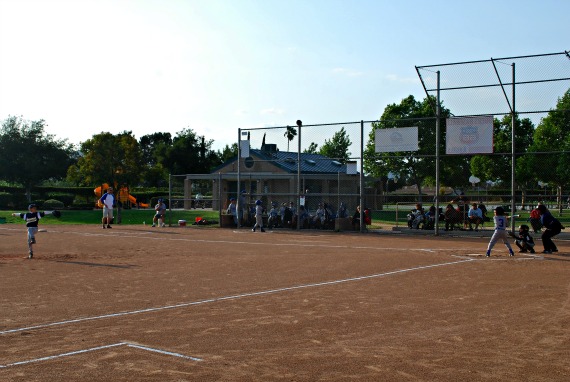 It's why he was excited and not nervous when during a recent game the coach put him in as catcher even though he is a horrible catcher. The team was so far past winning the coach tossed Mikey a bone, which he attacked like a terrier. He didn't catch a single ball, but he had the time of his life.
The next game, we played a team so bad we knew going in we would win. The coach tossed Mikey another bone and made him the starting pitcher. Mikey was thrilled; I was horrified, but played it off. At the beginning of the season, Mikey couldn't throw the ball over the plate. He pitched one inning and struck out one batter. Then, at the end of the game he played catcher. This time, his second time playing catcher this season, he caught balls and fielded well. He had the best game of his life and did better than some of the top line boys, probably because he believes failure isn't a threat. A possibility, maybe, but not a threat.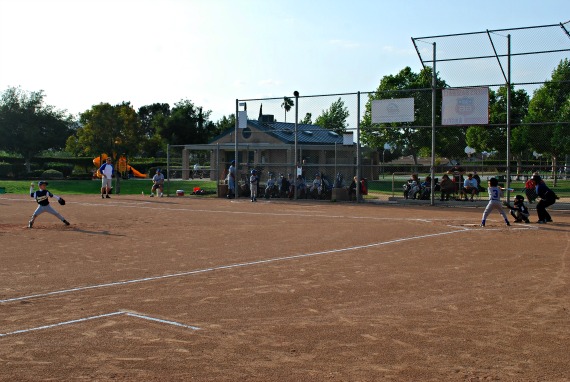 When we drove home from the game I asked him if he was nervous on the mound and he said not at all. "Not even when you were throwing balls? You didn't get nervous when you threw a ball and had to pitch again? I would have been nervous to throw another ball."
"No way, Mom. Even the best pitchers throw balls."
Parenthood is hit and miss, but recognizing your child has inherited some of your good while avoiding most of your bad is a hit. So is the realization that you learn from your child more than they learn from you.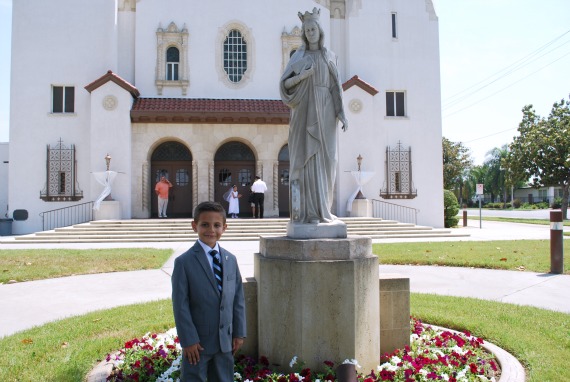 Part of me was dreading Mikey's First Holy Communion. Lots of people, expense, and work were guaranteed. Another part of me looked forward to this day because for Catholics, this is our walkabout. Our bar mitzvah, our rite of passage, our Prom with God. It's what separates the little kids from the big kids, especially since our parish waits until the 3rd grade before the kids have their first communion. I guess a part of me was dreading it because I wanted it to be special, and if it wasn't I was going to be sad. I decided to do something I never do to ensure the day went somewhat well. I made it as low-key as possible. I didn't try to do anything perfect, didn't try to have THE FIRST HOLY COMMUNION TO END ALL FIRST HOLY COMMUNIONS.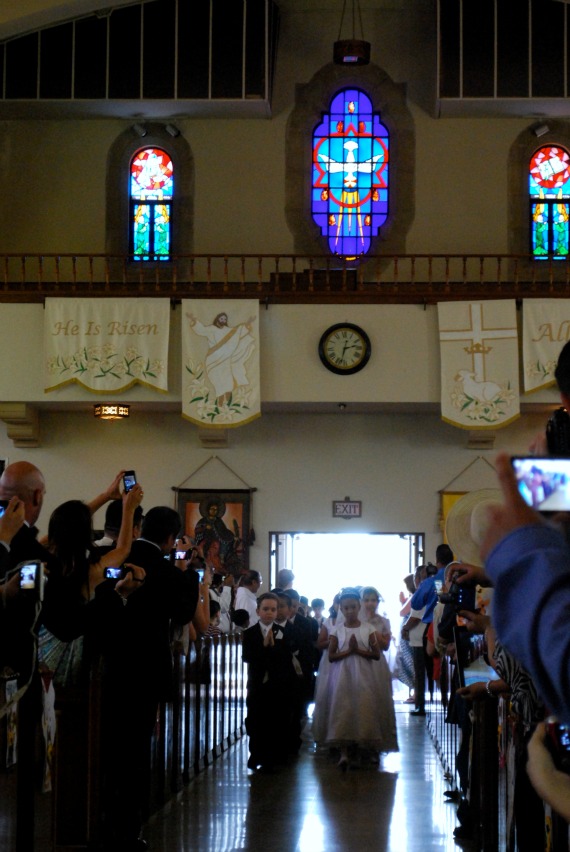 I didn't try to get perfect pictures. The lighting in the church is horrible and I was too nervous. I focused on taking pictures of everything I wanted to remember and left it at that.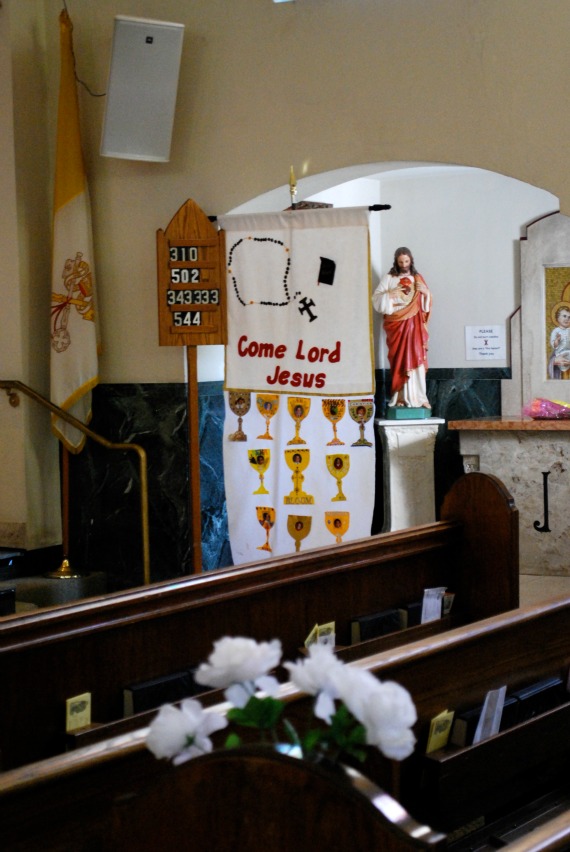 One of two class banners, this one holding Mikey's "Holy Grail."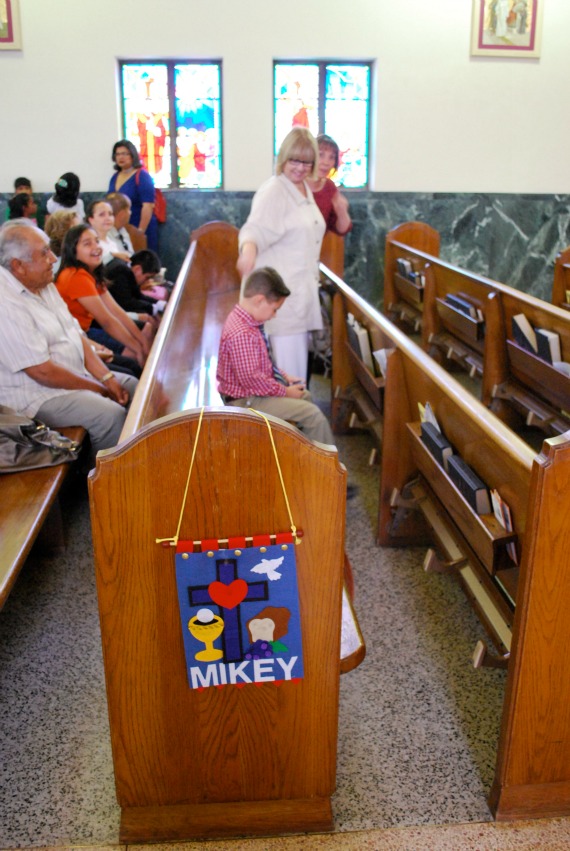 Here is the infamous banner marking our pew, which turned out to be in the 2nd row thankyouverymuch. I thought my mom was going to have an aneurysm when she realized we were so close. She called me every day the week prior to ask where we were sitting, as if she asked enough, that whole "lottery thing" would disappear and we could stake out the pews with sleeping bags and lawn chairs like normal Catholic families. She called me twice on Friday on my way home from the conference and I finally snapped at her and said, "Lottery! We are having a lottery! Why do you keep asking where we are sitting? I have no idea! Please stop asking me."
And she said, I swear on a stack of Bibles, "Well, I only ask because I thought you might have some inside connections because of the boys."
Inside connections because of the boys?! Mikey and Nico are in the Children's Choir, not the mob. Her excitement was palpable, endearing, and very much appreciated…but grandmas like her are absolutely the reason why the lottery system was put into place.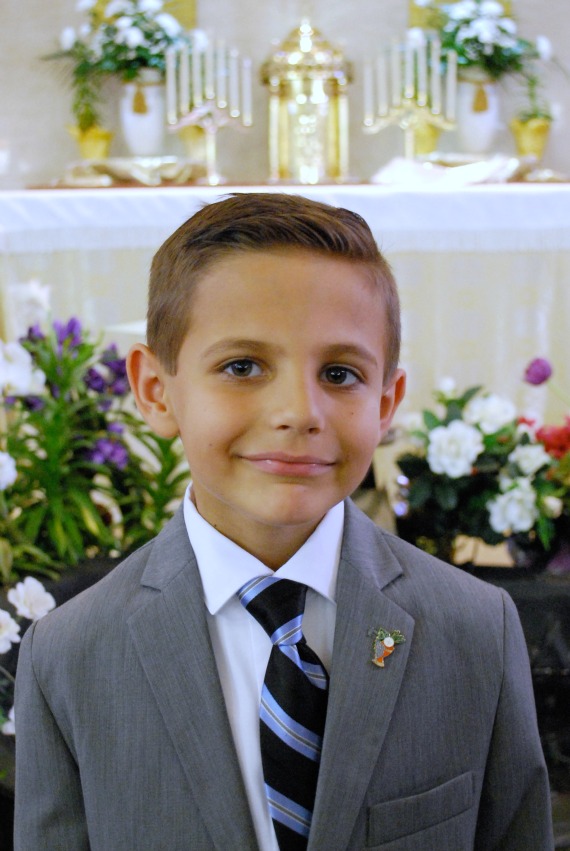 You know it kills me that his tie is crooked in this picture, but I got the tabernacle in the background so I'm happy. Also, his suit! We compromised and went with gray. I wanted something a little lighter that had a southern gentleman vibe that he unequivocally vetoed. Like, "over my dead body, mom" vetoed. I vetoed the "21 Jumpstreet" suit that had a vest and red tie. We bought his suit at Macy's, for those who are curious.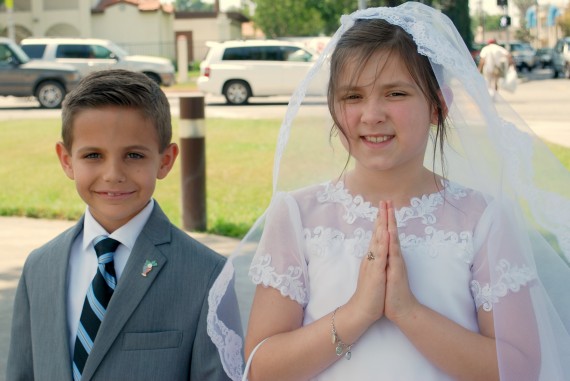 We didn't have much time to take pictures outside, but I did make sure to take one picture of Mikey and Emma, much to Mikey's horror. Mikey and Emma have history. He thinks she's too carefree with the rules and acts too much like a girl. She thinks he's an uptight know-it-all and immature. Other than that, they get along great! Her mother and I, actually, are great friends and for the most part they really do get along when they aren't around other kids from school or when Mikey isn't telling Emma that taking a picture with her is his worst nightmare.
Yes, that's right. I thought Emma looked beautiful. Her dress was one of my favorites and because her mom is one of my close friends, of course I wanted a picture of the kids together.
So I said, "Mikey, stand next to Emma so I can get a picture of the two of you."
And he said, "OH MY GOD THIS IS MY WORST NIGHTMARE."
Emma, to her credit, merely gave Mikey a withering stare that said she would like nothing more than for Mikey to have his first and last communion–while she watched.
In my head I planned to calmly say something like, "That was rude. Apologize to Emma."
Instead, in a shrill voice that probably echoed across the four corners of the church yard I said, "WHAT?! WHY? WHAT IS THE MATTER WITH YOU?!"
"Mom, I told you. No pictures standing next to girls! Look at us. People are going to think we are getting married!"
Now, to be fair, Mikey prepped me for weeks telling me he wanted no pictures with girls and, if possible, he didn't want to stand next to any girl at any time during the day, for any reason whatsoever, to avoid the millions of staring eyes sure to result. He prepped me, but I didn't think he believed I would listen. A mom, not taking pictures at First Communion? Lucky for you wishes are free, my son.
I told him to zip it, stand next to Emma, and smile. He did, but not before steeling himself like a soldier going into battle. He looked at her like at any moment she was going to leap at him with a marriage license and a catalog of china patterns. Emma looked at him like he was something found on the bottom of her white, patent leather Mary Janes. Then they went inside and shared the body and blood of Christ!
Days later we were still teasing him about his fear of pictures. He stands firm that his concerns were reasonable.
"You have to admit, mom, two kids getting married at my age is highly inappropriate. People probably thought we were crazy."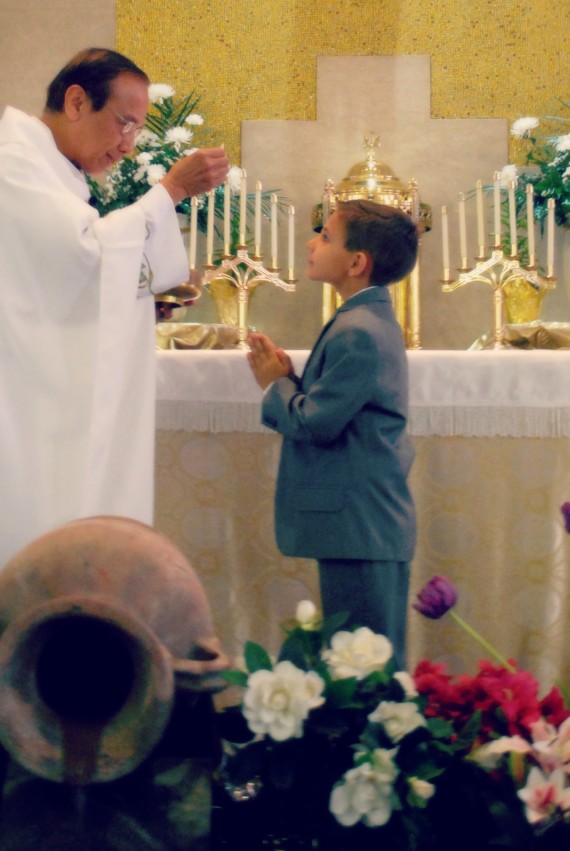 My big boy. This is actually a staged shot the priest was kind enough to recreate for all the parents. We weren't allowed to take pictures during the actual mass. I thought I was going to be a blubbery mess, but it was my stoic, silent, still waters run deep husband who burst into tears. He earned 200 bonus points.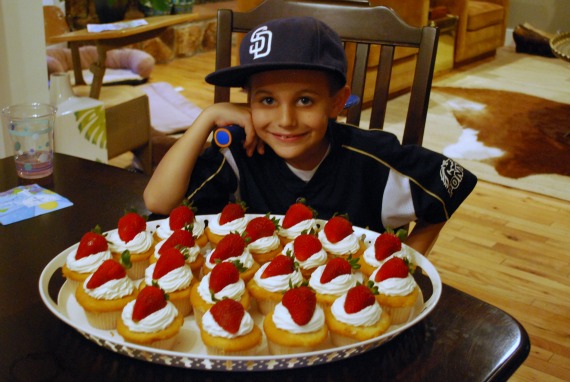 After the service, which was amazing, we stopped at the house for a few minutes so Mikey could change for his last baseball game of the season. His First Communion party was us ordering pizza and eating it at the game while he played baseball. After the game we went home (with extended family in tow) and had cupcakes. Mikey hates frosting, so the cupcakes were white cake with custard filling and whipped cream topping. Strawberries on top because he loves fruit of all kind, especially strawberries.
It was a great day. My favorite moment of the day had to be when we were leaving Mikey's baseball game. I was walking with him, teasing him and asking him if he felt any different. He said that yes, he did. The bruise on his knee from when he fell the other day, for example, totally didn't hurt anymore. I looked at him and smiled, noticing his gray eyes were the pretty blue-green with light brown centers they usually are when he's upset.
"Hey, your eyes are really blue right now," I said. "They're that pretty color they turn when you cry."
Mikey looked up at me and nodded, awed but not really surprised. "Do you think it's a side effect of having Jesus inside of me?"
I told him anything was possible.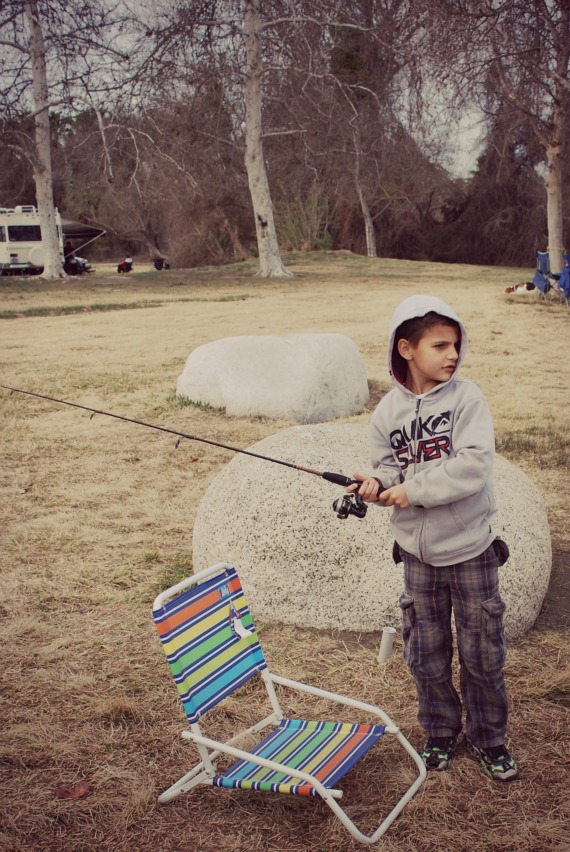 On trying to know everything
"It pays off."
On 8th grade
"Mom, Ricky told me he saw two kids kissing, and that he heard that when you get to 8th grade that's what you do. So basically I don't want to go to 8th grade. But it's not like I can skip it so…I really don't see how I'm going to avoid this."
On kissing girls in the 8th grade
"It's inappropriate. And gross."
On a perfectly nice suit for First Communion
"It's okay, I guess, but I don't want to wear it. I was looking for something a little more '21 Jump Street.'" [He has never seen 21 Jump Street, so I don't even know where this came from. --Jules]
On sports injuries
"I pretty much get an injury on any day that ends in Y."
On magazines
"Mom, those magazines are liars. The stuff they put on the cover is not what you see on the inside. When we were in Vons, I saw a magazine that had Hollywood stuff on the cover and I picked it up and looked inside. You know what I saw? Purses. Purses and Olay."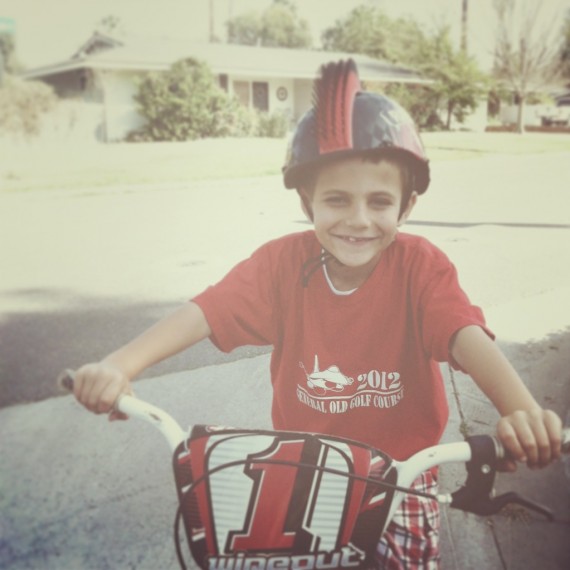 When I started blogging over 5 years ago, the fastest way to grow your blog was to write well. Produce great content, and people would eventually find you via word of mouth. That didn't last long. Soon there was advice about leaving comments and participating in link ups. Then there was Facebook. Then Twitter. Then Facebook allowed you to create public pages for your blogs and businesses. After that I think it was Foursquare. Something about you telling people where you were at by the touch of a button. Speaking of buttons, about 19 of them allow you to filter your life on Instagram since 2010 (sigh) and if you ever want to know what to do with those left over canning jars from your wedding, look no further than Pinterest. So many buttons.
I honestly can't keep up anymore. And the more "people" tell me there are things I have to do in order to grow, the more I want to tell "those people" to kindly stick it where the sun doesn't shine. No, I will not pin between the hours of 2:00pm-4:00pm and 5:00pm-10:00pm EST because those are "peak pinning hours." Convert that to PST, and you're telling me to pin in peak lunch eating and family spending hours. I'll pin when I feel like it, thanks. And if no one repins my pin of Laura Bullion, the world will go on.
Like it or not, things change and I have to change and adapt in a way that aligns with my inherently poor and somewhat lazy business skills or decide to stop participating. For now, I'm choosing to adapt, even though it often seems like a losing endeavor. Google Reader shuts down in July. If Google can't keep up, can I? For now, I can and will. I'm going to continue to blog because I love it, and will try not to get caught up in the competitive nonsense.
Twitter was run amok with tweets once the news hit. Everyone was going crazy. You would have thought a conclave announced a pope from Argentina! Final consensus on what everyone is going to do: Hell if we know!
Lots of people seem to be gravitating towards Feedly. I started an account there, but I also started one on Bloglovin' (you can follow this blog at that link). Bloglovin' is what I'm using now to read blogs, though I haven't yet gotten the hang of it and I am vehemently opposed to the dropped 'g on principle. Update: this morning I tried Feedly and so far I like it better. Plus, they use all the letters!
I don't know. Be honest. Are you still into blogs? Do you feel the medium has changed or have your expectations changed? And, seriously, what are you going to do now that Google Reader is shutting down?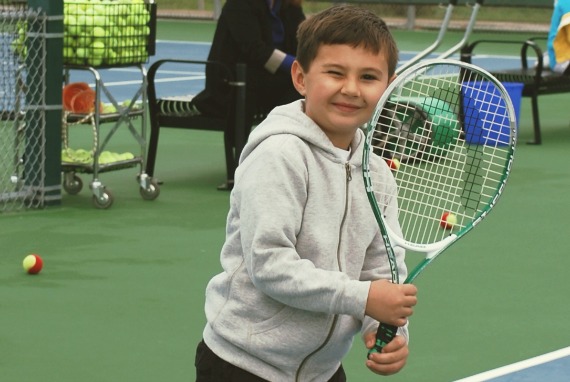 On coloring
"Check me out coloring almost inside the lines! You taught me that, mama."
::::::
On drawing
"Hold on, let me just draw some hair on my army guy. Thanks to Sarah, I know how to draw hair now."
::::::
On talent
"No one can beat Danny at coloring Emperor Penguins. He doesn't color outside the lines not even one time and his wings are solid black! He is the real deal, mama."
::::::
On Saturn
"They call Saturn the jewelry of the solar system because it's so pretty."
::::::
On intuitive eating
"Yes, mama, I listened to my tummy. My tummy said, 'Yup! I want another slice of pizza.'"
::::::