I've been wanting to get a video of Nico laughing for a long, long time. The problem is that whenever he laughs, his laugh makes me laugh, so I forget to grab my phone.
I had my ipad sitting next to me at the dinner table tonight so I was finally able to capture a bit of the magic. When he was a baby I used to say it sounded like wind chimes. Now that he's older and his voice is deeper, it just sounds like…crazytown awesome. Remember when I said his eyes turn into triangles? This is what I was talking about.
Warning: I have a horrible cold and my voice sounds even more like a whiskey soaked truck driver than usual, but now with congestion! Also, coughing. Ignore the coughing. I have a feeling you won't notice either one because the boys, well, what makes them laugh is…boy stuff.
p.s. The "Aw dangit" and "Aw dagnabit" is them immitating their favorite Geico commercial. The one with Old MacDonald being a horrible speller.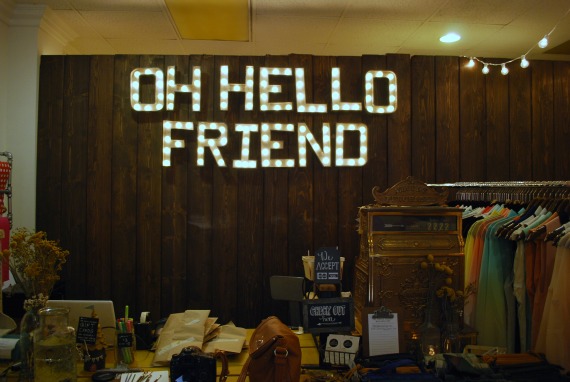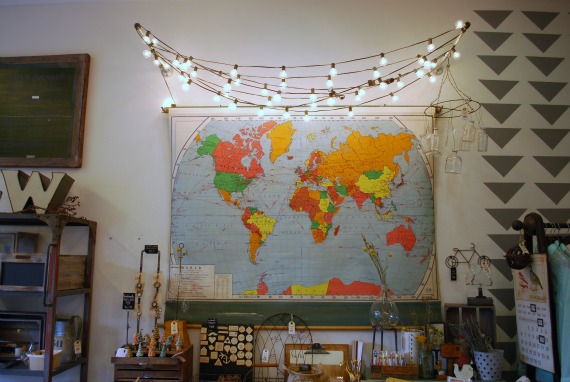 I mentioned it (ad nauseum) on Twitter and Facebook, but I don't know if I mentioned here (much) that Andrea and I hosted our second Craft Cabinet event on April 12th. This time we had Brenda Ponnay come and teach water color. Andrea and I didn't participate. Instead, we looked on longingly and admired everyone's work. It looked both intimidating and fun, and we'll be sharing Brenda's tricks on The Craft Cabinet blog next week. The Craft Cabinet is supposed to be a drama/clique/snark-free zone devoid of perfectionism and pressure. A night where you can unwind and not freak out about the little/big/every things. It only makes sense that I co-host the event.
[Pause for laughter]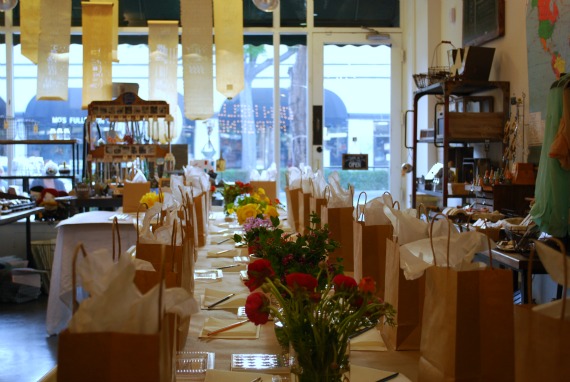 We had it this time around at Oh Hello Friend which is the best gift store ever. Danni and Nick's prices are ridiculously reasonable–I don't think a single guest walked out of the store empty handed. I'm giving my niece a gift certificate to Danni's shop for her birthday, and I'm going to make a day of it with her. Shopping, then lunch. Sounds like something a 13 year old would like to do, right? Sounds like something a 40 year old would like to do, too, but that is 100% coincidence.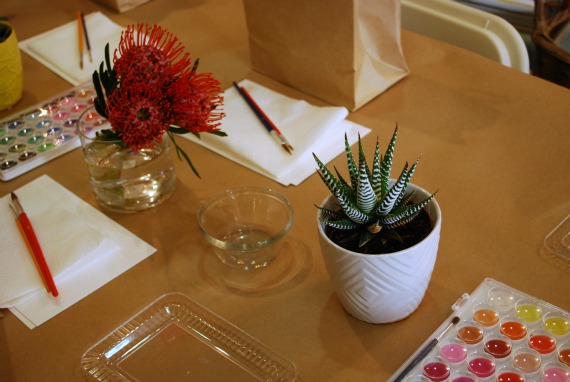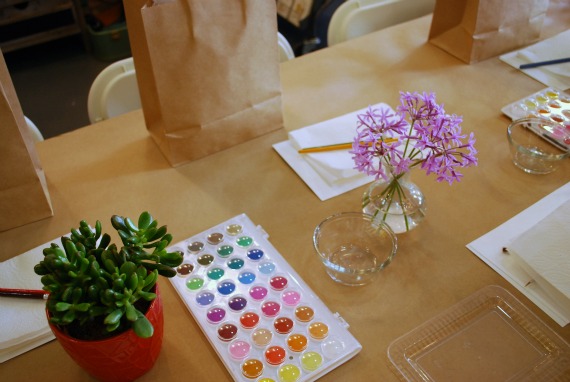 Everything looked so pretty. As usual, Andrea and I did it on a dime by necessity. We think it turned out beautiful–I told Andrea it looked like a wedding reception–and I think everyone had a great time. Next week on the Craft Cabinet blog we'll detail the food, decorations, and the goody bags. We're pretty proud of our goody bags.
This is my second event and in some ways it was easier and it some ways it wasn't. I'm The Craft Cabinet's best/ideal customer: someone who needs to hang around some cool women for a low key night of awesome. No negative self-talk allowed.
Speaking of which, remind me to tell you how I stepped on the hem of my dress and fell flat on my back (legs up!) in front of a bar full of drunk college kids. Not low key, not awesome. Well, not for me anyway. The guy who road past me on a bicycle seemed to think it was pretty awesome. He wore a black canvas jacket that fluttered behind him like a cape. A true anti-hero! You notice these things when you lay supine on concrete while stone-cold sober.
You know those families who have professional family pictures taken every year for their holiday cards, and they're all wearing the same or artfully-almost-matching clothing on a beach, in the mountains, or in front of a corrugated metal wall in a packing district with signage that has just the right amount of paint rubbed off?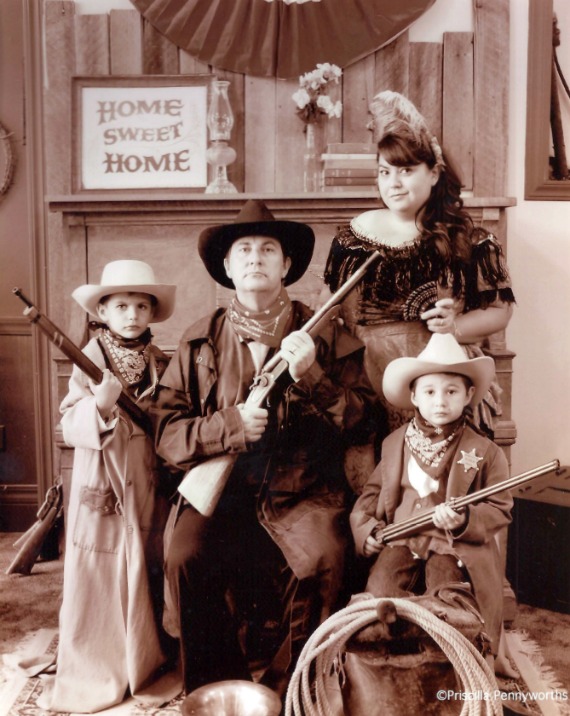 We're not that family.
The Wild West Family Portrait is one we take every year we go to Lake Tahoe. We drive down to Virginia City and my husband and the boys get really into being cowboys. Look at Mikey's face. That's method acting right there. He's not playing a bank robber, he is a bank robber. This year I remembered to hold a fan instead of a bottle of whiskey (progress!) but I could not convince the guys to dress like respectable Victorians.
"Can we lose the weapons? I want this to be our Christmas card picture."
"No. Does this shotgun look okay with my duster?"
So be it. I imagine I will get at least one or two comments about the guns, but I'll point out that we are only encouraging families to start their new year with a BANG!
(I may also chicken out and use a few of the pictures I took on Instagram during the past year.)
I was able to see some new Shutterfly products at the party I went to last Wednesday. Because there wasn't a rep there, we were encouraged to bring our previous purchases from home for show and tell. It was wonderful to see products bought and designed for personal use. No staged pictures, no fake families. I'm using one of the two credits I received to make a photo book, because while the selection at Shutterfly is wide and varied, they don't have anything that goes with a Wild West Saloon picture. Go figure.
(If I chicken out and use Instagrams, I'll probably go with something like this.)
The other credit I received is to give away. One reader will receive a $50 credit to Shutterfly to use on any of their products. The standard rules apply. You must be a US resident 18 years old or older.  There is no purchase necessary to enter, and the only requirement is that you leave a comment on this post. I will pick a comment by random number and post the winner here on Friday.
I'm trying to think of a way to end this post, but I've got nothing. I'm thinking maybe I should have ended it right after I posted a picture of myself wearing a feather on my head.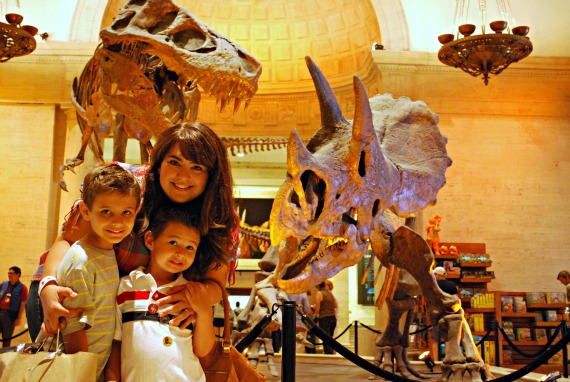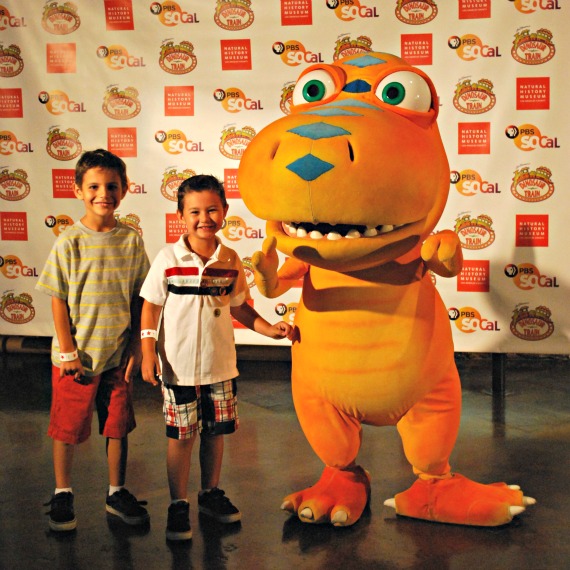 The Jim Henson Company invited our family to "stomp around and hobnob" with Buddy the Dinosaur at The Natural History Museum of Los Angeles on Saturday. The event was part of "Big Big Dinosaurs Week," which is going on this week on PBS KIDS. Buddy, for those without children obsessed with dinosaurs, is a character from the cartoon Dinosaur Train. He is a young Tyrannosaurus Rex living with his adopted Pteranodon family. Because Buddy is adopted and lives in a mixed-species home, he hops on the Dinosaur Train with his family and travels around learning everything he can about other dinosaurs. Adventures ensue.
No one paid me to say that. I just have the major plot points burned in my brain because I've watched almost every episode several thousand times.
It's rare for me to get invited anywhere, and it's especially rare for an invitation to come that seems tailor-made for our family. We have dinosaur dig vacations planned, a goal of visiting The Smithsonian and every Natural History Museum in the US and abroad, 11 lovingly abused dinosaur encyclopedias (and counting), and almost every dinosaur documentary/movie/cartoon created. We counted down the days and got up at 5:30 in the morning for this one. It was worth it.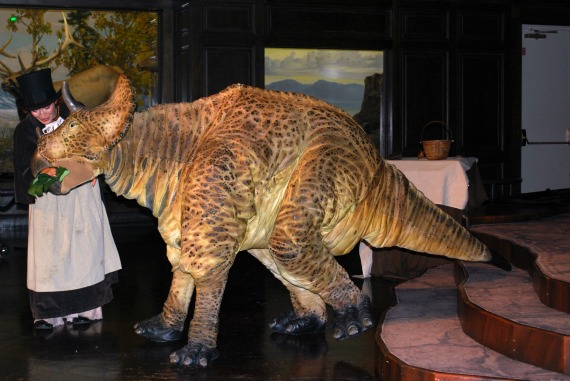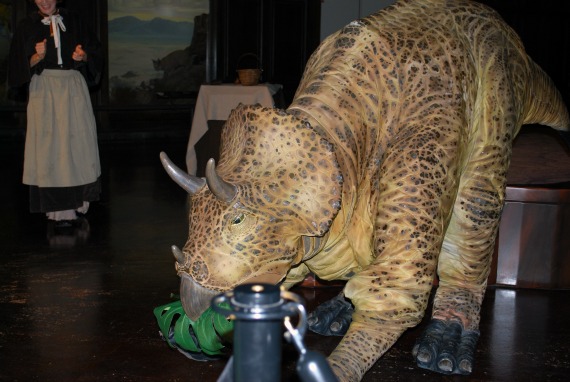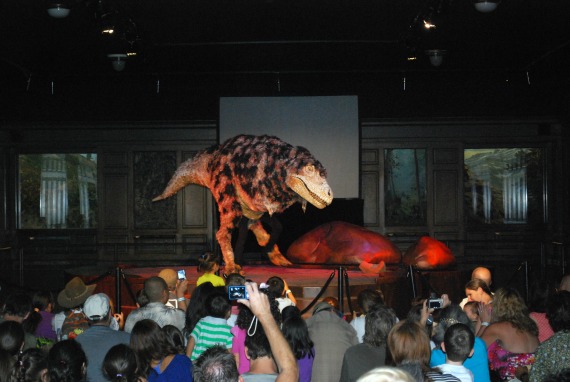 I wanted to visit the National History Museum last year after watching a special on their dinosaur puppets. They are incredible, like the guy on channel 7 news promised, as were the shows. The Triceratops show featured Mary Anning as the narrator, which thrilled me.
[soapbox]
If I may geek out on you for just a minute, Mary Anning was a fossil hunter from the early 19th century. When she was only 12 years old, she discovered the first prehistoric skeleton, an ichthyosaur, while fossil hunting along the coast in Dorset. She hunted fossils to then sell to tourists, as she came from a poor family and was scrappy enough to figure out a way to make money. Although the ichthyosaur was an incredible contribution to earth science–to say nothing of her later discoveries–the British science community shunned her. She was not allowed to call herself a paleontologist (hence the title fossil hunter) or join prestigious geological/paleontological societies. Even more insulting, her work often went uncredited. All this, of course, was because she was a woman. I wanted to burst with pride when "Mary Anning" introduced herself and Mikey turned to me and said, "Mom! She's the paleontologist who discovered pterosaurs!" That's my boy. I was even more happy when "Mary" later encouraged all the girls in the crowd to become paleontologists.
Last piece of trivia: Mary Anning is the inspiration behind the tongue twister, "She sells seashells by the seashore."
[/soapbox]
We had such a fun time, we stayed and watched the Tyrannosaurus Rex show. It was great, but it was no Mary Anning.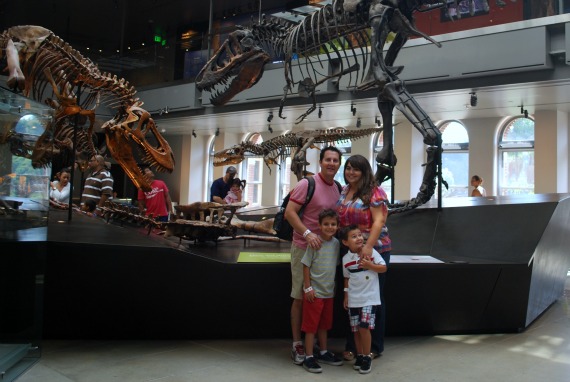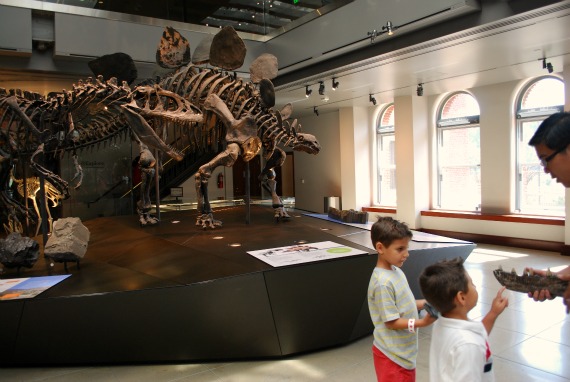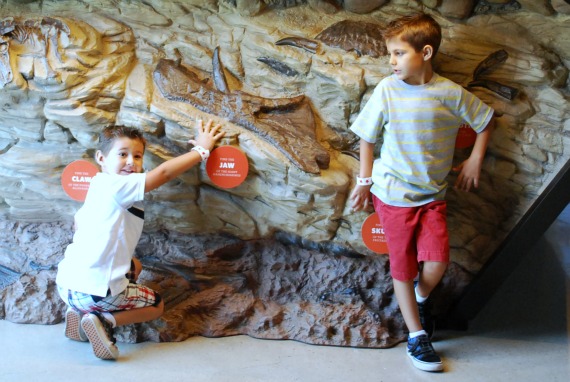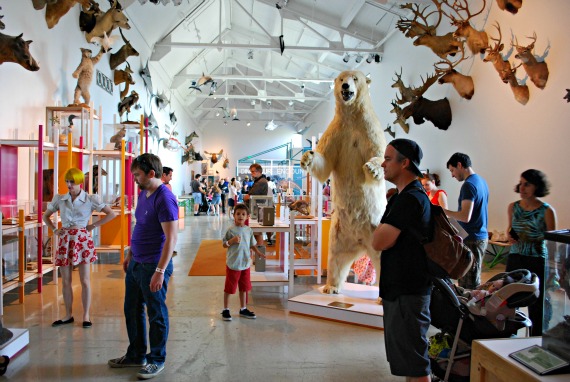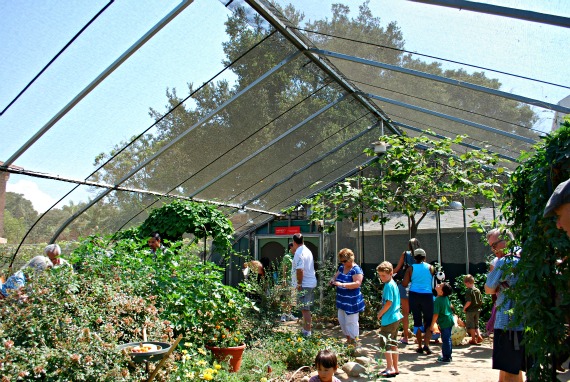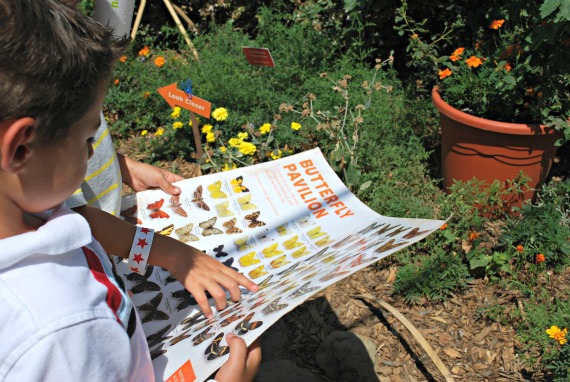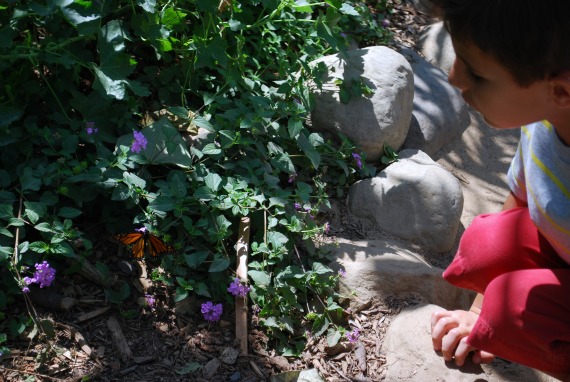 Fossils, teaching moments, and a walk in the Butterfly Pavilion to identify as many butterflies as we could. I wasn't sure the boys would like the butterfly exhibit, but in the end it was one of their favorite stops. I always wondered why people would go on bird watching vacations, but if they are as fun as butterfly watching, I understand the desire to sit on your haunches in the forest and look in the trees. There were a couple of moments where Mikey and Nico were about to go to blows arguing over which butterfly was which thanks to that butterfly chart ("Dude. That looks nothing like an Anise Swallowtail. Where are the blue spots?"), but whispering "Museum Gift Store" into the air was all it took for them to suddenly become agreeable.
We had a great time. For our next adventure, I would love to hit up a good space museum, since that's Nicholas's preferred obsession.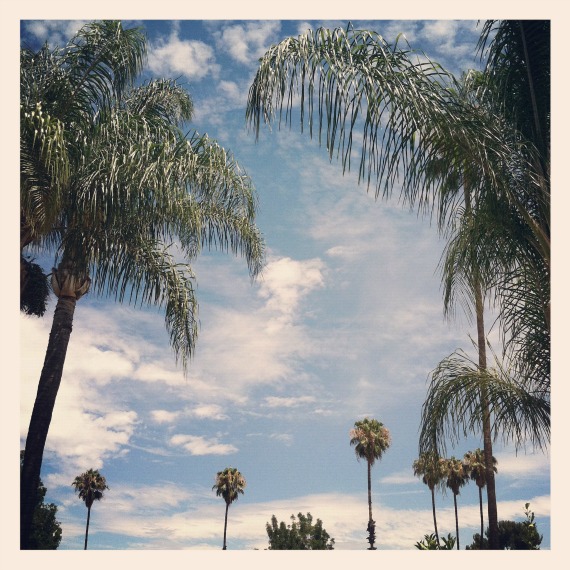 Remember when I said I was going to spend the summer going on a few adventures? Time to put my money where my mouth is! I bought a pair of neon pink running shoes and I'm going to use them to walk up and down a few amusement parks over the next couple of days. I won't even try to put up a William Morris post on Thursday, because I know I'm going to be beat!
See you all Monday!
p.s. Can you recommend some great places to eat in San Diego? Bonus points if they offer health food options.