This post was sponsored by Fox Searchlight Pictures.
//////////////////////////////////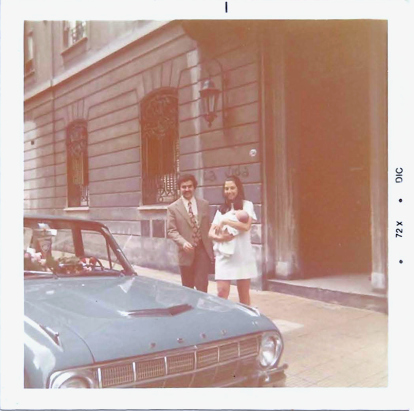 We started in the front, at least most of us did in those days before laws and car seats that did more than hold a baby upright. I had my tonsils removed in the 1st grade, and on the ride home I sat on my mom's lap with my back snuggled against her chest. My throat was so sore I couldn't speak, so to describe to my parents what a Popsicle was I pushed my finger through the film of vapor on the windshield and drew a rectangle with two sticks coming out the bottom. I was fortunate it was winter. Her arms were my seat belt.
Being in the front meant comfort.
Later, the only child sat in the front seat in between the parents if the seat stretched out like a bench. If there was a console, they laid (or sat or twirled) in back seats like royalty on wide expanses of bonded leather or short pile upholstery. One brother, then two. My space became crowded, but as the oldest I was able to skirt the middle seat thanks to irrefutable laws of sibling seniority.
Sitting in the way, way back didn't happen until the fourth sibling in most cars or, if your mother tapped out early like mine did, when friends came home with you from school or out of town family came to visit or your parents picked up a hitchhiker. The reasons for additional bodies in a car were limitless in the 70s.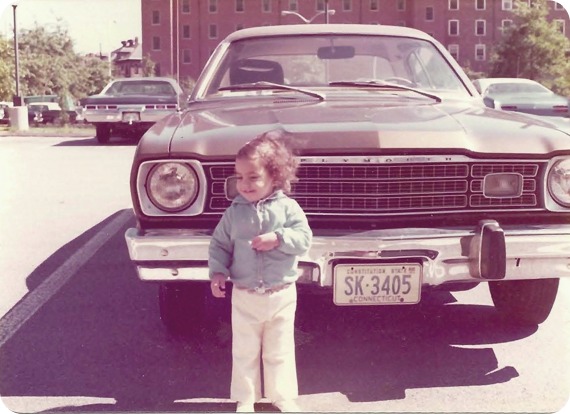 My mom drove a brown Buick station wagon, boxy with chrome trim on the windows and enough trunk space to fit a twin bed. One year, when my parents' friends came to visit from Washington, four out of five kids landed in the trunk and played Sleeping Princess. It was a game I made up on the fly and believed was nothing short of brilliant. The object: one girl laid flat on her back and stayed as still as possible while the car made turns and drove over bumps. The other two girls and one reluctant prince would lean over the Sleeping Princess and monitor her for movement. Whoever went the longest without moving–slept the longest–won. Won what, I can't remember. Bragging rights? This is where my memory fails, so the prize couldn't have been great. My last memory of Sleeping Princess is Veronica leaning over me, inches from my face, claiming I scrunched my eyes into a right turn. I can still see her black hair sheeting the cheeks of her pale face. I resented that she looked like Snow White.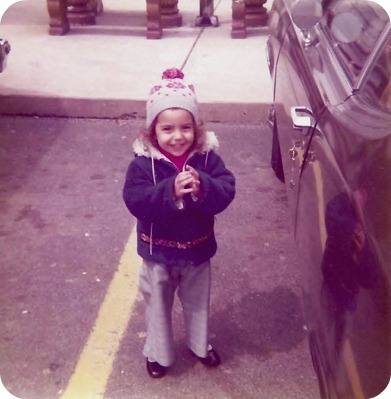 A few years later I was in the back of a dark blue El Camino with Michael and Annette, the children of our babysitter. We were coming home from getting ice cream and because my brothers were younger, they were inside on the bench seat. It was just after sunset on a warm summer day, the three of us leaning back against the cab window to look at the trees while we licked our cones. The mood was peaceful, nostalgic before it was even a memory, until a kid on a bike darted in front of the car and Mr. Gonzalez slammed on the breaks. We slid around the bed of the El Camino like pats of butter on a griddle until we came to a stop with our eyes staring up into the trees and our hands still holding our cones. We sat up, looked at each other, and laughed until our sides hurt. Then I took a big lick of ice cream and wished my parents had an El Camino.
Being in the back meant friendship.
I climbed into the trunk of my mom's latest station wagon as a teenager to escape my brothers and their growing arms and legs. They were too large, too loud, too annoying. They were altogether too too. I gladly hid among the Samsonites, confident nobody understood, nobody had it so bad, nobody cared about the Many Injustices I Suffered.
Being in the back meant privacy. Blessed, welcome privacy.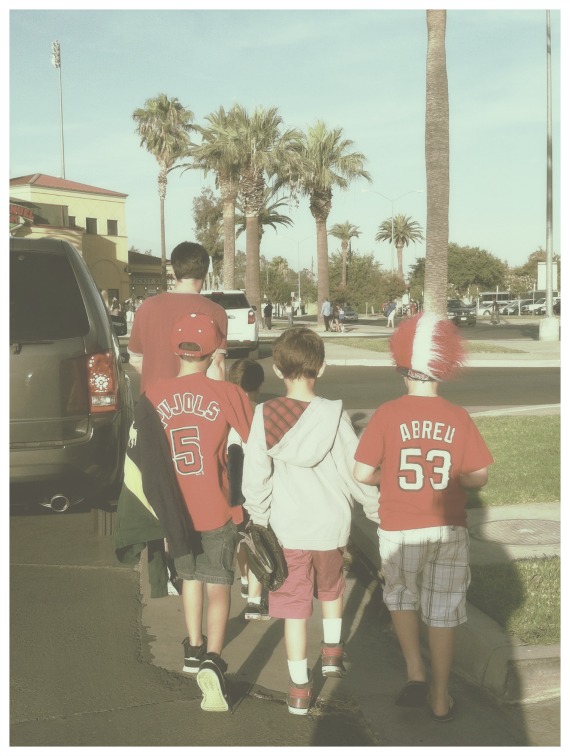 My boys have had a different experience. By the time Mikey was born, I earned an honorary PhD in Car Seat. Not only did the boys always sit properly latched in their car seats at all times, for the first couple of months I sat in the back with them so that at a moment's notice I could perform Many Critical Life Saving Measures like pop the pacifier back in, look out for spit up, adjust socks, and–literally and figuratively–back seat drive, something I should have a PhD in, if you ask my husband.
When Mikey turned 9 at the beginning of June, he reminded me that according to California law he was now allowed to sit in the front seat. I expected nothing less from him. But the front seat wasn't what he was thinking about a week later when he went over the agenda for his birthday party. He wanted to go to a 66ers game (Angels minor league) with his two best friends and then have a sleepover. He had everything planned down to the seating arrangements in the car on the way to the game. He wanted to sit in the middle with a best friend on either side and, since there wasn't anymore room, his brother would have to sit in the way, way back by himself. When Nico heard this, he burst into tears.
On that day, being in the back meant not fitting in.
Or, as Nico later cried that night when he was far more tired than he wanted to admit and far too young to watch the movie the bigger boys wanted to watch: "Mama, they're not letting me pay any attention to them."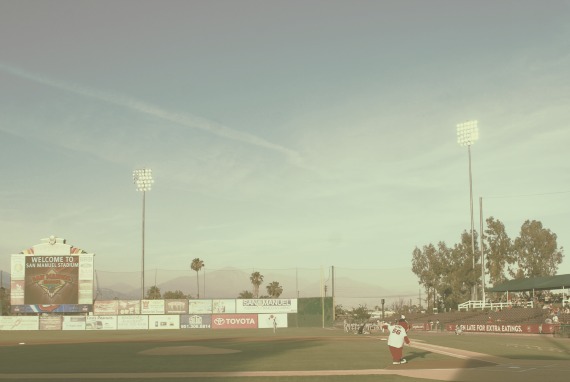 When we packed up the boys to go to the game, I wanted to spread everyone out, two-by-two, so it was fair. The Mister, himself a younger brother, shook his head and had Nico get in the back so Mikey could have time with his friends. This is how it is for younger brothers, but only for a little while, he said. In a couple of years they'll meet in the middle again.

Perhaps, and even though Nico was perfectly content once his dad revealed that being in the way, way back gave him iphone video game privileges, I wanted to climb back there and sit with him in solidarity. I didn't, but when one of the boys turned to Nico and asked to play on the iphone I did happily crow, "Sorry, no can do! Iphone privileges are one of the perks to sitting in the very back all by yourself." And in my head: HAH! SO THERE.
This may have earned me a side-eye from the Mister, but it was worth it. Turns out mamas can perform Many Critical Life Saving Measures while riding shotgun.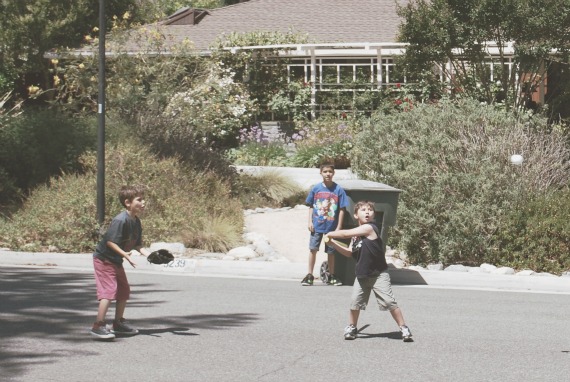 The next morning, the boys played wiffle ball in the street. When Nico scored a triple it was his brother, the catcher for the other team, who whooped and hollered and gave him many high fives. They all did, really. Nico soared around the homemade bases propelled by happy thoughts and a team of pixies. At his next time at bat, Nico struck out and burst into tears. Mikey rubbed his hands down his face before looking up at the sky in a plea for patience.
"It's just that, mama, I want them to think I'm great."
One day they'll meet in the middle.
Until then, I'll have to accept that brotherhood will some days feel like sitting in the front seat, and other days feel like being relegated to the way, way back.
//////////////////////////////////
A few weeks ago my husband and I got to see a screening of The Way, Way Back starring Steve Carell. (It comes out July 5th in select theaters.) We both had a great time, though I'm embarrassed to admit it took me a while to realize the movie is called The Way, Way Back because the boy, Duncan, sits in the way, way back of the car and life at the beginning of his coming of age summer. This is why no one pays me to review movies.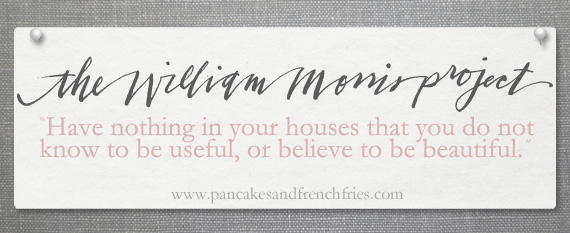 We bought our white IKEA Ektorp sectional a year ago in May. It wasn't a decision I made lightly (she says, as if she usually makes decisions lightly) so I was confident I would be happy with our purchase. Everyone else I knew wasn't so sure. The biggest warnings I received were about stains, maintenance, and quality/comfort. I thought I'd tackle those issues today and give you my thoughts.
You do realize this is me, right? And that I'm going to get analytical and detailed? Just making sure.
Why We Bought the EKTORP Sectional
When we first got married and lived in our first house, we borrowed my mom's Ethan Allen card and bought a very expensive leather sectional in a buttery chocolate brown leather. Imagine the Ektorp sectional, but much larger and with fuller pillows. It was extremely comfortable and fit the open floor plan of our new construction home well. The leather was also perfect for dealing with dog hair, but not that great for snuggling. It was slippery.
The sectional did not fit in this house no matter how hard we tried. We sold it on Craigslist for a song (I'm still bitter) and bought the infamous green sofa. By the time Mikey was 3 years old, it was obvious he had moderate-severe allergies. The pediatrician gave me a list of things to do and things to avoid. Upholstered furniture was at the top of the list. I was already frustrated with the green sofa because of the dogs. I felt that no matter how much I vacuumed, no matter how much I kept them off the sofa, it was always dirty. I began washing it regularly even though the instructions clearly stated DO NOT WASH.
One day I was reading a design book and an idea for the family room finally came together. I eyeballed the IKEA sectional for years, and now I had several reasons why one would work for us. The Mister liked the idea, but he did not like the idea of buying one in white. I did, and here were my reasons.
The size was right. IKEA produces smaller furniture, ostensibly for apartments or small dwellings. More on this in a minute. It could be a con for some of you.
I wanted something I could wash. Allergies are best controlled when upholstered items are washed frequently in hot water.
I wanted something I could bleach if necessary. Bleach is hard on fabrics and people and the environment, but in the event of a stain catastrophe, I wanted the option to douse that slipcover in enough chemicals to power a Yugoslavian car across the Trans Sahara highway.
I wanted something I could change without having to buy a new sofa. I'm fickle, and the low price of slipcovers, plus the many options online, made buying an Ektorp appealing. I'm not married to a white sofa for the next 7 years.
Cost. At roughly $800, the price couldn't be beat. I could have had something custom made at that price, and it may have been better quality, but the slipcovers were dry clean only. For me, the slipcovers had to be able to go in the wash. I don't need another errand or another expense.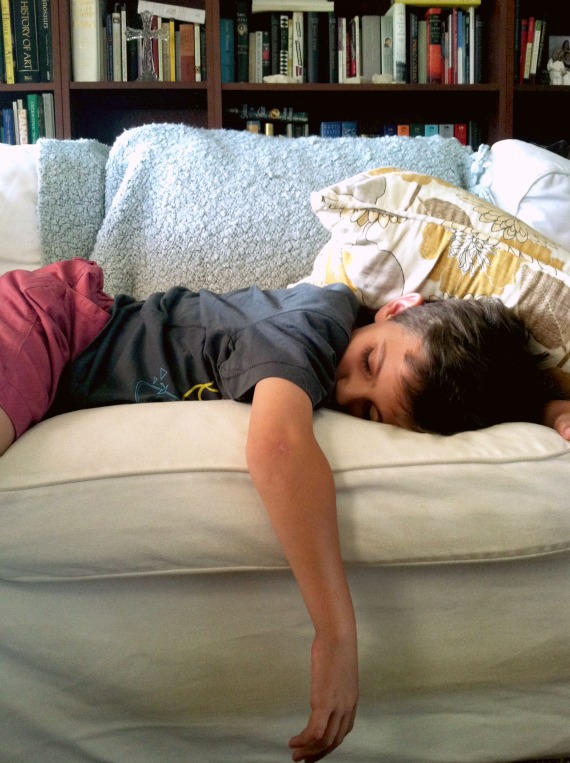 Stains: Kids, Pets, and White Sofas
I have never been one to put off having nice things because I have kids. I don't believe children are as destructive as the rumors suggest. Sure, some kids are animals, but I think they're the exception rather than the rule. Also, it pays to use common sense. I don't give Nicholas a tall glass of red punch and tell him to lay back and relax. After a year, our sofa has two stains, maybe three. One is a pen from homework on the arm, and over time and several washings it has almost disappeared. (Actually, it's gone. I just checked.) The other is on a seat cushion and is a chocolate stain from a wayward lick off an ice-cream cone. It has Nicholas all over it. It has faded, but is still noticeable. I just take care to put the slipcover on so that the seat cushion faces down. No one knows it's there.
The biggest stains come from the dogs. They are dusty from being outside. They are almost too old to climb up on the sofa, but occasionally they do. The dust easily washes off with the exception of the skirt of the sofa where they rub themselves like cats. You can see it in the picture above where Mikey is sleeping, which is why I posted it. That is the dirtiest the sofa will get. I'll go into my maintenance routine in a bit, but this is the longest I have gone without washing the slipcovers. When I wash the slipcovers–hopefully this weekend!–that brown swash of dust will disappear and all that will be left is a faint shadow. You wouldn't notice it unless you were looking for it, but I know it's there.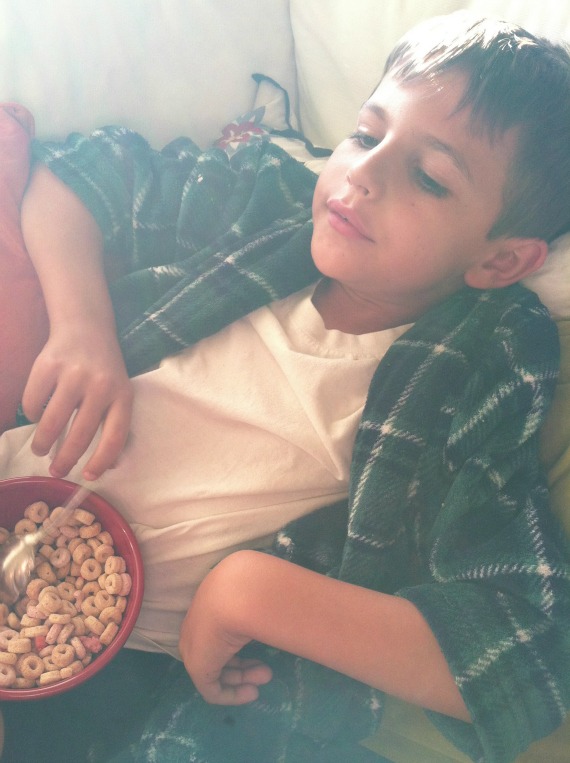 Maintenance: You Can't Escape It
The Mister didn't want a white sofa because it would show the dirt. I have never, ever understood this argument. It's the same argument people used to discourage me from putting in cream floors in the kitchen, light cabinets, and white paint in the boys room. Of course the dirt will show! But here's the thing. Even if you buy a black sofa and therefore never see the dirt, newsflash Inspector: THE DIRT IS STILL THERE. I would much rather see some dust from the dogs after 2 weeks and think to myself that it's time to wash the slipcovers than to laze around for months like Pig Pen on a faux-clean sofa.
I once took Mikey on a play-date to the home of a woman with slate floors in her kitchen. At the time slate floors were hugely popular because they hid the dirt. I had my flip-flops off and went into the kitchen to get some crackers for Mikey. My feet stuck to the floor. Stuck, as in I couldn't move. The floor looked clean, but it wasn't. When I got home, my feet were the blackest they have ever been in my whole life, and I used to play outside barefoot in the 70s. So, no, I don't mind the dirt showing.
I wash the slipcovers every two weeks if I'm having a good run. Lately, with the Mister traveling, I'm off my game and it's been at least a month, probably 6 weeks. I get this question all the time: No, I don't mind washing the slipcovers. Not even a little. The end result is worth it to me. I have many friends and family say they would never, ever put in the time to wash the covers as regularly as I do. I get it, but it really isn't much work–at least I don't think so. It's much less work than doing laundry! There's no folding! Everyone knows it's the folding and putting away that sucks about doing laundry.
Here is my routine.
I remove all the slipcovers from the back cushions and put them in the wash. That is the first load.
I wash them on hot with regular detergent and booster, if I have it. While they are washing, I take off the seat cushion slipcovers.
When the back cushions are ready to go in the dryer, I transfer them over and set the dryer on low. I set the timer. Very important!
I put the seat cushions in the wash. This is the second load
I remove the back cushions from the dryer while they are still damp and hang them to dry on my drying rack. I do the same with my seat cushions.
The body slipcover is the largest. I make sure to evenly spread it in the washing machine and check on it once the load is running to make sure there is enough water and everything is submerged/getting washed. This is my third load.
When ready, I put the body slipcover into the dryer and run it on low until it is lightly damp. The timer is crucial! I once let it go too long and the slipcover shrunk. I had a party in 30 minutes, so I didn't have time to rewash it and therefore ripped a seam of the slipcover getting it back on. Not cool.
I put the sofa back together. Sometimes I put the covers on as they are ready, other times I do it all at once.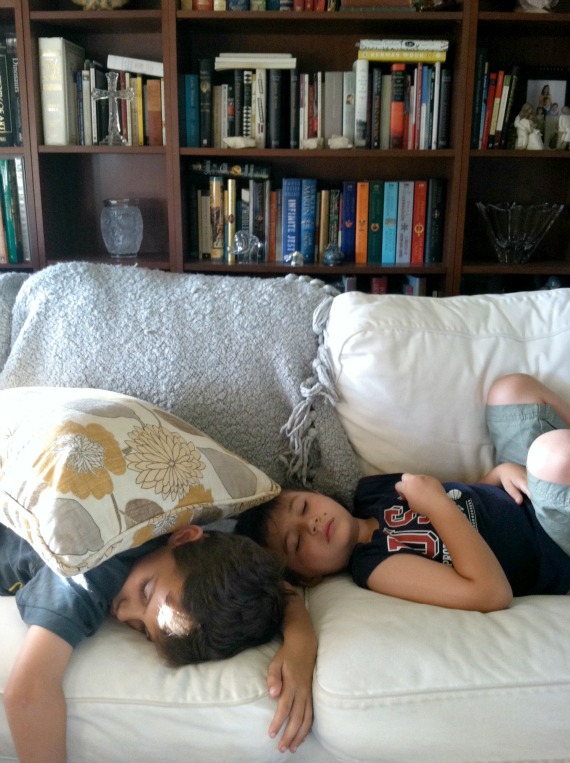 Quality and Comfort
The Ektorp is far more comfortable than I imagined it would be. The back cushions are excellent. The seat cushions could be gushier, but have more loft than I anticipated. I really thought we would be getting pancakes. I love the feel of the canvas, but I love stiff fabrics. The canvas means you snuggle in like velcro. It's great for napping, clearly.
Caveat, and this is a big one. The dimensions of the Ektorp are roughly 4″ shallower in depth than a standard sofa. It's why it works in our smaller, older home. However, this may be a problem if you are tall/have long legs. I don't reach 5'4″, so clearly this is not an issue for me. My husband is a little over 5'10, so while that means he towers over me by over half a foot, he's only slightly above average height. He felt the sofa was a little narrow for him (it was perfect for me) but it doesn't bother him because of the way he sits. He lays facing the TV with his legs stretched down one length of the sectional, almost like it's a chaise. Does that make sense? It must be a guy thing because it's the same way my brother in-law sits in his sectional and the same way Mikey sits in our sectional. I like to curl up in the corner like a mole in a den.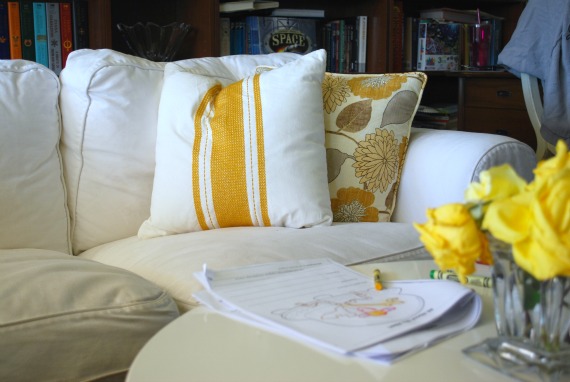 Conclusion
I love my Ektorp sectional and am much happier than I anticipated. Absolutely no regrets. However, I have no problem washing the slipcovers frequently and I am petite. I think those two factors are what anyone considering buying this sectional should consider, because there's no way to avoid either one.
Okay! Are you still awake? Hello? This must be how John and Sherry feel. I hope this review helped. If you have any questions, feel free to ask them in the comments.
//////////////////////////////////
This post was part of The William Morris Project, a weekly series that details the steps I am taking to create an intentional home. You can see more of my goals and completed projects here. To learn more about this project, start here.
//////////////////////////////////
Now it's your turn! Feel free to share how you have lived according to the William Morris quote, "Have nothing in your houses that you do not know to be useful or believe to be beautiful." Made a plan? Cleaned a drawer? Bought a sofa? Tell us about it with a link or comment. A few guidelines:
Please link to a specific post, not a general blog address.
Your post must relate to your efforts to create an intentional home. I have a delete button, and I'm not afraid to use it.
No links to giveaways, please.
Let's use this weekly link up as an opportunity to gather inspiration and motivation. Click links. Discover new people. Say hi and good job. I know I will.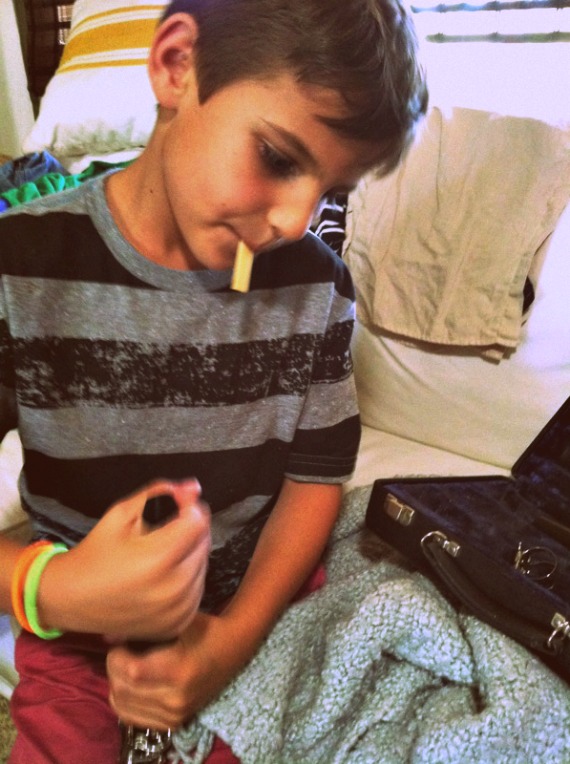 If Catholics believed in reincarnation, I would suspect Mikey was once Teddy Roosevelt. He is my petite lion. I know this about him, and I knew his competitive nature would overtake him once I showed him Youtube videos of boys his age playing the clarinet. One boy played jazz really well and had videos stretching over 3 years. It was cool to watch his skills improve over time, and I knew when Mikey asked me hours later to play the videos again that my boy would learn the clarinet with a steely eye on Alexander2010.
Yesterday was the first day of band camp. Nico did very well and asked if he could attend camp for the rest of his life. Mikey did well, too. His teacher said he did great for never having touched a clarinet before. There was one other clarinet player there–a girl, and two other players were missing–but that didn't bother Mikey in the least. So far, he doesn't see instruments as overtly feminine or masculine. (Good, because they're not.) Cool or less cool, yes, but he's okay with the clarinet. In fact, since black is the standard clarinet color, it's automatically more cool than other instruments in his eyes.
Mikey was annoyed after his session got out to see one of his best friends and a bunch of other boys waiting for the Garage Band mixing class to start, but logic won out. When I pointed out he would show up to school in September with months of instrument practice already underway, and that he could possibly be one of the leaders in the band…well, that's all my little Bully needed to hear.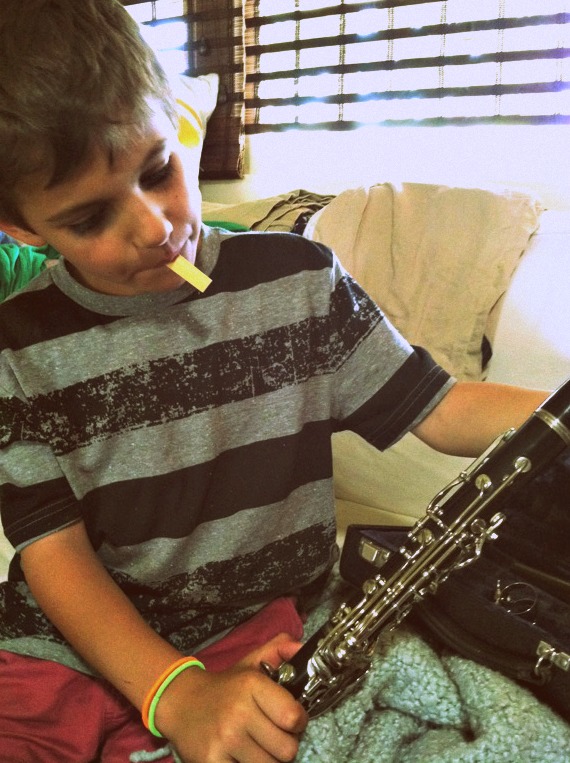 He was a little tired when he got out of camp– "Mom, the breathing!" –but it was nothing tacos and a cookie couldn't remedy. I asked him if he would play for me when we got home, and if he would let me video him as well. He was like those cartoons that take off so fast they leave their shadow behind. Within seconds he was back with his clarinet case and a rough idea of what he wanted to say to announce his musical debut.
We had to do a few takes because someone's little brother was making too much noise, making him laugh, or running around behind him. I didn't think it was a big deal, but I'm no artist! Plus, there was a time or two where his clarinet squawked like a goose that just realized it's Christmas.
Squaaawkkewrnwfkk!!
"Gah! You can go ahead and delete that, mom!"
Squaaawkkewrnwfkk!!
"Cut! You deleted that, right mom?"
Here is the final video we took, even though he asked me to please shoot it again since I humiliated him with an "I love you" at the end. You can see how out of breath he is after take-358. Note at 18 seconds his begrudging admission that the clarinet is, indeed, a fun instrument. And finally, that humming you hear in the background is Nicholas. He is so excited he can't help himself. It's better than the random bursts of recorder notes that happened during takes-241-254.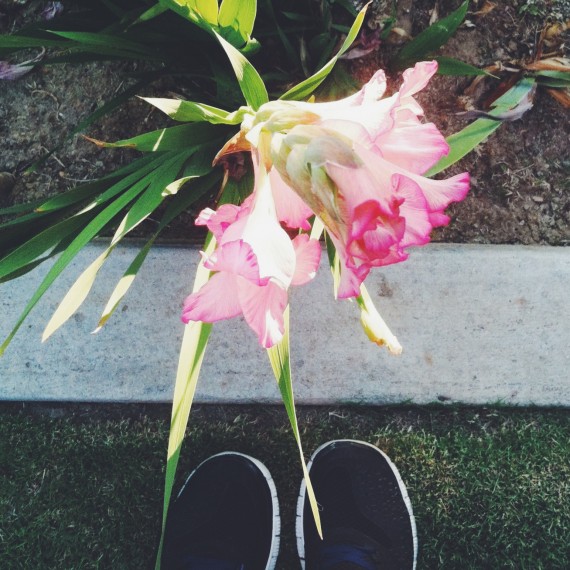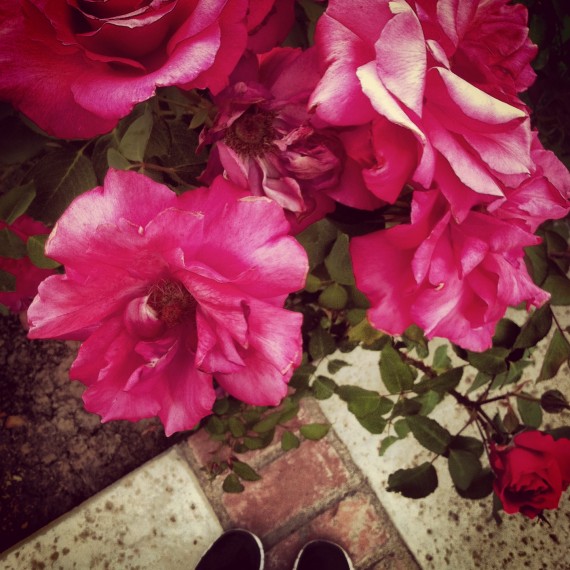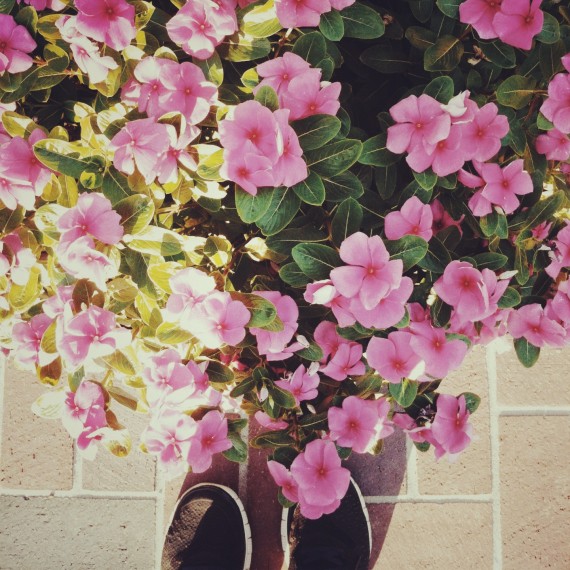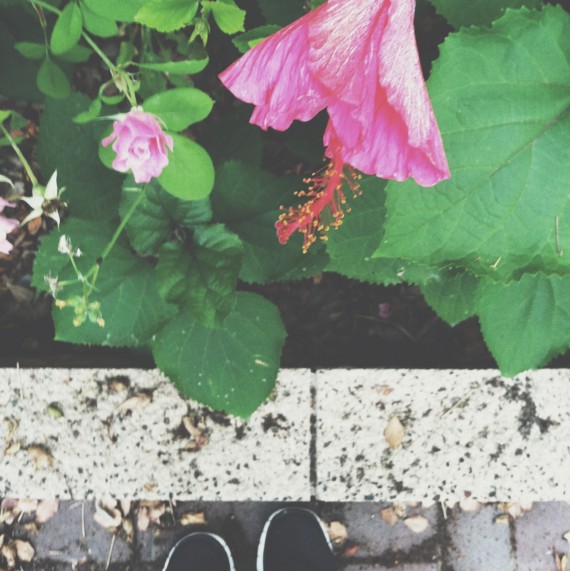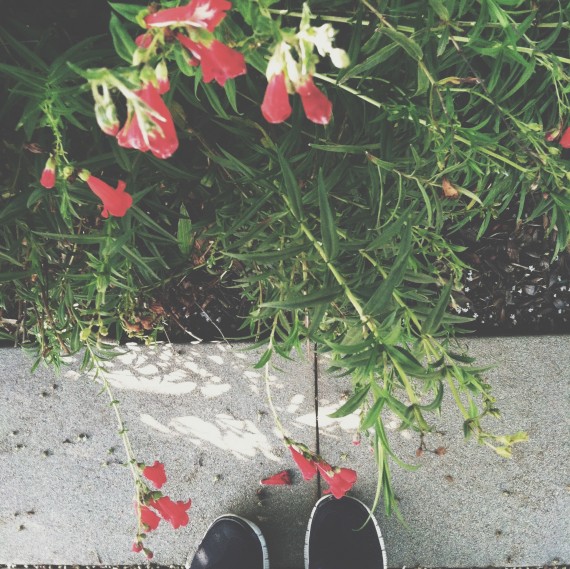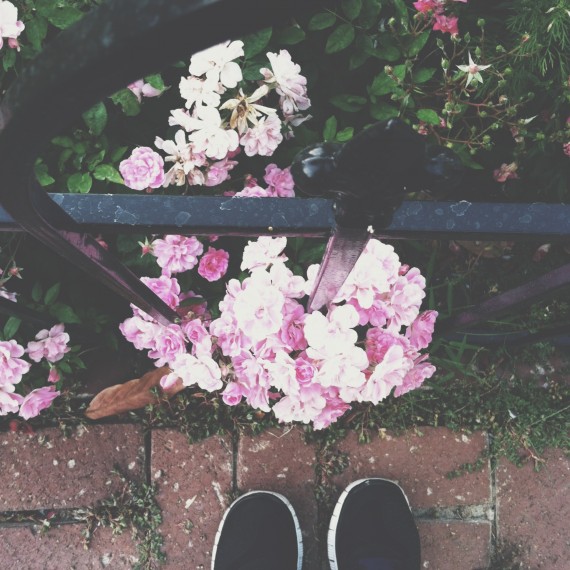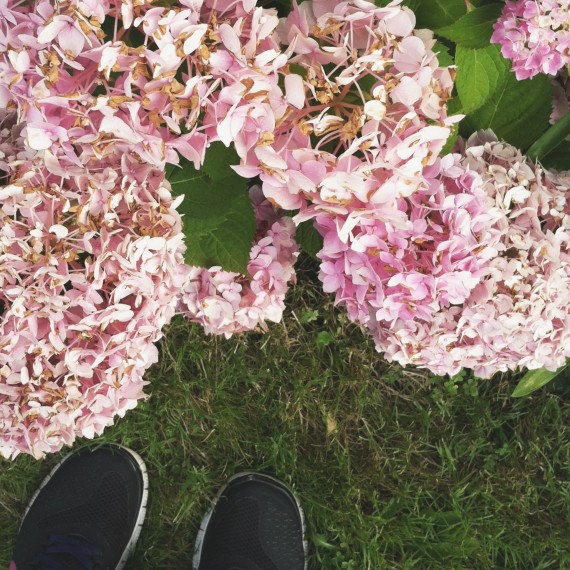 Pink Week
I heard a rumor years ago that pink was once a color for boys. I did some very brief research online, and the consensus is similar to this Jezebel post. Some periodicals claimed pink, a color close to powerful red, was a color more appropriate for males. Blue, a dainty color often associated with the Virgin Mary, was a color suitable for females. Girl, boy, pink, blue…it is impossible for me to care less. Nico wanted a pink (strawberry) army cake for his 5th birthday. I made him a pink (strawberry) army cake. One mother was aghast, but I didn't understand the big deal. I wanted to ask her is she ever tried strawberry cake, because if she had, she'd realize color was the least of my problems. Strawberry cake is revolting.
I learned of a similar male-female divide last week. I heard from a friend that Mikey would pick his band instrument in the fall, and that if I had a preference I should start talking about it with him now because the kids choose their instruments almost immediately and without parental involvement during the first days of school. That's intentional on the part of their music teacher, obviously, and I can imagine the drama this is supposed to avoid.
Too bad it didn't work last year. This woman's son chose the flute and convinced several of his friends to do the same. All boys, all excited to play the flute. The next day, her son was the only one still allowed to play the flute. No one can say what happened. The parents may have told their sons to pick a more masculine instrument; the boys may have been teased by their siblings or friends. It's even possible the boys had to switch to other instruments for financial reasons. Whatever the reason, there is only one boy who plays the flute in the school orchestra.
Curious, because if you read a list of the most famous flautists in history, most of them are male. Shocking.
That's Jean Pierre Rampal, certainly one of the most commercially successful flautists. The guy was on Sesame Street.
As for Mikey, he will play the clarinet and starts music camp this week. For those of you who have only a passing interest in music, consider this your warning. It's about to get geeky.
This is the first time I've ever strongly suggested Mikey do something he didn't want to do. At first I thought he should play the guitar since he has one, but the more I thought about it, the more I realized what a missed opportunity it would be for him to play an instrument like the guitar or piano when his music teacher is a touring clarinet player. I spoke with other parents, researched music forums online, called music stores and emailed his music teacher. They agreed the clarinet was the best fit for him. It's a great instrument that allows him to move to other instruments like the saxophone and–in my dream world–the oboe. He can play a wide variety of musical genres, the instruments are rarer and open him up to scholarships (you'd be surprised–I was!) and, this was my main argument all along, the fingering is closest to the recorder, which Mikey loves and plays almost daily for fun.
The recorder is the instrument the kids get in the 3rd grade, and not once did I have to ask Mikey to practice. He always completed his assignments and then taught himself to play other songs in his music book. To me, that spoke volumes.
Mikey wanted to play the trumpet. The trumpet is nice, I guess, but it's no French horn. [side note: OMG what is she wearing?] And the only reason he could give me for wanting to play the trumpet was that it looked cool. Well, his electric guitar looked cool, too, and he barely spares it a second glance. He claims it's because there is a problem with his amp but, honestly, he's not drawn to string instruments. I know this because I took him to Sam Ash last week to try out all the instruments in the store and the violin nearly slipped him into a boredom induced coma. He wasn't even interested in trying the cello or stand up bass.
His favorites were the clarinet (ahem. mama knows best) and the trumpet. I was able to convince him the clarinet was the way to go after showing him some Benny Goodman and a couple of clarinet playing kids on Youtube.
We'll see this fall if Mikey gets any push back from the boys for picking the clarinet. It seems unlikely with his teacher being a clarinet player, but I didn't think a strawberry army cake was scandalous so I maybe I don't know what's coming. It amazes me the rules and roles we continue to put on kids these days based on gender–rules and roles I'm guilty of myself. I make a conscious effort to avoid biased behavior, but I also know boys and girls can be different–and that's okay. I don't know; it's a balance, one I don't know if I'm achieving. I guess the story about the flutes really bothered me. I'm curious to see how the rest of the orchestra comes together. I know most of the boys are vying for the very few guitar and percussion seats. Should be interesting!
Also interesting: my family room every afternoon this week until the end of July. Nico is in band camp, too. He's taking drums.
(Nico is taking drums because his first pick, French horn, seems like a big instrument to take on as a beginner.)
(Also, French horns: not cheap.)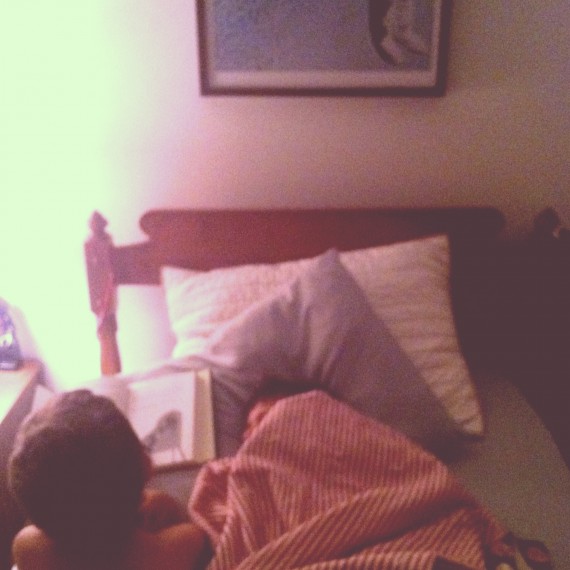 Our first week of summer vacation flew by with three parties, one mass with the bishop, another mass where Mikey sang the psalm, and one night where our local frozen yogurt shop put out Reese's Peanut Butter Cups. I would have been happy with only the Reese's Peanut Butter Cups.
As Mikey gets older, he gets more impatient with Nico. Nico makes huge messes, Mikey doesn't. Mikey listens to me when I tell the boys to pick up their room, Nico "forgets" or suddenly gets "really tired." Nico wants to play with all of Mikey's toys, gadgets, and art supplies. Nico just wants to be Mikey, and Mikey doesn't see that a lot of the time. I've tried to smooth the ruffled feathers without getting too involved or picking favorites, but sometimes they just plain ol' fight all day long no matter what I do.
Little snips and snaps and "don't!" and "stop!" and "no!" and "Moooooom!" all day long.
It was after one of those days that I hustled them to bed faster than fast, ready to shut the door on the day. Maybe an hour later I heard Mikey talking to Nico in the room. I snuck down the hallway and poked my head in their room. There Mikey was, the older brother who claims Nico annoys him "all the time," laying in Nico's bed and reading to him The One and Only Ivan.